Active Lifestyle? Check.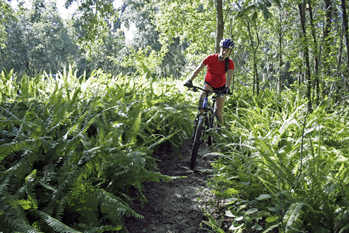 With an average temperature of 73 degrees and ample opportunities for outdoor recreation, Central Florida's Polk County is a nature lover's paradise and an easy place to stay active. If biking is your thing, you'll love the 60 + miles of paved and rural bike trails that cut through our scenic landscape. Hop on your paddleboard, kayak or canoe and spend the day getting a workout as the sun hits your face on one of the 554 lakes—including Winter Haven's famous Chain—sprinkled throughout the county. And because you can enjoy the fresh air all year round, we're a popular destination for fun runs, long-distance races and bike tours, including Florida's Ironman competition.
Health Care Institutions
Central Florida residents also have access to five major hospitals in addition to a well-developed network of clinics.
Bartow Regional Medical Center – A 72-bed acute care medical facility primarily serving southern Polk County. The hospital features four surgery suites and two gastroenterology suites with procedures available through the outpatient services center.
Heart of Florida Regional Medical Center –  Located in Davenport, Heart of Florida is a 200-bed acute care facility offering a wide range of services from more than 200 physicians.
Winter Haven Hospital – Winter Haven Hospital is part of the BayCare health system, a leading community-based health system made up of 11 non-for-profit hospitals, outpatient facilities and more than 200 access points located throughout Tampa Bay.
Lakeland Regional Health – One of Florida's largest hospitals, Lakeland Regional Health (formerly Lakeland Regional Medical Center) has been serving patients for nearly 100 years. The 851-bed medical center is the fifth-largest hospital in the state and operates the busiest single-site emergency department in Florida.
Lake Wales Medical Center – The 160-bed hospital provides inpatient, outpatient, medical, surgical and emergency care from more than 200 healthcare professionals.
Watson Clinic – With more than 200 physicians, including hospital-based doctors at Lakeland Regional Medical Center, the Watson Clinic provides Lakeland residents with comprehensive medical care.
Gessler Clinic – Gessler Clinic is a multi-specialty medical clinic providing excellence in medical care to Polk County for over 60 years.
Bond Clinic – Founded in 1948, Winter Haven's largest outpatient clinic system boasts more than 40 physicians covering 20 specialties.
Center for Retina and Macular Disease – With locations in Winter Haven, Lakeland and Haines City, the Center for Retina and Macular Disease provides residents of Central Florida with expert treatment for retina disorders and diseases.