LASER-FOCUSED ON PROGRESS
Perfectly positioned within Florida's High Tech Corridor, Central Florida is a clear choice for cutting-edge businesses in search of a location combining low operating costs with an abundant, highly-skilled workforce. This diverse cluster includes Research & Engineering, Information Technology Services, Electronics and the Creative Industries.
Central Florida is home to more than 11,500 high-tech companies, including several state-of-the-art data and disaster recovery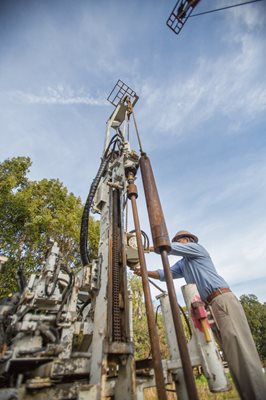 centers. Our inland location offers a strategic choice for companies in search of protection against flooding and other natural disasters that may affect the rest of the state. Cologix recently invested more than $20 million in their new Lakeland location, citing the city's centralized access to multiple markets and abundant technology providers as primary reasons behind their choice. In Winter Haven, Protected Trust provides server colocation, disaster recovery and other cloud-based data protection services from their fully-secure downtown location.
As the number of high-tech companies in the area continues to increase, so does Polk County's ongoing commitment to cultivating a tech-savvy workforce. Our students have opportunities for unique engagement with the STEM disciplines as early as middle school. In addition to the STEM-focused Polk Academies, creative partnerships between education and industry have also bred programs like MERIT—Medical, Engineering, Robotics Innovation for Tomorrow—a result of Florida Polytechnic University and Lakeland Regional Health's collaborative effort to introduce ambitious students to state-of-the-art surgical robots used in today's operating suites.
Overall, Central Florida's location at the epicenter of the state's high-tech cluster guarantees that companies within this industry have access to the workforce, infrastructure and business climate they need to get started quickly and achieve long-term success.
Featured Employers
A-C-T Environmental & Infrastructure, Inc.
AMEC Foster Wheeler
Central Florida Media Group
Clark Nikdel Powell (CNP)
DSM Technology Consultants
Duke Energy
Florida Public Utilities
Florida Southeast Connection
Insulfoam
Key Safety Systems
Lockheed Martin
Madrid Engineering Group
Protected Trust
Spectrum
TECO Energy
The Lunz Group
Wallis Murphey Boyington Architects
Leading Education Programs
Florida Polytechnic University: The latest addition to Florida's State University System, Florida Polytechnic is exclusively dedicated to Science, Technology, Engineering and Math (STEM). With a groundbreaking curriculum shaped by professors and industry professionals alike, students graduate fully prepared for workforce success.
Polk State College – Aerospace Sciences: Polk State College now offers a Bachelor of Science in Aerospace Sciences with concentrations in Aerospace Administration and Professional Pilot Science—the first of its kind at any public college in Florida.