Take Advantage of Total Access
Central Florida's well-developed infrastructure allows connectivity to all modes of transportation. We're the only Southeast location with two international airports within an hour's drive and have more rail miles than any other location in the region. International companies and those with a focus on global trade will appreciate our close proximity to seaports, including the second largest Foreign Trade Zone network in the country. Winter Haven's recently-opened CSX Intermodal center, which handles more than 300,000 shipping containers each year, keeps it all connected.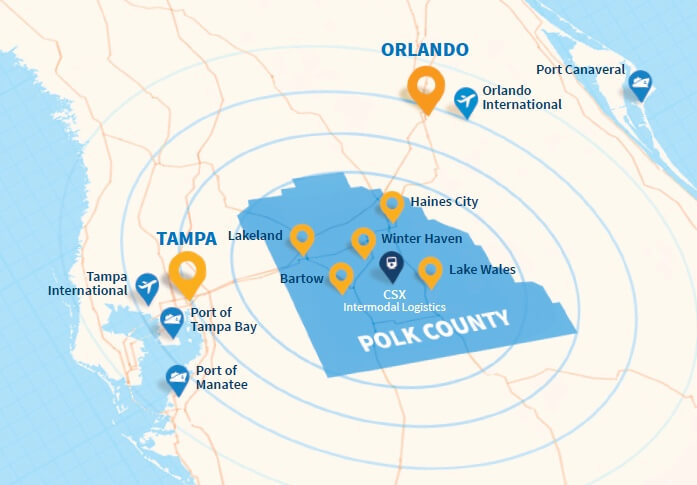 Road
Polk County is intersected by Interstate 4, the Polk Parkway, State Road 60 and U.S. Highway 27 with easy access to Interstate 75 on the west and Interstate 95 on the east.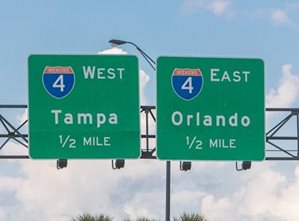 I-4: This 132-mile stretch of road connects Tampa Bay to Daytona Beach, including Orlando.
Polk Parkway (SR-570): This 24-mile toll-road runs through the county and provides easy access to I-4 from Lakeland, Winter Haven, Bartow and Auburndale.
State Road 60: SR 60 cuts between Florida's east and west coasts from Clearwater to Vero Beach. SR 60 is the county's largest state road and the major route in southern Polk County, connecting Mulberry and Bartow with Lake Wales. It also connects to Florida's Turnpike.
U.S. Route 27: US 27 runs from Fort Wayne, Indiana to Miami, Florida. It cuts through eastern half of the county. Its interchange with I-4 serves as one of Polk County's gateways to the Orlando metro area.
Interstate 75: Running from Michigan's Upper Peninsula to Miami, Florida, I-75 is the longest interstate in any state east of the Mississippi River. Businesses can easily access this major trade route from both I-4 and US-27.
Interstate 95: The longest north-to-south interstate in the United States, I-95 runs along Florida's Atlantic coast and is easily accessible from I-4.
Air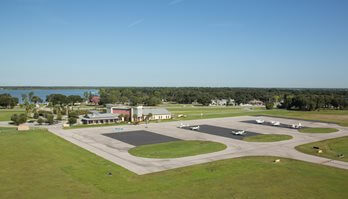 Central Florida boasts four general aviation airports in Lakeland, Bartow, Winter Haven, and Lake Wales. All provide a full range of corporate and private aviation services, and several are also connected to rail spurs, and industrial parks.
Several of our regional airports are also ideal for major companies like Drakken International to call home.
Rail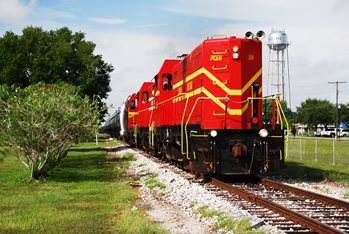 Polk County has earned the distinction of having the most rail miles of any community in Florida. Excluding rail spurs, Polk County has 20 rail lines comprised of more than 330 miles of mainline track.
In 2014, CSX, which operates the majority of rail lines throughout the entire state, opened a state-of-the-art Intermodal Logistics Center in Winter Haven. Capable of processing up to 300,000 shipping containers each year, this centralized hub manages transportation, logistics and distribution for Central Florida's regional markets including Tampa and Orlando.