Go back to

Blog

page.
Polk County Airports Contribute Nearly $2 Billion in Economic Impact 
Polk County's four airports provide an economic impact of almost $2 billion, according to the Florida Department of Transportation's 2022 Florida Aviation Economic Impact Study. And the airports are continuing to grow, meaning that number – which has increased from $878 million in 2019 – will most likely rise as well.
Lakeland Linder International Airport, the county's largest, leads the way with an economic impact of $1.5 billion, including the annual SUN n' FUN Aerospace Expo. That's up from $285 million in 2014.
Statewide, airports provide an economic impact of more than $336 billion, according to the study. In Polk County:
Lakeland Linder supports 8,332 jobs with a payroll of $410 million and an economic impact of $1.5 billion.
Bartow Executive Airport supports 1,908 jobs with a payroll of $109 million and an economic impact of $345 million.
Winter Haven Regional Airport supports 600 jobs with a payroll of $27 million and an economic impact of $88.1 million.
Lake Wales Municipal Airport supports 258 jobs with a payroll of $15.3 million and an economic impact of $40 million.
"This has been brought on by years of prosperity," said Kris Hallstrand, airport director at Lakeland Linder, acknowledging cycles in the industry and a potential economic downturn this year. "It's what we anticipated; we're a strong economic engine for the community. We're fortunate being here in a prime location in Central Florida and we're proud of the impact we're having."
Hallstrand said placing a value on the airport can be hard for residents to understand because without passenger airline service, most people have no connection to it. "We bring value to the community, and this shows that value. We're an enterprise fund of the city of Lakeland; we do not take any tax money. We run as a business; we are profitable. We add value to the city through jobs and services."
The county as a whole benefits from the economic impact, especially from the jobs created, many of which are high-skill, high-wage positions, she said. "Aviation in Polk County is a good thing for our community."
Javier Marin, vice president of business development for the Central Florida Development Council, agrees. "The airports support diverse operations, from cargo and flight schools to recreational activities like sky diving. Each is unique, and each is growing its specialty to continue to contribute to the county economy in unique ways."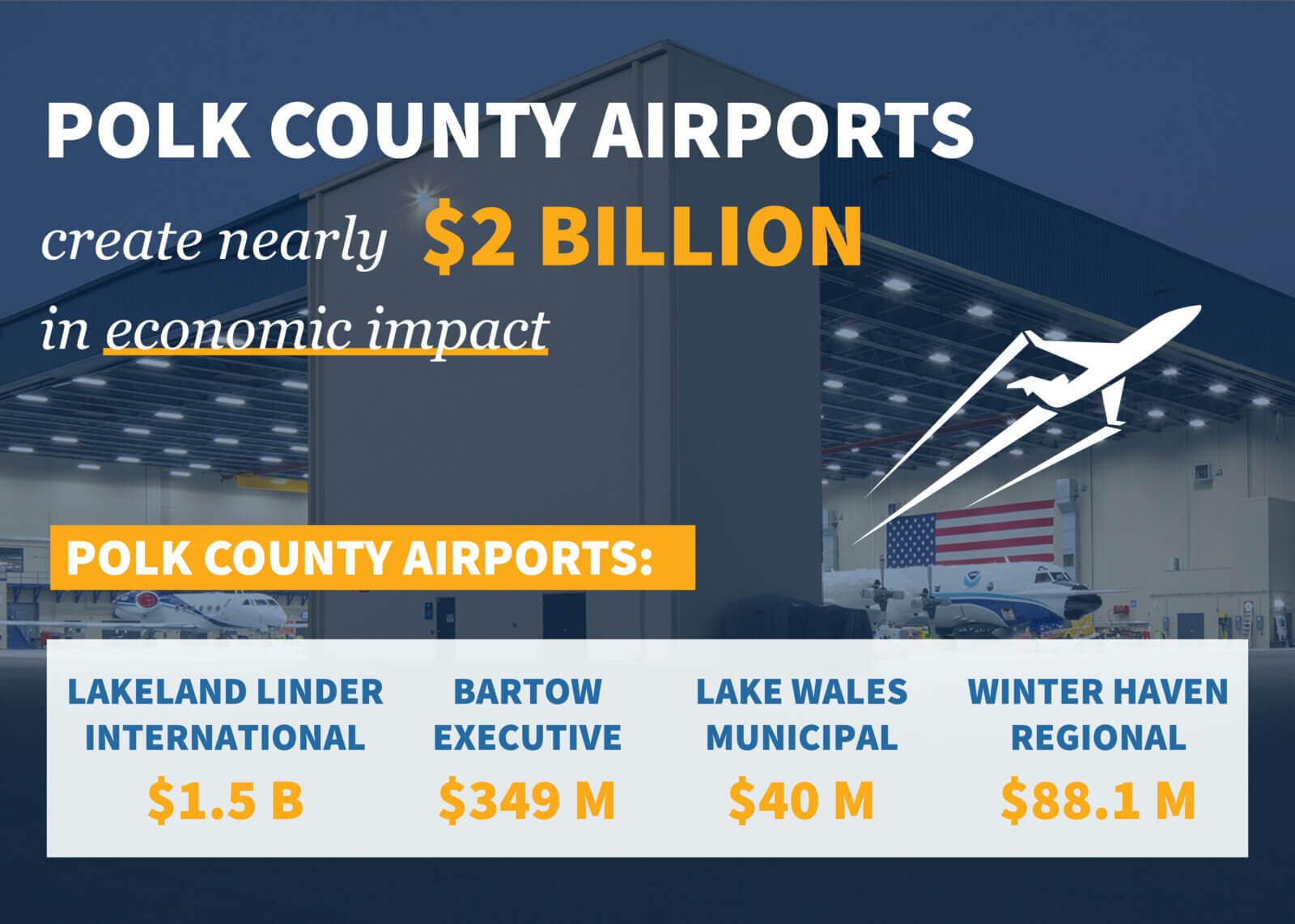 Education on the Flight Line
Aviation is supported by several educational institutions, including Polk Public Schools, Polk State College and Southeastern University.
"Our high school education program (Central Florida Air Academy – CFAA) at the airport is producing pilots and mechanics. Polk State College has programs in airport administration, dispatching and pilot training. The education corridor on the airport is preparing students for careers in aviation. Two young gentlemen who are the product of CFAA just accepted positions as mechanics with Frontier Airlines. We're training the next generation, and Winter Haven is starting a similar endeavor. We're excited – the county is very much leading the way nationally in how to get young folks involved in aviation." 
In addition, Winter Haven airport will be welcoming CFAA Winter Haven as an aviation educational offering in East Polk County.
Lakeland Linder Cargo Growth
Amazon Air has played a large part in growth at Lakeland Linder, Hallstrand said. "We're positioned in a great location between Tampa and Orlando for this type of growth, and this type of development helps the economic impact of the airport. Cargo is a large portion of our revenue. There are many tenants that are strong and helped get our economic impact to where it's at."
The pandemic also played a role, causing a big shift in the way people shop, she said. "Amazon capitalized on that. It changed the way they do business. With the size of retailer they are, their customer service requires disbursement hubs throughout the county."
In 2022, Amazon Air had 12 departures and 12 arrivals daily at Lakeland Linder, according to the airport. More than 868 million pounds of cargo landed there, and four Airlines serviced Amazon Air there: Atlas Air, ATI International, Airborne Express and Sun Country Airlines.
International Flights
Lakeland Linder welcomed more than 200 international flights – a mix of business jets and private airplanes — from more than 40 destinations in 2022. Almost all came from Mexico, Central America and the Carribean islands.
"We're becoming more of a popular destination because folks can clear customs here with the services we provide," Hallstrand said. "We're increasing in popularity as operators realize that."
Linder's New Growth
Growth continues at the airport, including:
Construction is scheduled to begin on Amazon Air's Regional Cargo Hub Phase 1.25 in February 2023.
Taxiway P will be reconstructed.
Two 20,000-square-foot hangars are being built by private developers.
"There are a few infrastructure projects that we need to complete, but we're focusing on going vertical," Hallstrand said. "We need to build buildings. There is demand as the community is growing around us and Orlando and Tampa are pushing on us. There is more demand for hangar space. We now have over 2 million square feet, but we need to increase our footprint of available rental space. It's pretty exciting. We are going to capitalize on demand in the area."
Up Next
Potential development includes everything from a third hotel on airport property to flight schools and a flying classroom. The one Hallstrand would love to see come to fruition is the development of the property's northeast corner for a large MRO (maintenance, repair and overhaul) facility.
"We've applied for a grant from the Department of Economic Opportunity," she said. "I'm excited about developing that area to bring in some high-skill, high-wage jobs maintaining and modifying large aircraft. It's something I think will help the community with and something in our future that we are heading toward."