Go back to

Blog

page.
CenterState Bank and Peterson & Myers Win CFDC Awards: Dantzler Installed as Chair
Winter Haven, Florida – CenterState Bank and Peterson & Myers, P.A., exemplify the attributes George Harris exhibited during his tenure in Polk County.
The two businesses won the Central Florida Development Council's top awards at its Oct. 9 annual meeting at Nora Mayo Hall in Winter Haven. CenterState won in the Success in Large Business category (more than 100 employees), while Peterson & Myers won in the Success in Small Business category (fewer than 100 employees).
The George Harris Jr. Economic Development awards were named after the former CFDC chairman who received many honors for his business acumen, corporate charitable giving, servant leadership and generosity — all attributes this year's winners possess. Winners were also nominated and elected based on their community service, commitment to growth in business, economic stability and promotion of free enterprise.
Sean Malott, President of the CFDC stated that, "CenterState Bank and Peterson & Myers are perfect recipients of the awards this year. Both contribute so much to Polk County and to economic prosperity in the area. It was tough competition as we had so many great nominees this year."
Success in Large Business: CenterState Bank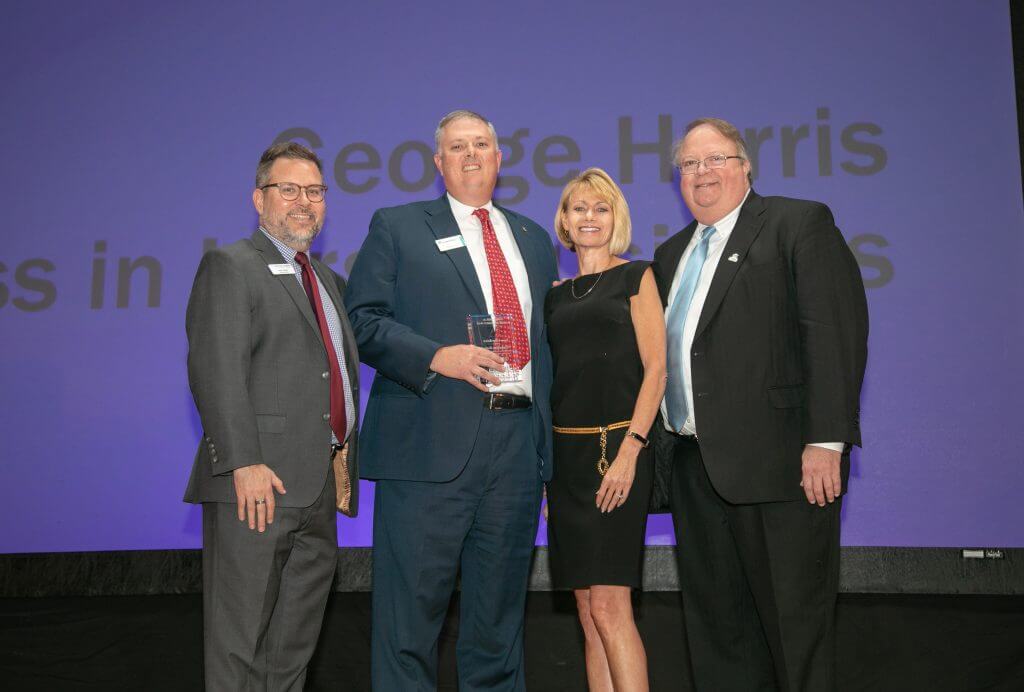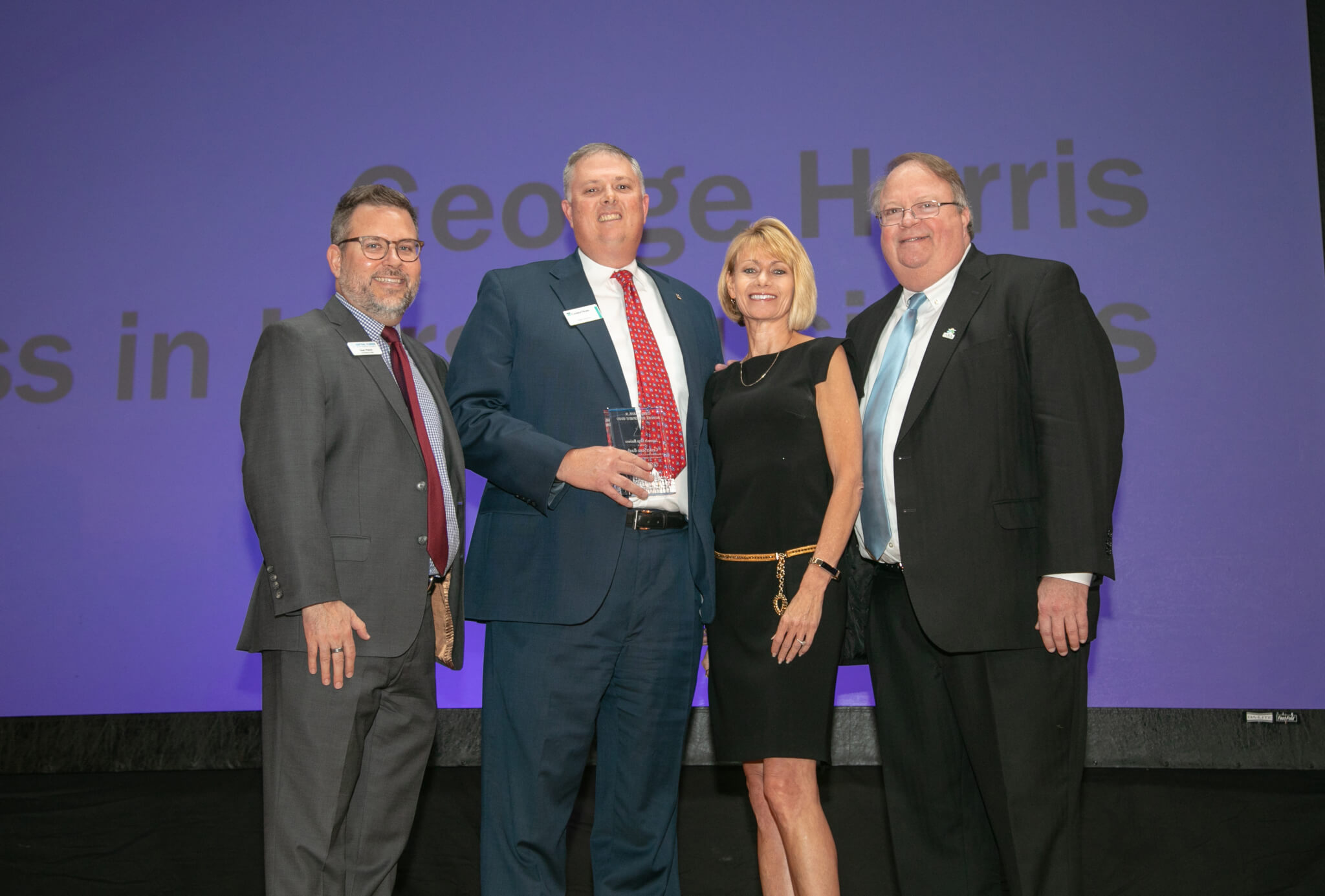 Founded in 1989 by a group of bankers, CenterState Bank is based in Winter Haven; its stock is listed on the NASDAQ stock exchange.
CenterState started growing almost immediately, expanding its community-focused bank model. It has purchased numerous other banks and is now one of Florida's largest locally owned franchises. Although it has clients nationwide through its correspondent banking division, it focuses mostly on local branches in 33 counties in Florida and Georgia, offering traditional services.
The Harris award comes just three months after Forbes honored CenterState by naming it the top bank in Florida on its first "Best-in-State Banks" listing. Much like Publix Super Markets is known for outstanding customer service, CenterState also has that reputation, which, along with strong financials, earned it the honor.
Its employees believe in giving back to their communities. In 2017, employees donated their time at 340 events and activities, helping more than 100 organizations, including the United Way, Meals on Wheels, and Habitat for Humanity.
Focusing on local markets, emphasizing long-term growth, providing top-notch customer service, building lifelong banking relationships, and faith and family are the core values that make CenterState so successful. Dale Dreyer, EVP/Regional President of Central Florida Region shared with attendees, "we are proud to be in Polk County and making decisions for our business here locally."
Success in Small Business: Peterson & Myers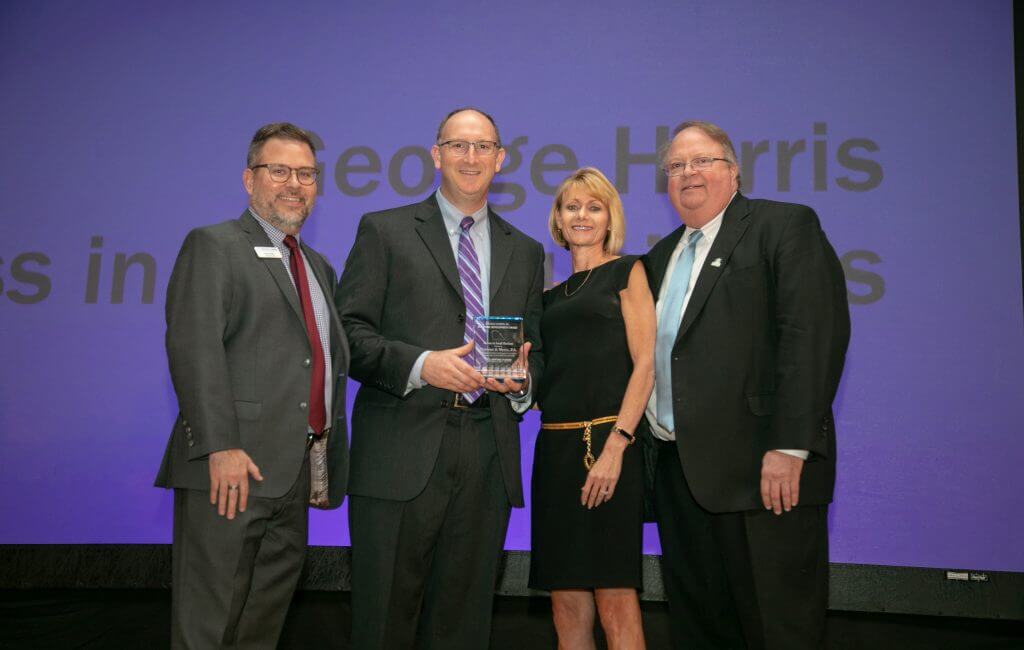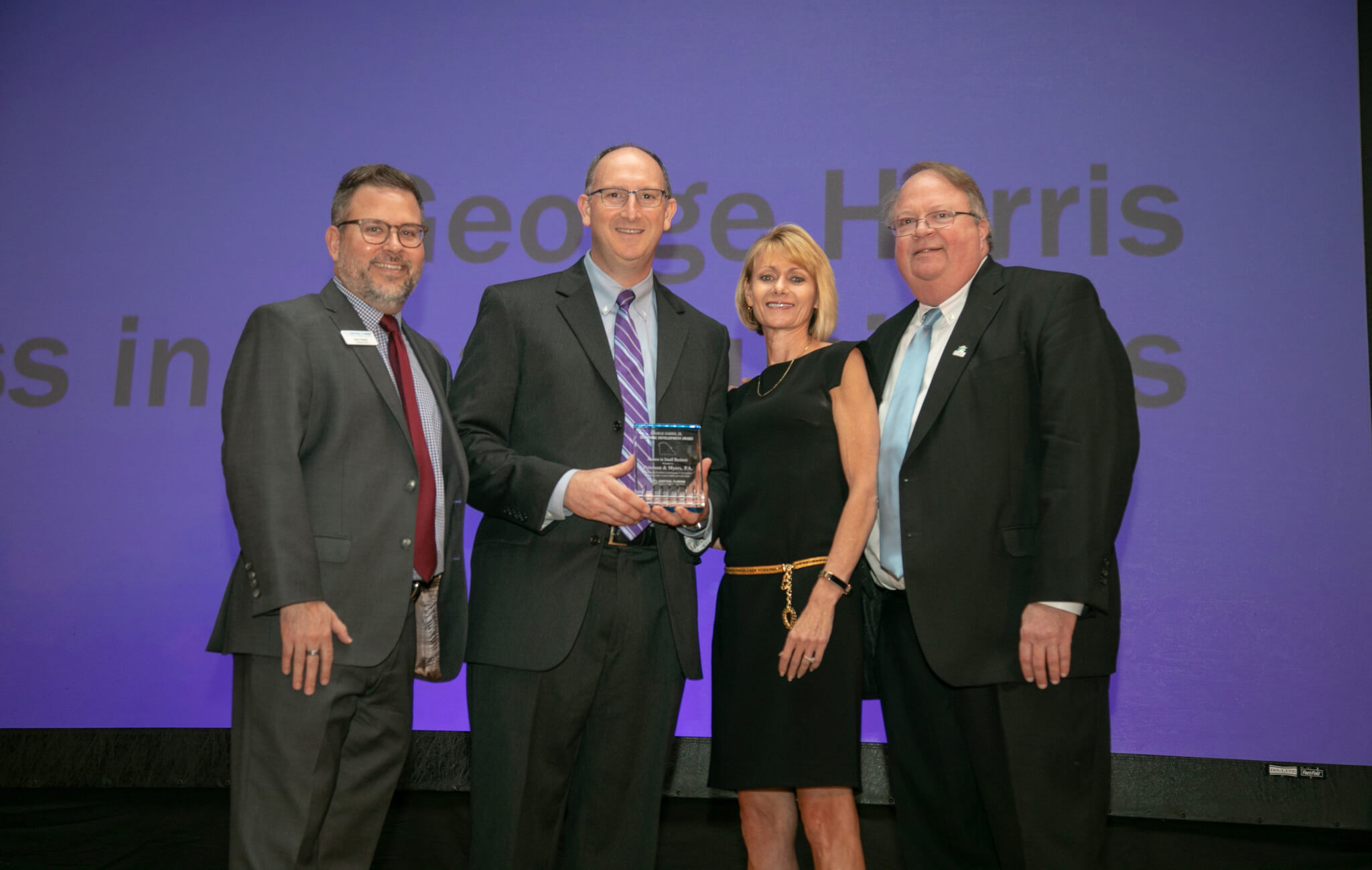 The law firm, founded in 1948, adheres to many of the same qualities that make businesses successful: a commitment to clients, a commitment to the community, a commitment to excellence in the practice of law. Although it also has clients nationwide, Peterson & Myers tends to the needs of those in Polk County, where it has offices in Lakeland, Winter Haven and Lake Wales. Its 25 lawyers specialize in everything from will, estates and health care to litigation, corporate law, real estate and more.
Among 62 peer reviews on Lawyers.com, Peterson & Myers rates a 4.8 out of 5. It scores 93 percent among 14 client reviews.
The firm's lawyers donate time and money to 58 organizations in Polk County, from the Polk Theatre and Our Children's Academy to Southeastern University and the Lake Wales Arts Council. And they are graduates of leadership programs throughout Polk County and Central Florida, where most of them grew up.
David Miller, Shareholder, accepted the award on behalf of the firm stated, "We are grateful for this honor and appreciate the work of all of the nominees. Our county is growing and Peterson & Myers, P.A. is proud to do business in Polk."
A New Board Chairman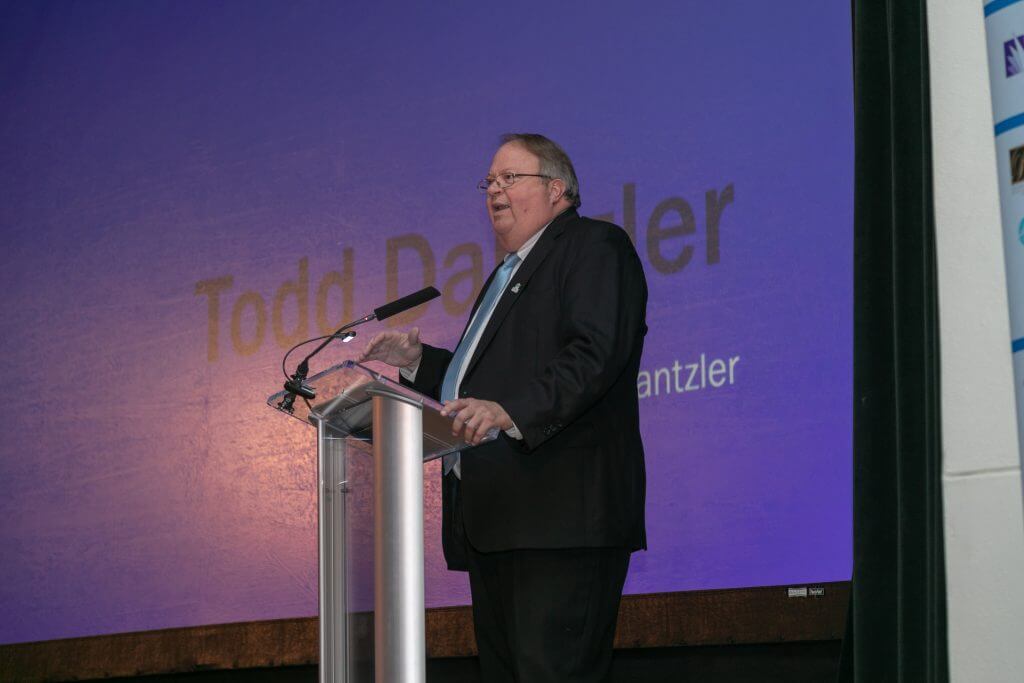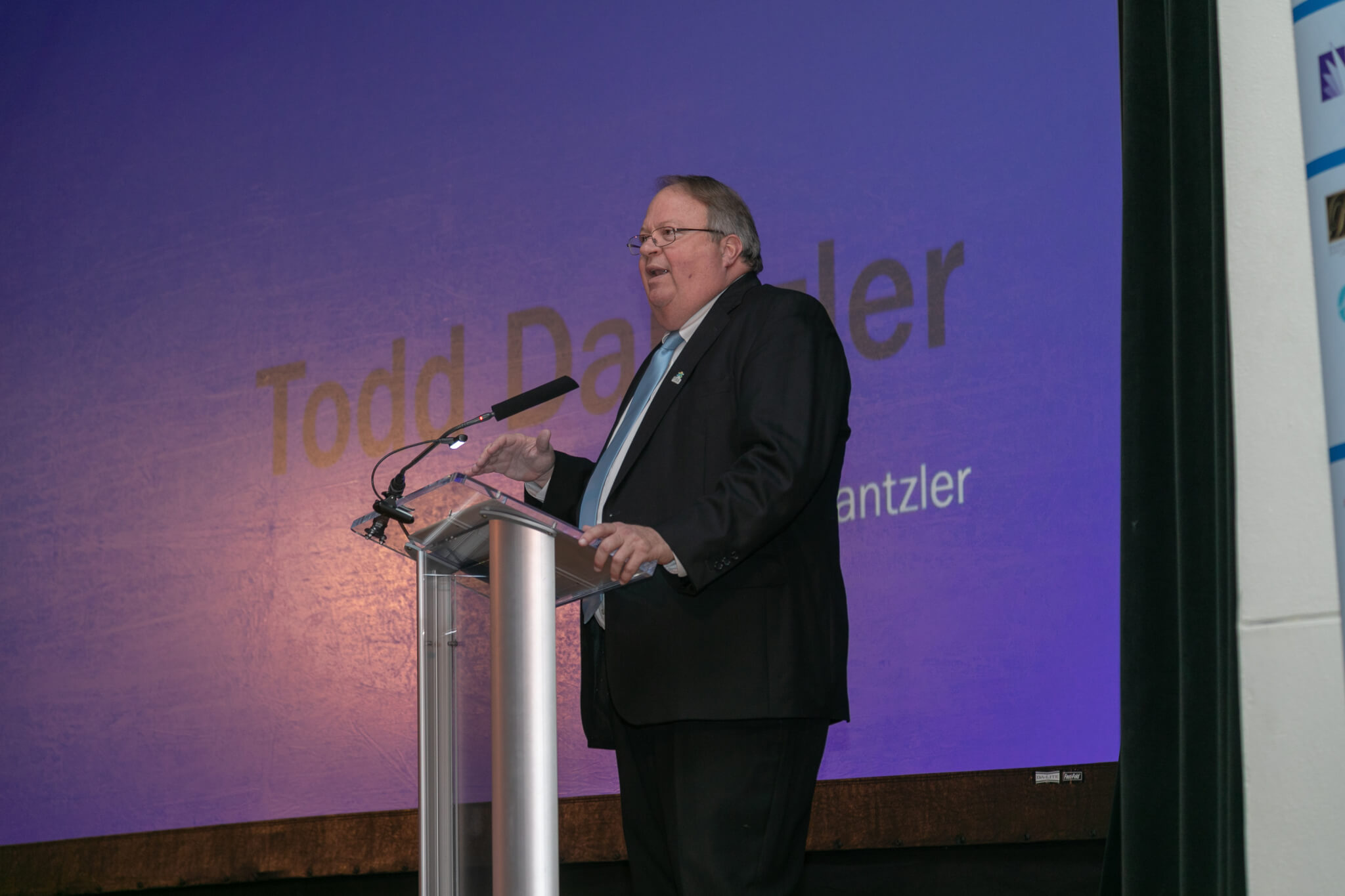 At the banquet, which was attended by more than 300 people, Todd Dantzler was voted in as the new board chairman, ending Larry Madrid's year as chair. Dantzler, a county commissioner, has served on the CFDC's executive committee for six years.
"It's a very exciting time after being in the doldrums for so long," Dantzler said. "We are finally seeing businesses expand. It's really enjoyable to have a lot of good, quality projects to work on."
Dantzler said he wants to be strategic and tactical. "I want to engage investor members more than we have in the past. We have a very talented group of investors who are dedicated to the advancement and improvement of Polk County in the economic sense."
An immediate goal is to implement "Delta" teams to quickly address the needs of businesses looking to do business here, he said.
"If a company comes to town and says, 'I need an engineer, a lawyer and a CPA, then we get some of the members on the Delta team and they have high-level discussions with the business coming to town."
Rowdy Gaines Returns Home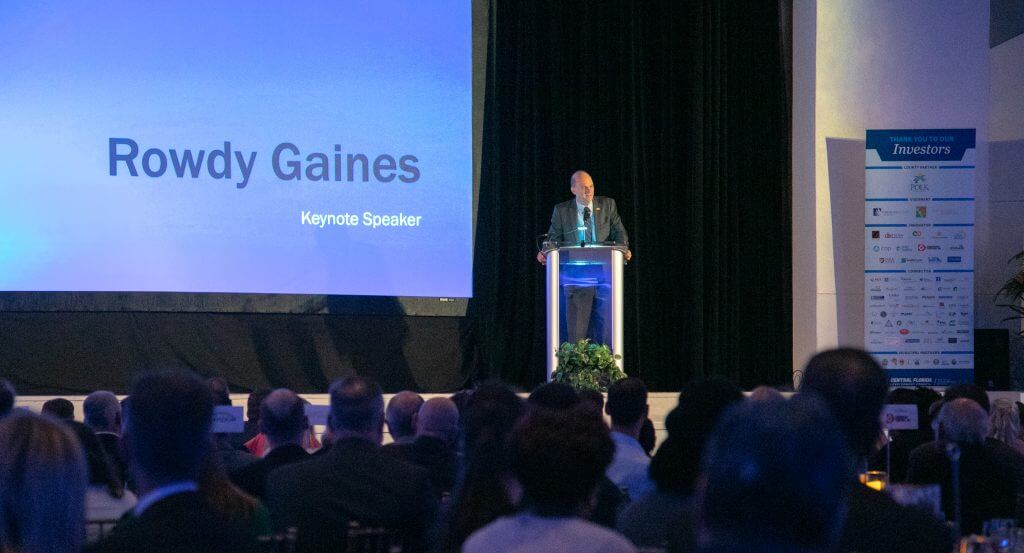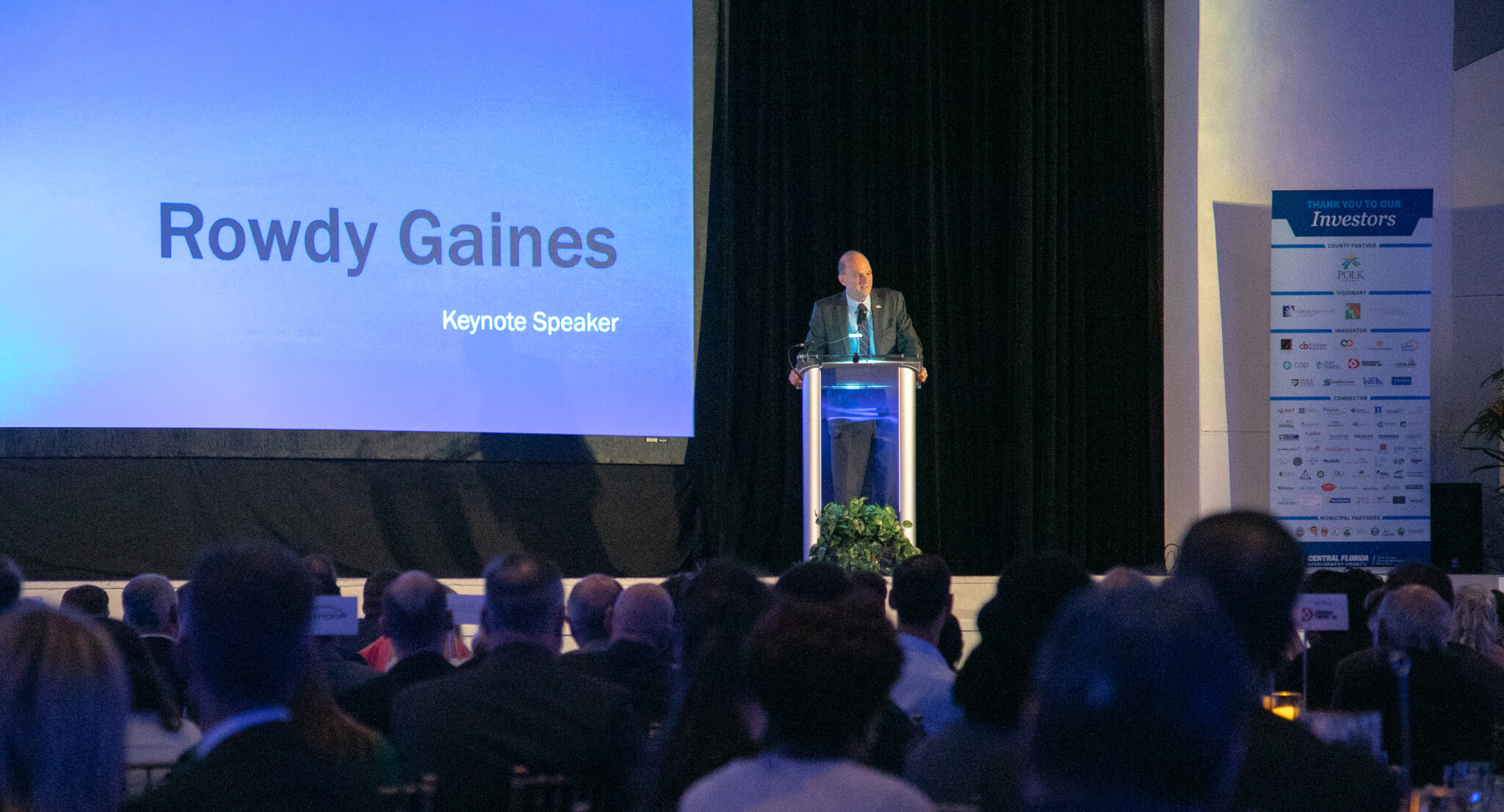 Rowdy Gaines returned to his hometown of Winter Haven, where the community pool is named after him, to speak at the business banquet.
A member of the U.S. Olympic Hall of Fame and the Florida Sports Hall of Fame, among others, Gaines won three gold medals in the 1984 summer Olympics in Los Angeles in the individual 100-meter freestyle, and as the anchor leg in the 4x100m freestyle and medley relays.
The holder of 10 world records between 1978 and 1984, Gaines was a member of the USA swim team that missed the 1980 Olympics, which the United States boycotted. After successfully battling the muscle-weakening and paralyzing Guillain-Barre Syndrome in August 1991 (which was credited to his impeccable physical conditioning), he qualified for the 1996 Olympics trials, but chose to skip those and focus on his broadcasting career. He remains a commentator for NBC and ESPN.
He also serves as vice president of aquatics for the YMCA of Central Florida and is executive director of Rowdy's Kidz, a charitable program sponsored by LIMU, which produces energy drinks.
About CFDC
The Central Florida Development Council (CFDC) is Polk County's Economic Development Partnership as designated by the Polk County Board of County Commissioners. The CFDC is responsible for recruiting new businesses to Polk County and helping existing businesses expand.