the highest honor
Economic Development Awards – Success in Business
The Central Florida Development Council's highest honor — the Economic Development Awards — is presented annually to a large and a small business, institution and/or organization in Polk County which promotes free enterprise, community service, economic stability and quality growth.
The economic development organization's investors vote to recognize both small and large entities which are recognized at its annual meeting.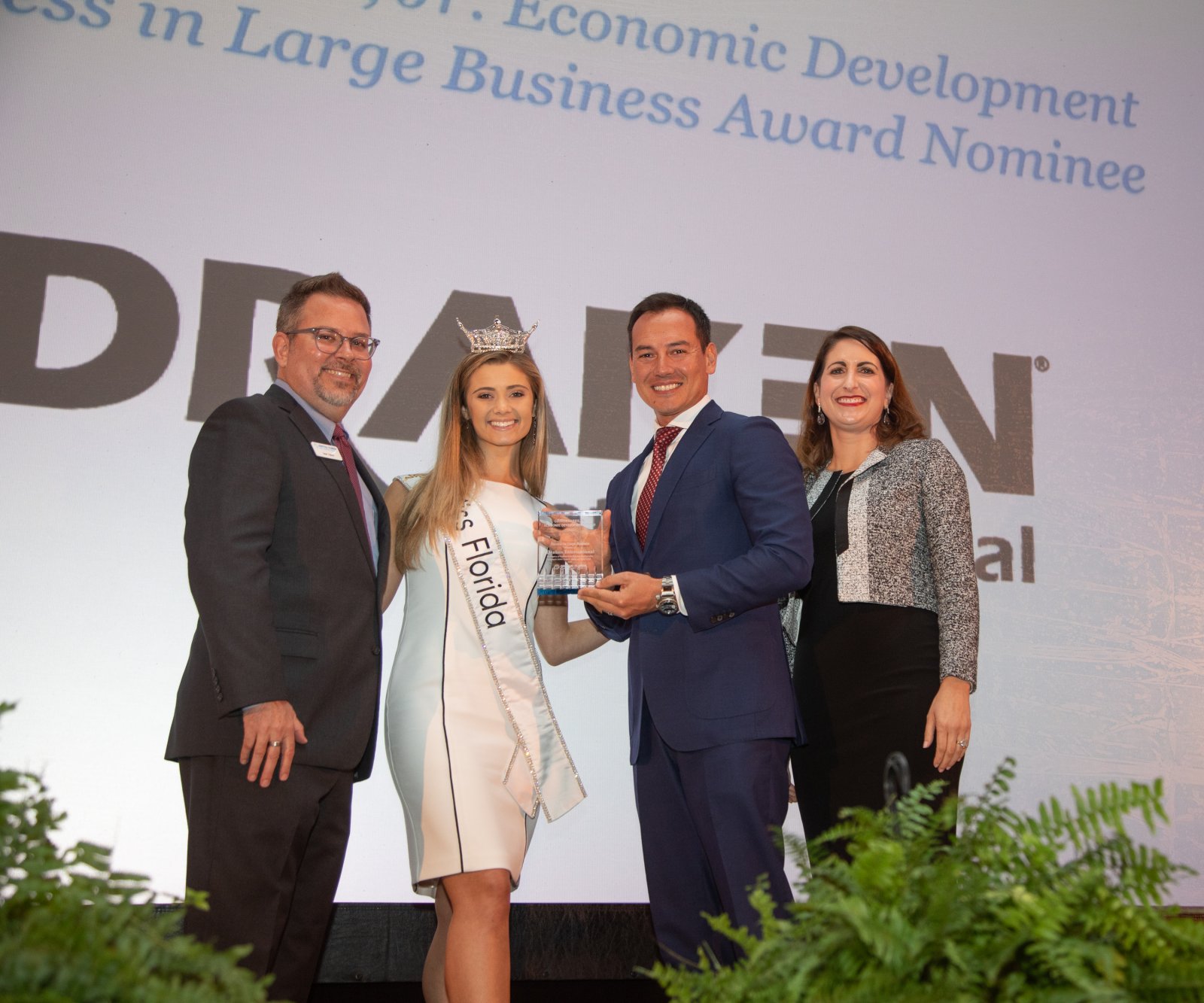 George W. Harris, Jr. Success in Large Business Award
The prestigious award is named for George W. Harris, Jr. who was Chairman and President of Citrus and Chemical Bank. Harris, who was a towering figure in banking, finance, philanthropy and civic leadership, died in 2006 at the age of 71.
He was an early and impactful Chairman of the Central Florida Development Council, whose office was located in the headquarters of Citrus and Chemical Bank in Bartow, Florida for 22 years.
The energetic and good-natured banker was a graduate of Georgia Tech where he met Harriet Griffin, his future wife and mother to his three children. While Harris was a giant in the banking industry, his endearing legacy is his love of people and his community.
His numerous honors include the 2003 George Jenkins Award from the Lakeland Area Chamber of Commerce and induction into the Tampa Bay Business Hall of Fame. Harris was the first statewide recipient of the Community Bankers of Florida Banker of the Year Award and he received the Humanitarian of the Year Award from the Polk County Opportunity Council. Citrus and Chemical Bank received the Dick Pope, Sr. Award from the Central Florida Development Council, the same honor which would one day pay homage to his name and community service.
The George W. Harris, Jr. award is presented to companies with 100 or more employees. The 2022 recipient was Tucker Paving Inc. Larry "Chip" Tucker started Tucker Paving in 1994, breaking away from Tucker Construction company, which his father, Larry Tucker Sr., and his uncle started in 1965. They offer services that range from underground utilities and demolition to concrete curbing and asphalt resurfacing. To keep up with growth, it recently built a new $1.8 million facility in Winter Haven. Tucker Paving employs over 250 people.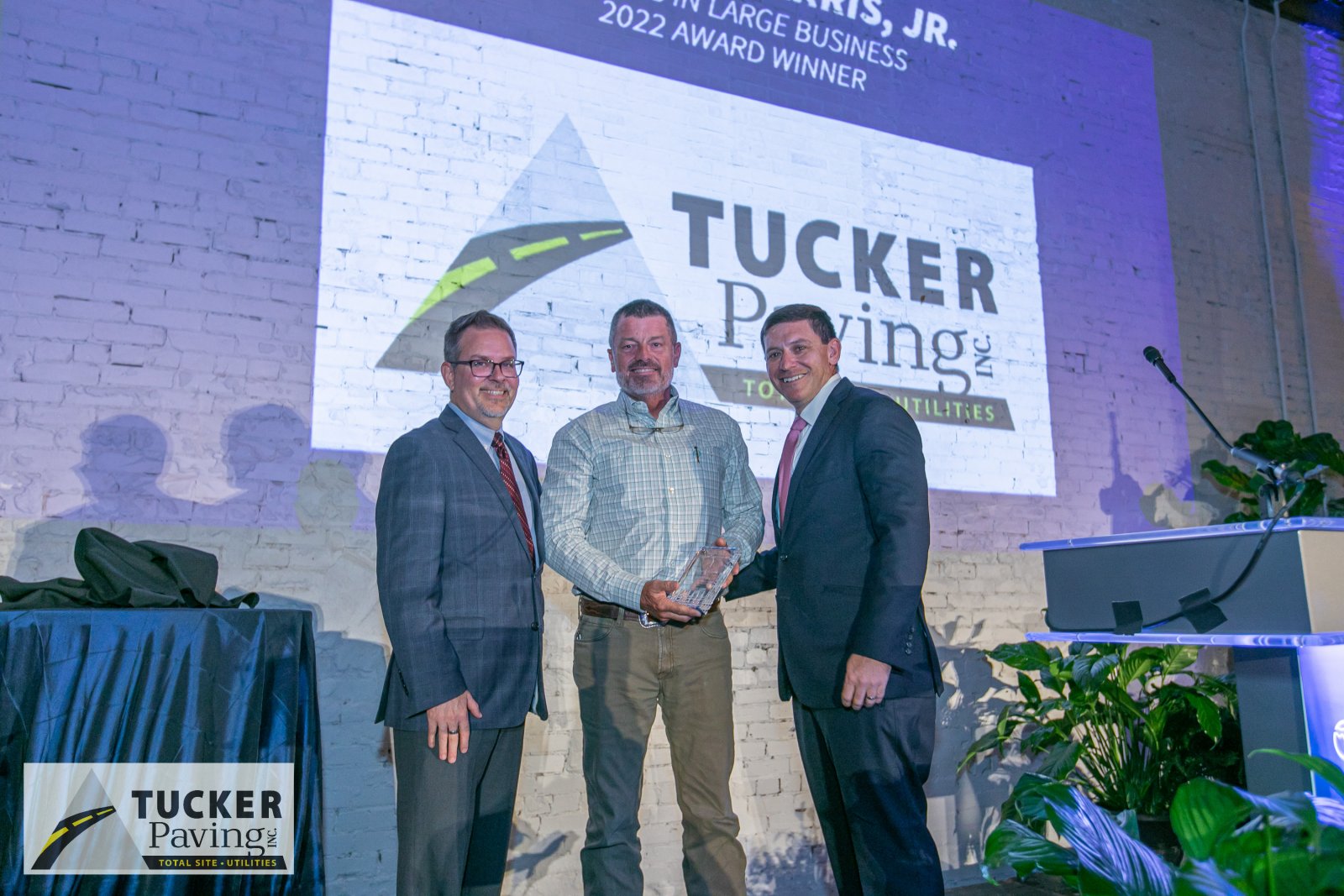 Jim Brantley Success in Small Business Award
When unemployment hovered around 16 percent in the early to mid-1980s, Polk County government and business leaders knew they had to do something. Back-to-back freezes had wiped out the citrus crop, phosphate mining was declining and Piper Aircraft closed its 2,500-employee manufacturing plant in Lakeland.
Jim Brantley was the county's director of Community Development, a man who worked with officials in the county's 17 cities, people who trusted him. He became the first director of the newly created Economic Development Department within Polk County government — the answer to officials' pleas for help.
Brantley was charged with the task of creating the Central Florida Development Council as the county began emulating the state Department of Commerce's initiatives nearly 35 years ago. In 2019, the Central Florida Development Council named its small-business award to honor his leadership.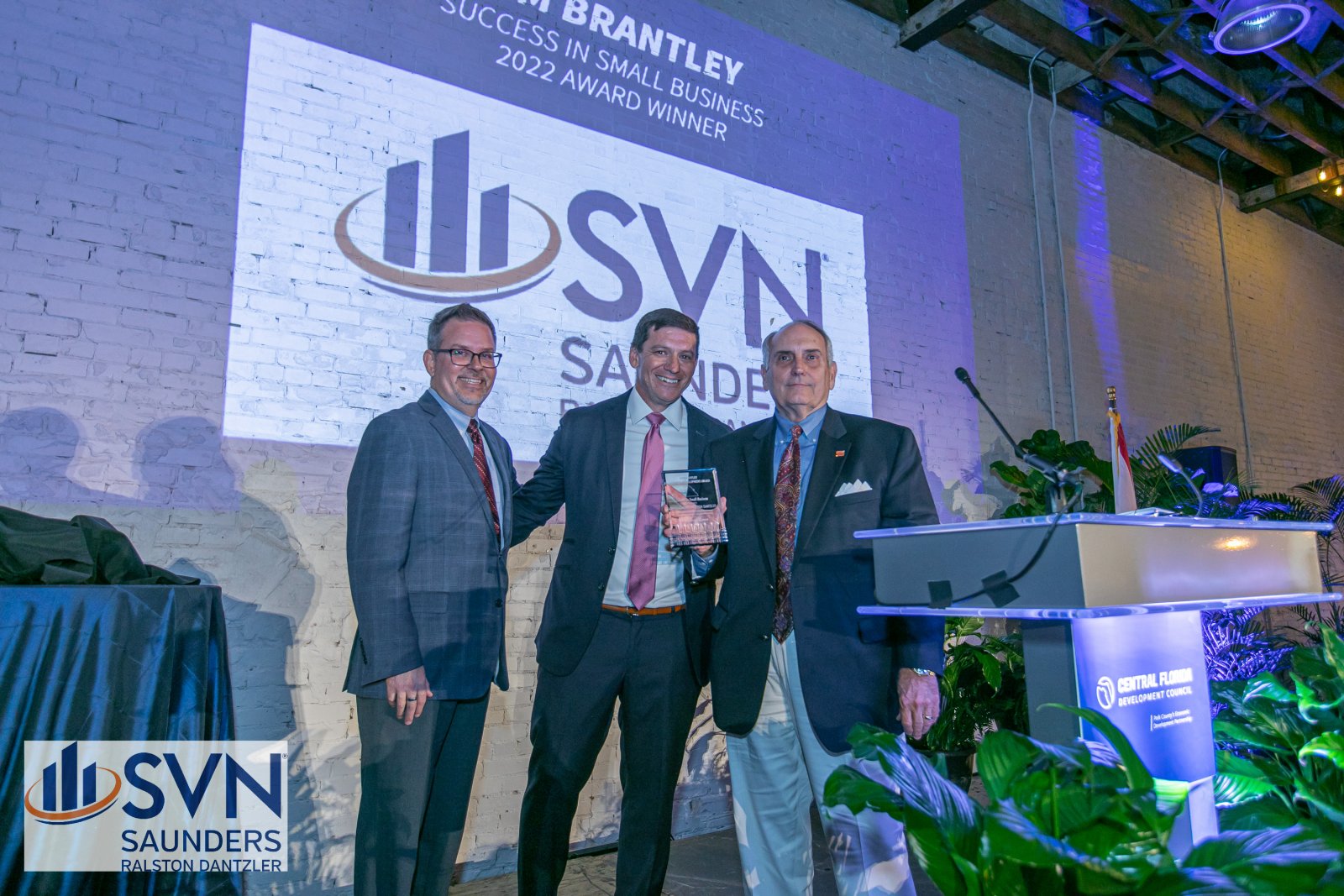 The Jim Brantley award is presented to companies with fewer than 100 employees. The 2022 recipient was SVN | Saunders Ralston Dantzler Real Estate. Dean Saunders founded the company that is now SVN | Saunders Ralston Dantzler Real Estate 26 years ago and has built it into a bustling business with more than 60 advisers and two partners – Gary Ralston and Todd Dantzler. They are a full-service land and commercial real estate brokerage that represents buyers, sellers, investors, institutions and landowners.
Past Small Business Award Recipients
2022 – SVN | Saunders Ralston & Dantzler
2021 – Springer Construction
2020 – FHS
2019 – The Lunz Group
2018 – Peterson & Myers
2017 – Six/Ten LLC
2016 – Broadway Real Estate
2015 – CNP
2014 – Madrid Engineering
2013 – A-C-T Environmental & Infrastructure
Past Large Business Award Recipients
2022 – Tucker Paving Inc.
2021 – Nucor Steel Florida, Inc.
2020 – Southern Glazer's Wine & Spirits
2019 – Draken International
2018 – CenterState Bank
2017 – Florida Southern College
2016 – LEGOLAND
2015 – Florida Polytechnic University
2014 – Saddle Creek Logistics Services
2013 – Coca Cola Main Street
Additional recipients include:
ButterKrust Bakeries
Citizens Bank & Trust
Citrus & Chemical Bank
Clark Environmental
Colorado Boxed Beef
Cypress Gardens
Florida's Natural Growers
Geico
Mosaic
Polk State College
Progress Energy
Publix Super Markets
State Farm Insurance
TECO
The Ruthvens
W.S. Badcock Corp.