Go back to

Blog

page.
Lake Hamilton Leaders Hope Residential Growth Attracts Commercial
Residential growth welcome in the East Polk city of Lake Hamilton, requiring creative solutions from city staff and awakening a new area of growth in Central Florida.
"The best thing is the worst thing," said Lake Hamilton associate planner Angie Hibbard. "We need residential to get more commercial, but it's coming in huge chunks all at once. As a really small town with a small staff, that's a lot to deal with."
And, she said, some longtime residents like their "little town" just the way it is, saying: "We like it being tiny. We don't want to see all the houses being built on top of each other." But, new residents don't want big yards that take all weekend to manicure. "They want a house and a small yard, and a nice recreational area close by."
Lake Hamilton grew from 1,231 in the 2010 Census to somewhere between 1,550 and 1,750 residents now, Hibbard said. Neither she nor Community Development Director Doug Leonard think the 2020 Census number was accurate due to door-to-door surveying and the pandemic shut down. "COVID hit and shut down the world and pulled Census staff out of the field," she said. "The majority did not get hand-delivered then. It was very tough. We are pretty confident our Census numbers are underestimated."
But if growth continues on the same trajectory it's on now, "We're going to more than quadruple our size in less than 10 years. We probably have another 8,000 residents coming," Hibbard said.
Hibbard said she thinks residents move to Lake Hamilton because "we still have a great small-town feel with a personal connection between staff and police, and our residents."
As residents are moving in and more houses are being built, commercial is expected to follow, she said.
Lake Hamilton's Residential Growth
Leonard said dealing with growth in a changing environment involves "constant negotiation."
That's led to about 2,800 houses in the pipeline, including one subdivision of 848 houses, he said. Another one will have more than 1,200, and another 400. One developer who would like to build 207 townhomes is working closely with the city, he said.
"Every week we get somebody new who calls about a project," Hibbard said. "These are solid conversations."
Leonard said the town's highest priority is keeping an eye on the future, something they've done for the last three years. "We know the development is coming; we want it to be done well and timed right, like seeing our utility systems expand in concert with that. It's been a constant negotiation with developers of what are you going to build and when will you build it. They must realize there's limited financing in a town of 1,500 people. Developers have to pay for things like water and sewer in a new development. We're in the final design stage of a new wastewater plant. That was a two- to three-year process of coordinating participation between developers and the town to build it."
Even as it grows, Lake Hamilton still has that community feel, Hibbard said. "There's still that familiarity – people come up to pay the water bill and see the same person they deal with on utility bills every month."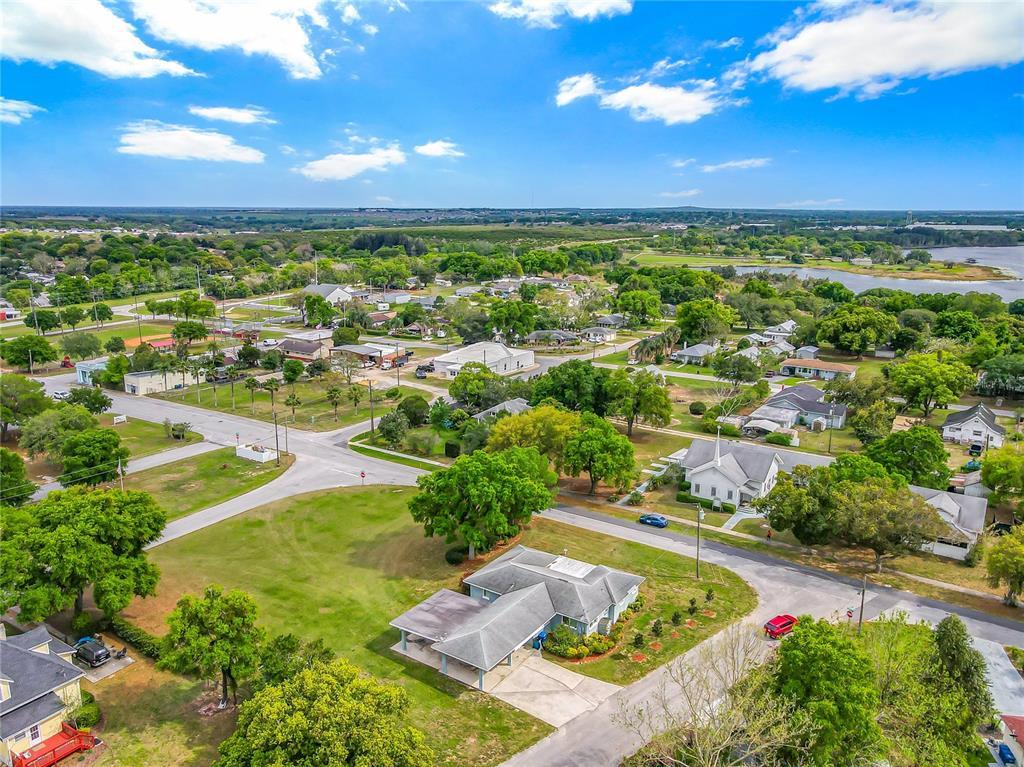 Commercial Growth
Commercial growth – mostly in the form of new restaurants – is happening along U.S. 27, which borders the central part of the town to the west. Scenic Highway (U.S. 17) borders the eastern side of central Lake Hamilton.
Five lots squeezed between U.S. 27 and big Lake Hamilton have sold in the past two years, Leonard said. "There's quite a bit of waterfront. Four of them have restaurants or a food industry type business coming in." Patrons there can view a gorgeous sunset on clear days. 
Largely a residential town, Lake Hamilton doesn't have that commercial/industrial tax base that other towns have. "So those things are the things we would promote, but until you have the rooftops, you don't get commercial. Industrial growth in this area is limited to family businesses and the Roberts Industrial Park, which has 30/40 units that are leased out," he said.
Hibbard said a lot of small businesses provided needed services, such as mechanics, cabinet makers and jet ski repairs. "The restaurant and hospitality industry coming in – that helps facilitate jobs."
Lake Hamilton is also home to one location of Dundee Citrus Growers, which is the largest employer during much of the year, she said. Fruit is washed and sorted there.
The Future for Lake Hamilton
No one in Lake Hamilton wants to lose the town's community feeling, Leonard and Hibbard said. So the town's leaders are working to keep it.
"We are working on master plans for parks and outdoor spaces, and we will make them accessible and connected," Hibbard said. "We're also trying to look ahead and keep a balance of commercial and residential. We know that to be a thriving community we need places residents can get services, such as a place to get a sandwich, get your hair cut, buy pharmacy items, grab an ice cream or coffee and get the dog groomed – in addition to buying gas and groceries. We are looking to attract these types of businesses through incentives and with the cooperation of developers who are focused on building single-family subdivisions first."
In the next five to 10 years, Hibbard said she expects Lake Hamilton "will be three to four times its current size at the rate we are going."