Go back to

Blog

page.
Companies Win Highest CFDC Honors For Their Growth, Commitment To Polk County
The Lunz Group and Draken International are the winners of the Central Florida Development Council's 2019 Success in Business — Economic Development awards, the highest honors the agency awards yearly.
The Lunz Group won the 2019 Jim Brantley Economic Development Award – Success in Small Business, while Draken — the 18th fastest-growing private company in America, according to Inc. magazine — won the 2019 George Harris Jr. Economic Development Award for Success in Large Business. Both companies demonstrate what the awards stand for — promoting free enterprise, economic stability, quality growth and community service.
"Draken International is thrilled to be recognized as the recipient of CFDC's Economic Development Success in Large Business Award for 2019," said company Vice President John Baum. "Draken International has called Polk County home since our inception in 2011. We could not dream of a better host and partner than Polk County's elected and business leaders to facilitate our tremendous growth. As you know, Draken is comprised of 87% veterans who continue to support our U.S. Air Force, Navy and Marines every day."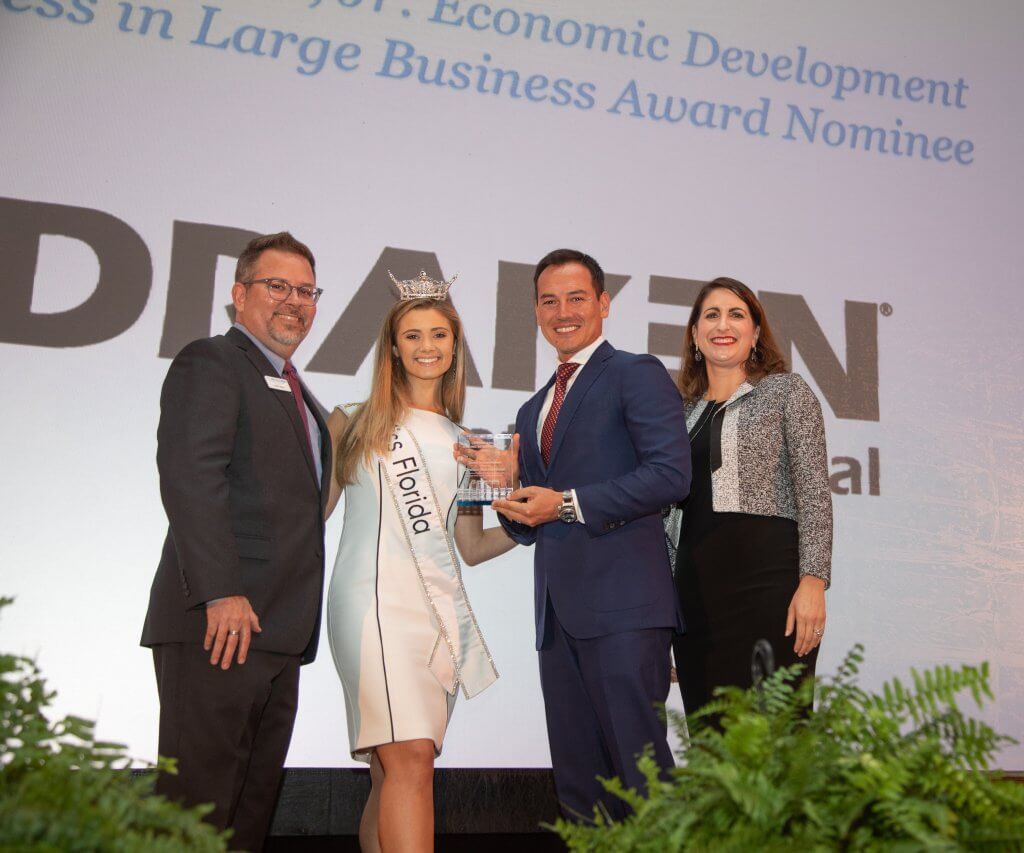 Draken operates the world's largest commercial fleet of 150 ex-military aircraft out of Lakeland Linder International Airport. Their pilots spar with Department of Defense and Allied nations' military pilots to prepare them for combat and other duties.
The other finalists in the large-business category were Central Florida Health Care and the Polk County Board of County Commissioners. The Success in Large Business Award was named in honor of George W. Harris Jr., who was chairman and president of Citrus and Chemical Bank and former chairman of the CFDC.
The Lunz Group was selected in the small-business category for its growth, expanding its footprint beyond Polk County in Central Florida to the Atlantic and the Gulf coast. It recently was named one of Florida's 50 Companies to Watch by GrowFL.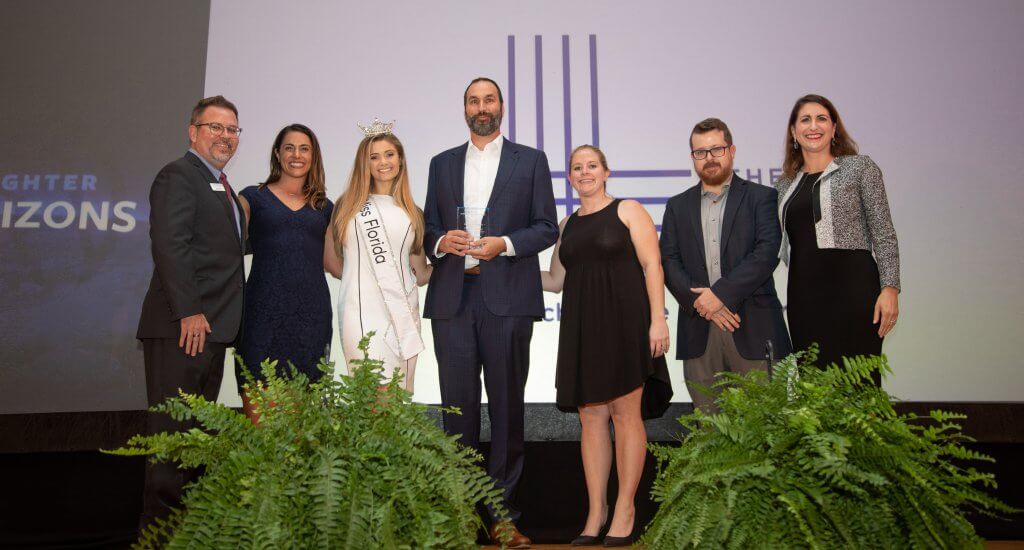 "This award is as much about us as it is the people who are a part of the CFDC," said company President Brad Lunz. "This award is not only a testament to our growth as a company, but also our growth as a region. Together, we're building communities. By building our communities, they've helped build us."
In the small business category, the other finalists were the Greater Winter Haven Chamber of Commerce and Grindley Williams Engineering. The small business award was renamed after Jim Brantley, who created the economic development agency 30 years ago.
"It is an honor to recognize each of the nominees whose impact continues to strengthen economic prosperity within Polk County and the greater Central Florida region," said Sean Malott, President and CEO. "CFDC is grateful to each of the nominees for their vital roles."
At the annual meeting, the CFDC also recognized Greg Littleton, president and CEO of Citizens Bank & Trust, with the 2019 Central Florida Development Council's Chairman's Award. Littleton served two terms as chair of the CFDC and remains committed to the agency and economic development in Polk County.
Retired four-star Gen. Lori Robinson captivated the audience with her speech about serving in the U.S. Air Force, where the lessons she learned translate to private companies. She addressed the need to be innovative and creative, two of the most important traits business leaders can have today. Being responsive to change and leading boldly is what keeps companies in business, she said.
In 2016, Robinson became the highest-ranking woman in U.S. military history. She served as commander of the U.S. Northern Command and the North American Aerospace Defense Command from 2016 to 2018. She was the first woman to command a major Unified Combatant Command.
At the close of the meeting CFDC board Chairman Todd Dantzler turned over leadership to retired Air Force Maj. Gen. Jake Polumbo, who had served as vice chair. Polumbo has been actively involved in the aviation sector, works part time at Florida Polytechnic University and is the founding partner and a senior consultant with Two Blue Aces Consulting.
He said he's looking forward to leading the agency the County Commission has designated to champion economic efforts here. In the last year, the CFDC — with help from community partners — recruited more than 1,500 new jobs with a combined payroll of $70 million and a $158 million capital investment.
"I'm proud to be part of such a high-performance team at CFDC," Polumbo said. "And I'm pleased that so many of our city and county leaders and planners attended the meeting — it shows strong camaraderie and an eager willingness to partner on our core competencies and plans. The CFDC is committed to helping the other EDCs accomplish their goals and protect the business models and industries that have made Polk County so successful to date."
Polumbo also said he's happy to see a strong group of people tackling advanced technology like autonomous vehicles and the "significant opportunities on the horizon for the integration of our aviation and aerospace skill sets here in Polk County."