Go back to

Blog

page.
Retired General and Annual Meeting Keynote Speaker Talks About Flying, Stem and Life
Retired United States Air Force General Lori Robinson thinks it's important that parents pay attention to their children and where their natural tendencies lie, especially if those might be in a STEM-related field.
Speaking anecdotally, the guest speaker at the Central Florida Development Council's October 16th Annual Meeting said she hears about students who come to the United States because our colleges are so good. After college, they take their knowledge and capabilities back to their home country.
"We have to ensure we as a nation keep par and continue to develop technology, and we need folks to think about that, contemplate it. Think about what it means. What's STEM? It's important, especially if you see one of your children has a natural tendency," said Robinson.
"I think we should expose people to all possibilities of the future. And if they naturally gravitate to it, encourage it."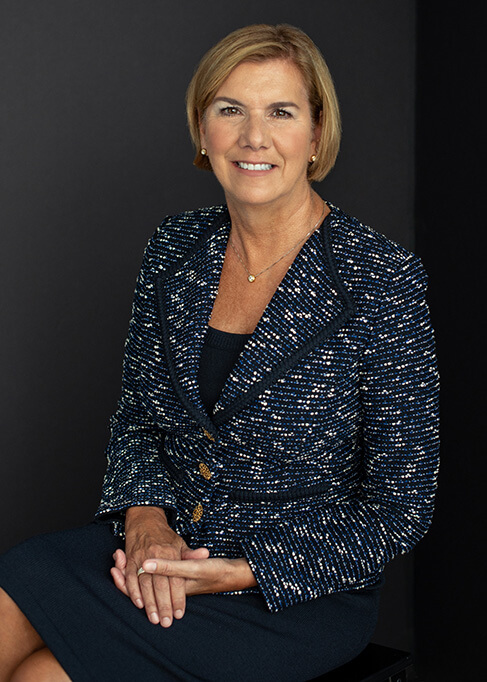 In 2016, Robinson became the highest-ranking woman in U.S. military history. She served as commander of the U.S. Northern Command and the North American Aerospace Defense Command from 2016 to 2018. She was the first woman to command a major Unified Combatant Command.
It would seem she was destined for a life in the military, having grown up in a military family that moved every two to three years.
"I was the oldest of five children — six years from oldest to youngest," said Robinson, 60. "When it came time for us to look at colleges, dad said, 'Why don't you look at the Air Force Academy.' But I went to the University of New Hampshire because I wanted to teach."
At UNH, Robinson majored in English. But teaching required a master's degree, and Robinson didn't want to stay in college for six years.
"I decided to join ROTC. I got commissioned — my dad commissioned me. And then, about six to seven months later, I started active duty as a lieutenant."
A MILITARY LIFE
Robinson served from 1981 to her retirement last year, rising in rank 10 times as she traveled between duty stations that spanned the globe.
During her ascension, she and her husband, retired two-star General David Robinson, had to make a difficult decision.
"It was either him getting out or me getting out," she said. "It resonates on a lot of levels with people. Couples are married, each has a job, people move around. It's something people deal with all the time. I'm proud to say we never looked back. It wasn't particularly easy. It was a defining moment."
After David retired from active duty in the Air Force, he became a pilot for Southwest Airlines. "His constant love, devotion, support allowed me to continue to move around and move up in the ranks," she said.
With more than 900 hours flying in the E-3B/C and E-8C, Robinson says she's an "unabashed airman."
"Having the privilege to fly in almost every fighter — the world is different up there than on the ground. It's incredible."
A person who says she "supports and defends the constitution," Robinson has received numerous awards, including the Distinguished Service Medal, Defense Superior Service Medal, Legion of Merit and Bronze Star Medal.
She said she succeeded in the male-dominated military because the right people thought she had a good attitude.
"They put me in places that challenged me and then provided me with opportunities because I met and exceeded the standard."
SOLID ADVICE
"You are part of something bigger than yourself."
This is what Robinson was told by a mentor at Nellis Air Force Base in Nevada, not long after joining. She said she'll never forget this advice.
"As I grew in rank, I finally realized that it wasn't about me. It's about the institution. I am a part of something bigger than myself. Every time I took a job, my goal was to make the people who worked for me better than me," Robinson said.
That advice rolls into her civilian life, which she said is all about the importance of relationships. "If I'm going to be part of a company, that's the way I think about it. How do I make this company better?"
Her bosses opened doors for her, helping her build relationships. About the mentor mentioned above, she said: "He saw something in me I didn't see. He watched me. He took me places. I was the first woman to have the job (at Nellis AFB), the first non-fighter pilot," Robinson said. "People have expectations, at Las Vegas, I was the only woman instructor for 1 and a half years."
Although she never had a female to look up to, she said, "I never felt like I lacked anything. But I was aware."
TRAGEDY HITS
Lori and David have three children between them. Taryn Robinson wanted to be a fighter pilot like her father. She graduated from the Air Force Academy in 2005 and was on her second flight outside San Antonio, Texas, practicing a simulation of losing an engine. After getting to a certain altitude, the plane was supposed to head toward the ground before pulling up.
But Taryn's plane, operated by a civilian company, hit an electrical wire on that day, Sept. 21, 2005. The pilot died on impact. The 2nd lieutenant had third- and fourth-degree burns over most of her body.
Taryn sadly passed away on January 10, 2006, at 22 years old. She is buried at Arlington National Cemetery.
Lori and David's sons, Travis and Eric, live in Maryland and San Antonio. Now that both parents are retired, they have more time to visit their children and three grandchildren.
When she's not giving speeches, doing a "couple things" for the Department of Defense or mentoring new "one-stars," which right now entails taking them on a two-week tour of U.S. bases, Lori said she'll figure out what comes next.
General Robinson is the keynote speaker at CFDC's 2019 Annual Meeting, held on October 16 at Nora Mayo Hall, 500 3rd Str. NW, Winter Haven
Reservations to attend the October event can be made at www.cfdc.org/annualmeeting.