Go back to

Blog

page.
A-C-T Environmental Serves Florida Through Two Major Incidents
One local company has been involved in two of the biggest statewide stories of 2021, gaining national attention as it uses its knowledge and resources to guide others and solve problems.
A-C-T Environmental & Infrastructure was founded by Rob Kincart in 1987 in Lakeland as a professional environmental contracting and consulting firm called American Compliance Technologies. Recently ranked #9 in the midsized company category by Florida Trend as one of Florida's 100 "Best Companies to Work For", the firm provides services from remediation and emergency response to decontamination and training.
Earlier this year, A-C-T was asked to take a leading role in the Piney Point breach in Tampa and for its vice president to be called to duty as part of a statewide task force to assist at the Surfside condominium collapse.
"It is an honor for us to know that my dad created a company that, 34 years later, is still super relevant and that we're still providing solutions to incidents as big as Piney Point and Surfside, and that we have the reputation to be the guys to call," said Jeff Kincart. "We've seen unique and devastating things. You learn from those events, take that knowledge and ultimately provide a successful solution for the next customer."
Kincart is a structural/environmental engineer and a general contractor who serves as vice president of A-C-T. The company moved to Bartow in 1995, built a new headquarters facility and expanded its services. It now has seven additional locations from Jacksonville to Naples.
Rob Kincart said it's a testament to those working at A-C-T that the company has thrived through good times, recessions and more.
"My greatest reward is when we are faced with a customer's dilemma/challenge, and we conduct research and solve their problems and have a happy customer. That is what we strive to do every day and our folks understand that philosophy and are excited as well."
He thinks the statewide work his company does reflects well on Polk County. "It's definitely a benefit to Polk County. People always ask where we're from and we're proud to say that we are headquartered in Bartow – and then it gives us a chance to explain where Bartow/Polk County is located and all the good things going on here. It's our way of bringing recognition to Polk County."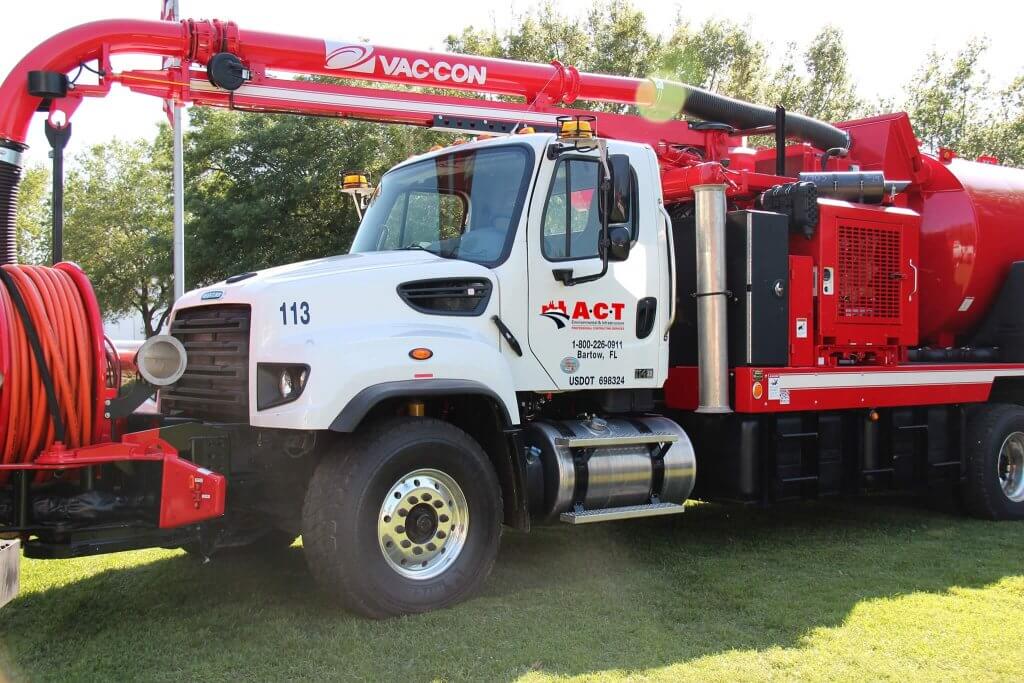 Piney Point
Jeff Kincart was onsite at Piney Point for the first three weeks after a crevice opened at the base of a long-defunct phosphate plant in Manatee County. Officials feared the crack could cause contaminated water to spew across the surrounding areas and into the bay.
"A lot of times we are called into situations and we don't know the full magnitude until we get there," Jeff Kincart said. "We want to make sure we bring in the right resources to support the emergency. With water breaching out, we were worried the entire thing was going to breach. We watched it at all times. There were multiple times when we were onsite and had to be evacuated because it seemed a breach was imminent."
After learning what parts were stable, A-C-T's No. 1 goal was "to get that water removed and treated."
The company wrote this on its Facebook page: "The A-C-T Emergency Response Team has been working tirelessly on site 24 hours a day from the onset and we are now pleased to announce that the Piney Point Water Treatment Facility is ready to roll. The dedicated team of scientists and engineers at A-C-T recently completed construction of a 15 million gallon per day wastewater treatment facility in just under a week!" The company then began treating the water, and work is ongoing.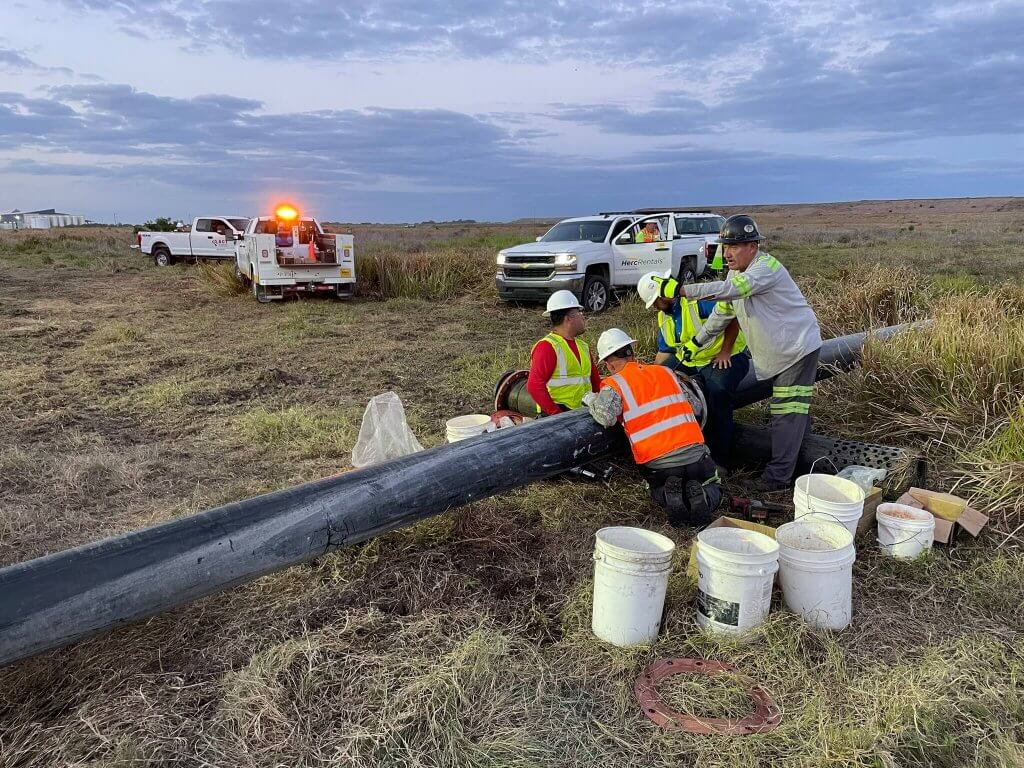 Surfside
Kincart was also deployed as a structures specialist with Florida Urban Search and Rescue (USAR) Task Force 8 to assist with the condo collapse in June 2021. Task Force 8 is a team of highly trained individuals that responds to natural and manmade disasters throughout Florida.
As a structures specialist, Kincart's first priority was to ensure the safety of his team and rescue teams working at the site. He also monitored structures for condition changes and recommended and implemented structural hazard mitigation standards. "We make it as safe as possible," Kincart said of the structures. "We do not go in and do work from an insurance or building rehabilitation perspective as structures specialists."
As an engineer, though, he's always trying to understand what happened to figure out how to mitigate risk to rescue teams, he said. "But at the end of the day during the rescue mission, I don't care what happened to the structure other than making sure we put the right shoring into place for the safety of our rescue team. I have to go into those areas as well. Sometimes I go in first."
The Ocala-based team, the smallest of Florida's eight USAR teams, handles far more hurricane damage than structural damage, he said, meaning he often helps in other areas, such as planning. When he got the call for this deployment, he knew it would be different. On his drive to Ocala, thoughts flooded his mind, especially how bad the situation might be. He was used to working on plane crashes and suicide cleanups at A-C-T, but the sheer number of people missing at Surfside would be different.
"Once I met my team, we were in business mode. In all the training they teach us not to think about the personal side. Think technically: How do we keep the team safe? Do I have what I need to do that? Realistically, you think about it while you're down there, but really it doesn't hit you until you get home. We don't like putting faces and names together; that makes it a lot more difficult."
After returning home, the devastation hits. "It takes a little time. You never get over the situation. As time goes on it gets a little less vibrant in your mind, but it never really goes away. These people weren't doing anything wrong, just sleeping in their beds."
When he deploys, he's not a part of A-C-T. "As part of the team, I'm a state asset. I'm fortunate enough to work for A-C-T, which is a well-established firm that has enough employees that life can go on without me being here. The team slides in and picks up my duties when I'm gone."
Kincart joined USAR after the World Trade Center crumbled on Sept. 11, 2001. "At the time I wondered what I would do with my skill sets being a structural engineer and a first responder through my A-C-T life. How can I mix the two together? It seemed to fit." He's one of only 300 structural specialists in the country, and he also does work for FEMA, through which he received all his structures specialist training.
He was deployed at Surfside for eight days, rotating with other Florida USAR teams. It was the first time in the history of the state all eight task forces were deployed at the same time, he said.
He grows professionally with each deployment. "Forensically speaking, to see buildings that actually collapsed, you see things and take that knowledge that you learned there and see characteristics at other buildings," he said. "I learned things that will have benefits to our customers."
He thinks of his company and his work on the USAR team. "There are a lot of times I've stood on a site and I can't believe I'm standing here. This is what we do for a living. We're a solutions company. Our teams love being out there and using our knowledge to solve these problems."
And what does success look like? "When nobody gets hurt and the problem is mitigated."
Family and Community
Known for its annual Chili Contest to benefit United Way, A-C-T believes in giving back.
"It's a great feeling to be part of our community and become involved. It's a part of feeling complete when you are carrying on the legacy of making our community better than we found it."
Two of his three children — Jeff and Jennifer — work at A-C-T; Michael is a lawyer at Peterson Myers but does the company's legal work. They are his legacy.
"I love to be able to work with my adult children all these years. It's a great relationship and we make a super team," Rob Kincart said. "We all have our specialty, and it's our synergistic relationship that is our 'secret sauce.' They are actually more talented — educationally and innovative-wise — than I am, so I'm truly blessed and confident that they will carry on the business and take us to the next level."