Go back to

Blog

page.
Advanced Manufacturing has a Permanent Place in Polk County – Here's Why 
Polk County is Florida's Best Place for Business, and those involved in advanced manufacturing have figured it out. They know the reasons why companies want to and have located here: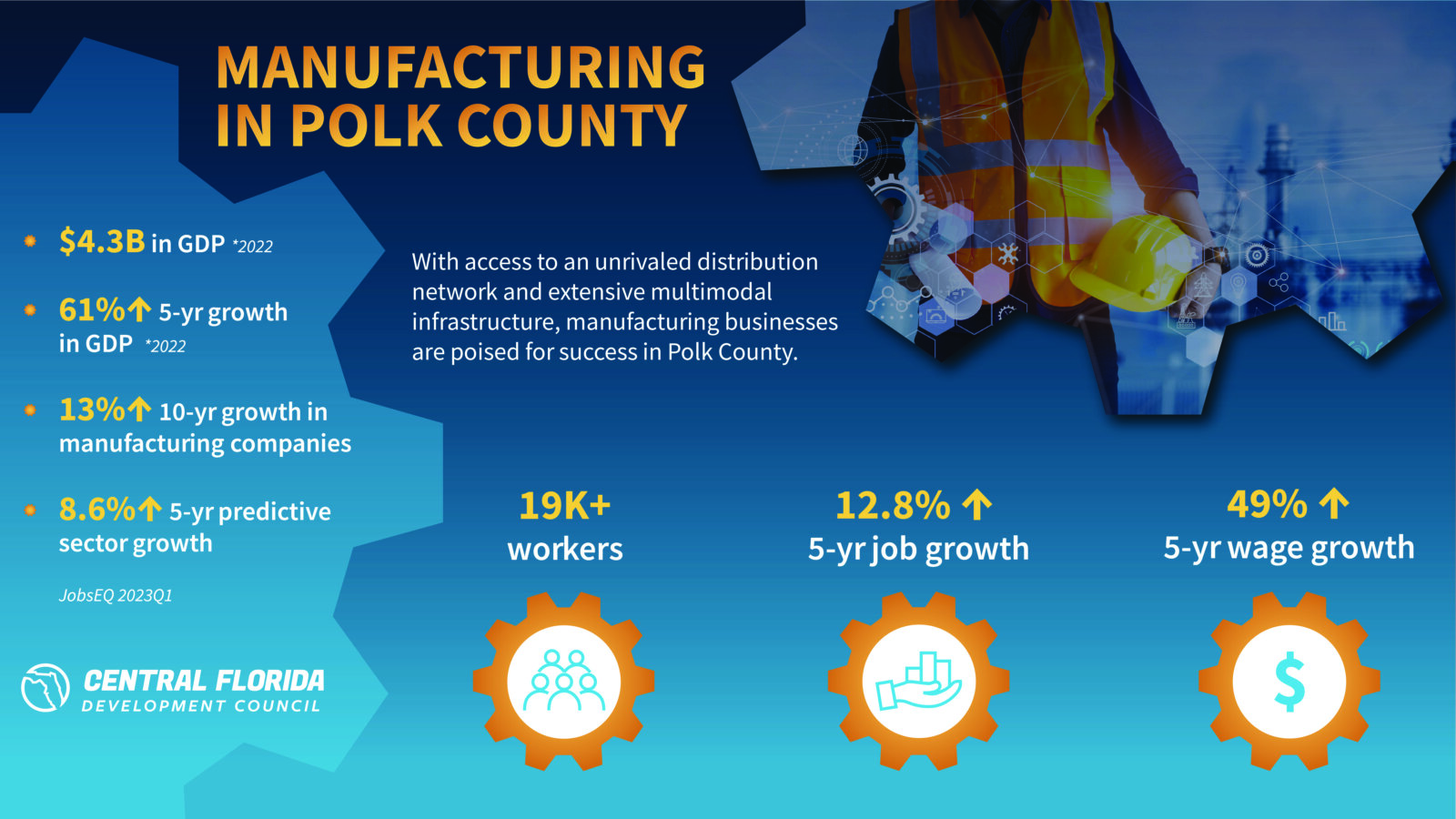 Infrastructure
It's located in the center of the country's third-largest state, providing timely access to customers via road (interstates 4, 75 and 95); rail (300+ miles in Polk); five international airports (Lakeland Linder, Tampa, Orlando, St. Petersburg/Clearwater and Orlando/Sanford); and three seaports (Port of Tampa, Port Manatee and Port Canaveral). And, it has acres and acres of available land.
Economic Resiliency
Polk and Central Florida are in great shape to weather an economic storm. If a recession hits, and experts and economists are divided on whether it will, states in the Southeast are in the best shape, according to CNBC's annual competitiveness study, America's Top States for Business. When looking at things like overall economic growth, annual job growth, the housing market and the state's finances – Florida has its biggest budget in history at $116.5 billion – Florida ranked No. 1. Its gross domestic product growth was 4% in 2022 and its job growth was almost 5%.
Workforce
Polk County is the fifth fastest-growing metro in the country. It lands at 105th on the Best Places to Live list, both produced by U.S. News & World Report. According to that report, the median age here is 40. The median home price is $353,429 and the average annual salary is $50K+. Its population has jumped from 725,046 in 2020 to an estimated 787,404 in July 2022, according to the U.S. Census.
Advanced Manufacturing in Polk
Advanced manufacturing continues to diversify the economy here, provide well-paying jobs and increase the county's average wage – all beneficial. It's a high-growth industry that requires employees to have analytical, critical-thinking, decision-making and communication skills. Currently nearly 20,000 people work in manufacturing representing an employment growth of nearly 13%. Workers within the sector are making an average wage of $62,935, a 49% growth over the last 5 years.
In 2022, manufacturing represented $4.3B in GDP, a growth of 61% over the past 5 years. Companies like Florida Can Manufacturing, Peace River Citrus, Nucor Steel Florida, The Mosaic Co. and ArrMaz call Polk County home. Even pharmeanutical manufacturing is growing. Companies like Assure Infusions is constructing a 60,000-square-foot advanced robotic plant in Bartow this year. These few brand names are part of the 13% growth in manufacturing companies in Polk.

An additional sign of sector growth is Polk's 5-yr predictive sector growth that estimates 8.6% more growth.
Talent for Manufacturing
In addition, the county is home to the Central Florida Innovation District. The district surrounds Florida Polytechnic University, the state's only public university dedicated to STEM (science, technology, engineering and math) degrees. Also, the district provides a localized area dedicated to the development of technology, products and services. Leaders anticipate that as it develops, companies that locate there will hire local talent, including Florida Poly grads, and then locate their manufacturing facilities here.
Along with its central location, Polk County is home to logistics and distribution centers. This gives manufacturers a way to get their products to market.
"We have the land, the talent, the distribution and logistics networks," said Maggie Mariucci, chairwoman of the Central Florida Development Council's board of directors. "We have the ingenuity and innovation, the ideas to move us into the future, led by the likes of Florida Poly and the nearby SunTrax Test Facility."
It's critical that we take the time now to innovate and create so we can continue to move in the right direction as a county, state and country. And there's no better place to start – especially in the manufacturing realm – than Polk County. It's the place to do business in Florida.