Go back to

Blog

page.
CareerSource Polk Hosting Job Fair
CareerSource Polk is hosting the 2021 Veterans and Community Job Fair to help match employers looking for job candidates with those seeking careers.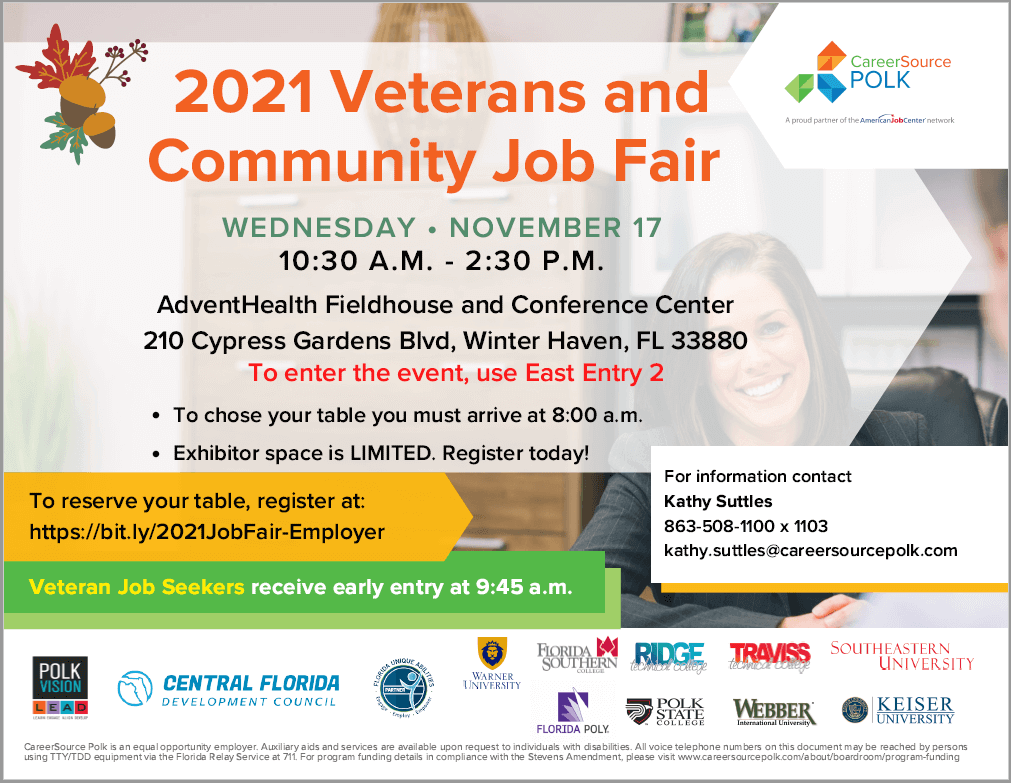 A private, nonprofit administrator of workforce funds, CareerSource Polk is partnering with Polk Vision and the Central Florida Development Council to host the Nov. 17 event from 10:30 a.m. to 2:30 p.m. at the AdventHealth Fieldhouse and Conference Center in Winter Haven.
Veterans may enter early, beginning at 9:45 a.m., part of CareerSource Polk's involvement in Paychecks for Patriots, a statewide initiative to connect veterans and military families with employment opportunities. The effort is highlighted during November; Veterans Day falls on Nov. 11 each year.
"Our goal is to help the Polk community get back to work," said Kathy Suttles, director of Business Services for CareerSource Polk. "[We are] proud to be the bridge connecting employers with talented job seekers in Polk County."
In August 2021, according to the Bureau of Labor Statistics, the workforce in Polk County totaled nearly 312,000, including nearly 70,000 people in the trade, transportation and utilities category, the county's largest. Polk County's unemployment rate was 5.0% in September.
More than 100 employers representing dozens of industries are participating in the event. With workers in demand, everyone from the Florida Department of Transportation and the city of Bartow to BayCare Health Systems and Polk County Public Schools are looking for candidates. A full list of participating employers can be found at www.careersourcepolk.com.
"It is a great opportunity to visit face to face with over 100 companies that are in need of employees and hiring," said Susan Hames, Business Development Manager at RITA Staffing. "You will be meeting many of the hiring decision-makers for these companies. Rita Staffing will be making offers on the spot," pending screening.
The county's nine institutions of higher education, including two technical schools, will also be on hand. Polk State College, Florida Polytechnic University, Florida Southern College, Southeastern University, Webber International University, Warner University, Keiser University and Ridge and Traviss technical colleges also participate in the Countywide Higher Education Workforce group, which works to ensure students are prepared to enter the workforce when they graduate.
CareerSource Polk urges those looking for employment to register at employflorida.com as a job seeker before attending the job fair. It also suggests candidates:
Bring multiple copies of your resume/portfolio.

Dress professionally. CareerSource Polk may be able to help those who need assistance.
Job fairs are easy ways for students entering the workforce to find internships or start their careers, and those between jobs, unemployed or seeking a new start to meet a variety of employers at one time. They allow job-seekers to:
Explore various careers and employers.

Meet with companies that have job openings and are ready to hire.

Network. Making connections is critical in all industries, so even if the fair doesn't lead to a job today, it could as the company sees a different fit for your skillset or shares your name with their colleagues at other businesses.

Hone their interviewing skills.
In turn, employers at CareerSource Polk's job fair gain access at no cost. Other benefits include:
Speaking with candidates who are eager to work, saving them time in the hiring process.

Developing a list of potential future prospects. Most employers retain notes on people who they are interested in but may not be the best fit for a job at that particular time.

Meeting face to face. The resume is important, but so are interviews. At times, employers find candidates who they may have discounted when reviewing only a resume.

Extending their brand to people who may not be familiar with it.
Hames said there are jobs aplenty. "The only difficulty is finding the right fit for both the applicant and the employer."
For more information, call CareerSource Polk at 863-508-1100.