Go back to

Blog

page.
CFDC Among Honorees for Extraordinary Work During Pandemic
At a time when Polk County is celebrating its highest level of employment and a low unemployment rate, CareerSource Polk honored awardees for their role in contributing to workforce and economic development initiatives. 
CareerSource Polk, a non-profit workforce development board, honored several champions of economic prosperity during their Best Places to Work event. Included as a recipient was, Sean Malott, President & CEO of the CFDC, receiving a Workforce Champion Award for his "demonstrated leadership in supporting Polk County's workforce and economic development."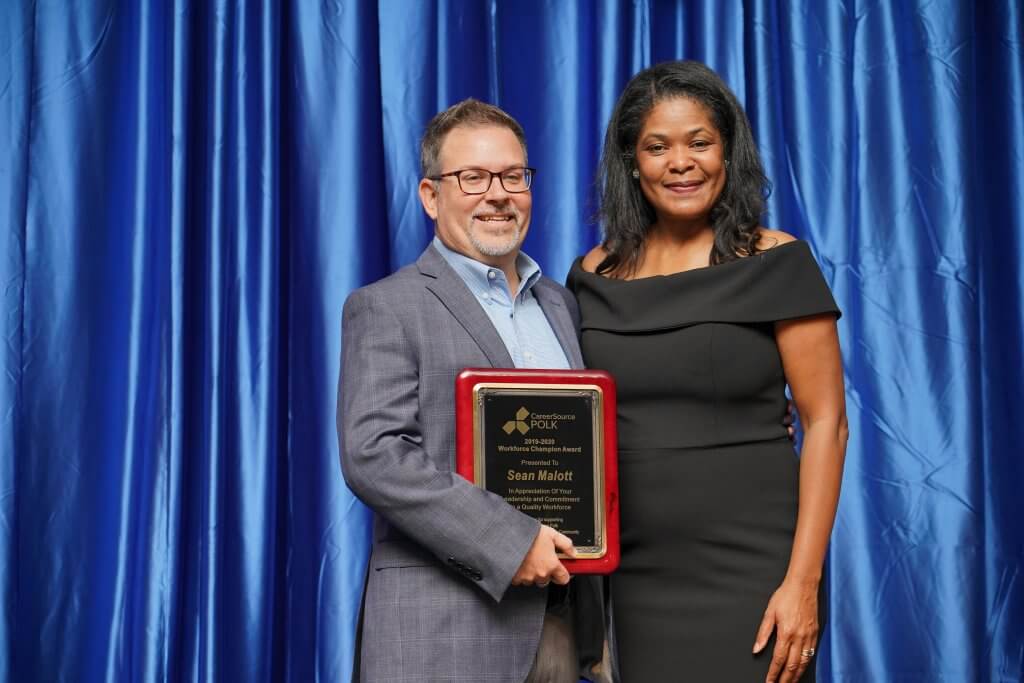 "We are extremely proud to have the CFDC and its talented team as our partner to promote economic development in Polk County," said County Manager Bill Beasley. "Sean is a leader who understands the importance of collaboration, relationships and teamwork, which makes others want to work with him and others at the CFDC."
Malott was humbled by the honor and said it takes everyone in the county working together to keep the economic engine moving in the right direction.
"The CFDC does not operate in a vacuum. Along with other economic development councils, cities, the county and many businesses, it shares knowledge and expertise to attract companies that will become part of the fabric of Polk County, contributing in ways that help everyone. I am grateful for the honor, which is shared by all."
Two others also received a Workforce Champion Award: 
"During one of the most challenging times in our community and around the world, leaders had to pivot from their usual service and rescue communities in total disbelief and disarray," said Stacy Campbell-Dominick, president & CEO of CareerSource Polk. 
"United Way of Central Florida, the Central Florida Development Council and the Polk County Board of County Commissioners immediately mobilized partners throughout the county to provide much-needed support to a diversity of constituents. Through the strategic use of CARES funding, multiple initiatives were executed through expanded and productive partnerships. Our Workforce Champions managed to break down real and perceived barriers to meet the needs of businesses, job seekers, seniors, minorities, children, dislocated workers, essential personnel and so many others at one of the most critical times in our nation."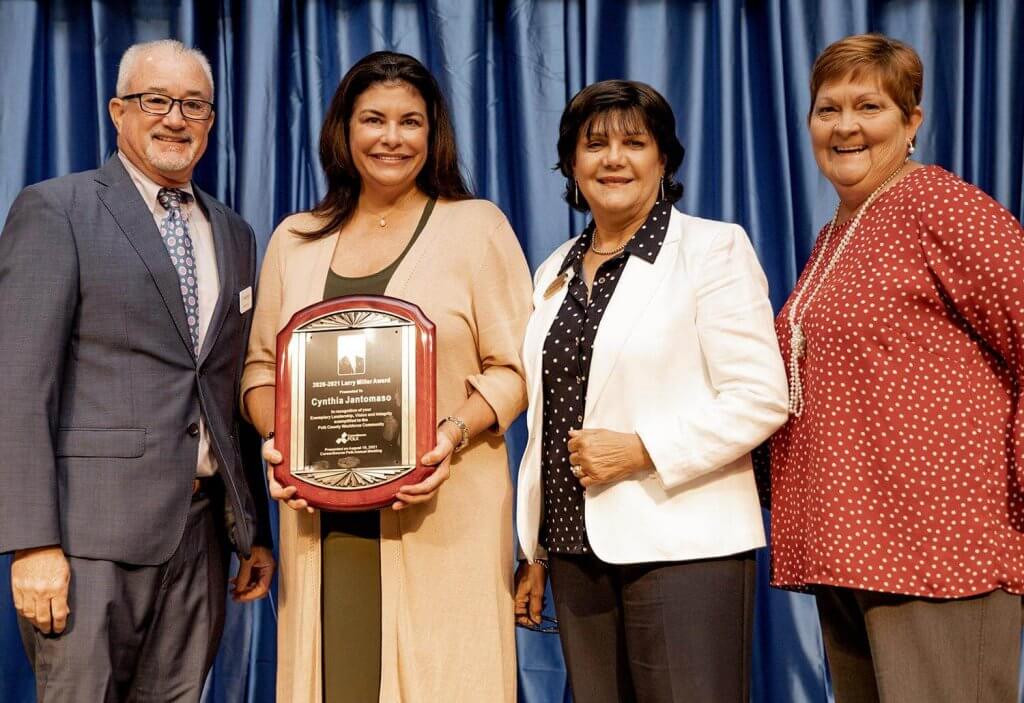 Cynthia Jantomaso, President & CEO of the Haines City Economic Development Council,  received the Miller Award in recognition of her commitment to workforce development through engaged leadership.
At the ceremony, Jantomaso was praised for being on the board since November 2018. Since then, "she has been relentless in representing the needs of the business community and promoting the services of the workforce system in Haines City and throughout Polk County. She has successfully brokered strategic partnerships with business, education and employment to ensure a vibrant economy in Polk."
Best Places to Work Awards
At its annual meeting, a breakfast held at the RP Funding Center in late August 2021, CareerSource Polk also continued the 18-year tradition of recognizing employers who have utilized best practices and innovation in motivating and retaining employees with the Best Places to Work awards. 
This year's Best Places to Work Award winners in the small business category were:
Brown International

Clark Environmental

CPS Investment Advisors

Spherion Staffing
In the medium business category, the winners were: 
Advicare

Citizens Bank & Trust

Kegel Inc.

Lakeland Housing Authority

Lakeland Surgical & Diagnostic Center

OMS Employee Services

Pinnacle Sales Group

WellDyne
Employers of Distinction — employers who have received three consecutive Best Places to Work Awards — are: 
Harrell's

MIDFLORIDA Credit Union

Patel, Greene & Associates