Go back to

Blog

page.
Clean Hydrogen Production Company Invests in Polk County
A clean hydrogen plant will be built in Mulberry under a Memorandum of Understanding that was signed on Thursday, April 27, 2023, by Florida Gov. Ron DeSantis, South Korea-based LowCarbon Hydrogen Corp., Space Florida and Ocean Green.
LowCarbon plans to break ground on their $100 million clean hydrogen facility in June 2023 to support the state's rapidly growing space program. The MOU says LowCarbon will create a research hub for clean hydrogen technology in Florida.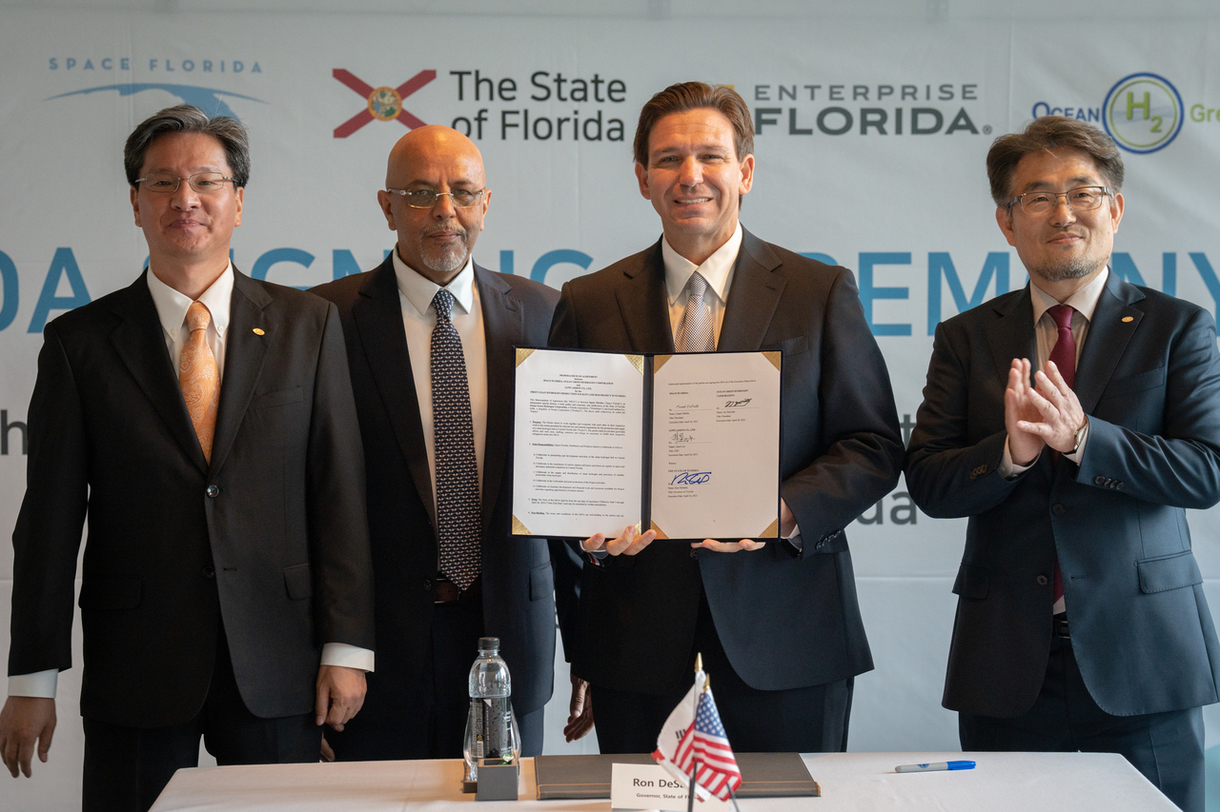 "Polk County welcomes this innovative company and looks forward to helping it grow to support launch operations in Florida, as well as other uses," said Central Florida Development Council President & CEO Sean Malott. "We are poised to continue to help this company flourish and grow."
"Florida is where leading aerospace companies get everything they need to see their new idea take off, and with our strategic partnership with LowCarbon Corp. and Ocean Green Hydrogen we are diversifying opportunities across the fuel supply chain," said Frank DiBello, president & CEO of Space Florida.
Relationship with Aerospace
NASA-run manned missions from Cape Canaveral ended following the shuttering of the space shuttle program. Then, private companies stepped in and developed manned and unmanned rockets. The upcoming schedule shows why clean hydrogen is needed. A sampling:
April 27, 2023: A SpaceX Falcon Heavy rocket will launch the ViaSat-3 Americas satellite from Launch Complex 39a at Kennedy Space Center (KSC).
April 28, 2023: SpaceX will launch a Falcon 9 rocket for the mPOWER 3 and 4 mission from Space Launch Complex 40 at Cape Canaveral Space Force Base.
May 8, 2023: Axiom Mission 2 (Ax-2) will launch the second private mission to carry a crew of four to the International Space Station from Launch Complex 39A at KSC.
No date set: A ULA Delta IV Heavy rocket will launch the NROL-68 mission for the National Reconnaissance Office from space launch complex 37 on Cape Canaveral Space Force Station.
July 2023: The Crew Flight Test (CFT) will demonstrate the ability of Starliner and the United Launch Alliance's Atlas V rocket to safely carry astronauts to and from the International Space Station. Following a successful test flight with astronauts, NASA will begin the final process of certifying the Starliner spacecraft and systems for regular crew rotation flights to the space station.
The number of aviation and aerospace businesses in Polk County has increased from 24 in 2010 to 42 in 2020. That same year, aviation and aerospace produced $41.5 million in gross domestic product for Polk County, according to a JobsEQ report prepared for the CFDC by Chmura Economics & Analytics. That segment has seen an average annual percent change of 8.8% since 2010, eclipsing the national average of 3%.
Clean Hydrogen Use
According to the Department of Energy, "Hydrogen is a clean fuel that, when consumed in a fuel cell, produces only water. Hydrogen can be produced from a variety of domestic resources, such as natural gas, nuclear power, biomass, and renewable power like solar and wind. These qualities make it an attractive fuel option for transportation and electricity generation applications. It can be used in cars, in houses, for portable power, and in many more applications."
"Our state is taking a bold step toward promoting long-term development in the aerospace and space industry across the entire supply chain," Governor DeSantis said. "From manufacturing and launching to fuel production, Florida is the global leader in the new space economy."