Go back to

Blog

page.
College Graduates are Ready to Enter Polk County Workforce
Local, state and national companies look forward to this time of year. Students are graduating from college and are ready to enter the workforce. In Polk County, seven institutions of higher education contribute to the talent pipeline.
Those colleges and universities award about 6,000 degrees and certificates to graduates annually. This includes about 1,000 students who will enter the workforce in the area's key targeted industries;
Regionally, about 92,000 students graduate college, including about 37,000 in those key targeted areas, giving companies many opportunities to select the right candidates for employment.
"Polk County is fortunate to have an abundance of colleges that are focusing on our targeted industries, providing companies with top talent, students who have a variety of skills and are ready to enter the workforce," said Lindsay Zimmerman, senior vice president and chief operating officer of the Central Florida Development Council.
In Polk County, 85% of residents age 25 and above have a high school degree or higher. 21% have a bachelor's degree or higher. Of those with degrees, according to towncharts.com, which used data from the 2021 American Community Survey:
Nearly 40% have them in science and engineering-related fields
23% are in business
17% are in education.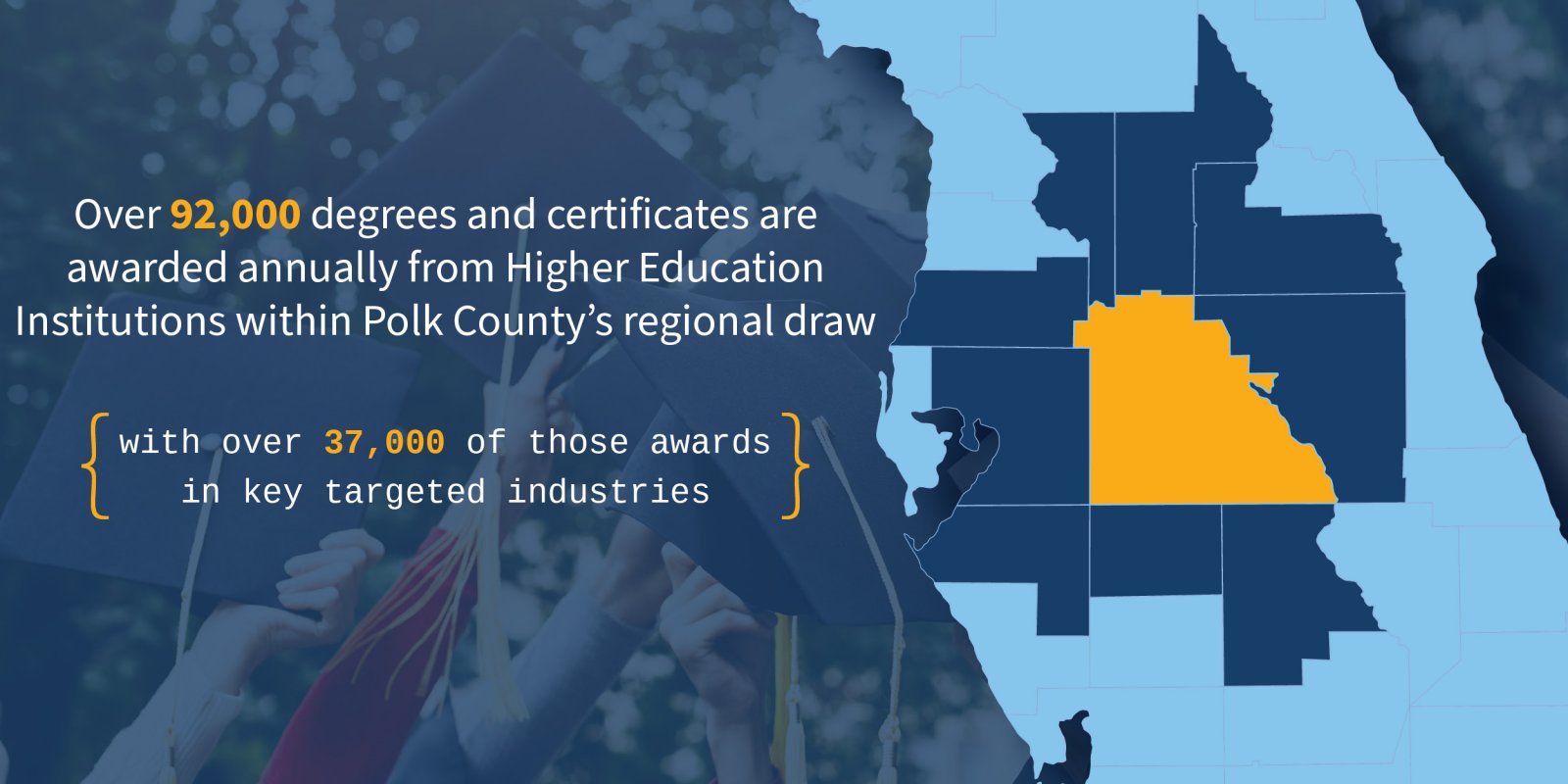 Florida Polytechnic University
More than 220 students graduated with STEM (science, technology, engineering and math) degrees from Florida Polytechnic University in May. The state's 12th university is the only one dedicated to STEM degrees.
"Engineering and computer science are high-demand, low-supply fields, and these majors are critical in attracting high-tech industry to the area or growing it organically," said President Randy Avent. "Florida Poly is important to Polk County and Central Florida because tech companies have confidence that they will have a steady supply of employees who understand the latest technology and give them a competitive advantage.
"We know from studies that rural economies that have schools very similar to Florida Poly can have up to 400% more growth than ones without. And as Polk County becomes relatively more affordable than other metropolitan areas, having Florida Poly here is even more important."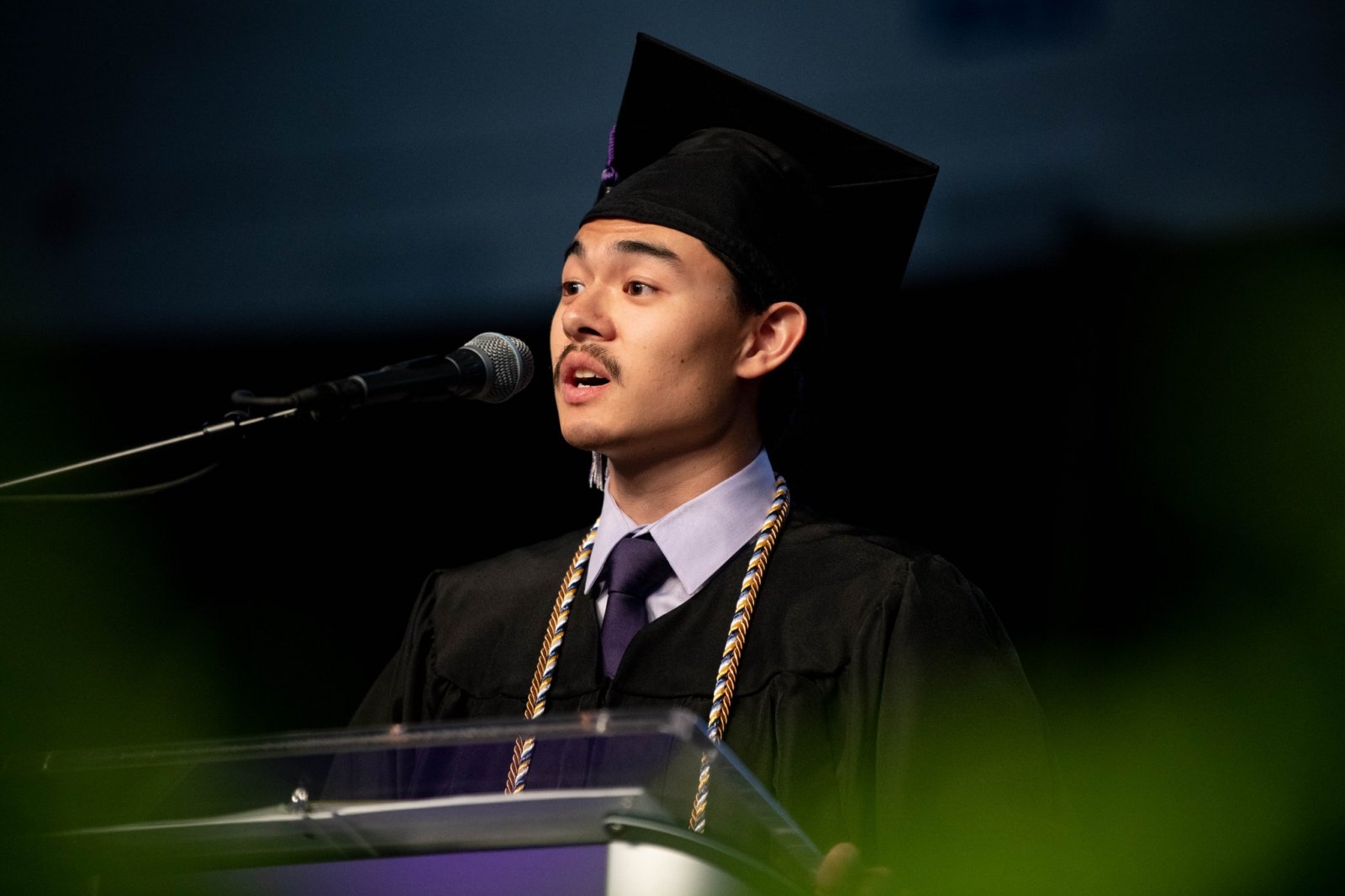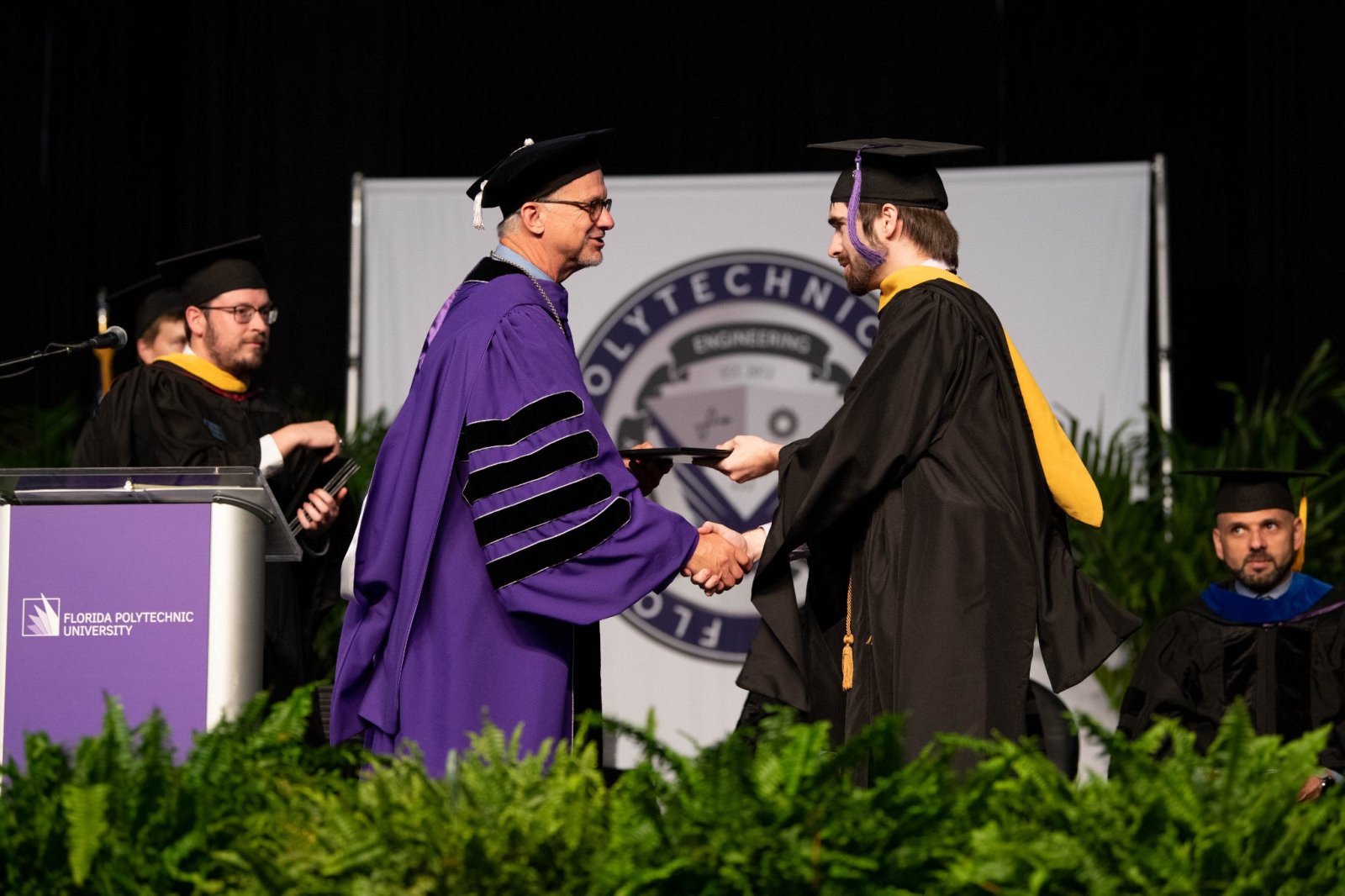 Polk State College
Polk State College graduated 1,083 students this Spring. Of those:
86% are Polk County residents.
More than 20% received bachelor's degrees in areas including Nursing, Aerospace Sciences and Applied Science in Supervision and Management.
Another 60% – 652 students – received an Associate in Arts degree.
About 13% – 143 students – received Associate in Science or Associate in Applied Science degrees, which prepare students to enter the workforce.
And nearly 6% – 63 students – received a certificate, which gives them a competitive edge when entering the workforce.
"With 70% of Polk State's graduates remaining in Polk County to work and continue their education, we not only celebrate the achievements of our students but also their future success and impact on our community as they soar to new heights with their Polk State degrees and certifications," said President Angela Garcia Falconetti.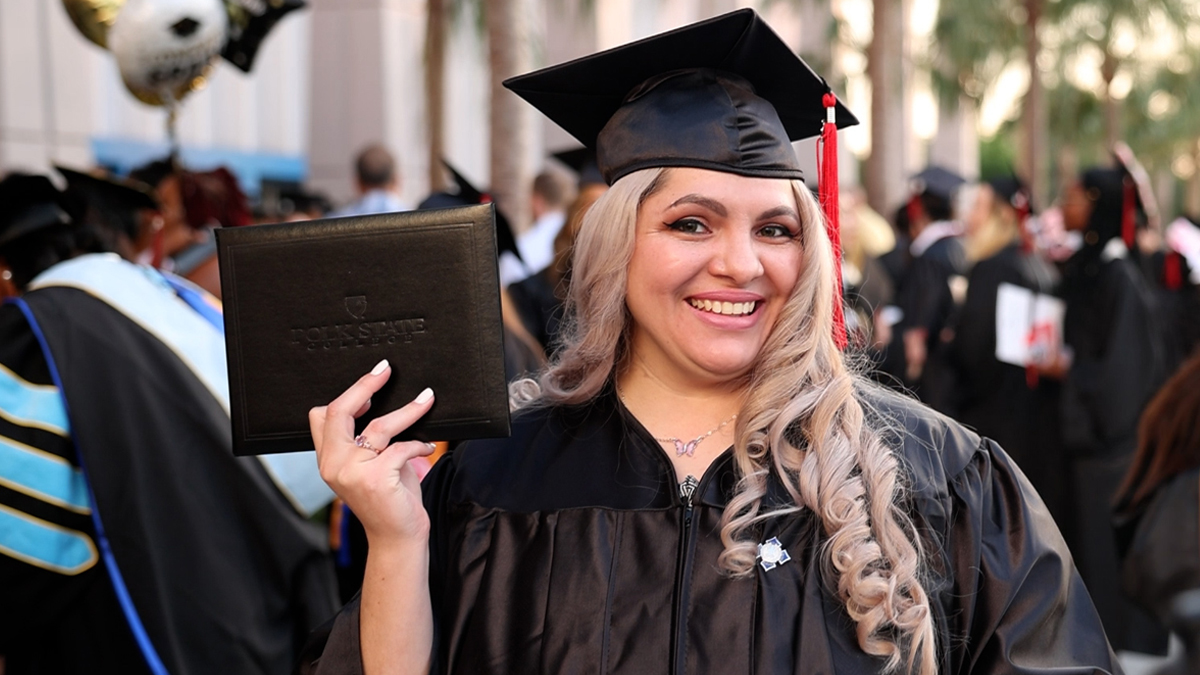 Florida Southern College
Florida Southern College graduated 459 students with undergraduate degrees, 35 with master's degrees and three with doctoral degrees. This year marked 138 consecutive commencements for the college.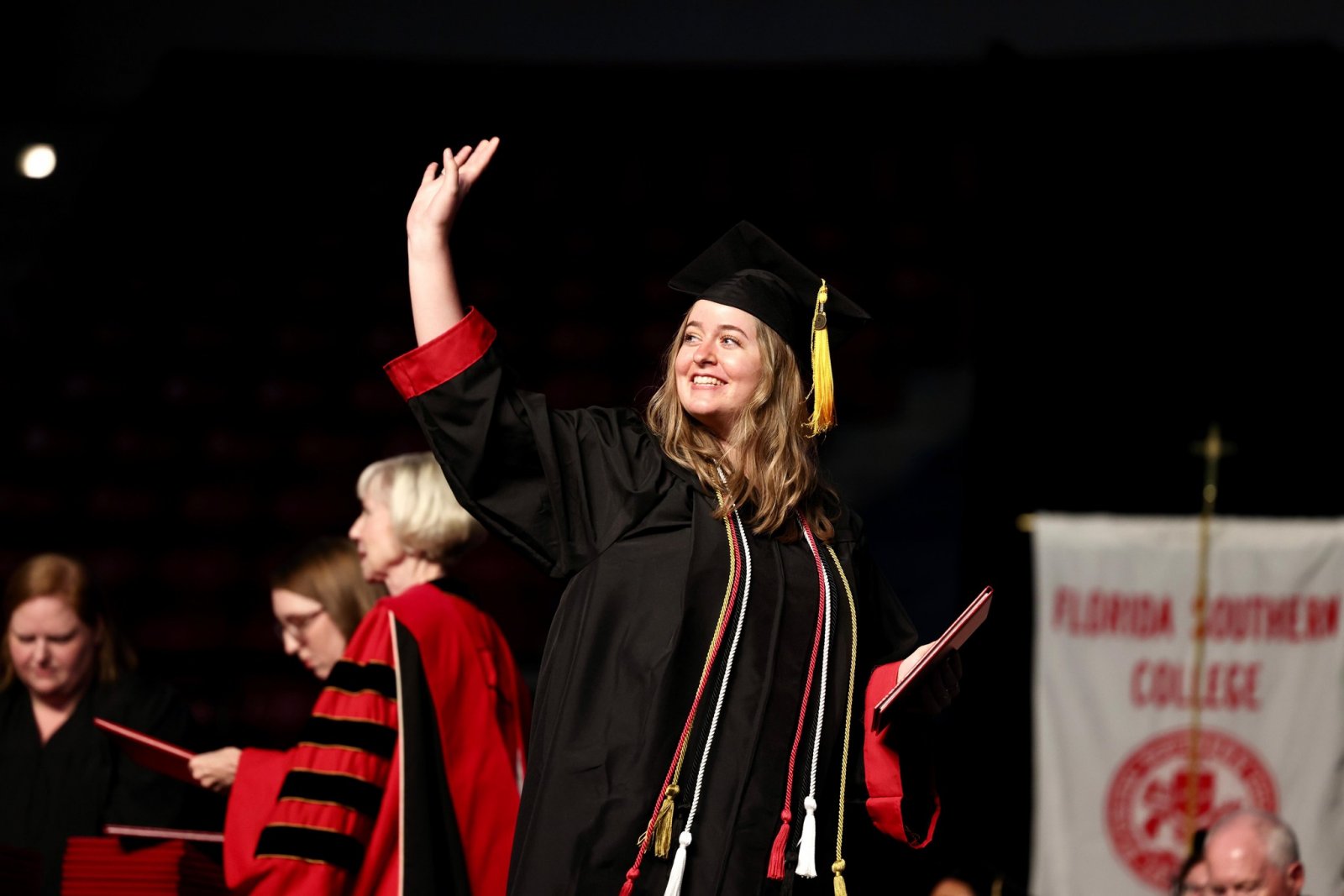 "A number of our graduates are choosing to work in Polk County businesses and various organizations," said President Anne Kerr. "We will have a notable impact on the quality of nursing care, education, business, computer science, and the arts. Our graduates have significant talents that will benefit all of us as they make important professional contributions and become leaders in a variety of civic organizations. It will be exciting to track their successes and impact during the coming years."
Southeastern University
Lakeland's Southeastern University graduated 885 students from the Lakeland campus, including more than 200 who received master's or doctoral degrees. The graduates hail from 44 states and 18 countries, including Australia, Brazil, France, India and Nigeria.
Those students "will be going out and making a difference in the communities around them. Many of these students choose to remain in Florida. In fact, 43% of SEU's alumni continue to live and work in Florida, contributing to the economic development," said President Kent Ingle.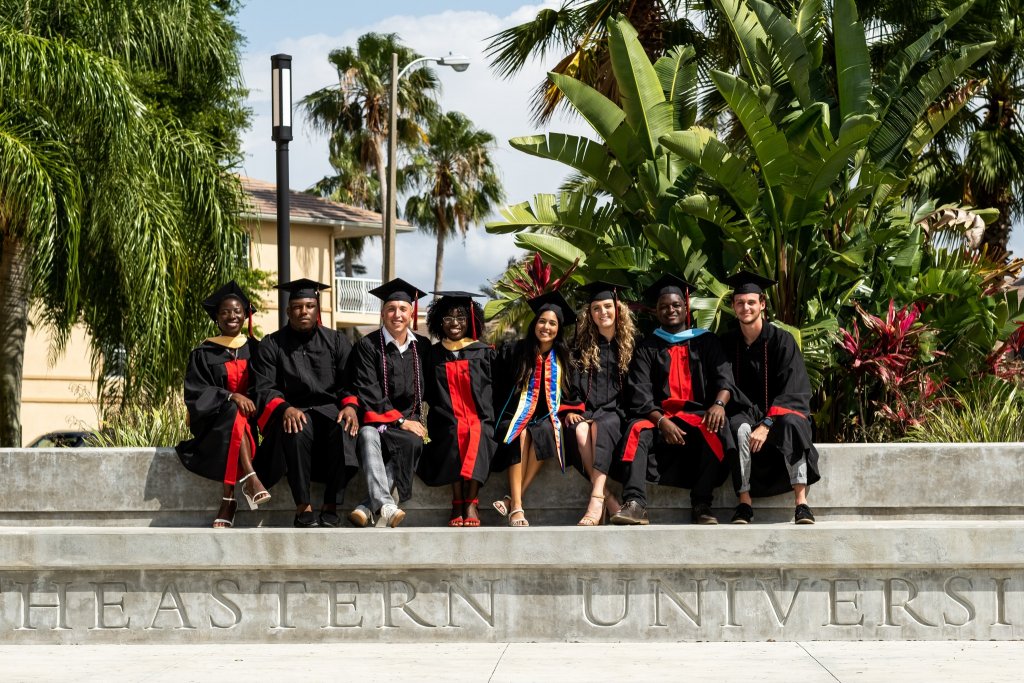 "Through partnerships with local businesses and organizations in Central Florida, our students graduate better prepared for a competitive job market. These internships and work experience opportunities allow our students to be mentored by local professionals and provide them with real-world experience that gives them an edge in the workforce. Once our students graduate, they are well-trained for their industry, which in turn increases their productivity and propels growth in the local economy."
Webber International University
About 100 students graduated from the Webber International University, some the first to obtain health and fitness, and psychology degrees.
"We continue to offer degrees demanded by businesses and shape curriculum based on what businesses tell us graduates need to know straight out of college," said President Keith Wade. Examples include the university's new Occupational Therapy Assistant, Bachelor of Science in Nursing (BSN), and Registered Nurse to BSN degrees.
Keiser University
Additionally, about 200 students graduated from Keiser University-Lakeland. Statewide, Keiser provides an annual economic impact of more than $3 billion, supporting more than 30,000 jobs directly and indirectly, according to an independent study by the Washington Economics Group.
Warner University
At the private Lake Wales university, more than 200 students graduated.
"By being one of the first universities to celebrate graduation, our students are able to join the workforce sooner," said President David Hoag. "Most of the graduates experienced an internship as a part of their college career, which is another way Warner can give back to the community."
Congratulations to all graduates!