Go back to

Blog

page.
Development Partners Have a History of Success, Not Stopping Now
Harold "Reggie" Baxter and Bob Adams already had long, successful careers when they combined their talents in 2019. Center State Development became another success story for the partners.
The development company based in Winter Haven prepares land to sell to national home builders. They buy raw land, entitle it, engineer it, permit it and do all the civil site work, Baxter said. Then, they sell lots to national and local home builders, who build and sell houses. The business closed 4,000 residential lots in its first two years.
"We deliver high-end subdivisions for mainstream buyers. Each subdivision has from 600 to 1,000 lots and amenities like roundabouts and clubhouses," Baxter said. Builders include such national companies as Centex and Lennar, which build workforce housing.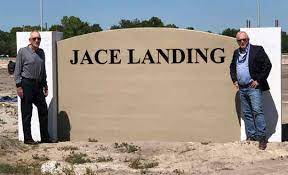 Before Center State Development
Baxter, a Lake Wales native, says his father instilled in him a work ethic unlike many others and that he has always worked for himself.
His businesses focused on real estate, including land development, home building, warehouses and self-storage facilities. Companies he's involved in include H.R. Baxter & Son's Enterprises, Tri-Tower Storage and Center Pointe Homes. He's also the director of real estate for Standard Sand & Silica.
Adams' career path started differently. He attended the University of Florida before earning his MBA at the University of North Carolina, joined the Army, and then headed to work for Barnett Bank in Jacksonville.
"I always wanted to work for a manufacturing company," he said, changing career paths. After that, he started building homes and became co-owner of Sun State Homes and Highland Homes.
When Adams sold Highland Homes to Berkshire Hathaway, he approached Baxter about working together. At the time, Standard Sand had land it wanted to sell, and the pair needed land to develop. They bought the land in Northeast Polk County in late 2019, then sold it to a developer who just completed Phase 1; when Phases 2 and 3 are complete, the development will close with 1,000 homes.
Up Next for the Development Company
Center State has about 8,000 other lots in its pipeline, Baxter said. Last year it closed almost 1,000 units; this year, that number should nearly double. And in 2023, he thinks the company will sell 2,000 to 3,000 lots. "It takes every ounce of energy seven days a week for me."
Adams agrees. "I didn't anticipate we would have this much stuff going, but Reggie has a lot of tentacles. When we start at Ground Zero, it takes about two years to get entitlements, permits, designs."
Strong Business
The business has been helped by a strong economy in recent years, along with nearly 8,000 people moving to Polk County each year, Baxter said. "There's a huge demand in the state from national home builders, but especially in Polk County, where we're doubling state averages. It's red hot right now, even more so than from 1997 through 2005," when the number of homes being built in Polk County set records every year.
The homebuilding bubble burst in 2008-2009, and Baxter shut his business. When he started back up in 2012, he headed to Manatee County because everything always starts on the coast and heads inward, he said. "I always said Polk County was the last to get it and the first to lose it. But that's not true anymore. We're no longer just a bedroom community. We have jobs, good jobs, like at the steel mill" that Nucor Steel Florida opened in Frostproof.
"It's amazing," he said. "Looking at everything that wants to come here has opened my eyes – industry wants to be here."
Generally, he said, Florida is one state that fares well during downturns, and Central Florida does better than most counties. "And Polk County is right in the middle. With Interstate 4 and U.S. 27, there are four ways to go from here. We're close to ports, Orlando and Tampa. We have the ideal situation. All of that put together makes Polk County strong."
Baxter and Adams are keenly aware of the outside forces like inflation and war that affect their business.
"I try to read tea leaves with respect to what housing is going to do. It's very cyclical," Adams said. "We've had supply-side issues since the pandemic. The war in Ukraine has been more unnerving than not; it's something to be concerned about. I'm not sure how that will play out; we have to really keep an eye on it. Then there's rising interest rates – the mortal enemy of big-ticket items like housing and cars."
Company Culture
Baxter is proud of the longstanding relationships he and Adams have, like one with Gary Hatmaker, who he's worked with for more than 20 years. He loves it when former employees branch out on their own.
"There are some employees who used to work for you and have gotten on their own feet and are running their own company and doing things, and you had a part in that, and you run into them and they say: 'I want to thank you. I wouldn't be who I am today if it weren't for you, your work ethic, your drive.' " That's rewarding, he said.
He loves his team and the culture they have created, which he gets employees to buy into. "Without people being first, you won't have the culture and the team you need, and you won't be profitable. Everyone is an integral and valued partner of our team, including our national builders. You can't do this alone."
Giving Back
Baxter and Adams think it's important to give back to the community. One year, Baxter gave away a home – the "Thanksgiving House" – in honor of Allison Sousa, a woman murdered by former model Thomas Rigterink. "We give back to people something that they can see, feel, touch. That's what I'm most proud of."
He also has teamed up with Lennar to build several homes for disabled veterans in the Liberty Ridge subdivision on Bomber Road between Winter Haven and Bartow. He provides the land and Lennar custom builds the home for the personal disabilities the veteran has. "As things are good, we always try to give back."
Baxter has served on the board of the Community Redevelopment Agency for the city of Eagle Lake and the Polk County Planning Commission, among others.
Adams, who has served on the board of the Lakeland Housing Authority, was instrumental in the creation of the Polk County Builders Association. He was named Builder of the Year twice. He has been active in the YMCA since the mid-1970s and sat on the board of Florida Southern College, where his son went to college.