Go back to

Blog

page.
Five Local Colleges Help Prepare Students for Careers in the Business Sector
Polk County's institutions of higher education contribute to business services here, training the next generation of workers and preparing them to be successful in their careers.
Five of those institutions offer extensive business classes and various degrees, all of which contribute to the economic engine of Polk County.
"Jannetides helps economic development in Polk County by recruiting students from all over the world to our community," said Jeffrey Paul, dean of Southeastern University's Jannetides College of Business, Communication & Leadership. "Students and their families spend money locally. Students frequently seek employment in Polk County after graduation, investing their knowledge and resources in our county."
The associate and bachelor's degree programs at Polk State College equip students "with the knowledge and skills to successfully fill critical occupations that consistently make Polk County's regional demand occupations list," said President Angela Garcia Falconetti. "With 70% of Polk State students remaining in Polk County after graduation to work and live, graduates of the Polk State Business Program are contributing directly to the success of the local business and industry, and the overall economic development of Polk County."
The five colleges partner with regional industries to stay abreast of current trends and needs to ensure a flowing talent pipeline. Once graduated, many students remain in Polk County to become part of the workforce.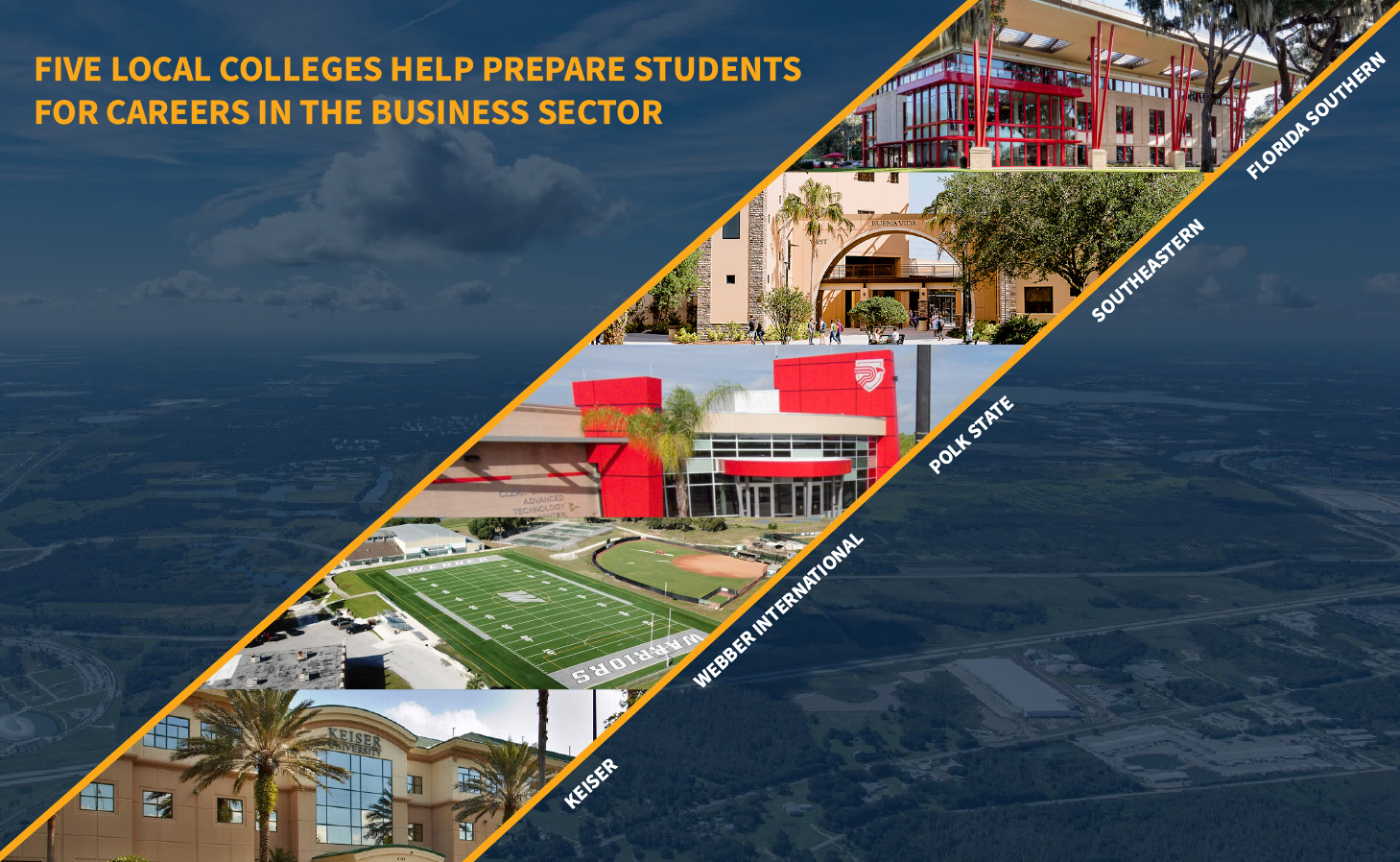 Florida Southern College
At the Lakeland college, the largest major in the Barney Barnett School of Business and Free Enterprise is Business Administration. This is a general business degree.
"Our fastest-growing major is Finance, followed by Marketing and Business Analytics"

Dr. Michael Weber, Dean, Barney Barnett School of Business and Free Enterprise, Florida Southern College
The college offers a variety of in-person and online degrees, including those in Sport Business Management and Accounting. "Our traditional undergraduate program is primarily in-person because that gives faculty and students an opportunity to really connect in an engaged and experiential learning environment. We also have online courses because they offer flexibility, especially in the summer, while offering similar academic outcomes as in-person courses. Our MBA (Master of Business Administration) and Adult undergraduate programs are offered 100% online because that is what the market requests."
Students can also concentrate on a specific area of study and earn a certificate or badge.
"Certificates and badges are important because they offer learning modules that are generally more specific and less time consuming than an academic course," Weber said. "For instance, certificates in Project Management, Microsoft Excel, Lean Six Sigma and Bloomberg are very popular."
Florida Southern was an early adopter of esports and now offers an "esports minor, an MBA concentration in esports and a post-baccalaureate certificate in esports because this is a growing industry valued at about $1 billion," Weber said. "Esports sponsorships and advertising generate more than $600 million in market revenue. The media rights are more than $200 million and the event tickets/merch generate more than $100 million. Professional e-sport athletes often retire in their early 20s, yet they want to remain involved in the business of esports. Our academic programs prepare business professionals to be successful in this unique and growing marketplace."
FSC is also home to the Center for Free Enterprise and Entrepreneurship (CFEE), which provides the WHY and HOW of free enterprise, Weber said.
Its Politics, Law and Economics Lecture (PLE) series "has focused the lectures on the 'Why' of Entrepreneurship — 'Why' entrepreneurship is important to our local, regional and national economy. This is the Free Enterprise component of Entrepreneurship," he said.
The center provides the "How" of Entrepreneurship "by providing programing and support for students and community members who want to pursue innovation ideas and/or start a business," Weber said.
So far this year, students sponsored by the CFEE have won more than $56,000 in contests.
Additionally, the center helps the community. It has:
Delivered a Negotiation Training Seminar to Summit Consulting.
Held a Women in Leadership Series in partnership with Nyrka Riskin.
It also is developing more corporate programming.
Southeastern University
The university's Jannetides College of Business, Communication & Leadership offers bachelor's, master's and doctoral degrees, options that are "designed to connect with students at any, and every, point of their professional and academic career development," said Dean Jeffrey Paul. "Generally speaking, undergraduate students gain knowledge, master's students apply knowledge and doctoral students create knowledge."
The college's goal is to expose students to experiential learning opportunities and the critical theoretical elements of their courses of study, so they have the tools necessary to succeed in the workplace, Paul said.
We seek to align the goals of developing competencies relevant for today's workforce with building a foundational understanding of the discipline and enabling students to discover their divine design.

Dr. Jeffrey Paul, Dean, Jannetides College of Business, Communication & Leadership, Southeastern University
Southeastern University's new undergraduate Tourism and Hospitality Management (THM), started in Fall 2020, is the newest and one of the most popular, he said. "With the population boom in Polk County, tourism and hospitality jobs are on the rise and we added the program to meet the needs of the industry."
That industry is the largest in Florida, contributing $96 billion to the state's economy, and one of the largest in the world, employing more than 272 million people, Paul said. "Our industry-facing degree programs respond to necessity and popularity within higher education and ever-changing work environments."
Paul said other popular programs right now include:
The Master of Arts in Leadership, "a relatively new program that offers graduate students a deep dive into the theory and practice of Leadership. This program is advantageous for working adults looking to expand their understanding of leadership, as well as developing applicable abilities in their present and future roles."
Organizational Leadership, which spans all degree levels.
From an industry facing standpoint, accounting is very popular. "Demand for accounting student interns and graduates is high and continues to grow. High-paying undergraduate internships and near-perfect placement rate of graduates in the field make accounting an extremely attractive major."
The online Bachelor of Business Administration and Bachelor of Science in Business and Professional Leadership are "great avenues using the online modality. Students from across the country and around the world are taking advantage of the convenience and quality of an online degree program."
Juniors and seniors in business programs gain practical experience through a co-op program where students "have the opportunity to work full time and earn college credit. Employers that have worked with our students most recently include the local chambers of commerce, manufacturing and retail organizations," Paul said.
THM students may work with hotel operators and owners, restaurant groups and event management organizations or even study abroad. "These partnerships benefit students by providing hands-on learning opportunities via internships, cooperatives and jobs. Our partners also provide guest speakers to help educate and engage our THM students. We are actively seeking new partnerships with Polk County tourism and hospitality businesses."
About one-third of the colleges graduates are employed in diverse industries in Polk County or are attending graduate school here, he said.
Polk State College
Each year, more than 200 students graduate from the Bachelor of Applied Science in Supervision and Management Program, and another 100 graduate with Associate in Science degrees or certificates in business-related areas.
"Business is an incredibly diverse area of study and industry that allows students and professionals to explore a variety of opportunities in administration, information technology, health care administration, human resources management, public administration and more," Falconetti said. The Applied Science degree offers concentrations in each of those areas while associate degrees are in Business Administration, Business Operational Management, Accounting Technology and Supply Chain Management. There are also certificates in Entrepreneurship and Human Resources Management.
All of these programs prepare students with a business mindset, foundational knowledge, and professional skills to achieve their career goals.

Dr. Angela Garcia Falconetti, President, Polk State College
Polk State partners with area businesses like LEGOLAND Florida Resort to provide internships and experiential learning, some of which lead to jobs, she said. In the last seven years, more than 60 students have interned at the theme park.
Partners also serve on college advisory boards to "ensure Polk State remains in the cutting edge of course offerings," Falconetti said. "Faculty and business partners ensure excellence within the curriculum, instruction and experiential learning experiences, while our students and graduates maintain Polk State's reputation of developing highly skilled professionals who are equipped for success in critical areas of our local workforce."
Beyond the basics, the college teaches students management skills, so they are prepared for entry-level to middle-management positions, she said. Some students who attain their associate's degree work while attaining their bachelor's degree, "which allows them to build on their management skills while practicing them in the field."
In the Business Information Technology concentration, students learn to analyze processes and exercise data-informed decision-making, a skill that "is critical as technology continues to advance and shape the business world," Falconetti said.
"Data-based decision-making allows businesses to gain valuable insight, create actionable benchmarks, measure the success of strategic efforts and prepare for sustainable growth," she said. "This is critical to the success of business, especially in such a competitive climate. That is why data-based decision-making is embedded within the Polk State Business Program."
Webber International University
Webber offers everything from associate to graduate degrees in business-related fields in addition to their four-year programs to offer any student who wants to be part of the developing economy a chance, said Dean of Academics Patsy Fowler. "By offering a B.S. in General Business Studies as well as Program Concentrations in specific traditional areas, such as marketing, accounting and management, Webber graduates are able to thrive in virtually any industry." It also offers degrees in specialized areas like Sports Business Management, Healthcare Administration and Tourism Management for students who have a niche in mind, she said.
Ryan Reis, director of Annual Fund and Alumni Affairs, said skyrocketing growth projections for Polk County and Central Florida mean an educated workforce is integral to continued development.
Webber is excited to provide graduates who are well-prepared to contribute to this growing economy.

Ryan Reis, Director of Annual Fund and Alumni Affairs
Although the university offers many degrees for targeted industries, "business degrees are essential to economic growth," Reis said. "Graduating with a business degree will provide students opportunities to enter varying industries from manufacturing to health care to financial institutions. Even greater business degrees provide students with the knowledge and know-how to become entrepreneurs. Thriving economic development is a balance of corporate and entrepreneurship."
The Business Program is the most popular, Reis said, but there has been an increase in the Sport Business Management program. That could be tied to Visit Central Florida's growing Tourism & Sports Marketing segment.
Webber has business partners that it deems "as key to both the success of our students and the county's economic development," Reis said. "We look to support development through our relationships with organizations such as the Central Florida Development Council, (CFDC) Lake Wales Chamber & Economic Development Council, Winter Haven Chamber, Lake Wales Charter Schools and Vanguard School, just to name a few. Career Services works with local businesses to cultivate a talent pipeline to ensure our graduates meet the needs of the business community."
Some of its students remain in Polk County after graduation, Reis said. "Webber alumni are employed across the county with local municipalities and chambers of commerce, even at the CFDC."
Keiser University
Because "business services and information technology are two of the targeted industries in Polk County and Central Florida that are growing at a rapid pace, it's important to offer these degrees because of this ongoing need in our community," said Karen Steverson, Lakeland campus president.
Our goal is that Keiser University graduates will be able to fill these critical job fields in our community and grow within their existing careers. We want our students to remain in Polk County upon graduation so they can contribute to the economic growth of our community.

Karen Steverson, Lakeland Campus President
Keiser works with industry advisory boards to assess the educational needs of the communities it serves, Steverson said. "These advisory boards are made up of business professionals from many of state's targeted industries. This is important to our students because it allows the university to offer degree programs that meet the workforce needs of the community and provide and allow our graduates to begin careers in job sectors that offer continual growth opportunities."
The last program added at the Lakeland campus was the associate of science in Cloud and Computing Technology, she said. "It was added based upon the growing demand for IT professionals in Polk County and feedback received from our advisory board of community partners within the IT and business fields. The goal is to provide necessary IT degree programs that will allow our graduates to begin careers in this much needed field within our community."
As that sector and business services continue to grow in Central Florida, many graduates are finding jobs locally. "Keiser University graduates are helping to address this demand, which is beneficial to the economic development in Polk County. It is always our goal to prepare our graduates in their field of choice and help get them connected with local employers for employment opportunities."
About 80% of its graduates remain in Florida, some working at the largest employers in Polk County, including Lakeland Regional Health, Polk County Schools, the Polk County Sheriff's Office, Publix, BayCare and Geico, she said.