Go back to

Blog

page.
Florida Poly Opens New Building, Adding Labs and Research Space
The $47 million cutting-edge Applied Research Center (ARC) on Florida Polytechnic University's campus has opened, providing the only state college devoted to STEM degrees more academic and research space as it plays an increasingly critical role as an engine for economic development.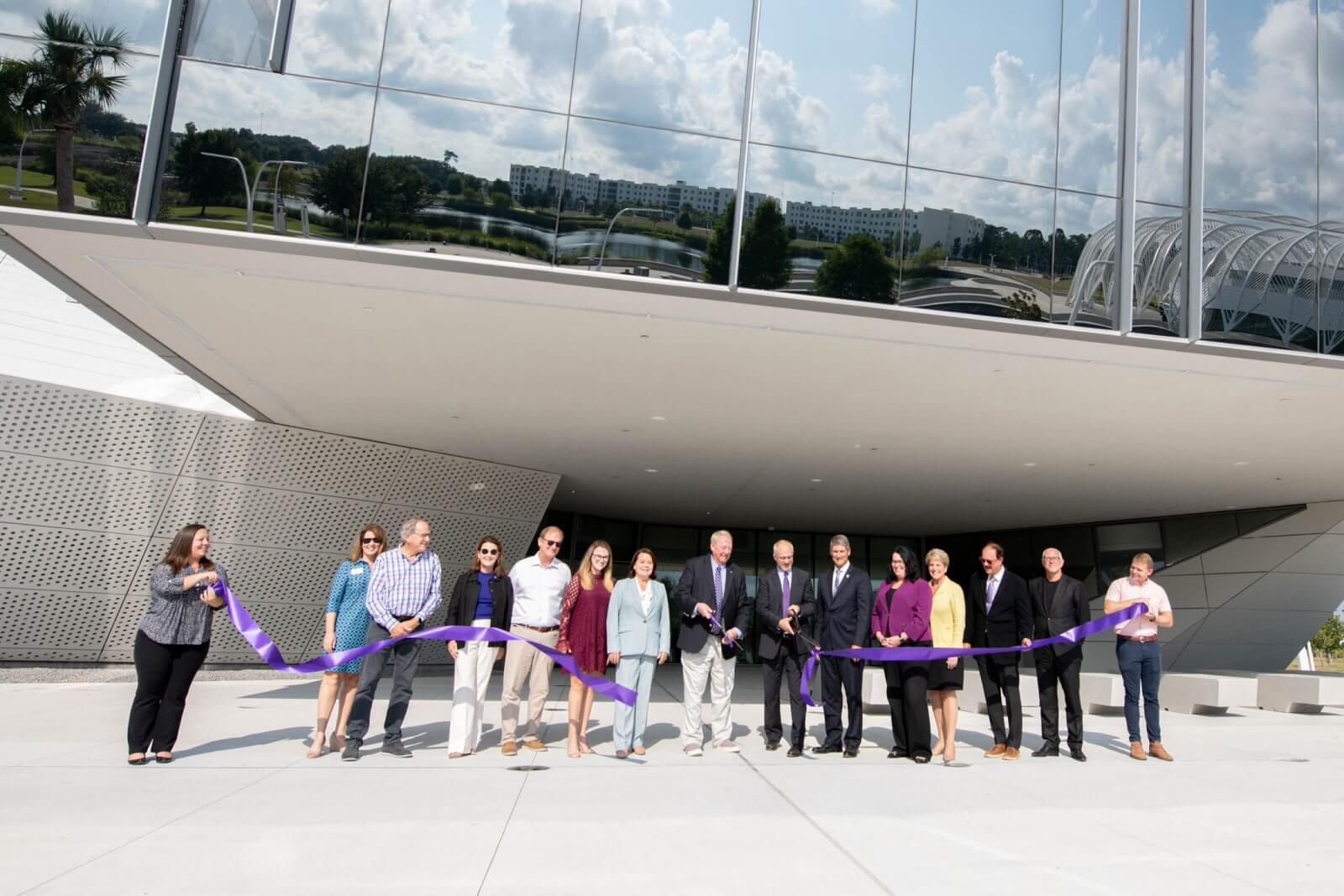 "This striking new building will significantly expand our research capabilities and advance our industry collaborations," Florida Poly President Randy Avent said earlier this year. "It will also become a research hub for the region and a magnet for high-tech development around our university."
Florida Poly's focus on STEM degrees (science, technology, engineering and math) has positioned the university to provide talent in competitive, high-skill, high-wage areas like engineering, cyber security and database management.
The tech industry in Polk County is forecast to grow at 2.6% a year, or about 250 new jobs annually in this competitive arena. Those filling the new jobs would join the nearly 2,300 employees who worked in the tech industry in the region in the second quarter of 2022, according to a Jobs EQ report prepared for the Central Florida Development Council by Chmura Economics and Analytics.
The 90,000+-square-foot building houses research and teaching laboratories, student design spaces, conference rooms, faculty offices and multiple study areas – spaces that will continue to prepare the workforce of tomorrow for higher-wage, higher-skill jobs in a burgeoning tech-savvy county.
"The ARC will aid in the continued development of the university and county as a research hub, along with nearby SunTrax and a growing number of tech-enabled opportunities in the region," said Sean Malott, President & CEO of the Central Florida Development Council. "As this segment grows, the county will attract more and more innovative and highly skilled students, professors and researchers, all of which will add to the economic engine here."
SunTrax is the Florida Turnpike Enterprise's oval testing track in Auburndale designed to test and verify new toll technology, driverless cars and developments in mass transit. Florida Poly students, professors and researchers already work in that space thanks to the university's Advanced Mobility Institute, which is expected to diversify and boost the economy of Polk County and Central Florida. 
ARC's OPENING
Along with Avent, several local leaders attended the opening of the new building, including state Sen. Kelli Stargel and Rep. Colleen Burton, who have supported the university and its growth through the years.
"Since 2014, students from across the country have chosen Florida Polytechnic because of the unique learning environment the university offers," Stargel said. "The ARC will ensure we continue to recruit top faculty and students who can feel confident that we have the technology and resources they need to research and innovate. It has been an honor to work with my Senate colleagues to secure more than $20 million in state funding for this new state-of-the-art research facility."
With state-of-the-art research space and equipment, the ARC was designed to become a research hub for innovation and a magnet for high-tech industry. The second academic building on campus, it complements the beauty of the Innovation, Science and Technology Building, designed by world-renowned architect Santiago Calatrava.
"The future is bright for Florida Poly, and our ambitions are high," Avent said at the opening. "Our goal is to be a premier STEM university known for producing highly desirable graduates and new technology solutions. I strongly believe that with the new Applied Research Center, we are charging full speed toward that goal."
Construction of the ARC, located on the northwest side of campus, began in fall 2019. Architecture firm HOK designed the structure, which is visible from Interstate 4, and
Skanska USA built it. The next building to be constructed at the university will be an innovation center. "Another important goal on our horizon is advancing our first public-private partnership with Fortune 500 company International Flavors & Fragrances (IFF)," Avent said earlier this year. "This tech-forward, global leader will begin building its innovation center on our campus in 2022, creating countless research and career opportunities for our students and faculty."