Go back to

Blog

page.
Florida Poly Professor Receives Recognition for COVID-19 Research
About a year after the first noted COVID-19 case and there is still a lot of research being done on the disease, some of it in Polk's backyard.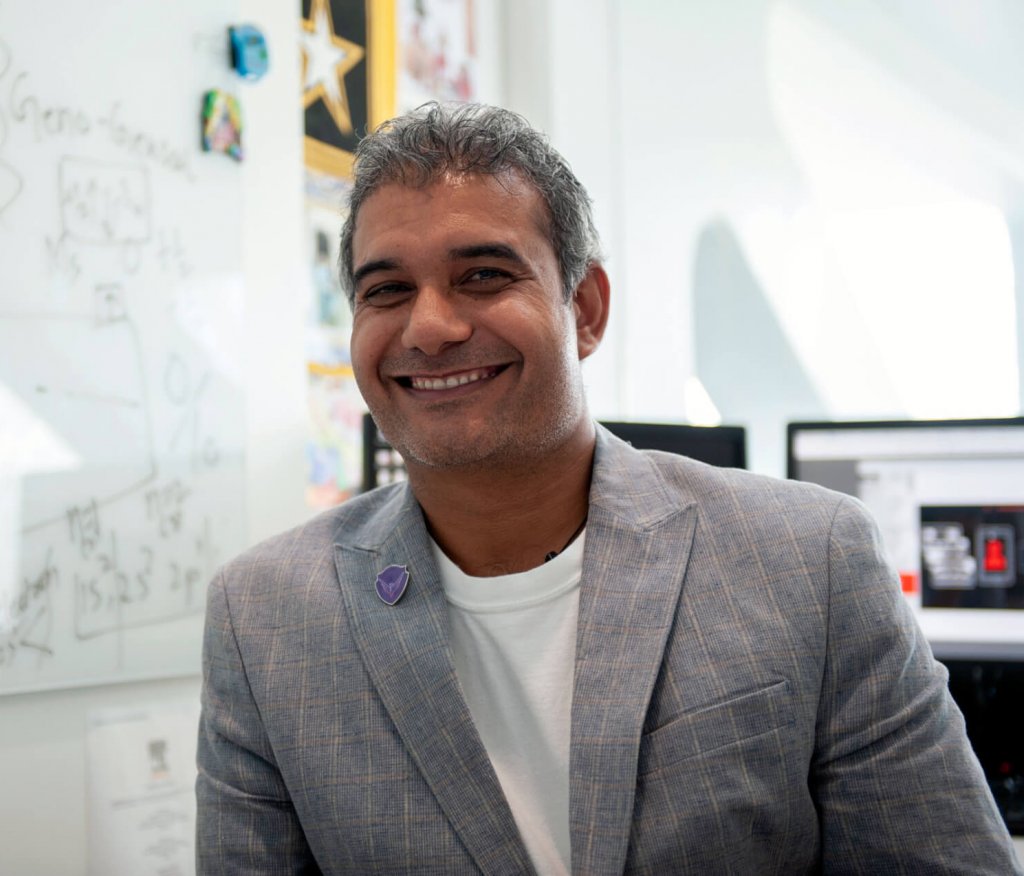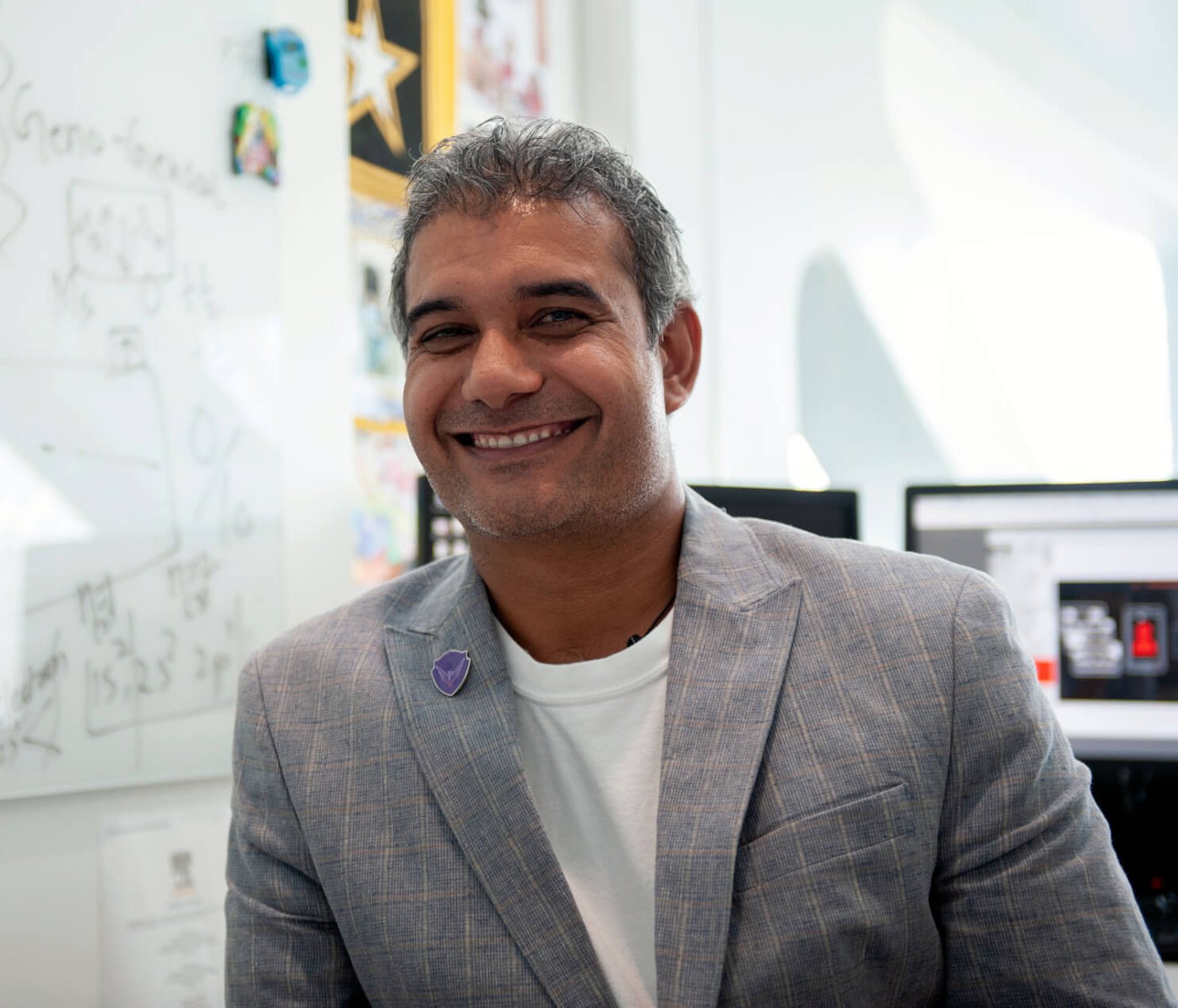 Dr. Ajeet Kaushik, assistant professor of chemistry at Florida Polytechnic University, is being featured in the World Health Organization's database of global literature on the coronavirus, focusing on using nanomaterials, biosensors and artificial intelligence.
"This infection is different – we are not dealing only with respiratory problems," Kaushik said. "We are dealing with heart failure, kidney problems, anxiety, depression, vision problems and more, all because of coronavirus. No one can propose a good single solution to handle this, so different people with different expertise have to do different jobs. I'm targeting the brain while other people are targeting lungs, the gut, the kidneys, and the behavioral health aspect."
He has researched two aspects:
The first deals with making sensors that can detect the coronavirus protein at a very low level and why this should be affordable, very quickly. "It should be very small and compact so health care workers can carry it to communities and test workers wherever they are."
The second uses nanomaterials for drug delivery to fight the coronavirus, which is carried through the blood to many major organs, including the lungs, liver, kidneys and brain, he said.
"Vaccines and other therapies that are antibody-based are injected into the body and do not retain functionality for a long time. Our body consumes everything. It's the same with a vaccine or drug — our body wants to eat that. So, delivery is very important to ensure the drugs are effective."
Certain organs, especially the brain, are protected by barriers, he said. "There are not many drugs that go to the brain because they cannot cross that barrier. We need to encapsulate a drug in nanomaterials to get past the barrier and go to the brain."
Kaushik, who earned his doctorate in India, has been focused on nanotechnology and biosensors for years. "I study making smart nanotechnology and exploring that for applications. Sensing has always been my focus. Sensors can be useful to everyone in everything."
In nanomedicine, for instance, he researches putting drugs in places they cannot usually go, much like his work on the coronavirus.
"We have medicine for everything, but nothing is completely cured. Why does it take a long time to cure diseases? The drug is good, effective, but sometimes it does not go to the right place. It gets washed out from the body. So, we add extra drugs, which can have side effects."
The goal is a smaller amount of drugs and better delivery, he said. "The right amount of drug, to the right place, done by using nanoparticles. That motivates me. You can load any drug on nanoparticles. Nanomaterials are very sensitive, and nanoparticles can be triggered from the outside. We can control tumor growth" down the road.
Kaushik has stayed safe and avoided the coronavirus so far, and he'll get the vaccine when he's allowed, he said. "I cannot live in the dark. I may have some headaches, a back problem — these consequences are manageable. I support every medication that is against the coronavirus."
He thinks researchers, scientists, doctors and others working at hospitals, pharmaceutical companies and more are close to controlling the virus. He's just one soldier among many, he said.
"Historically, a coronavirus infection will be managed in a very short time," he said. "I've never heard before that someone made a vaccine within one year. Look at the beauty of medical science. Not only in the U.S., but this vaccine will be distributed globally."
He's worked at the India National Laboratory, as a research assistant in Dublin City University in Ireland and as an assistant professor at Florida International University before moving to Florida Poly in July 2019. He loves working with young minds, his colleagues and a visionary president and provost, he said.
"This type of work, it motivates the young geniuses here who are very talented," he said. "We have young professors who work together like family and are very supportive. It's a different factor, different energy" — something not seen at other large universities where research is not recognized and applauded. "I like the objectives, the mission of Florida Poly."
He is hopeful his contributions to the COVID-19 fight will have a strong impact, he said. "Maybe these papers can help someone who is working in a company and can now think about developing smart sensors for point-of-care testing and sending a drug to the brain using nanotechnology."
Kaushik's efforts related to exploring nano-biotechnology for health wellness earned him the Early Career Award 2020 from the International Journal of Nanomedicine.
—
In other Florida Poly news, Florida Poly professor Dr. Muhammad Rashid ranked in the top 1% — No. 617 — of 87,611 scientists in his field of electronics and electrical engineering in a Stanford University study. He also ranked in the top 2% of all scientists.
Stanford compiled the list after analyzing about 15 years of data, then created a public database for the top 100,000 scientists in the world.
Rashid, chair of the Department of Electrical and Computer Engineering, joined Florida Poly in 2017. He has presented in more than 20 countries, written 22 books and had more than 100 papers published.