Go back to

Blog

page.
Florida Southern Helps Train the Nurses Who Will Lead Us Into Tomorrow
Florida Southern College's move to buy the former St. Joseph's Academy and move its graduate nursing program there will help supply the county with nurses with advanced degrees who can help provide quality health care.
"Nurses with advanced degrees are prepared to assume various roles, such as a health care provider (NP), nursing leadership and nurse educator," said Linda Comer, dean of the College of Nursing at Florida Southern College. "With an advanced degree, nurses are prepared to lead interprofessional teams to promote quality patient care and improve outcomes."
The school opened in 2009 at 310 Frank Lloyd Wright Way — only a stone's throw from FSC's Joe M. and Alberta Blanton Building, which houses the college's School of Nursing and Health Sciences. The new building will be named the Ann Blanton Edwards School of Nursing and Health Sciences, after Joe and Alberta's daughter.
The move is needed. "Currently, our graduate and undergraduate programs are housed in one building and share lab space," Comer said. "We have overgrown the capacity, and moving the grad school to a new facility with an additional lab will provide all programs with the needed space for current and future enrollment."
Undergraduate students will continue to learn in the Blanton Building.
The State of Nursing
The shortage of registered nurses will likely get worse as Baby Boomers retire and an increasing population means the need for more nurses. According to the Bureau of Labor Statistics, the number of registered nurses needed is expected to grow 7% from 3 million in 2019 to 3.3 million in 2029, almost 222,000 people.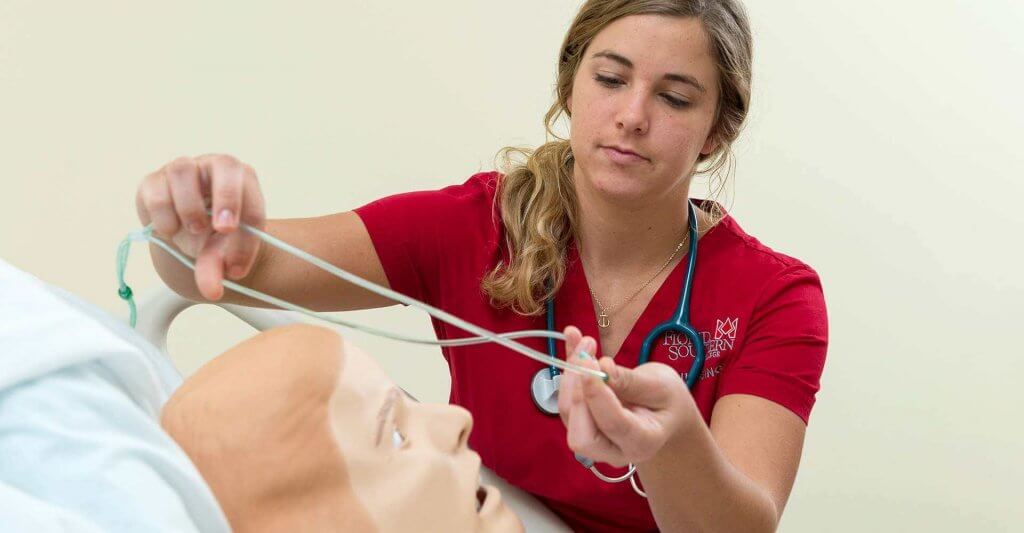 "The nursing shortage that we are seeing across the country, which has been exacerbated by the pandemic, is a local challenge as well," said Brad Hollingshead, provost and vice president for Academic Affairs at FSC.
"By 2030, Florida is predicted to have the highest disparity of nursing supply and demand, with the state lacking more than 57,000 nurses."
A May 2021 nursing staffing study "shows that this is an escalating problem in Polk County, as well as other parts of Florida," he said. "The Ann Blanton Edwards School of Nursing and Health Sciences is approaching this challenge strategically by expanding undergraduate and graduate programs to meet this demand locally and nationally. We are strengthening programs and facilities and increasing enrollments at both levels so that we are not only preparing nurses for entry into the field but also providing the advanced study that supports leadership and resiliency in the profession. We know that meeting this challenge is important to the health of our communities and to their economic well-being, and this is why we are approaching it with a strategic mindset."
Moving In
FSC will move a few walls, paint, do repairs and do other renovations to prepare the building for college students, Comer said. "The building is in very good shape overall. Hopefully, we will open during this fall semester."
Between 100 and 150 students are expected to attend classes at the new facility. Right now, 130 students are enrolled in the graduate-level programs — 110 in the Master of Science in Nursing (MSN) and 20 in the Doctor of Nursing Practice (DNP). The programs will grow very slowly, she said.
Although many of the grad students attend FSC for their undergraduate degrees, the majority went to college elsewhere. Comer said she expects that trend to continue.
The college offers students four tracks toward a career in advanced nursing:
Nurse Practitioner

Adult-Gerontology Primary Care Nurse Practitioner

Nursing Administrative Leadership

Nurse Educator
In addition, the college offers a post-baccalaureate certificate in nursing administrative leadership and post-master's certificates in family nurse practitioner and adult-gerontology primary care nurse practitioner.

Nurses with advanced degrees are critical to nursing, primary health care and economic development in Polk County.
"Advanced practice nurses, such as nurse practitioners, will assume roles to help meet the demands for access to primary health care for Polk County residents," Comer said. "With the projected growth in Central Florida, access to primary health care providers will grow. Nurse practitioners are well-positioned to assume these roles."
Polk County's population was estimated to be just shy of 725,000 in 2019 — a 20.4% increase from the 2010 Census — and is expected to keep increasing, according to the U.S. Census Bureau. New figures from the 2020 Census are expected to be released this year.
In 2019, Dr. Nathan Falk, director of Winter Haven Hospital's new Family Medicine Residency program, said more people ages 18 to 64 are insured in Polk County than the state average, but some have difficulty accessing care and finding physicians here, largely because of a shortage of primary care doctors in the area. Polk County has 51 such doctors per 100,000 residents compared with an average of 80 in Florida and 88 in the nation.
Next Generation Talent
Nurses with advanced degrees who are focused on nursing education "will prepare the next generation of nurses for professional practice to meet the market demands for safe, effective and efficient health care," Comer said.
And those focused on leadership and administration "are well prepared to lead health care systems both at the micro and macro levels," she said. "They will provide the leadership in an ever-evolving and changing health care system, and will allocate resources necessary to meet the community's needs and growth."