Go back to

Blog

page.
Growth in Eagle Lake Brings New Business & Buildings
Eagle Lake is keeping with the trends of the rest of the county, growing more and more every day. This growth, especially in the housing market, is keeping construction companies busy, and that's just fine with City Manager Tom Ernharth.
"For a long period of time, Eagle Lake has been struggling with no identity. With the new housing starts and the potential to grow by 200%, we have an opportunity to establish ourselves as one of the premier cities in Polk County," said Ernharth, who has been city manager in Eagle Lake since January 2017.
Eagle Lake's population has grown by about 750 people to about 3,000 residents since the 2010 Census, according to the U.S. Census Bureau. Ernharth said he thinks he knows why people are moving into the 4.2-mile-city that borders Winter Haven. Learn more about Eagle Lake's growth over the years here.
"Eagle Lake's location between Bartow and Winter Haven allows us to have a small-town feel while being close to the services and amenities in the larger cities," he said. He described the city as a bedroom community to the nearby metropolitan areas, including Lakeland and Winter Haven, both of which are growing.
The city has approved 2,400 new building lots in the past few years, he said. "And builders continue to tell us that they cannot build the homes fast enough."
Mayor Cory Coler, a lifelong Polk County resident, and his wife moved to Eagle Lake in 2007. "It was a natural choice when we were looking for a place to buy a house and start a family," he said. "There's an eclectic mix of people here. The community has been really great for me."
Eagle Lake celebrated 100 years since it was incorporated in 2021. Coler said it is small enough that it can do a lot of things bigger cities can't do because of their size. Even though, residents still benefit from being close to those cities, he said.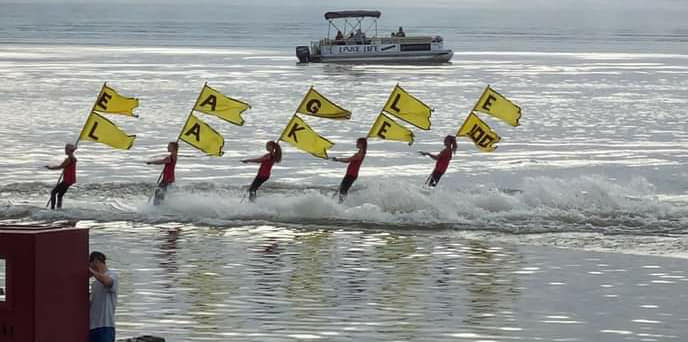 Attracting New Business
As more homes are built, the city expects to attract additional businesses. Right now, the city is home to banks, gas stations, small businesses and stores like Badock Home Furniture & More.
"We are hoping that as residential growth occurs we will open the door for commercial and industrial growth so residents can work close to home," Ernharth said.
Until then, the city hopes to attract smaller retail stores, restaurants and businesses that provide services for its residents, Coler said.
To that end, the city is working to be a better partner by modernizing its services, he said. "We're moving to electronic record keeping. We've done quite a bit to try and make adjustments and improvements for residents and prospective businesses."
Like most of the cities in Polk County, growth brings challenges.
"Growth and infrastructure (are challenges), including ensuring that the roads and utilities are adequate to accommodate our expanding city," Ernharth said. "Access to public water will be the biggest challenge facing all cities in the next 50 years."
The city is adding staff for public works to help keep up with today's growth and prepare for the future, Coler said. It wants to be able to make "reasonable accommodations" on things like roads and traffic if a business wants to locate in Eagle Lake.
But it's not all about homes and businesses. Eagle Lake is a 650-acre natural freshwater lake that's home to largemouth bass, crappie and bluegill. A boat ramp and pavilion adorn its shores.
And it's home to the Eagle Lake Senior Center, which is funded by the Department of Elder Affairs and Senior Connection Center. Using that funding, the city offers a variety of free services to those 60 and older, including home-delivered and congregate meals, some transportation services, respite care and more.
The Future for Eagle Lake
Ernharth said in five to 10 years the city will be an "expanding and growing medium-sized city providing both residential and commercial opportunities to our residents and the traveling public."
Coler agrees, saying Eagle Lake likely will be home to more small businesses and restaurants but will "still very much have a small-town feel. There will be more houses, but nothing where we'll be so large that we won't be able to enjoy the things the city puts on like Trick or Treat Lane and the Patriotic Festival. The scale is small enough that we're able to do it and do it well."
Coler also touts the fact that the city has more interpersonal relationships than you have in bigger cities. "The Public Works director has worked here for 30 years. Everyone knows the ladies in the front office. We have a very established crew. We've got really good people who are working hard to make sure we have the best place to live in the state and the country. The commission and management recognize we're all residents and we want to be proud of the place we live."