Go back to

Blog

page.
Harper Knows How to Build Success in Residential and Commercial Development
Sean Harper never doubted he would follow in his father's footsteps, and even move beyond them, to be a premier builder in Polk County. "I grew up in the real estate industry, learning from an early age from my dad, Robert Harper. I always knew real estate was my path from early on in my life," he said.
Harper is a third-generation Polk County resident who moved to Texas to attend Baylor University. He graduated with a degree in management and entrepreneurship. Harper returned to Lakeland after graduating to manage his father's company, Harper Realty & Development, beginning his land development career.
He founded Harper Homes in 2000, building custom homes in subdivisions he developed throughout Polk County. Eight years later, he received his general contractor's license, which allowed him to enter the commercial market.
Now, he, Brandon Little and Phillip Sloan own three companies:
Harper Homes, the residential division.
Harper Little Construction Management, the commercial division.
Left Hand Concrete Solutions, the industrial/commercial division handling foundations, form placement and concrete finishings on projects throughout Florida.

"My background from the beginning has been land development – knowing how to navigate through the vast regulations and ultimately creating a great project," Harper said. "Being the broker/owner of WebPro Realty in Lakeland ties in nicely with my construction companies, offering our clients a one-stop-shop – from searching for a site and taking it all the way through the process to completion. This holds true for commercial and residential."
The partners have a saying that they share: "Cheap can be expensive," he said. "There is always time to plan and do it right, and it is our responsibility to make sure our clients understand that."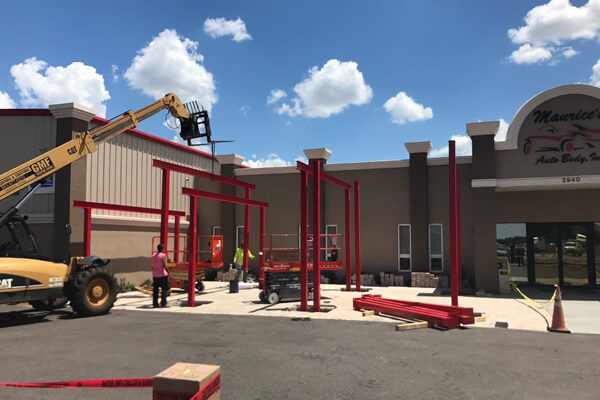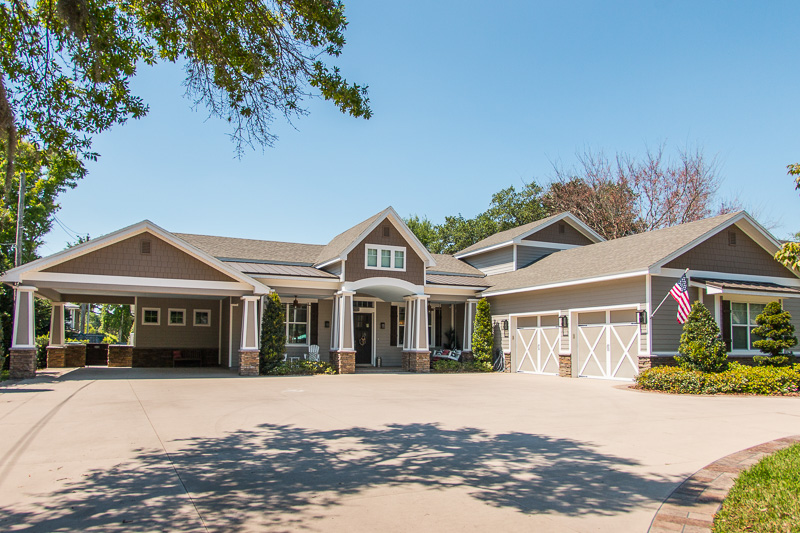 Residential Development
His passion remains residential, "creating beautiful spaces for our clients to call home," he said. "My focus was mostly focused on new homes until the market pivoted in the downturn and remodeling became more prevalent. But I have to say, the experience of a home coming out of the ground, and handing over the keys to a new home will always hold a special place to me."
He recently completed a house on Lake Hollingsworth in Lakeland that "is a nice showpiece," Harper said. The stunning two-story white house has columns in front, a deck, long horizontal windows, and a circular brick driveway.
"I have had more compliments on that home than any other home I have built."
"On a broader scale, I have developed 30 residential subdivisions throughout Polk County, creating well over $500 million of new tax base and great economic impact to Polk's economy."
Commercial & Industrial Development
He's excited to grow the commercial side of the businesses, primarily run by Sloan, who has many years of experience. "I have learned a lot from Phil, and I have to say that I am really enjoying the commercial side of the business more and more," Harper said.
In the last few years, they have completed some "great commercial projects," he said. Their projects include work for Cidrines Bakery in Lakeland, Maurice's Auto Body Shop, Pinch A Penny and Sun 'n' Fun, among others.
He brings his experience to the commercial side on two levels:
His specialty is "taking a vacant piece of property, negotiating with the owner, entitling the property and creating a high-quality product as a result, whether for myself or one of my clients."
He uses his visual expertise "from the residential design/build side to the commercial side, which allows me to help our clients visualize the end product from the beginning."
Development in Polk County
Harper said he likes working in Polk because it is far more business-friendly than neighboring counties.
"There is tremendous opportunity here, and being from here gives me an advantage – having knowledge of our great county."
It's also his home. "I live here and raised my family here, and really no matter where we go in Polk I can show my family projects that I have been a part of, be it construction and/or real estate. I am proud of that and hopefully will encourage my kids to come back to Polk and help grow the company."
He also loves the location. "I love both coasts and the water, in general, so having the option to go east or west is perfect. I know this will be my home forever."
Business Stressors
Similar to other industries, the pandemic brought a whole new set of issues for builders to deal with.
"The demand for housing is very strong, and I anticipate it being strong for several more years to come," Harper said. "That being said, building, in general, is very volatile with price increases, labor shortages, extended delivery periods and material shortages, which makes it very difficult to put a fixed price on the project. Also, client management has become more difficult because I cannot commit to a completion date as there are too many unknowns in the market. One of the biggest challenges in my market is the availability of land. That will be the No. 1 issue facing the custom home-building market in the next several months and the foreseeable future."
Even though he has great partners and team members, he said, the details often keep him up at night.
"This has held true since I began building in 2000; it's the little thoughts that pop into your head that you can't shake. So many restless nights. Those are things you can control; the big things are typically out of our control so I try not to dwell on them."
Giving Back
His companies believe in giving back to the community, although Covid has slowed their involvement, he said.
"We are looking forward to ramping it back up. I remodeled a kitchen for the Florida Baptist Children's Home for one of their onsite cottages. I was able to get most of that donated," Harper said.
Before Covid, the company was involved in helping seniors – "We delivered VISTE food boxes to about 20 seniors every third Wednesday of the month" – and children – "I have been involved in many room makers for deserving kids."
He's also a past president of the Polk County Builders Association and a past board member of the Realtor's Association. "I believe in giving back to the industry as well."