Go back to

Blog

page.
Justice Teaching Center at Florida Southern College Brings Civics to Students
Leaders at Florida Southern College's new Justice Teaching Center for Civic Learning hope the lessons it's bringing to students across the state create an active, engaged, civic-minded population that understands justice, the courts and the Constitution.
"The center continues to improve civic learning opportunities in Florida through effective law-focused partnerships, programs and resources," said Annette Boyd Pitts, the Justice Teaching director. "Judges and attorneys will be partnered with schools in Florida through this experiential educational model."
Those judges and attorneys, along with other volunteers, teach classes beyond the current civics and government graduation requirements. National studies and surveys have shown that Americans have little knowledge about how government works, and what the Constitution requires.
"The Justice Teaching program wants to change that," Boyd Pitts said.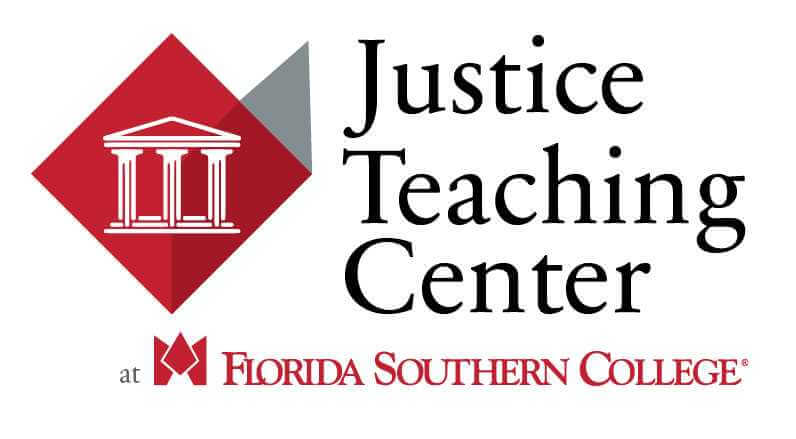 In addition to furthering the knowledge that elementary, middle and high school students have, Florida Southern officials hope that the center will also engage college students, both at their college and others.
"In terms of civics, it's important that colleges educate students, and their communities, about their responsibilities as citizens," said Florida Southern President Anne Kerr. "The Justice Teaching Center for Civic Learning offers non-partisan, law-focused partnerships, interactive programs and instructional resources for students and citizens of all ages."
This semester, retired Florida Supreme Court Justice R. Fred Lewis, who started Justice Teaching, is leading a course at Florida Southern on landmark Supreme Court cases and co-teaching a course on law and the courts.
Lewis also provides guest lectures in various classes and on-campus programs, according to Boyd Pitts, who said this is a unique opportunity for undergraduate students to be taught by a Florida Supreme Court justice.
The Justice Teaching Center is also developing a new website that will be a resource for judges, lawyers and teachers to use in planning classroom activities, projects and seminars, Boyd Pitts said.
The Beginnings
Justice Lewis was serving on the Florida Supreme Court when he started visiting classes across the state in the late 1990s to teach students about the courts and the Constitution. From that, the Justice Teaching Center was developed.
"[The center] has more than 4,700 volunteer lawyers and judges active in 3,000 Florida schools, teaching and enhancing civics and law-related education through active programs in all grades," Boyd Pitts said.
Florida Southern decided to take the program one step further when Lewis retired from the Florida Supreme Court in 2019 after serving more than 20 years.
An undergraduate student who graduated cum laude from Florida Southern in 1969 before he attended law school at the University of Miami, Lewis was invited to join the FSC faculty as an Eminent Professor of Law and Letters.
"He brought the Justice Teaching concept to the FSC campus to continue its impactful mission and to build new partnerships and programs," Boyd Pitts said. "It is a fitting transition, in that Florida Southern's mission is to prepare students through dynamic, engaged learning to make a positive and consequential impact on society."
Knowledge about our government and courts can help all citizens engage in more civil discourse on controversial issues, Kerr said.
"Democracy depends upon an educated and engaged citizenry, and I'm tremendously proud of our work to promote active, informed and civil engagement," she said. "This is an important time to be engaged in civic education, which will benefit all of our students and the organizations where they will work and be involved as volunteers."
To learn more about the center or its program, or to schedule a time to visit, contact justiceteaching@flsouthern.edu.