Go back to

Blog

page.
Lakeland Airport Growth Fuels Positive Economic Impact
The continued growth of airport-related industries, extensive expansion by existing companies and steady management have Lakeland Linder International Airport (LAL) providing an economic impact of $1.5 billion, nearly triple the number from two years ago.
"Lakeland Linder International Airport has more than proven its worth for the $500 million invested over the past decade," said City Manager Shawn Sherrouse. "With 82 businesses and organizations currently operating from the airport property, approximately 3,400 jobs have been created for Lakeland and the surrounding area.  This makes LAL a major success in terms of economic prosperity and employment growth."
Much of the credit for that growth belongs to airport Director Gene Conrad, who has led airport operations for more than 11 years, and his team. In the last few years alone, he's attracted the National Oceanic and Atmospheric Administration's Hurricane Hunters and Amazon Air, received grants for airport upgrades and more.
Conrad said he wanted to get a more accurate picture of the airport's economic impact with all the growth, so he hired Kimley Horn, which performs the same type of report for the state every two years.
"We wanted to better understand our real impact," said Conrad, who also serves as chair of the Central Florida Development Council's Aviation Committee. "When the state does its economic impact reports, it does not include non-aviation tenants on airport properties or their numbers." For Lakeland Linder, that leaves out the 582 Publix employees.
The Florida Department of Transportation's report showed LAL had:
$285 million in economic impact in 2014.
$575 million in 2019.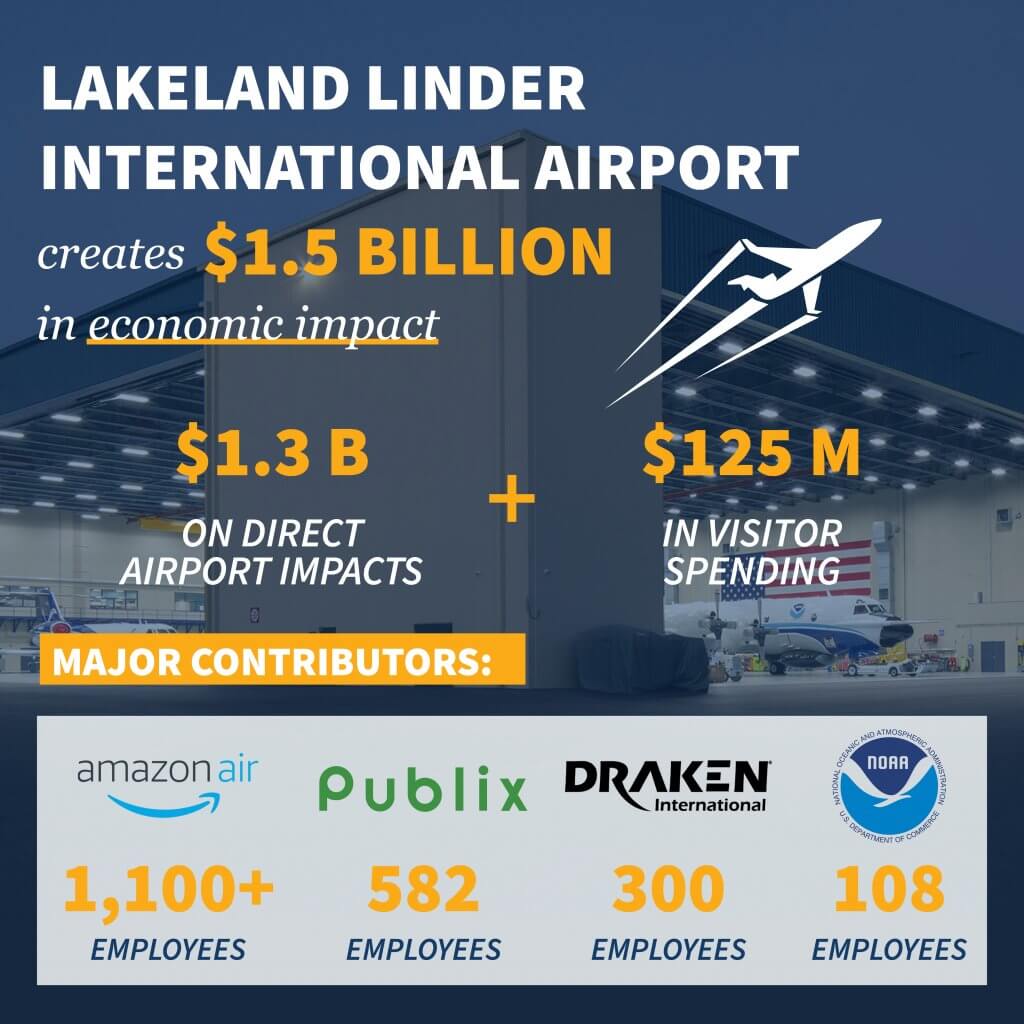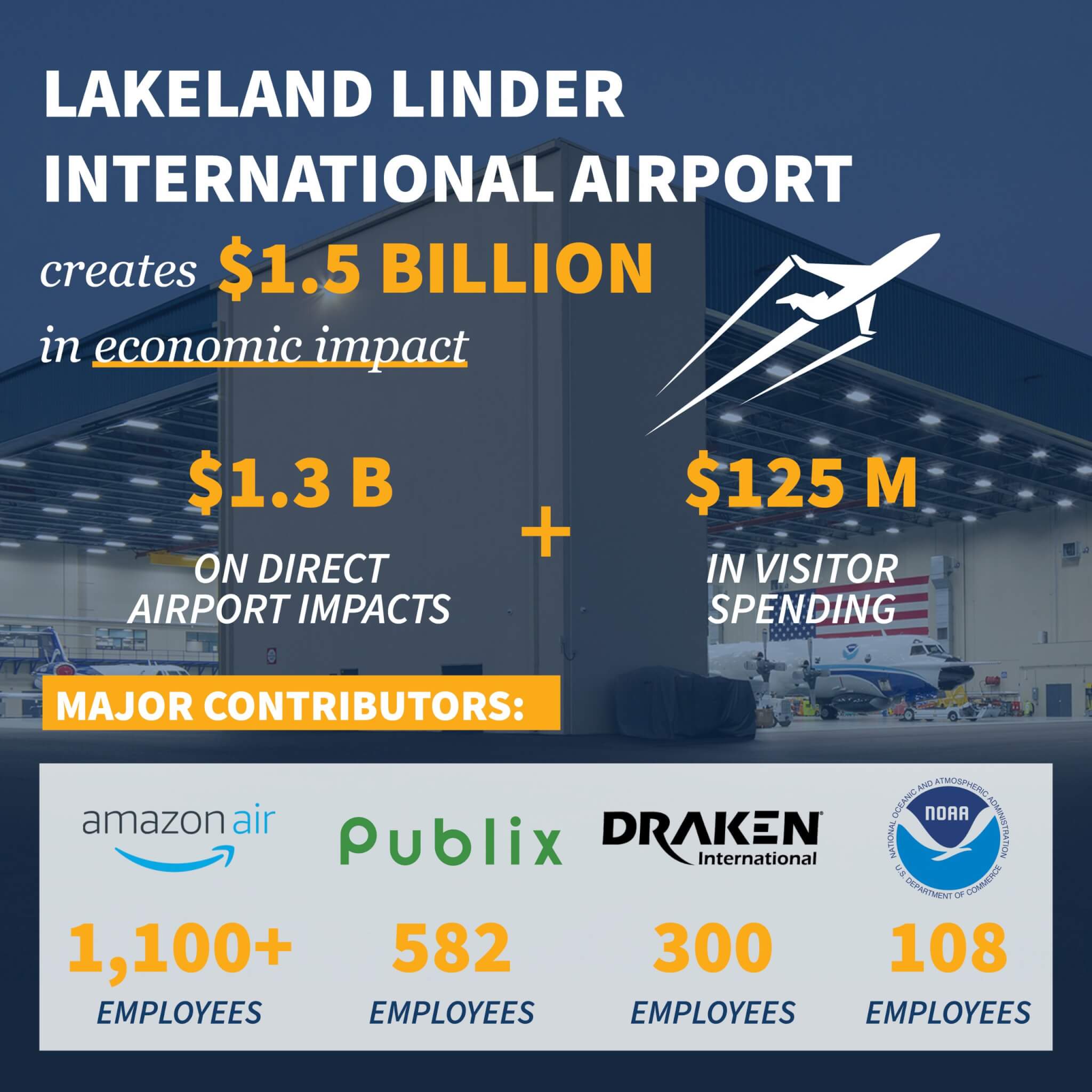 As part of the increase, employment numbers ballooned, Conrad said. In addition, some jobs are all high skill, high wage.
"By themselves, that's a 225 increase (in a few years) of high skill, high wage jobs. When you take all of Amazon into account as well, plus other businesses, we grew during the pandemic. I was shocked when I saw the number."
One company hiring high-skill, high-wage workers is Draken International, a provider of tactical fighter aircraft for contract air services, which located in Lakeland in 2011 and now employs 300 people.
Capital investment, an average of $77 million a year for the last three years, has also contributed to increased economic impact. It includes everything the city is doing, like runway upgrades and building construction, plus private development.
"Construction jobs go along with all that activity," Conrad said. "We've had a lot over the last several years, and it's continuing."
Airport Tenants
NOAA
Conrad said the city has just completed a $13 million expansion for the National Oceanic Atmospheric Association.
"We added 70,000 square feet to their footprint. They will hire 50 to 60 folks in the next few years, and they are adding three airplanes."  NOAA currently employs 108 people at the airport. While its planes travel the world year-round, maintenance technicians always stay in Lakeland. They are working on adopting a new program where drones will be dropped from Hurricane Hunters to get closer to the ground to collect more data on hurricanes, he said.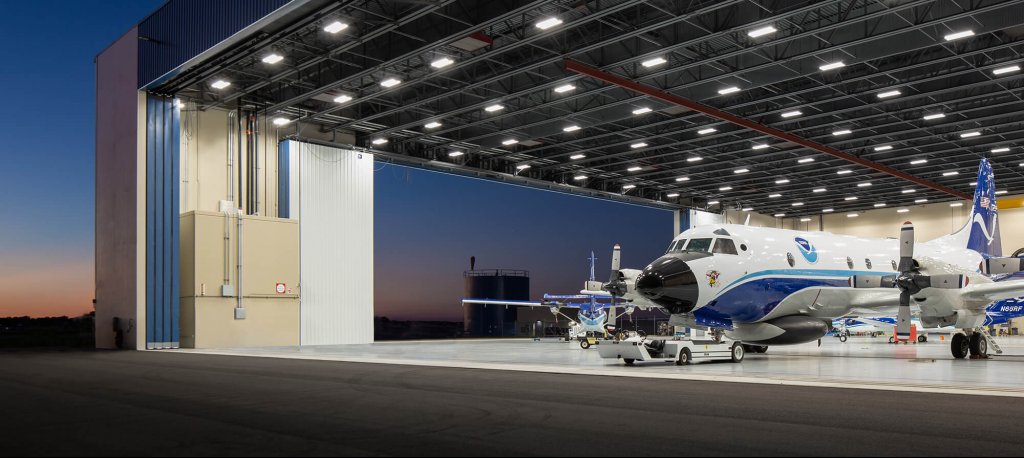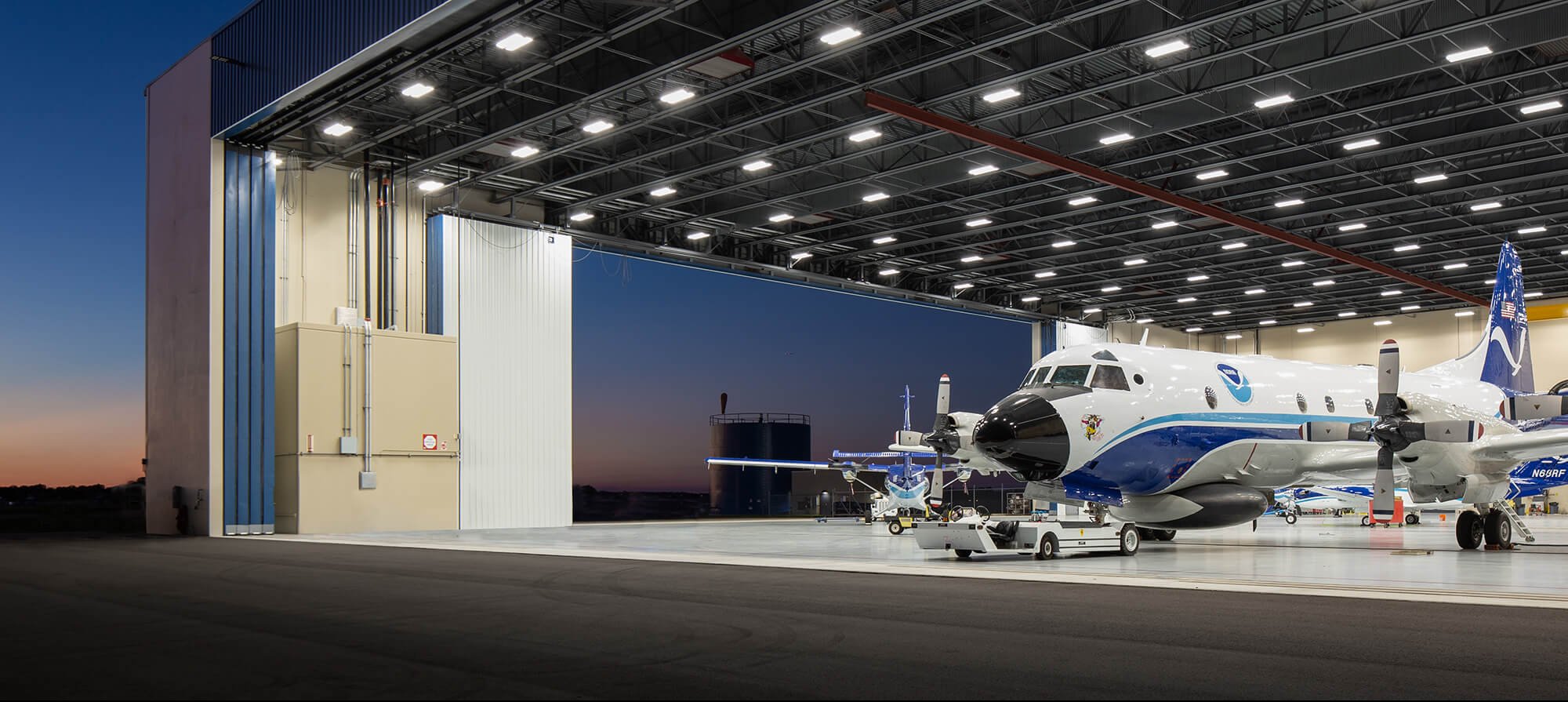 Amazon Air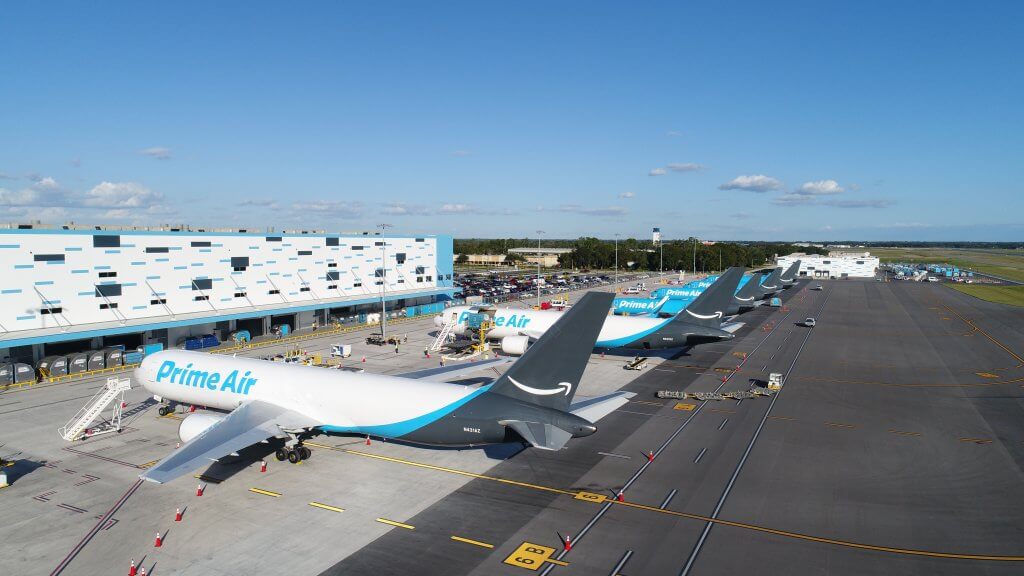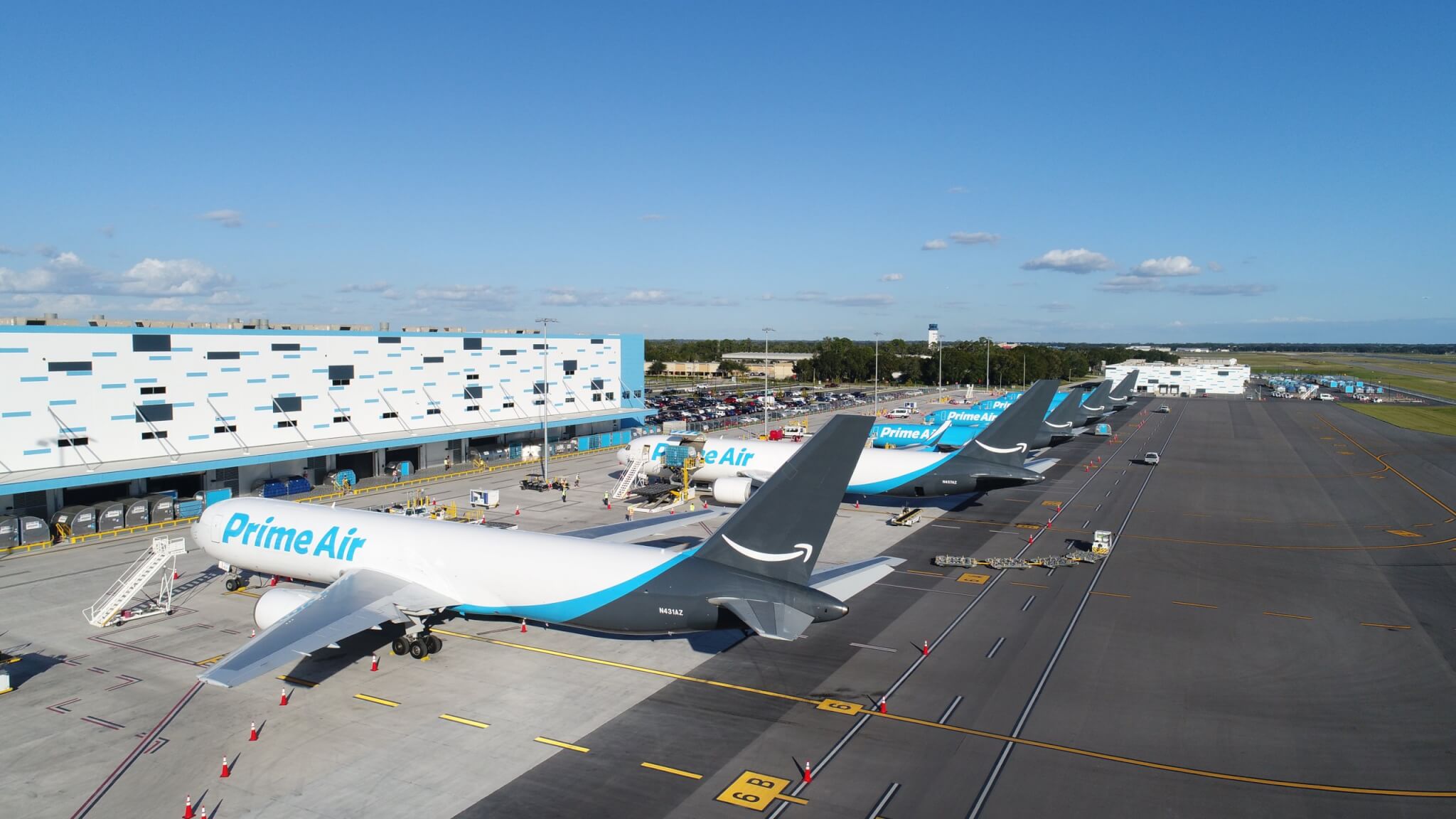 The airport is working on an environmental assessment for an Amazon expansion that would triple its size, expanding on another 60 acres, Conrad said. A Public Information Workshop will be held on May 27 from 6 to 8 p.m. in Sikes Hall at the RP Funding Center. Information, maps, diagrams and subject matter experts will be available.
Marathon Fuel
Marathon is building a 10,000-square-foot maintenance hangar and a 5,000-square-foot fuel farm as part of a $7 million to $8 million investment in the Aero Center Lakeland, Conrad said.
"They will sell fuel but have other services, too." Its temporary services are scheduled to open in May 2021. "What's driving them here is fuel. In 2019, fuel sales for the entire year were 1.3 million gallons. Last month, that number was over 1.1 million gallons." The sale of fuel generates revenue for the airport. "We get 3.5 cents for every gallon pumped into Amazon planes."
Hangar development
Private companies have built 60,000-square-foot hangars on the southeast corner of the airport for private aircraft, he said.
Click HERE for a full list of LAL's Tenants
The Future
Not everything is perfect. Conrad said he knows some people are concerned about the noise, and others would like to see commuter service — both of which are being worked on.
"Because of COVID, airlines are trying to find new places to fly to generate revenue," Conrad said. "Florida is a hot spot. There are more conversations now than in the recent past. They are re-evaluating how they are doing business. There's nothing imminent, but talks continue."
But he also wants people to understand how much the airport contributes, and why companies like Amazon, which has invested millions in capital, are important.
The economic impact report helps the airport raise its visibility and that of the city, Polk County, the Hurricane Hunters, Draken, Sun 'N' Fun, and more.
"Activity breeds activity," Conrad said. "We've seen it over the last 10 years. Things that worked, some things we've gone after that have failed, companies failed, but activity opens the eyes of others."
With Amazon at LAL, potential new tenants know what's going on here, Conrad said. Over time, that could also spill over to other local airports, like the one in Bartow. It's already helped the airport increase its jobs from 800 to 3,400 in a decade.
"When we're successful we're creating opportunities for others."