Go back to

Blog

page.
Lakeland Companies Teaming up to Expand Polk Museum of Art
Florida Southern College, Straughn Trout Architects and Rodda Construction are partnering in the renovation and expansion of the Polk Museum of Art.
The Polk Museum of Art, founded in 1966, has a mission of enhancing lives through inspirational and engaging art experiences. It is located in Downtown Lakeland, just two blocks north of Florida Southern College. In February 2022, the museum announced plans for a $6 million expansion and renovation project. They're adding 10,000 square feet to the museum to house six new galleries, storage, classrooms and lab space.
"We're absolutely thrilled by the opportunity to pursue this expansion," said FSC President Dr. Anne Kerr. She said the increased gallery space will allow the museum to:
Showcase more works from their 2,800 piece permanent collection.
Showcase some exhibitions from the Smithsonian that they can access as a Smithsonian affiliate museum.
Provide high-tech learning space for immersion style art classes.
Add flexible space for studio art students to study various works of art.
Provide students the opportunity to curate shows as they're preparing for careers.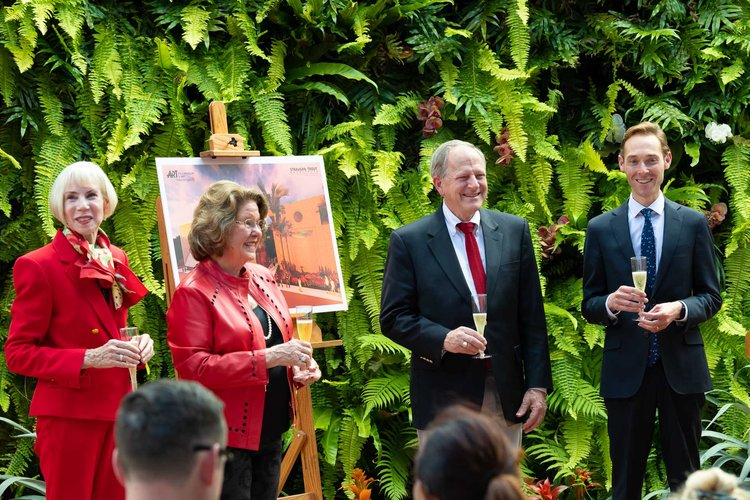 Straughn Trout Combines Art and Architecture
FSC selected Straughn Trout Architects to design the building because the company was the architect of the original. "And we like to honor our historical connections," Kerr said.
The firm's managing principal Tim Hoeft said working on this project is important to his company. "Ernie Straughn, one of our firm's founding principals, always reflected on the museum as one of his most cherished projects. His love for the institution was anchored by his passion for art and architecture. He often noted architecture as the 'mother of all arts.' As a firm, we continue to promote these ideals and are delighted to build upon his legacy."
Jerry Trout, senior principal at the firm, was also very involved in designing the original building. "Our clients benefit daily from [Trout's] continued leadership within the firm. Much of our firm's historical community ties and long-term friendships are associated with our perpetual partnership with the museum, the college and other similar anchor institutions across our community."

Architectural Inspiration
Hoeft said the inspiration for design work can come from many places, often resulting in "a beautiful mosaic of influences. Specifically, contemporary museum architecture signals excitement and aims to break away from the conventional to create unique experiences and inspiring spaces," he said. "I firmly believe that architectural inspiration can transcend programmatic typologies. I'm thankful to have learned from many other museums across the world that I've studied or visited personally."
Designing a building for a college that houses the largest single-site collection of Frank Lloyd Wright's work has Hoeft thinking about Wright's Guggenheim in New York.
"It remains as a touchstone of museum architecture," Hoeft said. "In a similar but unique way, it blends strong geometry and strategically framed natural light through an iconic form. Incorporating these design principles are paramount to any project's success."
The firm also designed the new McKay Archives Center in 2009. "Great projects like these are only possible through the collective efforts of visionary leaders and benefactors," Hoeft said. "Year after year, Dr. Kerr and the FSC team continue to establish enormous goals and consistently exceed them. Florida Southern is an intelligent and articulate client, and their projects benefit from engaging dialogue among architects, educators and administrators. We are thankful to be included as part of their team and associated with another signature project."
Additionally, Rodda Construction is the builder on the project. "Their work is exceptional, and they have been our contractor for years for various upgrades and repairs," Kerr said.
History of the Polk Museum of Art
The Junior Welfare League started the museum dedicated to children 55 years ago in downtown Lakeland. After undergoing several name changes, it became affiliated with FSC in June 2017 to offer more opportunities to students, faculty and the community. They can experience Masterwork exhibitions, participate in academic programs/internships, and conduct art history research. It is the only fine art Smithsonian Affiliate between Orlando and Tampa.
Dr. H. Alexander Rich is the executive director and chief curator of the museum and chair of FSC's Department of Art History & Museum Studies. He said the expansion builds on the museum's history as an educational institution and will raise the caliber of everything they do.
"We know we have to get people here, but then they can realize how important it is to study pieces of art on a more advanced level," Rich said.
Working with the College
Because of the museum's affiliation with the college, "We've been more able to seamlessly mesh these perspectives on how to study art," Rich said. "An academic museum is about giving everyone access to the arts and having everybody celebrate the arts. As we expand, we will build upon this desire to make this more of an immersive, innovative, academic learning environment."
Kerr said she thinks the expansion will attract more art students. "Having the opportunities for engaged learning and internships in an accredited museum will be a wonderful advantage."
The museum has already added awning-like structures to block the sun during outdoor events, completed the outdoor sculpture garden and replaced the front desk. They're also updating the entryway.
The museum has already raised $4 million toward its $6 million goal through an inaugural gift from a Florida Southern College alumnus.
"[The alumnus] kicked off this amazing project for us and incentivized other donors to join him," Kerr said.
Benefiting the Community
About 140,000 people a year visit the museum, so remaining current and relevant is important.
"The community will also benefit by being able to experience an increasing number of exhibits and participate in the programming that will be a part of each exhibition," Kerr said. "I also think it will increase tourism in Polk County that will be an economic benefit and expand the cultural offerings in our community as we strive to attract and retain a vibrant workforce."
Daryl Ward, the new executive director of the Pok Arts Alliance, added, "When communities invest in arts and cultural opportunities, in this case, the expansion of the Polk Museum of Art, they not only improve economic opportunities, but they also enhance the overall quality of life for those communities."
The museum is also celebrating the 50th anniversary of Mayfaire by the Lake in May, a juried, two-day fine arts festival that traditionally attracts about 70,000 people.