Go back to

Blog

page.
Local Colleges Providing Pipeline of Aviation Talent
The coronavirus changed almost every aspect of our lives in 2020, including air travel. But one thing remains: The need for pilots, airplane maintenance technicians and crew cabin members is great. Polk County's colleges are preparing the next generation.
The 2020 Boeing Pilot and Technician Outlook, a respected report in the industry, projects that in the next 20 years the following will be needed to fly and maintain a global fleet:
763,000 new civil aviation pilots.

739,000 new maintenance technicians.

903,000 new cabin crew members.
These numbers include commercial and business aviation as well as civil helicopter industries, according to the Boeing report. It assumes that air traffic — which decreased during the 2020 pandemic and reduced the numbers listed above — recovers to 2019 levels within the next few years.
Southeastern University
Lakeland's Southeastern University launched its private pilot ground and flight courses in spring 2019 and now offers three degrees:
Bachelor of Science in Business and Professional Leadership Pilot Track.

Bachelor of Science in Aviation Management: Professional Pilot Track.

Associate of Applied Science Professional Pilot Track.
Ken Stephens, director of SEU Aviation, said the program is going extremely well. "We currently have 45 to 50 students and are receiving new student inquiries weekly."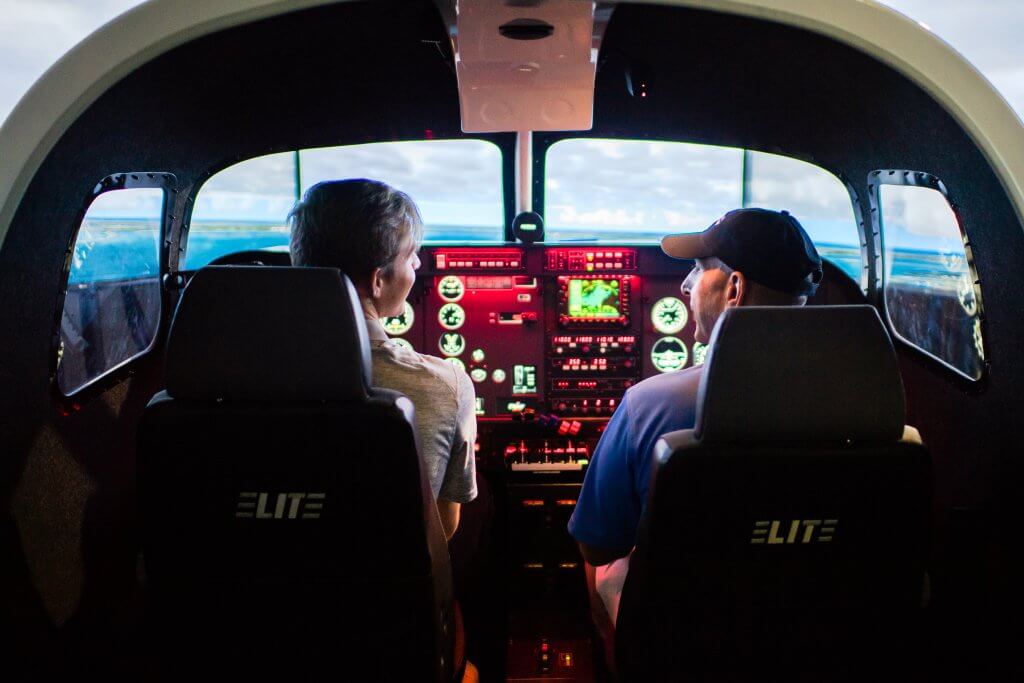 In its two years of existence, Stephens said he would give the program an A+ grade. "That's not being arrogant, it's being confident in the training and education that we deliver. It involves being student-focused, our flexibility and availability to the student. It also is displayed by our growth projections being exceeded. Our new partnership with Kingsky has allowed us to grow at a rate that could see us possibly having 70 to 80 students in our program in the next year or two."
Kingsky is a flight academy at Lakeland Linder Airport.
All of the students who have graduated from the SEU programs have found jobs at airlines, "and still come back sometimes to help other pilots find jobs. The airline recruiters are coming all the time to our school to hire our pilots. Hannah Boyd, a current student, completed her private pilot license (PPL) and is now a flight instructor at Kingsky."
SEU is doing what it can to help address the pilot shortage, he said. "We have all avenues to help people become pilots. We can provide training to veterans and international students, and financing for individuals. We also provide training for interview prep for airlines."
Stephens said students should attend SEU to get an aviation degree "because of the college, flight experience and expertise that each student gets when flying with our partners from Kingsky. They are top instructors, with several commercial pilots on staff. The instructors at Kingsky have a total of 20,000 flight hours in various commercial aircrafts. Also, the Lakeland Linder airport is flight school-friendly with a runway that is conducive to the air traffic for flight school training."
Southeastern partnered with Kingsky in 2020. "Our relationship with Kingsky is a marriage that was meant to be. Kingsky brings a level of expertise in the flight industry that goes above and beyond what we could have imagined. They focus on making sure the students have mastered the skills needed to move from module to module before they proceed forward. Safety first and foremost. We meet weekly to discuss how we are doing and where we can improve."
The college also expanded an Air Force-funded training program that it started two years ago. "We just completed one of the most intense training of young AFJROTC cadets," Stephens said. "Two years ago, we partnered with the Air Force and had eight cadets. This year we had 22, and in less than seven weeks all 22 flew their first solo and 14 received their PPL. Several flew and do not even have a driver's license. The Air Force is considering sending more cadets next year."
Polk State College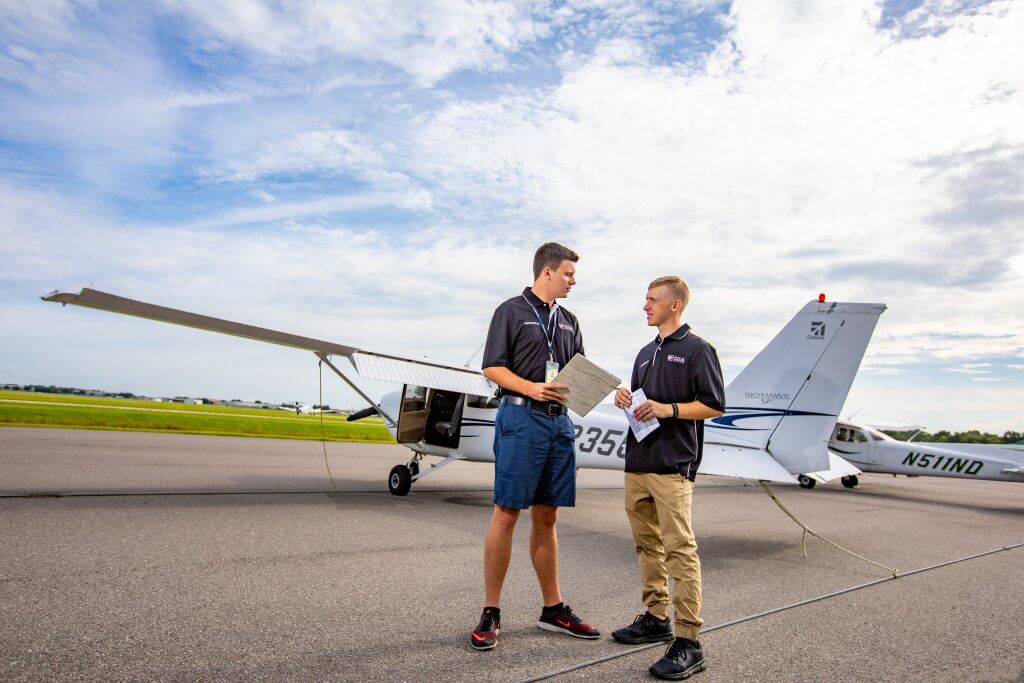 Enrollment at Polk State College's Aerospace Program has been increasing since it started in January 2013 with nine flight students, said President Angela Garcia Falconetti. "Current enrollment requests exceed enrollment for any previous term.
There are currently approximately 100 applications for fall flight training. This year, total Polk State Aerospace Program enrollment will likely exceed 300 students.
Falconetti said she would give the program an A for excellence. "Since assuming the presidency in 2017, I have seen the Polk State Aerospace Program soar above and beyond in providing quality education and aviation training that set students up for success in careers as professional pilots, aerospace administrators, aviation maintenance technicians, aircraft dispatchers and more. Whether students are flying for major airlines internationally or filling workforce needs at our local airports and aviation businesses, Polk State Aerospace graduates go on to become highly skilled and sought-after employees thanks to the hard work of Polk State Aerospace Director Eric Crump, faculty, staff and industry partners."
For instance:
Graduate Ashley Udick served as interim general manager of Winter Haven Regional Airport while finishing up a bachelor's degree in Aerospace Sciences with a concentration in Aerospace Administration. In April 2021 she was named general manager of Aero Center Lakeland, the new fixed-based operator at Lakeland Linder.

Ismael Jimenez-Barreto, a graduate who has a bachelor's degree in Aerospace Sciences, works for Ameriflight, where he is gaining 1,500 flight hours to fly for UPS, where he previously interned.
"These are only a few examples of how students and graduates are positively impacting our local and global communities with the exceptional skills they have acquired through the Polk State Aerospace Program," Falconetti said. Ninety-three percent of graduates pass the commercial pilot license on the first try, above the Federal Aviation Administration's (FAA) 80% minimum pass rate.
Polk State Aerospace offers:
Associate in Science degrees in Professional Pilot Science, Aerospace Administration and Aviation Maintenance Administration.

A bachelor of science degree, which has two concentration tracks in Professional Pilot Science and Aerospace Administration.
It also offers an Aircraft Dispatcher Certification.
Polk State College is a Best Value School (it ranked second in 2018 for the value of its online aerospace program), meaning it "provides training at a fraction of the cost of universities and private schools without sacrificing quality," Falconetti said. "Polk State is confident that it is producing a strong pipeline of aviation employees."
The dynamic aviation training students receive sets them up to be successful in the sky and on the ground, she said. "The quality of the program saves students time and money and prepares them for in-demand, high-wage careers. For example, students save as much as $50,000 in the pursuit of their Airplane Transport Pilot certificates thanks to the FAA's authorization to certify Polk State graduates at a reduced number of flight hours."
Polk State's program calls Lakeland Linder home, but it also works with the county's other three airports, Falconetti said. "Aerospace also maintains strong relationships with key industry partners who provide invaluable internship and job opportunities for students and graduates, including Lakeland Linder, Winter Haven Regional Airport, SUN 'n FUN, Sunrise Aviation and more."
Lakeland Linder participates on Polk State Aerospace's advisory board, made up of "industry leaders who are critical to the ongoing success of our program and students."
Traviss Technical College
Traviss Technical College offers high school and adult vocational students a chance to earn an FAA certification as an aviation maintenance technician through its programs in Avionics and Airframe Mechanics. Those who graduate often are entering Polk State's Aerospace program to train for an increasing number of jobs at the county's four airports, which are expanding their cargo transport operations.