Go back to

Blog

page.
MADE Honored as a 2023 USF Fast 56 Award Recipient
Lakeland, FL – The University of South Florida (USF) Alumni Association has recognized MADE as one of the 2023 USF Fast 56—the fastest-growing USF alumni-owned or -led businesses in the world.
MADE, led by USF Alum Michelle Ledford, is a branding and marketing agency founded in Lakeland, Florida with business partner Allen Reed. In a press release provided by MADE, MADE was one of 56 USF Bull-owned or -led businesses inducted into the 2023 USF Fast 56 at a celebration held in September at USF's Tampa campus.
"We were so excited to learn that MADE was named a USF Fast 56 company for the third year in a row," said Michelle Ledford, President/Principal of MADE and a 1995 graduate of USF. "Being recognized by my alma mater is such an honor, but it really is recognition of our tremendous team that works their magic for our clients every single day. Our outstanding creative and strategic insights help our clients' brands reach their full potential. That success has fueled our growth throughout the Southeast United States and other parts of the country over the past six years."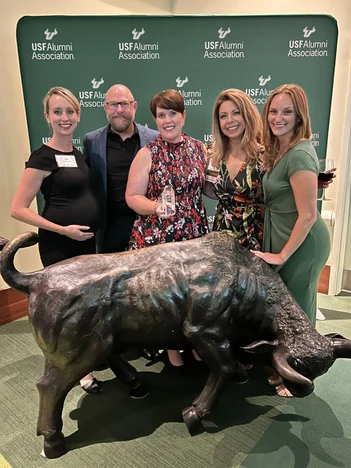 To be considered for the USF Fast 56 program, an organization must have been in business for at least three years, have revenues of $250,000 or more for the most recent 12-month period, and be owned or led by a USF graduate or former student.
The 2023 USF Fast 56 companies were ranked by percentage of cumulative annual growth in revenue, as documented by Cherry Bekaert, a public accounting firm based in Tampa. Fifty-six USF alumni-owned or -led businesses were selected as recipients, in recognition of the year USF was founded, 1956. The University of South Florida has been ranked among the top 50 public universities in America and has entered the top 100 among all universities, according to US News & World Report's 2023 rankings.
Click here to see the full list of all 56 of the 2021 USF Fast 56 Award recipients.
About MADE Founded in 2017 in Lakeland, FL, MADE is an advertising agency specializing in branding, digital, and marketing for clients throughout the United States. MADE's award-winning team of accomplished strategists and clever creatives uses its proven marketing and branding expertise to help businesses soar. For more information about MADE, visit madelkld.com