Go back to

Blog

page.
Mission to Lake Nona Shows "Purposeful Development"
A Central Florida Development Council-led trip to nearby Lake Nona showed attendees a "great example of purposeful development," one that focuses on advanced mobility, a targeted industry in Polk County.
"We went to Lake Nona because not a lot of people had been there or experienced it," said CFDC President & CEO Sean Malott, who cited it as a great example. "A lot of thought was put into the planning of the transportation system and the type of development that fits well, be it residential or commercial or otherwise."
He added: "We wanted our investors and city/county leaders to be able to see what private industry and government working together can do to produce high-quality type solutions."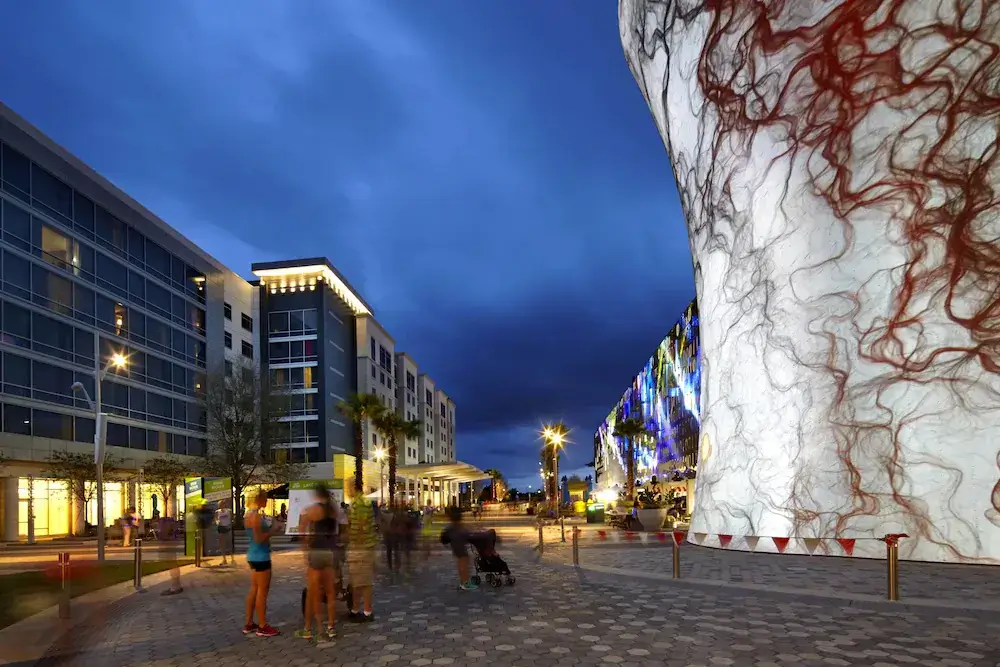 Tavistock, which started Lake Nona as a city devoted to the medical industry, planned how everything would work together from the beginning, Malott said.
"For years they planned how all of this comes together and how to work with local and state officials early on to recruit multiple well-known, well-respected medical institutions to property they own. It's grown to be its own city. We wanted people to come to this community and see what a community looks like that's been planned in a purposeful way."
Now, Lake Nona has attracted a variety of innovative, high-tech companies. For instance, BEEP, which makes autonomous shuttles, has moved its operations to Lake Nona, where they now have a research hub. "It is trying to showcase advanced transportation and purposeful development."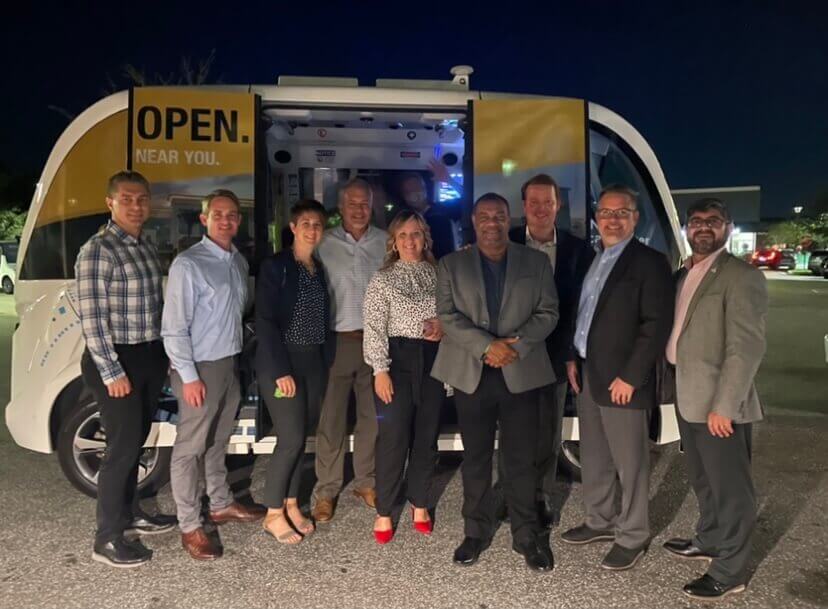 Attendees had the opportunity to ride the driverless BEEP shuttles, which attendee David Shepp of The Southern Group said was a fun experience. "It definitely has a promising future. There may be a few kinks to work out, but that's true with any new technology.
It has very good safety features and it will be a very good option for people to use to get out of their cars in certain settings, like in a crowded downtown after a sporting event."
According to ridebeep.com, "Move Nona has created a highly efficient mobility network within a (17-square-mile) planned community that connects residential, commercial, retail, recreational and medical services. The autonomous vehicle service is currently the largest and longest autonomous vehicle network at one location in North America. The alternative mobility network consists of five routes and eight shuttles connecting nearly 10 key destinations within the community."
Tavistock officials said they had a vision for the type of community that is now Lake Nona, which boasts an estimated population of 64,000 within the city limits of Orlando, southeast of Orlando International Airport (MCO). "It's a community where innovation lives," Malott said.
Attendees also visited the intermodal terminal at MCO to meet with officials from Brightline, which operates a privately run train in South Florida and is now expanding to Orlando. A train from Miami to MCO, which will be Brightline's main hub, is expected to open by early 2023. That service will then be extended to Tampa, a route that will most likely follow the I-4 corridor.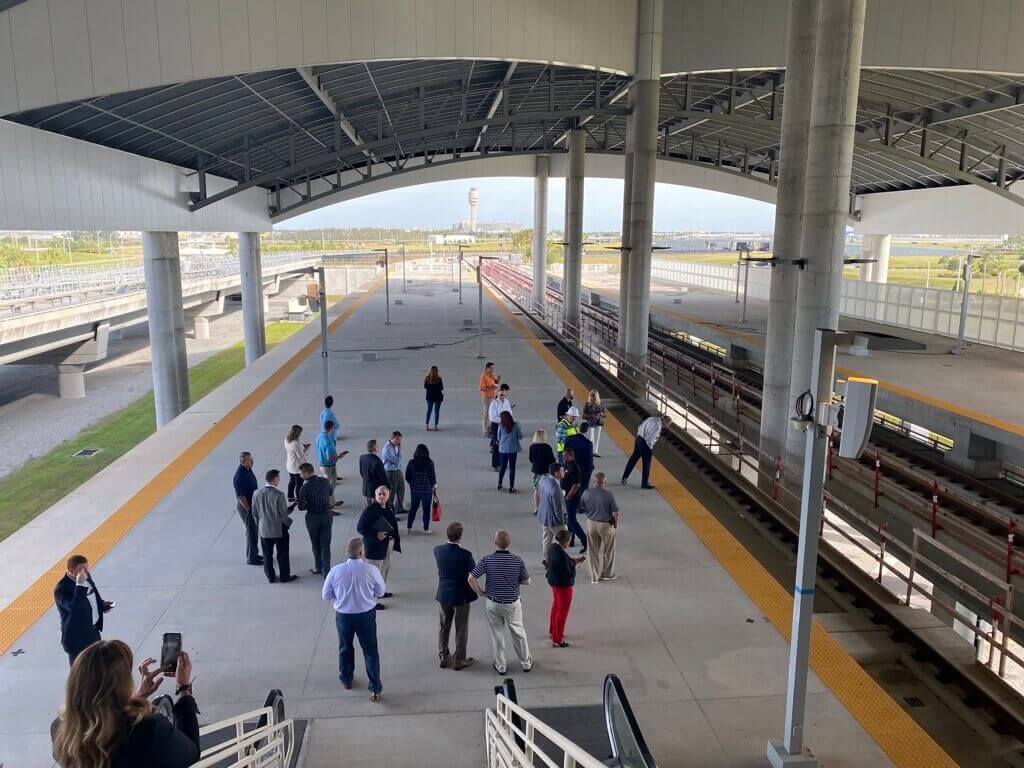 Shepp said knowing that high-speed rail is a reality was the highlight of the trip. "I've lived here long enough to see the fits and starts that high-speed rail went through in the past. It was the apple in the tree — just out of reach. Being with Brightline executives, we know it's closer to reality now. We certainly do have the best opportunity to have relief for I-4 between Tampa and Orlando, and we know that a stop in Polk County isn't in the first iteration but isn't off the table and could become a reality. Have a willing entity to be able to make that happen — it's nice to see that there's a plan."
Shepp said other investors were "excited about what the future might hold and being able to come away not thinking we don't have a seat at the table, that we can be an active participant with Brightline."
SunTrax and the Florida Turnpike Enterprise, which operates it, and Lilium, a company that's developing air taxis and providing its first service from Lake Nona, also provided attendees with information. Lake Nona will be the hub for Lilium, which is one of the first companies to open air-taxi networks, what Malott calls "big drones for small groups to go from place to place."
When people first hear about Lilium they think about the old cartoon, "The Jetsons," Shepp said. What Lilium wants to do is transport people who want to go from their office to a business meeting in the city. "You don't want to deal with I-4, so you get into this vertical flying taxi and it will take you to where you need to be. Then take the last mile on SunRail, Uber, Lyft. It's a time savings, a sanity savings, and it gives you time to prepare for your meetings. It's also a safe way to go out at night."
The CFDC, along with its partners in the county, cities and economic development agencies, want to attract a developer like Tavistock, which is owned by a billionaire. "Having money is beneficial," Malott said. "Getting the right developer on these initiatives is key."
Disney is moving several thousand people to Lake Nona to work, and the U.S. Tennis Association has its National Campus there, the largest training center in the country.
"What we can glean from being in Lake Nona, where they put together a quality development with interesting designs and transportation initiatives, can lead to another level of success for Polk County," Malott said.
But it takes time, he said, noting that nothing completed in Lake Nona was an afterthought. "It was all very purposeful. There was a grand vision that took many years to get to the place it is today. Even if we may not necessarily have all of our people in the right spots from a development perspective, you can still have planning and participation in that process to maybe influence what happens down the road."
Collaboration is the key to moving forward, Shepp said. "We got a blueprint from presenters on what they are looking for in communities to be able to place their facilities and services there. What kind of local government and business cooperation is there? What needs to come together to make it an enticing location to put down roots."
Exposing rifts or territorialism could jeopardize projects, or at least delay them, costing time and money, he said. But he thinks government leaders are strong and collaborative in Polk County, and the time may be right to develop the Central Florida Innovation District into a community like Lake Nona.
"Maybe the CFID is the right place to put it, on the interstate, central location with a lot of room to grow. Government leaders recognize they have to work together to make it a reality. If there's a division or a lack of focus, some companies might ask, 'Where can we locate that makes more sense?' "