Go back to

Blog

page.
New Pipeline Program Prepares Florida Poly Students for High-Tech Careers in the Navy
Florida Polytechnic University is breaking new ground, preparing students to enter the U.S. Navy in fields that put their STEM degrees to good use — all surrounding nuclear propulsion.
"Motivated students coming out of high school not only need to be made aware of these career programs but need to be mentored, trained and engaged early on to assure alignment with talent, drive and expectations while also seeing the career possibilities within and well beyond the U.S. Navy," said Ben Matthew Corpus, vice provost for enrollment at Florida Poly and the main driver behind the program.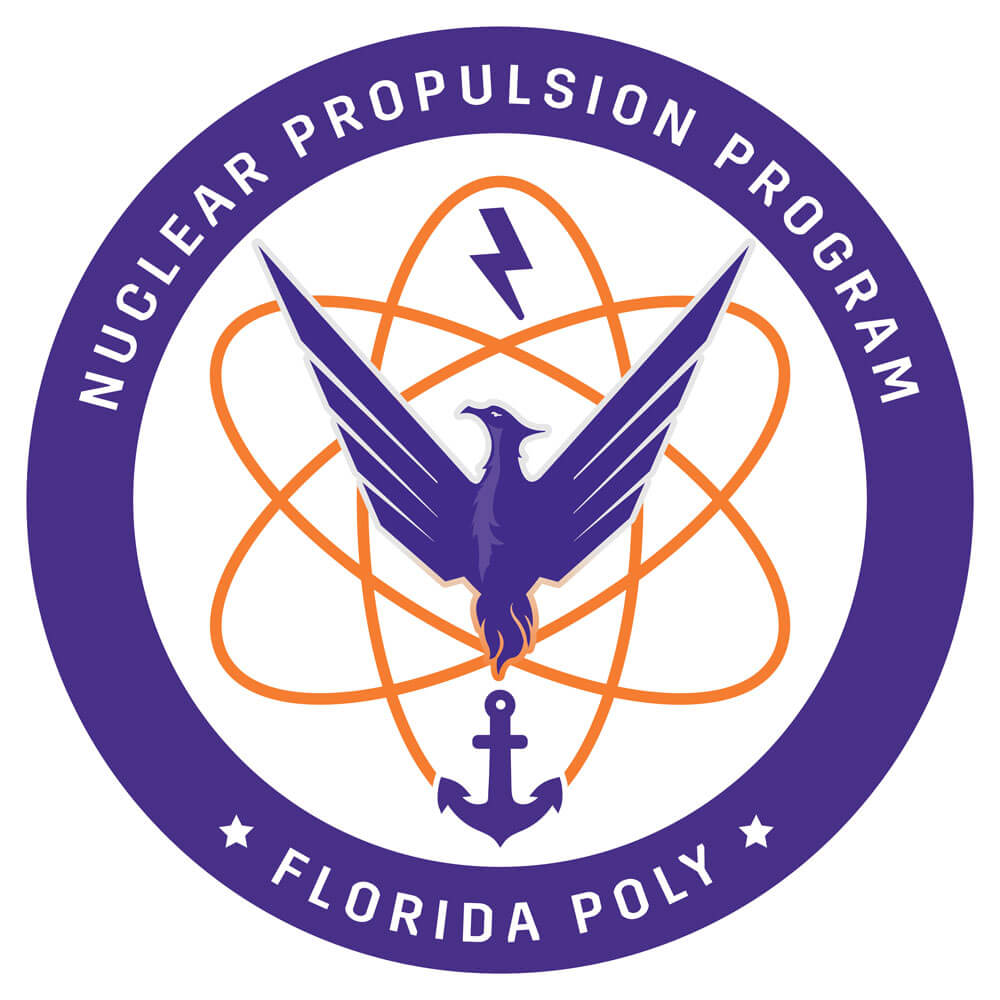 Corpus and Cmdr. Donovan Rivera, commanding officer for Navy recruitment in Florida, developed the Florida Poly Nuclear Propulsion Pipeline Program for students just entering Florida Poly to assist the Navy with recruitment. They worked with Navy officers to design a program to prepare Florida Poly students for the entrance requirements to several specialized, elite Navy officer training programs that typically begin in students' junior year, Corpus said.
It also offers students options to serve their country in a high-tech field, using any of the 30 degrees Florida Poly offers — and receive scholarships and military guidance to do it.
"These programs require STEM expertise, bachelor's degrees that Florida Poly offers and strong GPAs and board scores," he said. Those requirements line up nicely with students who have been selected to attend Florida's only state university dedicated to STEM.
All of the Navy's submarines are now powered by nuclear propulsion, Corpus said. "The need for leaders with technical expertise, a bachelor's degree in a STEM discipline and the Navy's specific training is a need that must be met. The U.S. Navy has a very specific and intense training regimen for nuclear engineering officers, and their prerequisites include students who have excelled in calculus and physics, preferably in engineering, who are also outstanding students."
Florida Poly is the only university in the nation offering such a program for freshmen; others offer entrance into the U.S. Navy Nuclear Propulsion Officer Candidate program to juniors.
"Building awareness for the career path, the work, the skills and the educational rigor necessary for Nuclear Propulsion Officer Candidate school is critical for widening the pipeline and getting students interested well before their junior and senior year of college," Corpus said.
The university's program includes modules that coincide with a student's curricula, health training, and general knowledge and understanding of Navy nomenclature, culture, expectations, benefits and compensation, he said.
"Not unlike academic programs that require a long runway for expanding a qualified pool of candidates, this program also needs active outreach and engagement for students to be prepared, fully informed and duly excited given the variety of programs in the Navy they may be eligible for with a STEM degree," Corpus said.
Ready to serve. ????????

In collaboration with @AmericasNavy's NUPOC Program, Florida Poly students are earning their #STEM degrees before launching their careers as high-tech officers.

— Florida Polytechnic University (@FLPolyU) November 24, 2020
The Program
Students accepted into the program must meet a certain GPA before they interview at the end of their sophomore year, Corpus said. Twelve current students are going through the training and interview process now, but beginning in Fall 2021, only freshmen will be accepted. The program is limited to 30 students.
Beginning next fall, students will receive a $5,000 scholarship in their freshman and sophomore years. Those chosen for the Nuclear Propulsion Officer Candidate program can be paid $26,000 from the Navy in the second semester of their sophomore year, increasing to $53,000 for their junior and senior years. A $15,000 signing bonus is also possible.
In addition, juniors and seniors can get a military ID allowing them access to gyms and shopping at military bases, as well as military health care and life insurance.
"Florida Poly's program is a reflection of the university's commitment to providing tangible benefits to its students and graduates," Rivera said. "It's clear that Florida Poly wants to provide the greatest scope of relevant opportunities to its students – from more traditional career opportunities to challenging and unique opportunities within the military."
Students must meet physical fitness requirements and will attend regularly scheduled fitness sessions in the weight room, pool and occasionally at off-site tracks. Navy officers will train students on everything from health, fitness, nutrition and physical stamina.
"I see many students who are deeply devoted to this country and have a drive to serve, but are also brilliant, want 21st-century skills and want a long-term career in highly relevant areas," Corpus said. "This program meets those needs. I think the market is generally unaware of the intellectual power that drives massive, highly complex operations across the globe and the skills needed within that operation."