Go back to

Blog

page.
Partnerships Provide Bright Future for SunTrax, Auburndale, Florida Polytechnic
New toll technology, driverless cars, and developments in mass transit will be developed and tested right here in Polk County. And that has a number of people excited about the construction of SunTrax in Auburndale.
The Florida Turnpike Enterprise is designing, building and funding the $42 million test track that borders the Polk Parkway, where two buildings are currently under construction. The first phase — the 2.25-mile track to test toll technology, among other things — is expected to open in the first half of 2019. The 200-acre infield will follow within a couple of years.
Auburndale City Manager Bobby Green; the city's development director, Amy Palmer; and Randy Avent, president of Florida Polytechnic University are excited about the prospect of testing new technology here and driving the economic engine that will surround the project.
"It's big for Auburndale, Polk County, Florida Poly and the state," Green said. Auburndale swapped land that it was using as a spray field — land necessary to build the track — with property adjacent to SunTrax that's "ideal for economic development — ideal for whatever needs would complement SunTrax."
One of the biggest boons beyond SunTrax to spur economic development is the Turnpike Authority's project to build an interchange at Braddock Road to service SunTrax, Green said. "That could be the interchange to host upscale dining, shopping, mixed-use complementary to Lake Myrtle. That interchange is icing on the cake and also the catalyst to drive economic development."
SunTrax is north of Braddock Road, while Lake Myrtle Sports Complex — which hosts the RussMatt Baseball Tournament, is home to the new Water Ski Hall of Fame and Florida Youth Soccer, and more — is south of Braddock. Widening Braddock to four lanes and building the interchange between Old Dixie Highway and Pace Road — and having 200 to 300 vacant acres there — is ideal, Green said.
Palmer said the Florida Turnpike has been in discussions with car manufacturers and manufacturers of technology that goes in cars to develop the infield.
"It's such a new technology and it's evolving so rapidly," Palmer said. "To have that right here in our backyard, where those companies will come and collaborate with students, faculty and staff at Poly — that sets us up for the long term to really start seeing tech and research and salaries that come along with that."
"We're on the cutting edge of that technology," Palmer said. "That's huge for not even the 5-to-10-year time frame, but 25 to 50 years from now."
FLORIDA POLY'S INVOLVEMENT
Avent's faculty and students are already looking toward that future, he said.
The biggest growth area is autonomous vehicles, Avent said. "We will develop more curriculum with that; we already have some."
Poly is home to the Advanced Mobility Institute, funded by the state. The Massachusetts Institute of Technology helped design the course, which focuses on the development of autonomous vehicles.
"There is a core of about eight faculty members that are doing work in that now. They are doing research over the summer. They have (about a handful of) students involved in different aspects of that.
"We continue to work with (the Florida Turnpike Enterprise) to help define the business and educational sides of this," Avent said. "It will be a collaboration between industry, academia and government — in this case, state government".
Avent described how the process works at Florida Poly, the 12th state university in Florida and the only one dedicated to STEM (science, technology, engineering and math).
"The faculty are leaders, but students, and more often than not graduate students, are the ones who really do the work," he said. "The faculty end up being managers of the lab, define research, and work and mentor students. Students do a lot of research. It's very much about being hands on at our university. We try to set it up where faculty are developing … and students are building code" and working on the details.
GROWTH EXPLOSION
When the Lake Myrtle Sports Complex opened, several hotels expressed interest in building in the area, Green said. They didn't then, but now may be a different story.
"We had several hotels approach us about building (near) the Lake Myrtle Sports Complex alone," he said. "Now SunTrax is coming," so we expect future conversations.
Palmer said she's already had discussions with several developers and property owners.
"Rooftops (housing development) are increasing — that's what restaurants and shopping centers look at when trying to make decisions," she said. They're also looking at "proximity if they have a location nearby and what would it look like if they added a second location."
Future development will add to the tax base of Auburndale, Green said, which should help keep the city's tax rate among the lowest in the county (only Bartow and Hillcrest Heights have lower rates, according to the 2017 millage rates provided by the Polk County Property Appraiser's Office). "That low tax rate makes it more inviting to locate in Auburndale," he said.
Excitement runs beyond the prospects for the future. Part comes from moving dirt.
Joy can be heard in Green's voice when he talks about 10,000 truckloads of dirt that have been moved from the Lake Myrtle Sports Complex — where they are building a 17-foot deep by 100-foot wide event lake — to the SunTrax site.
"Exciting times are ahead on the Polk Parkway corridor," Green said.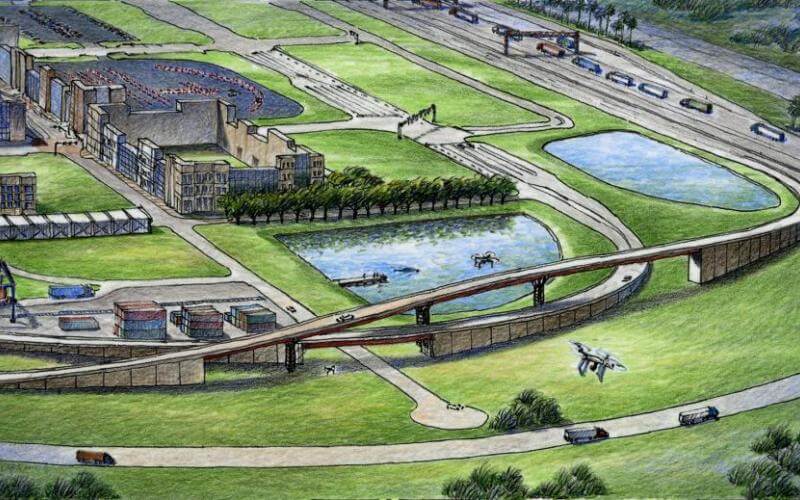 The SunTrax testing facility will feature a 2.25-mile track on a 400-acre site adjacent to Polk Parkway (State Road 540), two miles south of Florida Polytechnic's campus. | Photo credit- city of Orlando