Go back to

Blog

page.
Polk County Plans for the Future as People Move Here in Droves
Polk County's business-friendly atmosphere, inviting communities, sunny days and quality of life continue to attract new residents, ranking Polk No. 1 in Florida's net migration – people moving here from other states.
Polk County ranked No. 8 in net migration in the country, drawing more than 17,000 people in a year. The county has grown 20% in the last decade, from roughly 600,000 when the U.S. Census was taken in 2010 to about 725,000 in July 2019, the latest data available.
The state of Florida was No. 1 in net migration in 2019, attracting more than an estimated 600,000 people moving to the state, according to the U.S. Census, with Lee and Pasco counties also ranking in the top 10 nationally. Florida's overall population now exceeds 21 million.
Not only did Florida lead the country in state-to-state migration, but Polk County was No.1 in the state for net migration between 2018 and 2019, according to the U.S. Census Bureauhttps://t.co/OseedmN0co

— Central Florida Development Council (@CFDCPolk) December 3, 2020
More people bring more opportunities, and the Central Florida Development Council is working to attract new businesses and industry to our county. With more than 10 million people and thousands of businesses in a 100-mile radius of the county, businesses have a ready-made audience to sell or deliver their products to. Add to that a talented and plentiful workforce, colleges that are willing to partner with industry and a top-rate transportation system, among other things, and it's easy to find many reasons for businesses to locate or expand here.
But what we have isn't enough to meet the demands of our growing population. That's why we must improve our infrastructure now, whether it's roads, water, sewer and electric systems, or even schools. The Polk Regional Water Cooperative (PRWC), the Central Polk Parkway and Polk County Schools, not to mention our cities and county governments, are already doing that.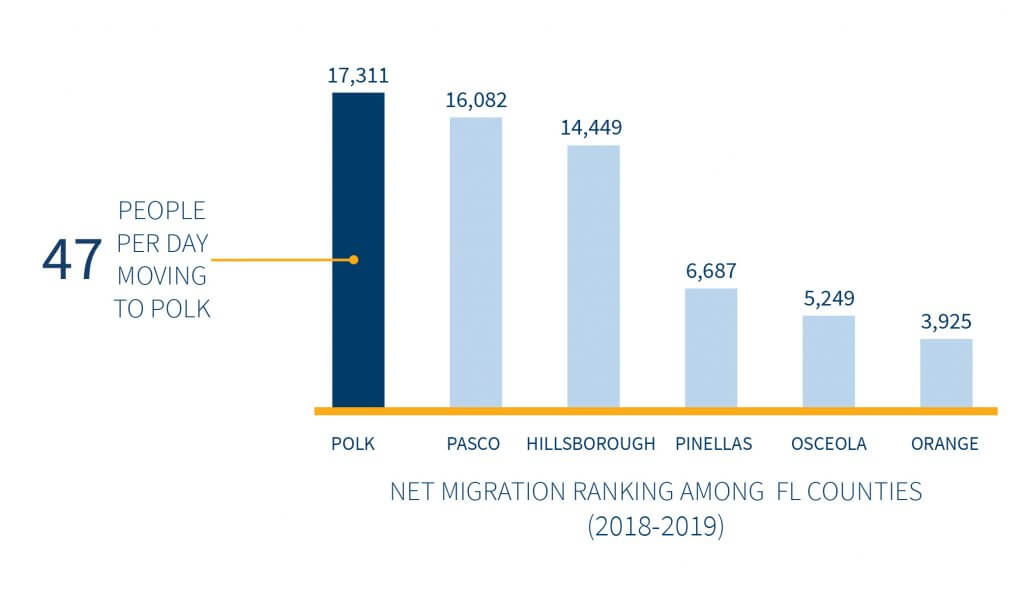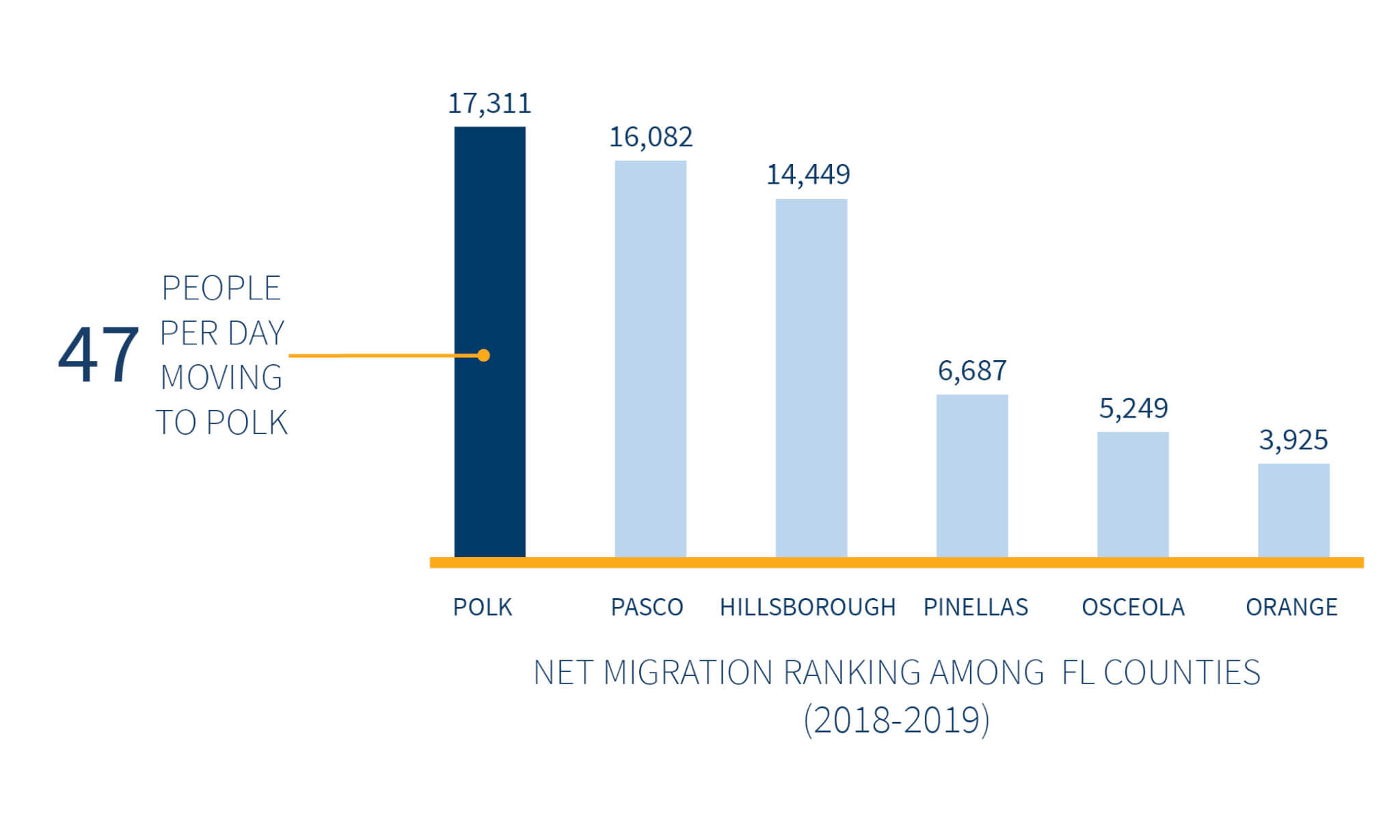 "Planning, collaboration and innovative thinking are important as we continue to make Polk County Florida's Best Place for Business and residents," says Commissioner George Lindsey, Polk County Board of County Commission liaison for the CFDC. "Advancing projects that ensure Polk leads the way in strong infrastructure better equips our businesses and residents for success."
Central Polk Parkway
Florida's Turnpike Enterprise (FTE) is developing a new toll road (SR 570B) to alleviate traffic on the eastern side of the county. The 6-mile Central Polk Parkway will stretch from the Polk Parkway's Winter Lake Road exit to U.S. 17. It is expected to open in 2024 or 2025.
The FTE is integrating "emerging technologies that can help reduce congestion, create mobility choices, minimize environmental impacts and improve safety," according to its website. "FTE also recognizes that connected and automated vehicle technologies hold unprecedented opportunities for enhancing mobility and increasing safety on our roads"
Enhanced transportation opportunities, especially for trucking, is critical to companies already located here. Amazon, WalMart, Publix, O'Reilly Auto Parts and others use distribution centers and warehouses to store and prepare their products for shipping. At the central crossroads of the state — east/west and north/south — our highways, rail system and airports provide easy access.
Polk Regional Water Cooperative
Polk County's continued growth will place an ever-increasing demand on the limited and regulated resource of water supply. "Conservation is an integral component to a water supply plan," said Mayor Eugene Fultz, Chair of the Polk Regional Water Cooperative (PRWC). "However, the need to diversify the County's supply options must begin now to meet the growth."
To address the growth, the County and 15 municipalities formed a water cooperative to identify alternative water resources and projects to ensure the future sustainability of our regional water supply in order to meet long-term water demands.
The cooperative is working to complete feasibility studies as well as project design reports to help determine future infrastructure needs. This planning work will help guide strategy and investment into the next 20 years and more. "By having a reliable water supply capable of servicing both residential and commercial growth, Polk County can and will continue to be an ideal location for companies and their employees," says Ryan Taylor, Deputy County Manager and Executive Director for the PRWC.
Alternative water supply is not inexpensive. To meet the challenge of funding projects, the PRWC continues to work with the State Legislature for funding assistance through the Heartland Headwaters Protection and Sustainability Act. Through the Act, the Cooperative acts as the clearinghouse for all water related projects within the County. This prioritized list is provided to the Polk delegation for support of appropriation requests.
Polk County Public Schools
The School District, already the seventh-largest in Florida and among the 30 largest districts in the U.S., is nearing completion on two new schools. Davenport High School and a new elementary school in Davenport that has yet to be named, are scheduled to open in August 2021.
The 126,834 square foot elementary school will serve 1,000 students in East Polk County, which has seen much growth in the past decade.
Responsible Growth
Likely sitting at three-quarters of a million people when the U.S. Census releases the 2020 population county, Polk County is no longer the sleepy county dominated by citrus, cattle and phosphate. Its growth has attracted exciting new companies like Nucor, Molecule and Prime Air while giving other companies like Peace River Citrus Products, Publix and Coca-Cola reasons to expand here.
We sit at the edge of greatness, a future filled with advanced manufacturing plants, high-tech medical firms, innovative research companies, autonomous vehicles and so much more. We have a vision for the Central Florida Innovation District. We have a talented workforce bolstered by seven colleges that continue to work with industry and individuals.
We need to stay focused on our county and regional plans to ensure everything we envision comes to fruition to diversify our economic base, which benefits everyone.