Go back to

Blog

page.
Polk County Schools Seeking Input on Survey
If you want to help shape future graduates of the county's public school system, now is the time to take a quick online survey to provide your input. The deadline is Nov. 30.
Polk County Public Schools is developing a strategic plan to ensure all graduates are ready to enter college or the workforce. As part of that initiative, it is conducting the "Portrait of a Graduate" survey to gather input on the qualities the community thinks graduates should possess. Results will enable the School District to better support students and improve our schools, all leading to goals in the strategic plan.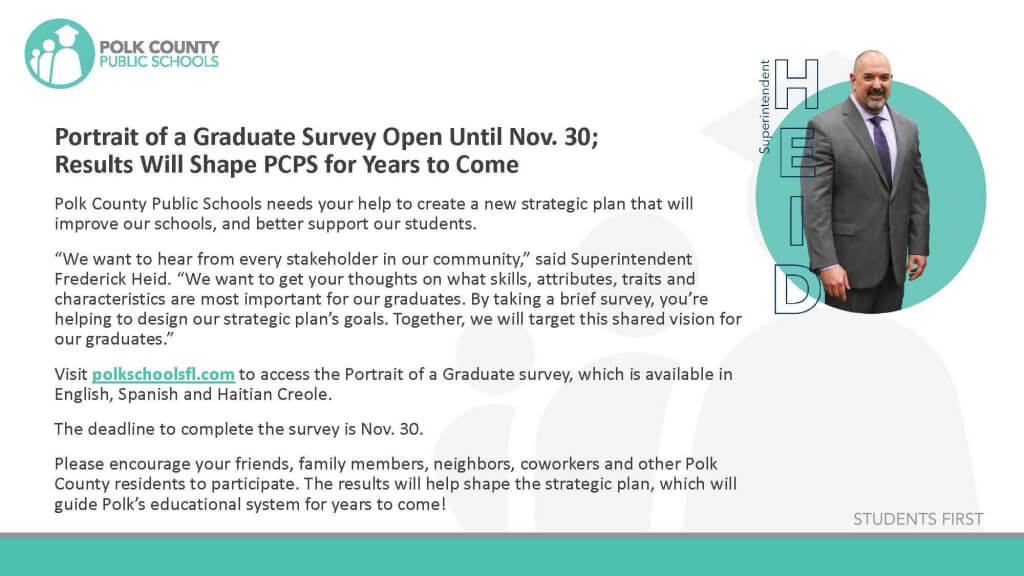 In the first month of the survey, which is offered in English, Spanish and Haitian Creole, the School District received about 2,400 responses. But it would like more people to participate, especially those in underrepresented groups and stakeholders and demographics where participation is lacking, so it has extended the deadline to Nov. 30.
"I'm very grateful to everyone who has taken the time to participate in this brief survey," said Superintendent Frederick Heid. "Although there isn't a specific threshold for the number of responses that we would like to receive, we are one of the fast-growing areas in the nation. We must make every effort to reach as many stakeholders as possible."
Of those who took the survey through Oct. 31, the top five groups that have responded are:
Parents and guardians, 75% (nearly 1,900 people)

Polk County residents, 45% (1,154)

Polk County Public school employees, 32% (818)

Graduates from Polk County schools, 21% (522)

Business owners, 8% (209)
"We would love to have everyone in the community take part," Heid said. "Please reach out to your family members, neighbors, coworkers and friends. Encourage them to also share their thoughts. We want to get as much feedback from our community as possible."
Respondents were given the opportunity to select more than one category, so some people may have responded as a parent and business owner, thereby driving up the response numbers listed above.
"Polk County businesses need skilled, qualified and competent employees," says Sean Malott, President and CEO of the CFDC. "This survey offers the community an opportunity to give critical input regarding the skills business leaders hope future employees will possess."
Before taking over as superintendent of Polk County Public Schools in June, Frederick Heid listed three initial goals he had for the district, including conducting this survey. The survey asks respondents to select 10 of 30 key competencies/terms that best reflect the skills, characteristics and traits Polk County should strive for in a high school graduate. Respondents are also invited to add two that were not on the list.
"Here is a word of advice," Heid said. "When taking this survey, carefully read all of the definitions first. It's a little bit like a shopping trip where you need to browse what's available before deciding what's essential. What attributes will best position our graduates for success in their lives?"
He added: "Keep in mind that you can add up to two competencies, but we ask for a detailed definition to accompany them. We will review these written responses and consider what other traits are being suggested for our graduates."
Polk Vision has been helping with the process to get people to respond to the survey.
"Polk Vision is excited to partner with Superintendent Heid in sharing the Portrait of a Graduate survey," said Executive Director Kim Long. "It is an opportunity for members of the community to take part in shaping the new strategic plan for Polk County Public Schools, focused on improving outcomes for our students."
The 30 listed include such things as civic literacy, innovation, conflict resolution and problem-solving.
The survey says the information gleaned from respondents "will be used to help guide the rest of our Strategic Plan to ensure that each of our goal areas include initiatives and action steps that support our collective vision for our graduates."
Visit polkschoolsfl.com to access the Portrait of a Graduate survey.