Go back to

Blog

page.
Polk State College is an Economic Engine Providing Critical Economic Impact to Central Florida  
Polk State College's degree programs contribute $215.5 million to the Polk County economy, according to a recent study by Emsi Burning Glass that used data from the 2020-21 fiscal year.
The college commissioned the report as part of its strategic planning process. To keep pace with the county's growth — it is one of the fastest-growing counties in the country — Polk State has added programs and is constructing a new campus in Northeast Polk.
Polk State offers 24 associate's and six bachelor's degrees. Of its total economic impact, 55% — or $118.3 million — is a direct result of the increased earnings students and alumni receive because of their Polk State College education.
"The value a Polk State College education adds to not only the lives of our students, but also to their families and our community, is undeniable," Polk State President Angela Garcia Falconetti said. "This study affirms the positive impact our institution has on Polk and provides a foundation from which to further prepare Polk State for the future population growth we will experience throughout our county."
For fiscal year 2020-21, Polk State had 1,223 full-time and part-time faculty and staff, 84% of whom lived in Polk County. It also had 13,900 degree-seeking students, about 12% who moved to the county for their education.
"Polk State adds economic value to Polk County as an employer of county residents and a large-scale buyer of goods and services," the Emsi report's summary says." Total payroll at Polk State was $62.3 million, much of which was spent in the county for groceries, mortgage and rent payments, dining out and other household expenses. In addition, the college spent $22.2 million on day-to-day expenses related to facilities, supplies and professional services."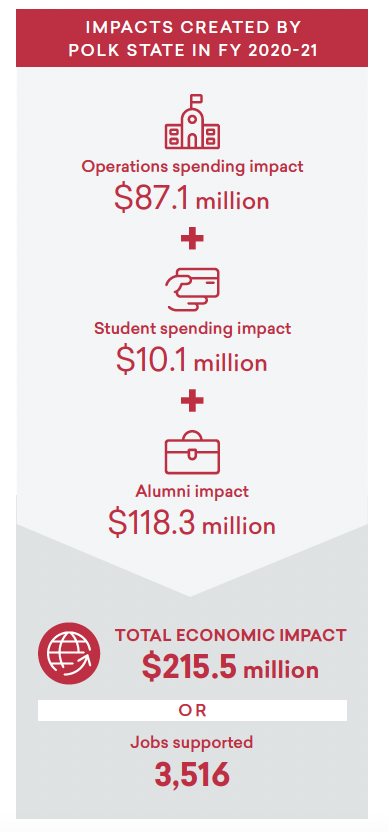 Sean Malott, President & CEO of the Central Florida Development Council, praised the report's comprehensive look at the college's impact.
"This report expertly articulates the impact Polk State provides to the community economically," he said. "We've always understood that the college educates students and crafts them into valuable contributors to the local workforce; however, this report more broadly quantifies the importance of Polk State as an economic engine headquartered in Polk County. The numbers are impressive. The CFDC is a proud supporter of Polk State and appreciates their valuable role in helping Polk prosper."

Putting it into Perspective
"The study is important for two main reasons," Falconetti said. "For students, it quantifies the return they will receive in higher wages and rewarding careers for their investment of time and money at Polk State College. For the community, it reaffirms the critical role of Polk State College – Polk County's largest-serving higher education institution – in the economic development and overall prosperity of the county."
Polk State offers affordable education well below the costs of state universities and private schools, opening the college doors to more people.
The average associate degree graduate from Polk State will see an average increase in earnings of $6,700 annually, and the average bachelor's degree graduate will see an increase in earnings of $22,100 compared to an individual with a high school diploma or equivalent working in Florida, according to the report's summary. So, for every $1 a student invests in Polk State, they will receive $5 in higher future earnings.
But it's not all about students seeking – and earning – degrees. Polk State also offers an extensive array of workforce training and a myriad of training certificates, none of which were captured in this part of the economic impact report.
"It's critical to note that the results of this study include only Polk State's 30 degree programs," Falconetti said. "We can estimate that the economic value of Polk State College is even greater due to its 26 certificate and workforce training programs. These programs, many which lead to nationally recognized industry credentials, will be evaluated in the next phase of this study."