Go back to

Blog

page.
Polk State College President Talks About Growth, a New Campus and the Hispanic Population
Polk State President Angela Garcia Falconetti has been in her job five years now, and she's using her experience there and as a former chair of the Central Florida Development Council to Polk State's advantage – in this case, championing the need for a new campus to serve the burgeoning northeast portion of Polk County.
Often ranking as one of the fastest-growing counties in the nation, Polk County was ripe for a new Polk State College campus – one reason the state allocated $13.8 million for phase one of construction for the Polk State Haines City Campus, she said.
"With this growth in both residents and industries, Polk State College has allocated its largest legislative appropriation in history," Falconetti said. "Northeast Polk is projected to have an additional 201,000 people and 91,000 dwelling units by 2045. Access to affordable, quality higher education and workforce training is critical to developing economic opportunities and enhanced quality of life for students and their families." 
Falconetti shared her thoughts on growth, economic development and the growing Hispanic population at her college and in Polk County in a question-and-answer session with the CFDC.
CFDC: Why do you think so many people are moving into our county?
FALCONETTI: Polk County is ripe for growth due to its geographic location, strong infrastructure, quality of education, workforce talent pipeline and diversity of industries. In recent years, the Lakeland-Winter Haven metropolitan area has ranked No. 1 for the most diversified economy in the state. We can suspect that the county has retained its competitive edge with the continued growth across industries, along the Interstate 4 corridor and in Northeast Polk, with municipalities such as Davenport and Haines City consistently named some of the fastest-growing cities in the nation.
CFDC: What does growth in people and industry say about Polk County?
FALCONETTI: The growth that Polk County is experiencing speaks to the quality of life and opportunities that already exist here in our community. The synergy that results from this growth is already taking place, with industry and community leaders from all sectors working together to ensure we meet the demands that come with this growth so that residents benefit from increased quality of life because of the economic development of our region.
CFDC: How have you personally seen the county change in the last 2-3 years?
FALCONETTI: The growth in Northeast Polk County has been most evident to me. A top priority for Polk State is developing our new site along U.S. 27 adjacent to AdventHealth Heart of Florida and the Medeplex. The northeast region is not only the fastest-growing area of Polk County, but also one of the most rapidly growing regions in the nation. Within a 10-mile radius of the college's site, there are more than 80,000 residents whose highest educational attainment is a high school diploma or some college, but no degree. Currently, the closest college campus for many nearby residents is a 45-minute drive one way. The development of the Polk State Haines City Campus will support the northeast's growth, its talent pipeline and the overall economic development of Polk County.
CFDC: What are the positives and negatives to this growth?
FALCONETTI: A positive of Polk County's growth is how it continues to diversify our community, as we have seen in both the demographics of residents moving here as well as in the diversity of our industries.
It is critical that we not only continue to meet the diversified needs of our county today, but that we also prepare for the growth coming in the future. This is challenging work, but it has brought industry and community leaders across all sectors together as part of our shared goal of prosperity for Polk County.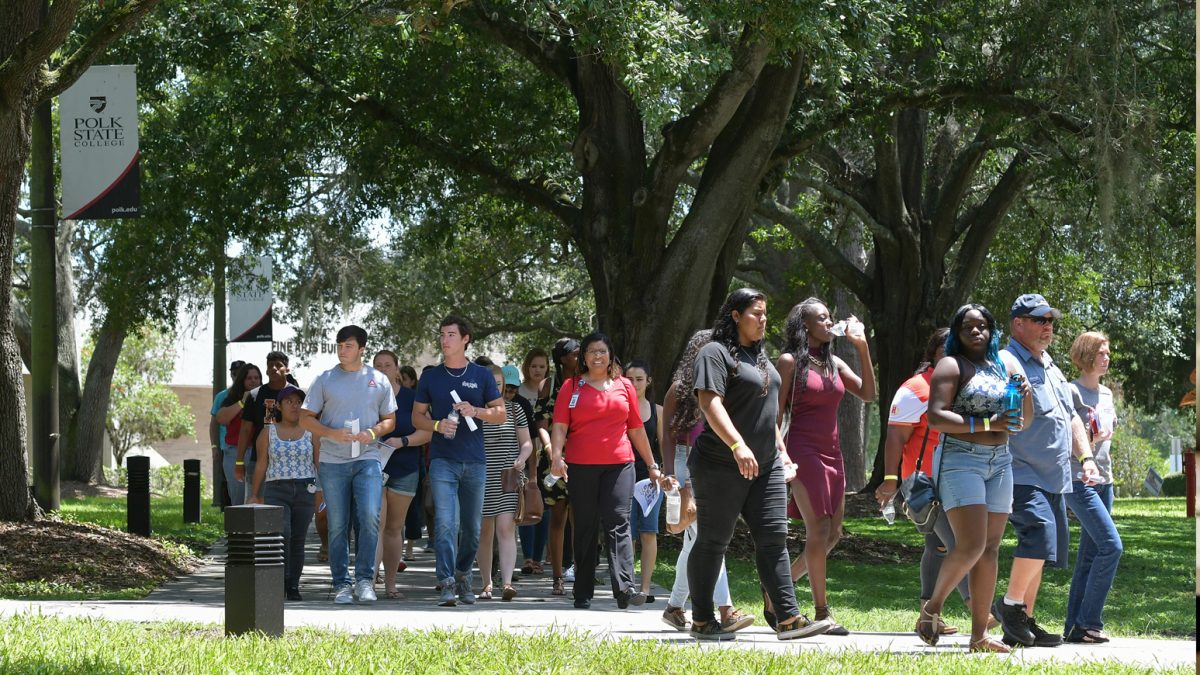 CFDC: If you could change one thing in Polk County regarding growth here, what would it be?
FALCONETTI: This is not necessarily a change, but it is important that we continue to advocate for funding that will support the growth in Polk County. This includes critical projects such as the Polk State Haines City Campus.
CFDC: What observations do you have on the growth and economic development here?
FALCONETTI: The growth in Polk County continues to diversify our community, and this has been specifically evident to me in the increase in Polk State's Hispanic student population, which mirrors the growth of the Hispanic population in Polk County.
Polk State has been designated as a Hispanic-Serving Institution (HSI) by the Hispanic Association of Colleges and Universities. This designation, achieved last year when the college's Hispanic student population exceeded 25%, provides the college with eligibility for Title V and HSI STEM federal grants that support all students. This has been a top priority for me since assuming the role of president in 2017, and I am grateful for the support of our college and community, which has made it possible for Polk State to achieve this goal. In fact, Polk State's Hispanic student population continues to grow and reached 28% for the 2021-2022 Academic Year – an increase from 19% in 2017.