Go back to

Blog

page.
Polk State President Leaves CFDC a Legacy of Assisting with Business Resiliency
As the coronavirus pandemic continues to grip the world, affecting business and industry as much as health and welfare, economic resiliency is the term that defines Angela Garcia Falconetti's year as chairwoman of the Central Florida Development Council board of directors.
"When you look at how much has occurred and how many accomplishments have been made, the CFDC, its board and staff, and many businesses — especially small ones — have been largely focused on economic resiliency, recovering from impacts of the pandemic."
Throughout the year, the CFDC was instrumental in supporting local businesses and the growth of critical business sectors and moving the entire county toward prosperity.
"Because of its work, businesses were able to thrive — or plan how to thrive — in the pandemic world," she said.
With a focus on resiliency, "our region continues to experience growth in our primary industry focal points like manufacturing, logistics, aviation, health care and educational institutions, which are on the cutting edge of workforce training needs," Falconetti said. "The Talent Pipeline Committee has been focused on increased workforce demands," often collaborating with the county's institutions of higher education to ensure a trained and prepared workforce.
CFDC President & CEO Sean Malott praised Falconetti's leadership during another challenging year. "She adapted to what was important this year, which was helping businesses of all sizes succeed. She brought education into clear focus and suggested ways to strengthen the relationship between those institutions and the rest of the county. Her legacy will keep us moving forward."
After 18 months of operating under the confines of the pandemic, it's time to shift to a new constant, Falconetti said. "How do we as businesses and industry and economic development councils support growth that is more commonplace and more part of everyday life?"
For instance, under her leadership, the area's college presidents gathered with the CFDC to find ways to work together to diversify the county's industry base to help attract businesses to the region.
In the last year, the CFDC also partnered with the Polk Board of County Commissioners to assist the county with doling out $20 million in Polk CARES funding to assist businesses seeking relief.
Moving Forward
The CFDC recently held its Board Advance, a term Falconetti suggested instead of 'retreat' to showcase the focus on the future, not the past. She said the organization tweaked its strategic goals, meaning the general focus will remain the same, but it may develop different ways to accomplish some goals.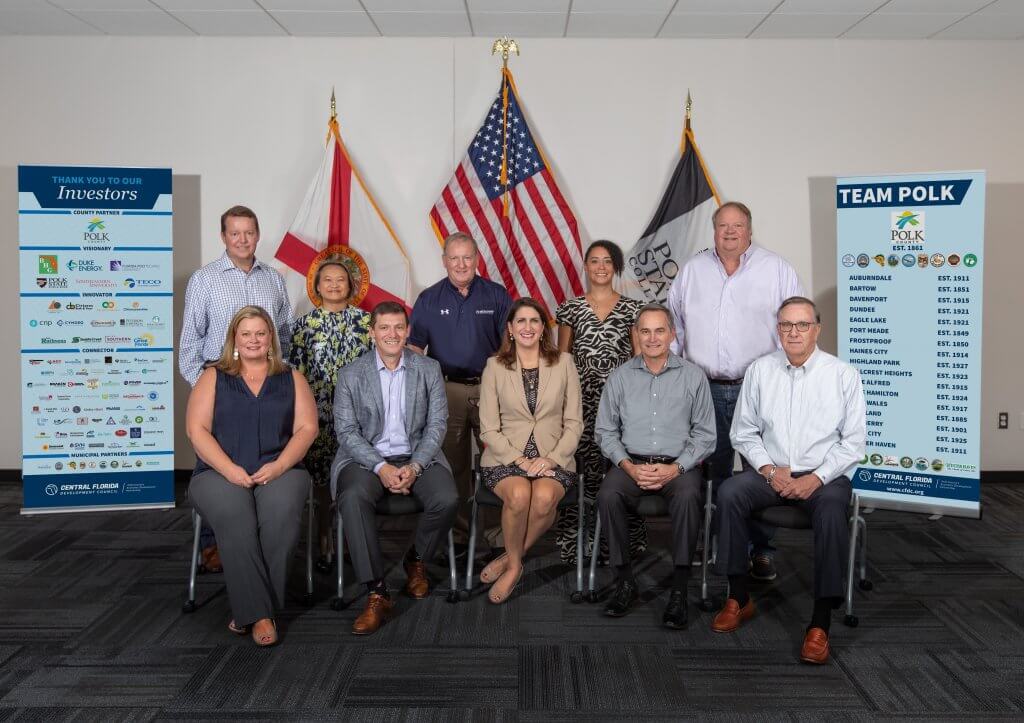 "As we think about business resiliency and goals, the way we used to do it is never going to be the same," she said. "I'm proud the CFDC is focused on economic development countywide, helping companies expand and recruiting new ones, but it is also focusing on small business development, which is a big part of the future."
We have to help smaller businesses that will continue to suffer if they don't have the resources to take the next step, she said.
The future for Polk County looks bright, she said, because growth isn't coming, it's here. "Exponential growth is coming. Some of the countywide statistics and benchmarks put us second to Austin, Texas, and other rapidly growing areas. Haines City and Davenport are the fastest-growing parts of the county. Those are the areas that I know will continue to foster growth."
In 10 years, Falconetti said, we will have more businesses of all sizes in our thriving community. "Health care will have recovered as best as possible from the pandemic, roads will be a little congested but will be worked on. We're going to see a population boom that is unheard of. Areas we will focus on in education are outlined by the CFDC: advanced manufacturing, health sciences, transportation, aviation. We'll just need to make sure the education industry responds to growing trends in the area."
Challenges and Opportunities
To accomplish what's possible, Polk County's 17 municipalities will need to continue collaborating, she said. "That's easier said than done." But a countywide, regional, approach with everyone working together, can continue producing results.
The county possesses enough land to recruit new businesses but improving transportation, access to particular parts of the county, and water quality is needed. "Lakeland Linder International Airport will see growth," she said. "Statewide and local incentives, the community's involvement and the county's business-friendly climate make locating here appealing."
Educational programs at all levels also need to continue improving and building capacity, she said. "We can all improve. The day we stop improving we stop learning. We have to educate the kids and then train workers to stay here and work locally."
Why CFDC
Falconetti has two reasons she thinks businesses should invest in the CFDC:
"First, the primary return on investment is the network you become part of, the access to individuals you might not have had access to. There's a sense of community across the county."
The second is an educational aspect. "We learn more about what we can do together to raise the economic profile of our county and how our businesses can benefit from the information. It helps me do my job better. I'm a conduit to economic development, as are our students. We get to know businesses, where their needs are."
Now that her term as chairwoman is ending, she'll remain on the board as a past chair and would like to continue to be involved. "When we look at the county, there are so many different aspects. I'm focused on growth in Haines City and Davenport, and I would do anything I can on behalf of the CFDC to hone in on that area more, be a conduit, liaison, to bring more concerns back."
Falconetti is also serving as Chair of the Florida College System Council of Presidents for the 2021-2022 Academic Year in addition to her role as President of Polk State College. She will continue to analyze and advance the educational clusters and be a conduit from K-12 and higher education to "have that communication that's so needed so we are best prepared to respond to growth that is coming."