Go back to

Blog

page.
Saddle Creek Technology Center is Developing New Logistics Ideas
For 56 years, Saddle Creek Logistics Services has been growing and enhancing its services to meet its clients' needs. It's still doing that, using advanced technology to automate systems while still maintaining a commitment to its employees and their "Whatever It Takes" attitude.
Saddle Creek Logistics Services was founded by David Lyons in 1966 with a 12,000-square-foot warehouse. The company now has more than 31 million square feet of space, 53 locations and over 6,000 associates worldwide. It also has its own technology lab on the Lakeland campus along the Polk Parkway, where innovation takes place every day.
It also works closely with nearby Florida Polytechnic University to create the systems and technology that will take it into the future.
The Technology Lab
The company's innovation center is set up as a warehouse where the process to test and verify a proof of concept (POC) begins, said Donna Slyster, Saddle Creek's chief innovation officer. "The whole innovation process starts with ideation, coming up with ideas, then prioritizing them. If we believe there is value to the idea, we will do research and bring the idea into the lab."
By testing ideas in a lab, they do not disrupt operations, Slyster said. They also have a chance to set up test cases with the new technology and prove it works, interfacing it with other systems as needed to make sure the business case is going to hold up.
"Some people who sell technology sell things that aren't quite there yet. We don't want to bring in things that aren't there yet," Slyster said. "It has to look like it's going to benefit us; part of it is ROI (return on investment) and another part is how it is going to complement our associates' experience."
The company will consider it if it's something associates will enjoy using, she said. "But if it adds difficulty to their job, it does not help us."
Saddle Creek also pays attention to its clients, Slyster said. "We want to make sure our clients will appreciate and value improvements to the operation." To that end, once an idea leaves the lab, the innovation team identifies a company that's interested and starts a pilot project.
Developments in the Lab
Not every idea or innovation goes through the technology center; some things are easier to test in the environment in which they will be used, Slyster said.
But some that were tested and are now in use include:
Autonomous mobile robots (ARMs), help associates who are picking products for e-commerce orders.  The AMRs meet associates in the aisles, and the iPad mounted on the bot tells associates what/where to pick so associates don't have to walk up and down aisles, Slyster said. Associates are naming their robots and engaging in friendly competition.
Goods-to-person (GTP), which means a bot brings shelves of products to an associate at their station, Slyster said. "In this case, robots bring goods to people, then an associate picks items and puts them in a tote" to fulfill an order.
Robotic picking arms, which can be used for kitting – picking individual items from a bin to add to orders that include multiple items.
Learn more about how Saddle Creek is using technology to optimize order fulfillment HERE.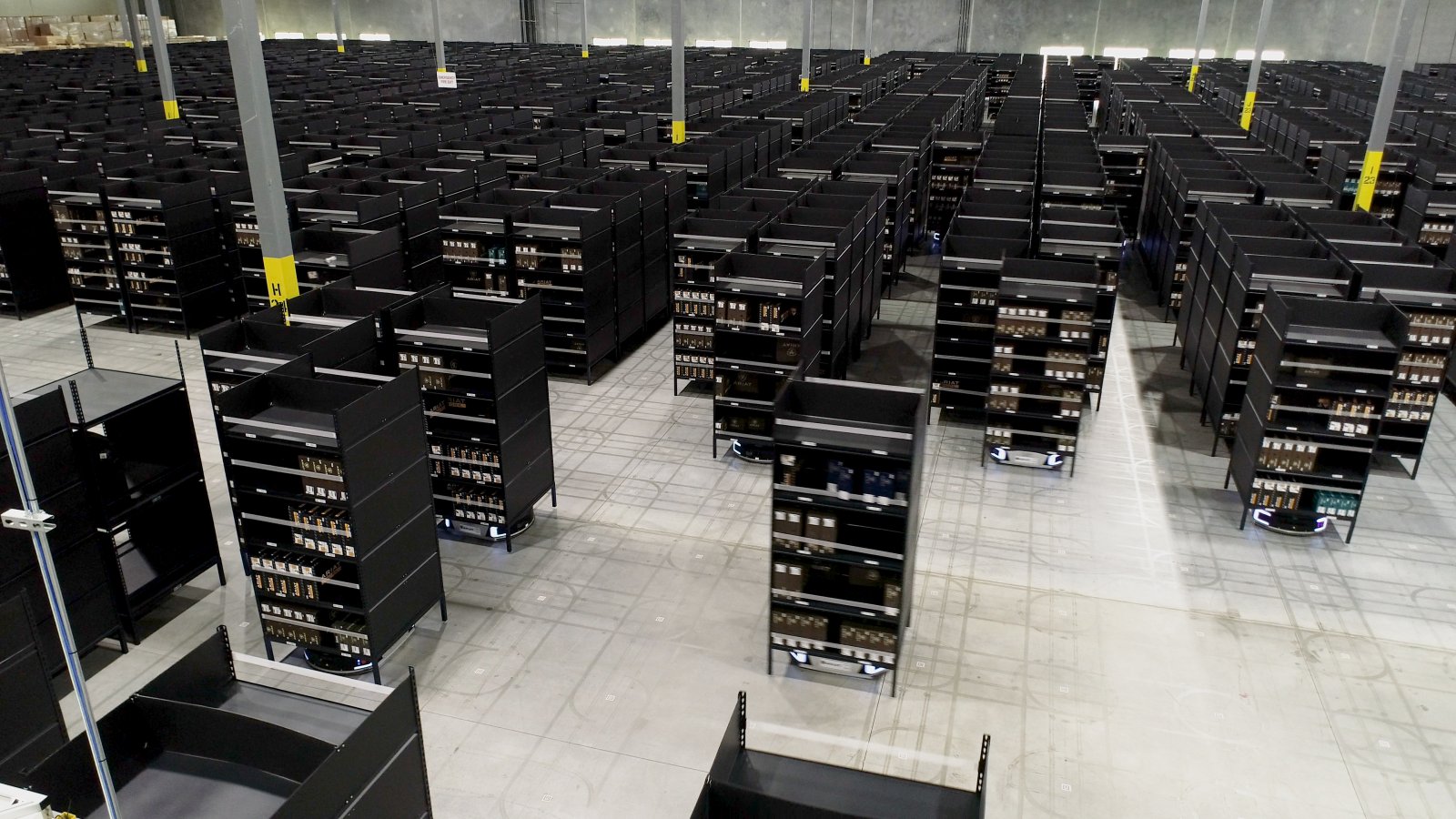 "Associates have a good experience at work. They enjoy it when we are making their jobs easier," Slyster said. "With the labor shortage, this helps our associates as well as helps us when we're trying to reduce our dependence on new labor. It helps them do their job; it's not replacing current associates."
The company is focused on solutions, whether they are specific to a certain client or can be shared among several clients. Currently, it's testing voice and vision capability in its lab, something they tested years ago but decided against using because it didn't make sense, she said. They were looking at three important criteria, and two – the productivity component and the comfort/ease of use for associates – didn't make sense.
"We make sure to stay on top of the newest things out there," Slyster said. "We continually look at technology; as it evolves, we have to use it and take advantage of it. We always need to go back and revisit things, try to be early adopters. We tried vision four years ago and were truly on the leading edge. We're evaluating that again now to bring the next ones in."
Saddle Creek also tried using drones four years ago, but they couldn't get the line of sight right, she said. "We may go back and revisit that because technology evolves. We want to be able to evaluate technology as it is today and what we foresee it being able to do in the next year. If it looks like it will be longer than a year, we'll put it down for a while and let vendors continue to evolve it."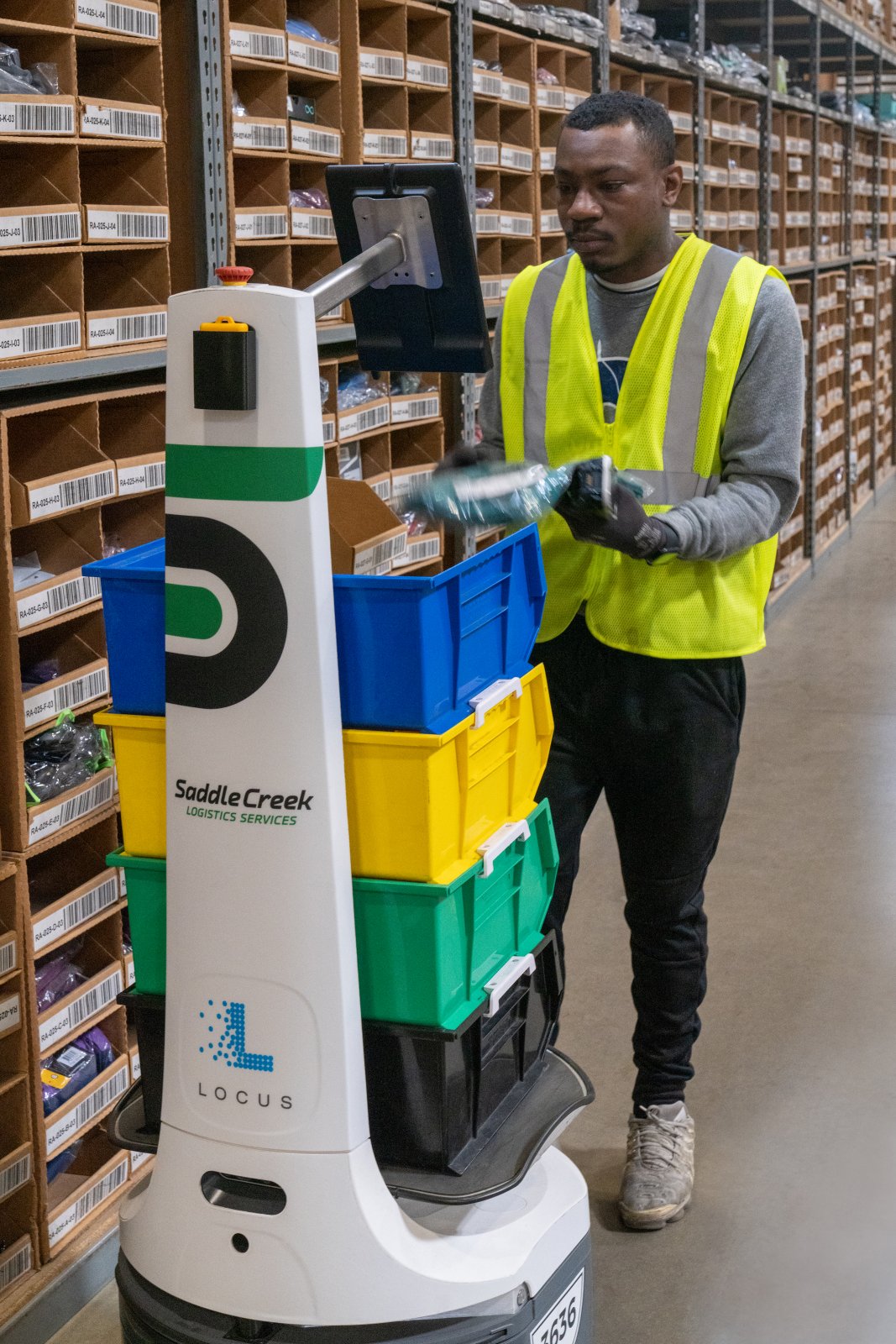 One reason the company tests things in the lab first is to avoid associate disappointment, she said. "We would not put drones into a warehouse until we're sure they will work efficiently. People get excited, then we disappoint them if we find it's not going to work."
The third-party logistics company offers everything from advanced warehousing and omnichannel fulfillment to transportation and packaging solutions. It has grown its company every single year, and it's still rapidly growing, said Michele Wade, senior marketing manager. Last year alone the company added 5.5 million square feet of space.
"It's an exciting time in warehousing," Slyster said. "There are so many new technologies out there."
Florida Poly + Saddle Creek Logistics Services
Slyster has been involved with Florida Poly, the state's only university dedicated to STEM degrees (science, technology, engineering and math), since starting at Saddle Creek in 2014, and even serves on its foundation.
"We work very closely with Florida Poly and are a huge sponsor," she said. "We really needed tech people in Central Florida to grow technology. There are a lot of tech people on the West Coast and it's a challenge to get them to move here. So we are growing our own."
With Florida Poly it:
Sponsors the annual Women in STEM program.
Allows its employees to teach at the university.
Created an internship program that allows sophomores and juniors to intern at the company, then continue on in a paid part-time basis – if both parties agree – until the student graduates, Slyster said. "The students get a paid job and college credit, and we're identifying candidates that we can hire and have as long-term associates. We try to target specific capabilities at Florida Poly that we need."
Identifies challenges it has that students can work through as their capstone project. One group worked to help the company's truckers avoid construction on Interstate 4. Truckers were using WAZE (an app that provides navigation assistance) but found it would send the commercial fleet down roads not designed for such traffic. The students developed a new app. "Drivers used the new app to bypass some of the road work they couldn't go through," she said.
Florida Poly President Randy Avent's leadership and vision have helped Polk County advance in the technology realm, Slyster said. "It's not just a university but a research center of new thoughts and capabilities. He's focused on students that have real work experience. They are required to have internships to have a well-rounded background. A lot of students are also in entrepreneurial programs so they can gain the skills to start their own companies."
"We give back to the community and help the community grow," Slyster said. "We give to the university so it can grow talent and grow our community."
Logistics in Polk County
Located in the heart of Florida, along the I-4 Corridor between Tampa and Orlando, Polk County is one of the state's most connected regions and the logical place for logistics, supply chain and distribution companies to prosper.
At the epicenter of Florida's logistics and distribution chain, companies in Polk can reach nearly 22 million people with same-day delivery, giving them an advantage over competitors in the growing e-commerce and delivery markets.