Go back to

Blog

page.
Webber International is Growing and Building
Working toward growth, Webber International University will embark on several construction projects this year.
"We built a Learning Commons last year, which houses computer labs, tutoring offices, library, writing lab and the students' favorite — a Starbucks. Moving the library let us repurpose that space for occupational therapy assisting, nursing and sports performance and fitness offices, classrooms and labs," said university President Keith Wade
Many of Webber's programs, including nursing, help support the Central Florida Development Council's targeted industries, which include health sciences, agribusiness & agritechnology, and business services. Webber offers degrees in everything from computer information systems and business to nursing and health services administration.
Wade said fundraising remains Webber's biggest challenge as the new year begins. "We're a private, not-for-profit college. And that means we're never going to be the cheapest education money can buy. But we still try to keep a lid on expenses."
In the last five years, the college has upgraded most of its facilities, some from top to bottom, Wade said. "That all takes support from the community."
Fundraising often relies on telling stories. "It's really telling the return on equipping students — as often as not the first in their family to go to college — to lead productive lives and build successful careers. Empowering the American Dream is an idea that resonates with many, but not all, donors."
The average student graduates with a four-year degree and about $23,000 in debt, he said. But they also "have a job or are in graduate school six months after graduation and lots graduate on Saturday and start work on Monday."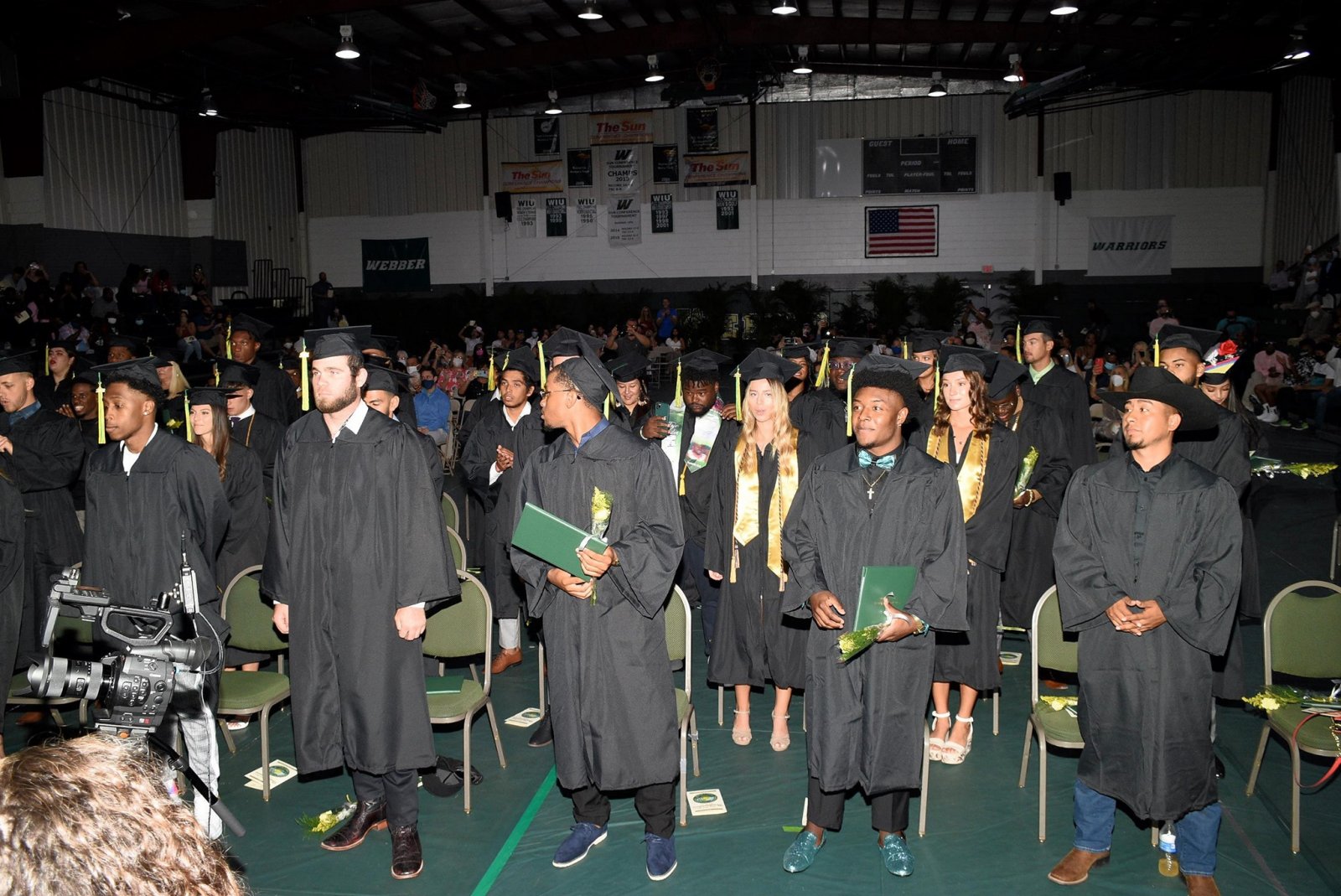 Reflecting on 2021
Despite the many challenges that 2020 and 2021 presented, Wade is happy that his staff reacted positively and students benefited from that.
"It's been a tough couple of years for incoming freshmen," Wade said. "A number of schools around the country are still not meeting in person. Some high school students did wonderfully in Zoom school, but others did not. So there's no getting around the fact that in every country in the nation there are more freshmen coming whose last couple years of preparation just hasn't been the best. But in the face of that, we dramatically improved student retention while not reducing academic standards. We revamped processes, created cost-cutting teams and ended up academically dismissing 80% fewer students than the prior year."
In addition to not being prepared academically, students suffered in other ways, he said.
"I think people have dramatically underestimated the toll remote learning took on high school students. People, especially young people, are social creatures. So we've had a lot more students using our mental health resources," Wade said, noting the college has a physician-staffed medical clinic and a licensed mental health counselor on-site. "We are getting better results than before Covid-19 — more students are staying in school and more students are graduating — but it's taking a lot more resources to get them there."
But his students didn't want "Zoom school," he said, and the residential college never closed, "and we ended up with fewer cases than the community around us."
Like many others, Wade isn't sure life will ever return to the "normal" we once knew. But the "new normal" doesn't always look bad.
"We just did an in-person career fair where we had to turn employers away because we ran out of space and we had kids being hired on the spot," Wade said. "We're doing things smarter. We're doing things safer. But I think in Polk County and in Florida there's a realization that living life has some inherent dangers, some of which you can mitigate, some of which you can't."
On the Wish-List
Wade said what Webber needs most is a few hundred more beds for his students.
"While a half dozen students pooling their money and renting a couple-hundred-dollar-a-month, two-bedroom, two-bath house made some economic sense, it also terrified me … not everyone who rents to college students for cash money is 100% compliant with life safety codes, and while RA's (resident assistants) will shut down a party before it gets out of hand, landlords won't," Wade said. "But those days are gone. There's no more cheap off-campus housing to be found."
And that's a good thing, he said. Webber is a residential college so students stay on campus and don't miss out on activities. "We try not to intrude in students' lives, but we still have supervision, and if you have a meal plan, no matter what dumb decisions you make you're going to eat. We ran out of housing, started a waiting list, but still couldn't house everyone who wanted to live on campus."