Go back to

Blog

page.
Winter Haven's Alyssa Garber Brings New Life to the Ritz Theatre
​​It was a homecoming for Alyssa Garber when she returned to Winter Haven in October 2021 to take over as executive director of The Ritz, one of Polk County's best-kept secrets.
The job at The Ritz Theatre appealed to Garber so much that she left her job at the Four Seasons Resorts in Orlando, where she worked for almost three years, to return to the city she grew up in and loves. Before beginning work, she attended Polk State College and the University of Central Florida, where she got her bachelor's degree in event management at the Rosen School of Hospitality.
Her enthusiasm is clear: "The Ritz is back and better than ever!" she said. "We have been in the heart of downtown Winter Haven since 1925 and are continuing to keep the theater alive and well with events each and every month for the public to come to."
Garber said the job appealed to her because the theater has so much "untapped potential. The biggest comment I get is 'I had no idea this theater was here.' It's almost like a downtown secret weapon. I grew up in Winter Haven and I have such a passion for this community. I wanted to put The Ritz back on the map, make it a place that everyone, no matter their age or demographic, wants to be."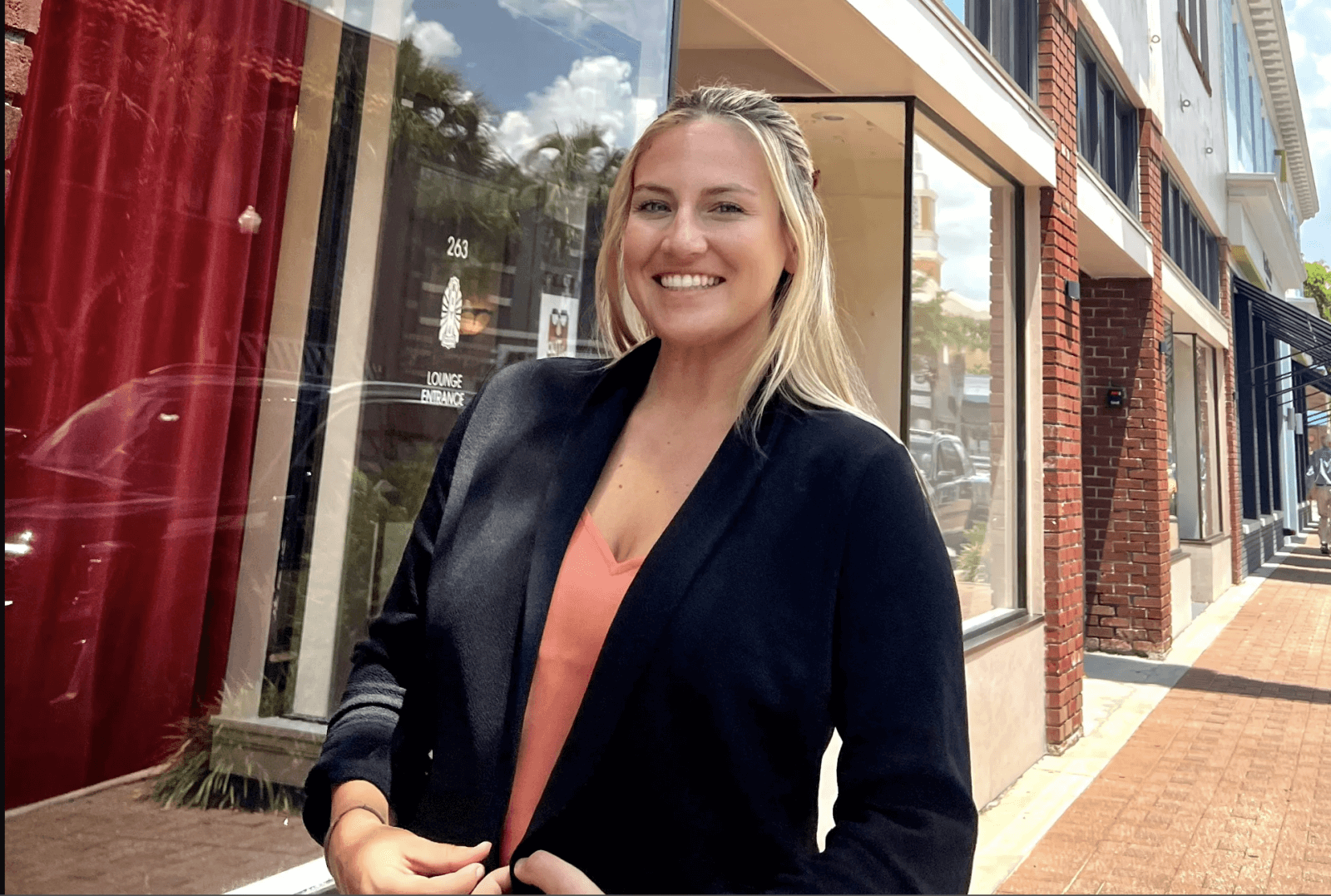 What's in store for The Ritz
The Ritz is trying to appeal to a variety of ages while developing a venue where locals can showcase their talent:
In a new monthly series, "Showtime at the Ritz," two local residents will perform. In July 2022, for instance, the theater hosted I'm So Florida comedian Say Sumum, a rising star in the state who has appeared on an A&E show "Dirty Rotten Cleaners," and 1Flow, a musical artist.
It's teaming up with Winter Haven's Out of The Box Improv group to bring "slice-of-life" comedy back to the stage.
"We have a great fall schedule that has now been released. It's filled with concerts, improv, football watch parties and so much more that community members are encouraged to participate in," Garber said. "One of my main goals is to have something on our schedule for everyone. I want all of our community to feel welcomed at The Ritz."
The theater seats 500 people and can be rented for everything from rock concerts to intimate stage events. It offers quality sound and lighting.
Garber said she wants to keep expanding the theater's offerings. "If money were no object, my dream would be to bring in major talent for the community to come see. Being that we are a small town in between larger cities, I think having this opportunity would be something beneficial to the community so they would not have to travel as far to see their favorite music artists."
In 2025, the theater will turn 100. "I already can't wait for our 100th birthday party in 2025," she said. "I'm not sure how we are going to celebrate yet, but I know it's going to be BIG. This gem in our community deserves the celebration."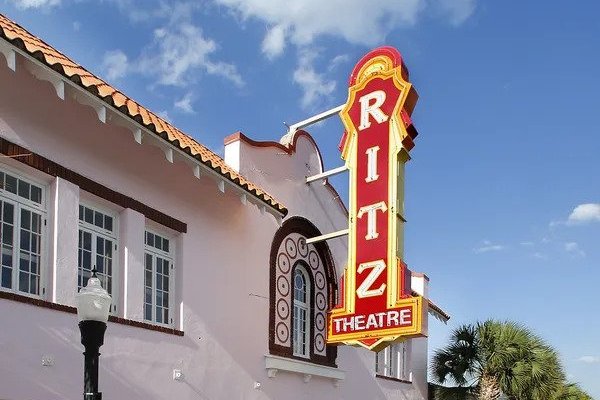 History of The Ritz
According to its website, the theater – first known as the "Williamson" – opened as a venue for silent movies and vaudeville acts. It was renamed The Ritz when it was sold in 1931.
"For decades it served as Winter Haven's only movie house. However, by the 1980s and the introduction of multi-screen theaters, The Ritz was no longer financially viable and went dark. During the 1980s it opened briefly as a nightclub for teens, but by the 1990s the building sat vacant and deteriorating," the website says.
Five years ago, the theater faced a near-certain death amid allegations of mismanagement. A court-ordered receiver was appointed to bring stability to the organization – and keep The Ritz as a contributing part of the county's theatrical landscape. A new board was appointed, but it has taken years for the operation to become viable once again.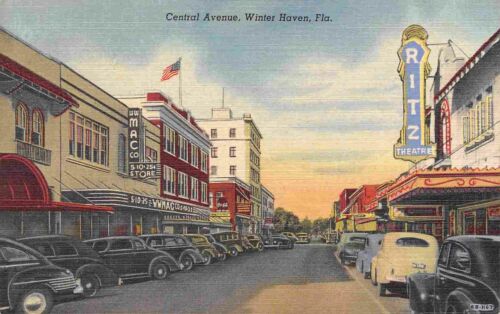 A Nonprofit Theater
As a nonprofit organization, The Ritz has "donation/sponsorship opportunities that directly coincide with keeping the theater alive and running," Garber said.
The theater has received an $80,000 grant from the city of Winter Haven and another one from the GiveWell Foundation. It continues to seek out other such opportunities, Garber said. "We have applied for many other grants and are waiting to hear back. The grants have been used for many different things, such as upgrades to our audio/visual systems, programming and more."
It's also started fundraising. "We hosted our first fundraising gala in the spring of 2022," she said. "It was such a success and we plan on hosting this again next year."
Donations can be made online at www.ritzwinterhaven.com.
In addition to funding, the theater needs more manpower, she said. "We have so many volunteer/internship opportunities. Public support means everything to us. We couldn't do what we do without our incredible volunteers. Tasks such as ushering, ticket check-ins, concession sales and more could not be done without these individuals. We also have a lot of volunteer opportunities behind the scenes as well."
Anyone age 13 or older can volunteer. "In fact, a majority of our volunteers come from local high schools getting school volunteer hours," she said. If you're interested, you can call the theater at 863-937-1414.
Community Support
Garber is happy that the theater is located downtown. "We are surrounded by so many restaurants, shops and things to do," she said. "The best part is that every business in the downtown area works together to drive our economic development. When all of us work together, we keep our downtown filled with people."
Those businesses and residents have been supportive of The Ritz, she said. "Whether that be sponsoring our organization, hosting events at our venue or offering partnerships, the community has been so collaborative and welcoming."
Garber hopes she can collaborate with similar theaters in the county, such as the Ramon Theater in Frostproof and the Polk Theatre in Lakeland, in the coming years.
Arts & Entertainmnet in Polk County
The Ritz Theatre is only one fantastic spot for residents and visitors of Central Florida! Entertainment in Polk County ranges from LEGOLAND Florida Resort to Streamsong Resort's golf courses, Central Florida has something from everyone.