Go back to

Blog

page.
Companies Honored and New Development Opportunities Highlighted
Tucker Paving and SVN | Saunders Ralston Dantzler Real Estate won the Central Florida Development Council's success in business at this year's CFDC annual meeting.
Tucker Paving is the winner of the George W. Harris Jr. Economic Development Award for Success in Large Business, which is given to companies with at least 100 employees. The award is named for George Harris, a former CFDC chairman and president of Citrus and Chemical Bank. Businesses were nominated based on their community service, commitment to growth in business, economic stability and promotion of free enterprise.
SVN | Saunders Ralston Dantzler Real Estate won the Jim Brantley Economic Development Award – Success in Small Business, which was named after Brantley, the first director of the agency now known as the CFDC. It is given to a business, institution or organization with fewer than 100 employees that champions growth, free enterprise, economic stability and community service.
"These companies exemplify everything right about Polk County," said CFDC President & CEO Sean Malott. "They continue to expand here – both just completing new headquarters. They hire smartly and retain their employees because they treat them as part of their families. And they give back to the community."  
New Board Leadership
At the meeting, held Oct. 26 at Haus 820 in Lakeland, outgoing Chairman Bart Allen turned the reins over to incoming Chair Maggie Mariucci.
Malott thanked Allen for his service to the organization. "Our organization continues to be led by 'big-picture' leaders, and Bart Allen is certainly no exception. Collaboration and strategy are critical as we continue to navigate unprecedented growth. It is important to remain focused on building opportunities for Polk residents, advancing strategic initiatives and learning how to leverage innovation to improve infrastructure. With a unique, private-sector perspective, Bart encouraged us to think differently and examine situations in a refreshed way."
Mariucci, assistant vice president of University Relations at Florida Polytechnic University, praised Allen for his work as chair. "He is open-minded, deliberative and strongly committed to building a consensus."
She then discussed the challenges of the future, namely infrastructure – water and transportation. "We are uniquely well-positioned to attract large, high-skill, higher-wage opportunities but will need adequate resources and innovative transportation options to remain competitive."
  As chair, she said she plans to focus on:
"Building tech-enabled, high-skill, higher-wage opportunities within Polk.
Attracting projects that raise our average annual wage, further building our county's economic position and the quality of life for our residents.
Strengthening engagement opportunities for our members."
She thanked County Manager Bill Beasley, the Board of County Commissioners, county staff and the Polk Legislative Delegation for their support in offering a business-friendly atmosphere that keeps Polk County as Florida's Best Place for Business.
Before Mariucci was named assistant vice president at Florida Poly five years ago, she worked in other external relations' roles there. She's also worked for Sen. Denise Grimsley; Florida Poly's predecessor, the University of South Florida Polytechnic; and the Lakeland Area Chamber of Commerce. She graduated from the University of Florida with a bachelor of science degree in Public Relations.

George Harris Award – Tucker Paving, Inc.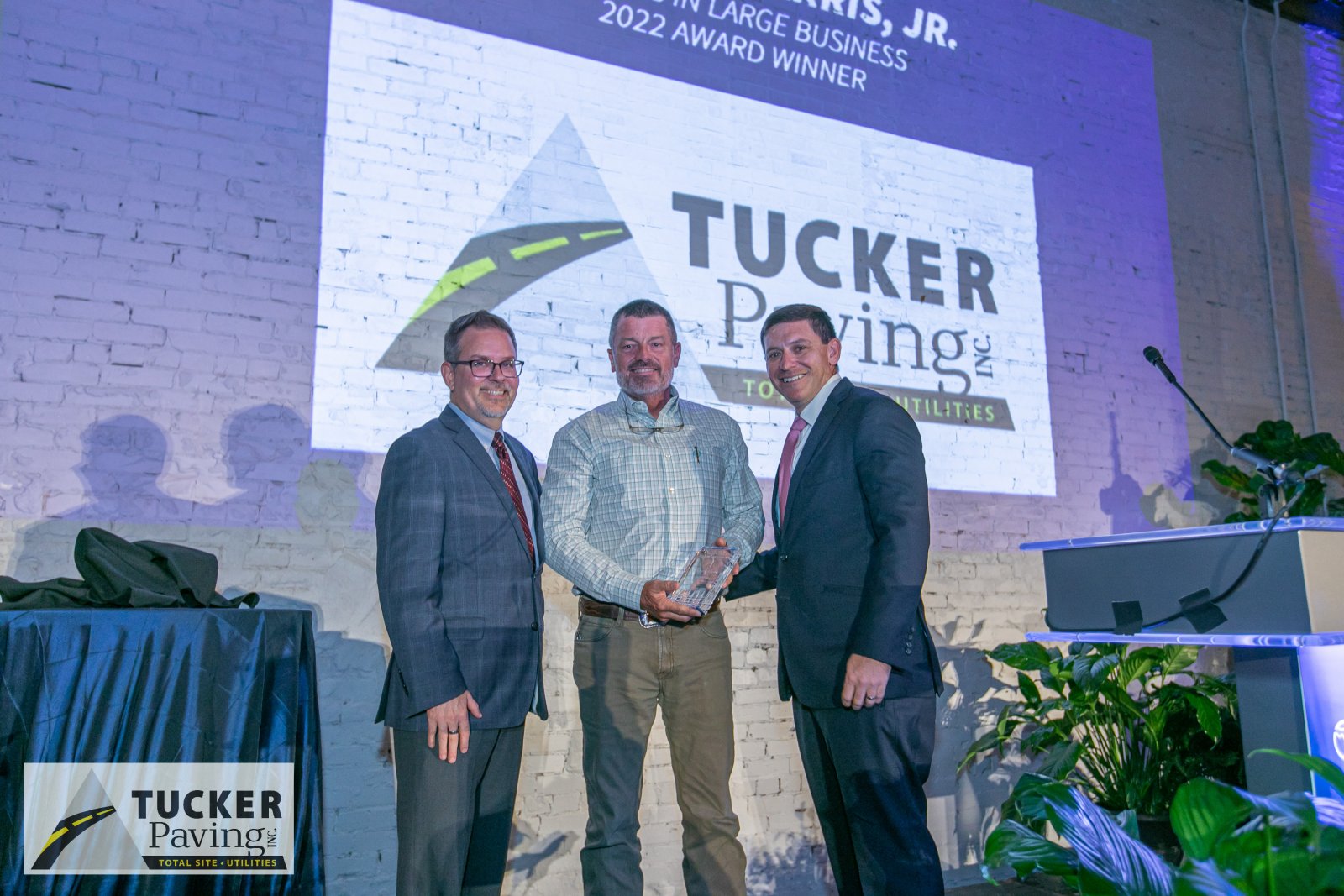 Tucker Paving President Larry "Chip" Tucker couldn't be prouder of receiving the George Harris Award.
Tucker started Tucker Paving in 1994 and now offers services that range from underground utilities and demolition to concrete curbing and asphalt resurfacing from his new $1.8 million office at 5658 Lucerne Park Road in Winter Haven.
He supports the county, as do many of his 250 employees, many of whom live here, he said.
The other finalists were Central Florida Health Care and Southeastern University.
Jim Brantley Award – SVN | Saunders Ralston Dantzler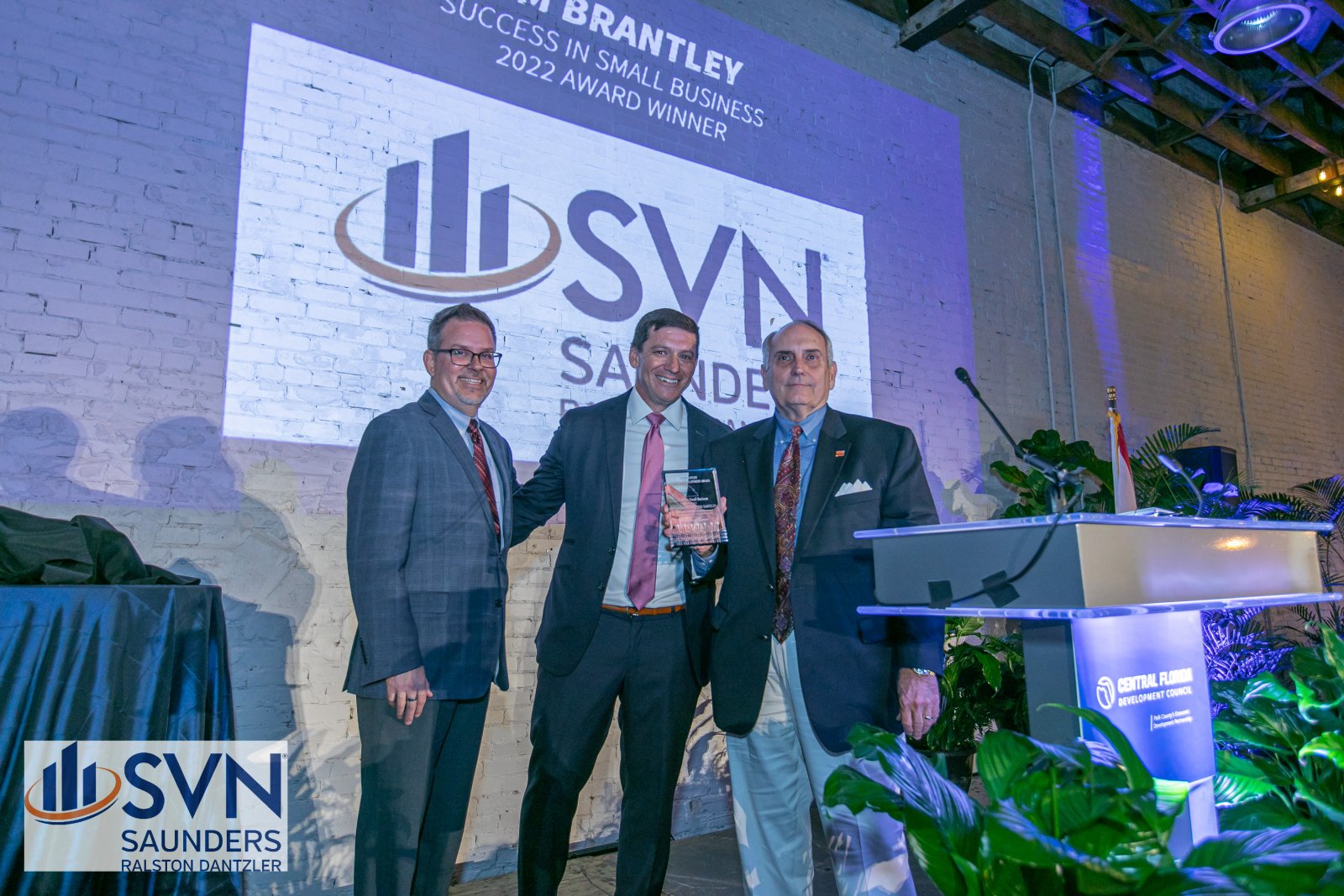 Dean Saunders, Todd Dantzler and Gary Ralston, the founder and principals behind SVN | Saunders Ralston Dantzler Real Estate, were equally honored for winning the Jim Brantley Award.
"This award is a huge honor for our company, and we are humbled by the recognition. It is the result of a lot of hard and innovative work from our team of advisers and staff," Dantzler said. "Dean, Gary and I are very appreciative of all that the CFDC and its members do for the betterment of our wonderful county."
In the 26 years since Saunders started the full-service land and commercial real estate brokerage that represents buyers, sellers, investors, institutions and landowners, he's built a business based on its reputation.
In 2021, SVN and its 60 employees moved into one of three buildings they had built at 1723 Bartow Road in Lakeland. The CFDC leases the second building and a large conference room that connects the two buildings.
The other finalists were Bank of Central Florida, Center State Development, CPS Investments, Gulf Coast Avionics, Lakeland Linder International Airport and Straughn Trout Architects.
Guest Speakers
Brian Green, general manager of Ba/ance Florida Projects, is a business leader and marketer with more than 15 years of experience who has developed business strategies and led teams in the action and outdoor marketplaces. He was joined by Greg Fernandez, business development partner with Balance and global director of Surf at Octagon. Together, they have changed surfing technology while gaining skills in brand development, entertainment and partnership marketing, digital strategy, event production and negotiation.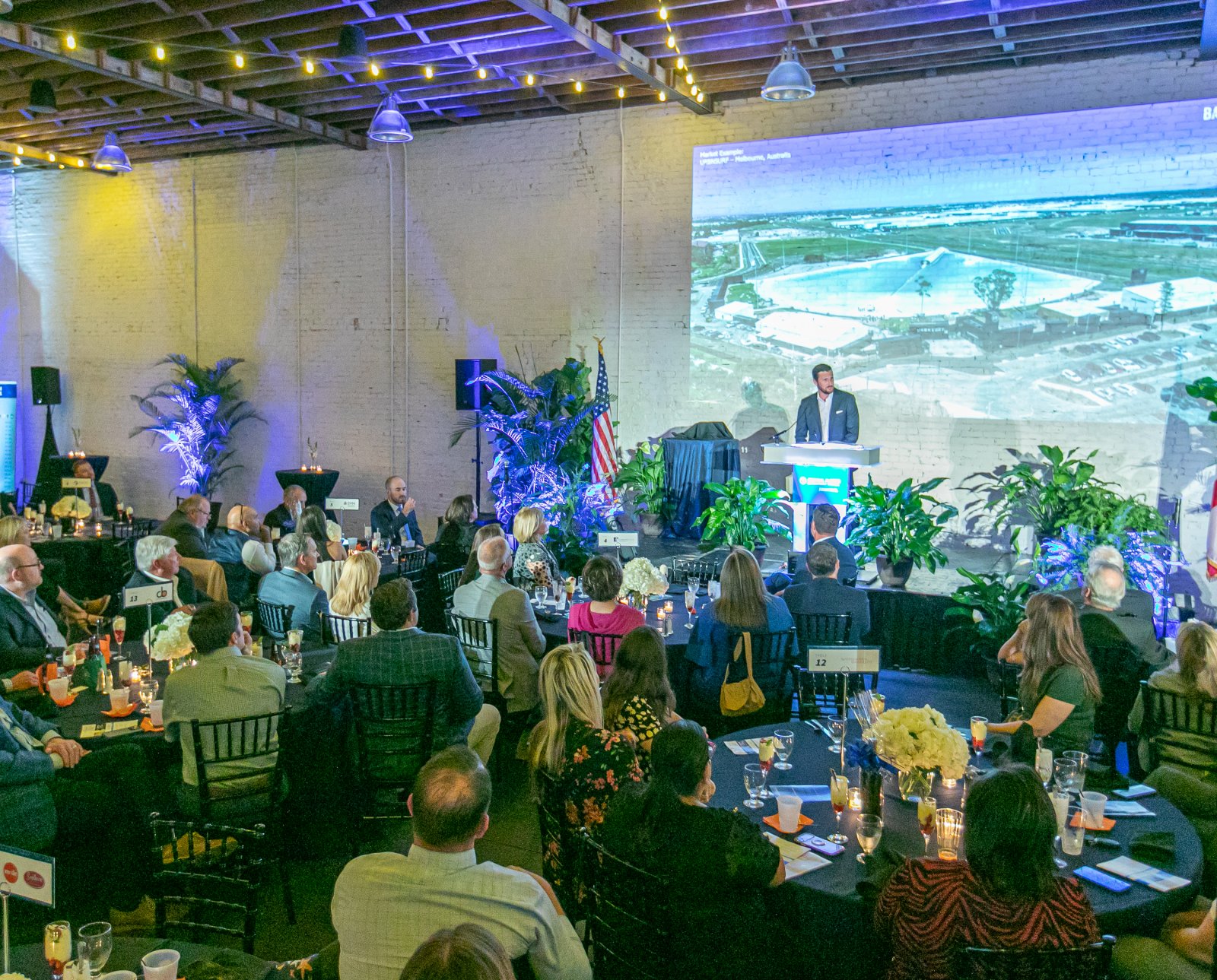 "Hearing about high-impact opportunities, especially those grounded in community, is exciting for all of us," Allen said after they spoke. "Thank you for working with the county and local municipalities to bring big ideas to fruition. Your investment, your dreams and your authentic experiences will continue to make Polk County Florida's Best Place for Business."
Sponsors
The following companies sponsored the annual meeting: SVN Saunders Ralston Dantzler, Citizens Bank & Trust, CliftonLarsonAllen, CPS Investment Advisors, Duke Energy, Florida Polytechnic University, The Lunz Group, Polk State College, The Ruthvens, SaddleCreek Logistics Services, Southeastern University, TECO, Assure Infusions, Benge Development, CareerSource Polk, MADE, Southern Homes, The Southern Group, Visit Central Florida and Polk County Farm Bureau.