Go back to

Blog

page.
Florida's Opportunity as a Space Port is limitless and Polk County is in the Middle of it All
As efforts to expand the aerospace industry beyond the Space Coast ramp up, the Central Florida Development Council is taking a leadership role in educating local businesses on how they – and Polk County – can benefit.
Part of that process included a leadership mission with investors to the Space Coast. There they visited with a Space Florida executive, tour Blue Origin and met with NASA planning staff. The tour began at ACT Environmental & Infrastructure's Titusville location.
NASA's role in space was minimal for many years after the Space Shuttle program was shuttered in August 2011. Private companies like Jeff Bezos' Blue Origin and Elon Musk's SpaceX quickly filled the void, proving they could manufacture and launch rockets quickly and successfully. During that time, NASA regrouped, launching Artemis and the Orion spacecraft in November 2022 as the first step in returning to the moon. Eventually, SpaceX and NASA plan trips to Mars for deep-space exploration.
All that activity needs support and coordination, which is why counties across Florida are getting involved in everything from designing and manufacturing components to assembling them. With its focus on advanced manufacturing and a 90-minute commute to Kennedy Space Center, Polk County is well positioned to contribute to the space race – and it already is.
"Most people do not know that Polk County already is involved in designing and manufacturing components that will be used on upcoming missions," said Maggie Mariucci, chairwoman of the CFDC's board of directors and an assistant vice president at Florida Polytechnic University. "Our involvement is critical not only to the future of the space program but to the continued diversification of industry here, which benefits our residents in so many ways – from job creation to an increased tax base."
A team of Florida Poly students worked with the Florida Space Institute to build a rover for the Mars 2020 mission, which launched in July 2020. Because of the growth in the aerospace industry, the university developed an Aerospace Engineering concentration.
The number of aviation and aerospace businesses in Polk County has increased from 24 in 2010 to 42 in 2020. That same year, aviation and aerospace produced $41.5 million in gross domestic product for Polk County, according to a JobsEQ report prepared for the CFDC by Chmura Economics & Analytics. That segment has seen an average annual percent change of 8.8% since 2010, eclipsing the national average of 3%.
ACT's Involvement
The CFDC "mission" to the Space Coast began at A-C-T's office in Titusville, which opened three years ago to give the company easier access to the Space Coast. "We needed a presence on the Space Coast, and we wanted to do more with the space industry," said A-C-T owner Rob Kincart. "We're using that as a regional office for the whole east coast of Florida."
That office is part of A-C-T's footprint, which includes offices in Bartow, Fort Lauderdale, Gainesville, Naples and Orlando, he said. The company needed more room in its Orlando office but found costs there to be prohibitive; traffic was also a huge problem. "We can get to any place in Orlando just as easily as we can from Titusville. We're right on Interstate 95 with five acres. This location gave us an opportunity to fortify our business there."
Its 10,000-square-foot office allows for training large groups, something the company is well known for. A-C-T has been doing work on the Space Coast since the early 1990s, when it was involved in remediation of former Apollo rocket sites, Kincart said.
Now, it's working with Blue Origin, he said. "We make a very good partner with them. We love our arrangement to be their go-to guys and consultants."
A-C-T is excited to be involved in the CFDC's leadership mission and showcase its Space Coast office, he said. "This gave CFDC and its investors an opportunity to be in the area with a home-grown company that they can identify with. It was a great jumping off place."
Space Florida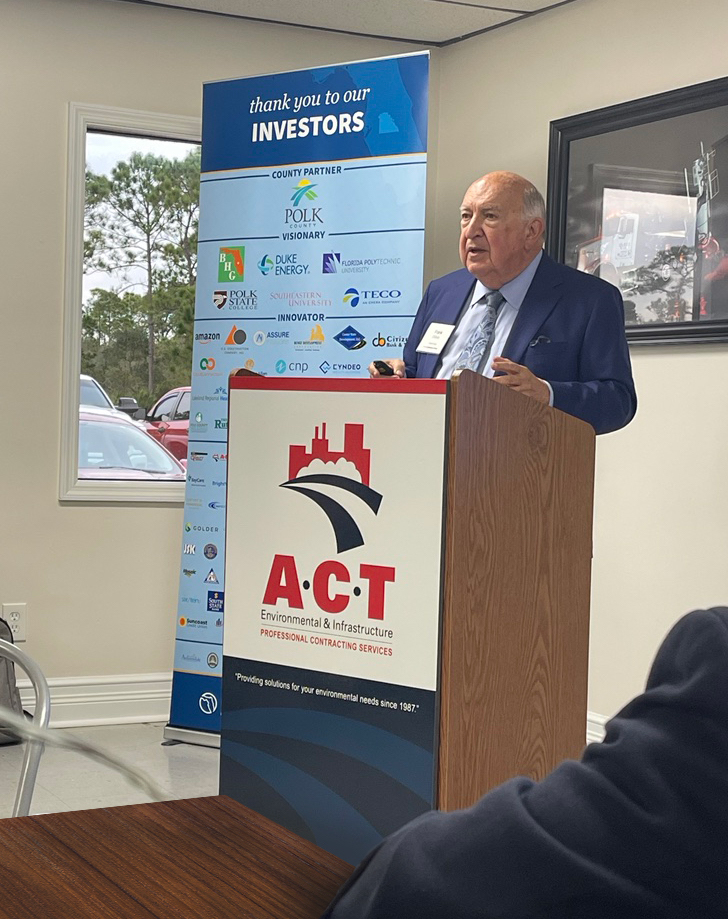 Trip attendees heard from Frank DiBello, President & CEO of Space Florida. Space Florida works with economic development agencies, airports and local governments to help attract aerospace companies to the state. The organization serves as the principal state agency for aerospace-related economic development. Florida's aerospace industry ecosystem includes the innovation and research community, the state's educational system and universities, transportation and logistics infrastructure, the aerospace supply chain and more. 
WMB, The Lunz Group and Aerospace  
WMB, which merged with The Lunz Group in 2019, provides a wide range of program management services for national spacecraft manufacturers, launchers, satellite communications corporations and aviation manufacturing companies, said Maggie Briggs, director of Marketing and Business Development. "This includes program integration and planning, construction and design management, and procurement and supply chain management."  
The firm acts as an extension of their clients' staff, Briggs said. "We work in the best interest of the client to meet program objectives. From concept to design, through program definition and requirement capture, and from construction to set-up, we are able to deliver fit-for-purpose solutions across several different roles. We've assisted clients in anything from initial project development to management of equipment/tooling purchases and supply chain oversight to overall facility set up and integration and start up."
The Lunz Group provides services to industrial manufacturing clients, Briggs said. "Our team offers unique, specific expertise in aviation and aerospace manufacturing, which has contributed to our success in this market. Being uniquely positioned in the Space Coast region, we have been able to utilize our skillsets across a multitude of industrial manufacturing experiences to provide a unique and effective program management strategy that works well with today's commercial space and aviation clients."
The Lunz Group knows Florida is where it's at when it comes to aviation and aerospace. "While as a whole the state sees a large amount of air traffic, our local airports report some of the greatest numbers in the nation," she said. "Within Polk County specifically, there are about 600 aircraft operations daily. As distribution and logistics needs rise, so does our need for aircraft and support facilities. As the market continues to soar, we look forward to rising right alongside it."