Go back to

Blog

page.
Goal of Attending the MROS Americas Conference: Finding MRO Operations to Locate in Polk County
Aviation Week's MRO Americas 2023 conference is giving Polk County an opportunity to make contacts that could lead to more maintenance, repair and overhaul company locating here.
"This an important trade show to recruit businesses involved in MRO activates to Polk County," said Alexander Price, the Central Florida Development Council's Business Development manager. "With Florida being one of the best states for aviation, access for the pilots and companies to find these types of facilities and services can help the aviation industry thrive within the state."
Javier Martin, vice president of Business Development, will attend the conference in Atlanta from April 18 to 20 on behalf of the CFDC.
"This process can take years of conversation with the company in partnership with the community and airports," Price said. "Having a presence at MRO Americas 2023 allows the CFDC the opportunity to share the story and successes about Polk County."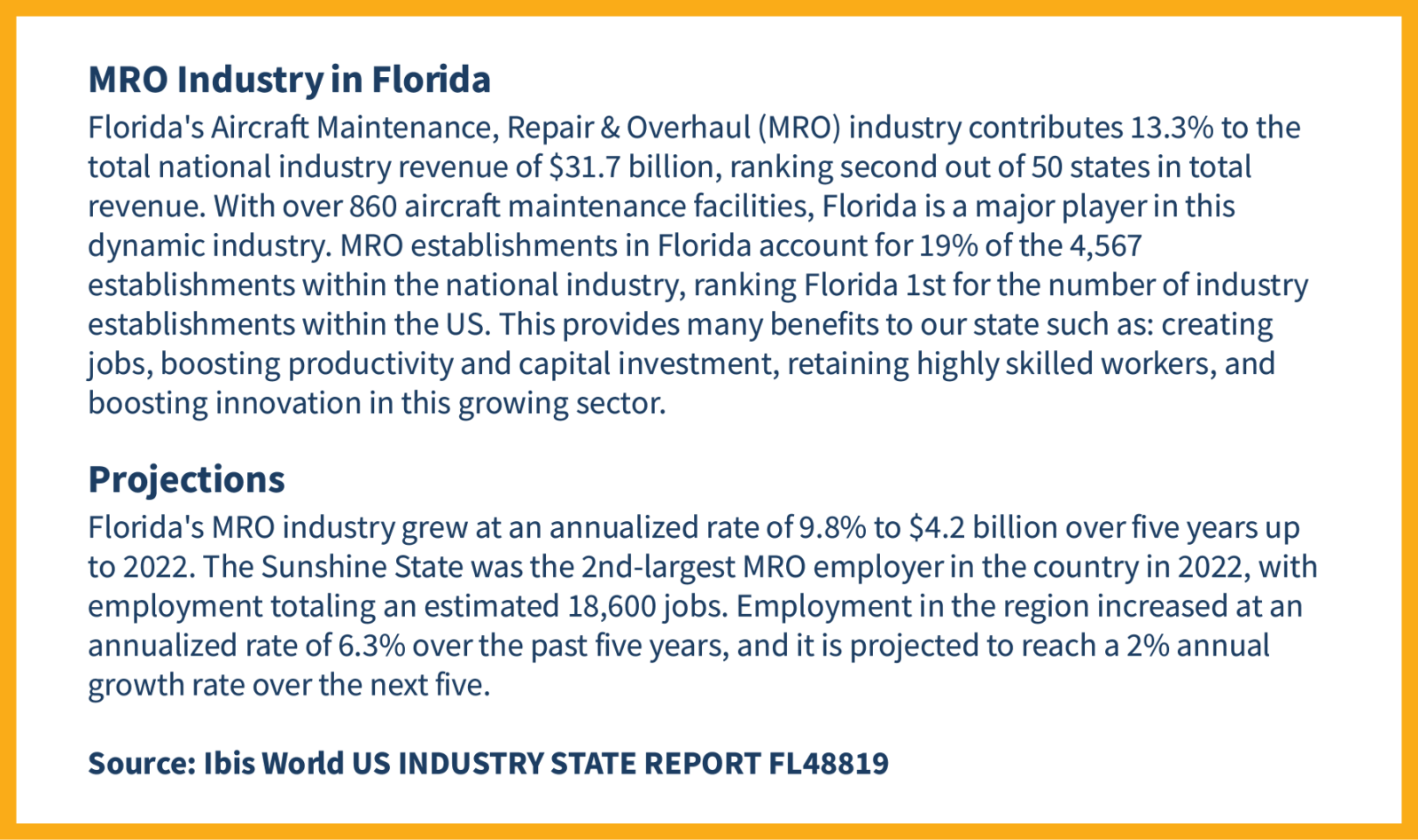 Why Polk
Polk County's four airports provide an economic impact of almost $2 billion, according to the Florida Department of Transportation's 2022 Florida Aviation Economic Impact Study. The airports are continuing to grow, meaning that number – which has increased from $878 million in 2019 – will most likely rise as well.
"What better location to have those activities in the state than the most central location. Polk County is strategically located in the heart of Florida and provides easy access from any direction in the state. This positions Polk to have a strong hand in recruiting MRO type companies," Price said.
According to ZipRecruiter, the average annual wage of an entry-level airframe and powerplant (A&P) mechanic in Polk County is just over $56,000, Price said, more than 115% of the average wage here. Those mechanics are highly trained, skilled professionals who fix and maintain aircraft.
"High-skilled, high-wage jobs provide more opportunity for the people of Polk Count to have a better quality of life and higher standard of living," he said.
Lakeland Linder Pursuing an MRO
The one thing Lakeland Linder International Airport Director Kris Hallstrand would love to see come to fruition is the development of the property's northeast corner for a large MRO facility. Plans for it are under review right now.
She has said the airport has applied for a grant to complete the work.
The addition of an MRO enhances the capabilities of an airport (to work on narrow and/or wide-body aircraft). It is also simultaneously diversifying the airport's revenue stream," said Assistant Airport Director Adam Lunn. "For Lakeland International, this type of development will do both while also providing additional high-skill, high-wage jobs our community needs."

Talent Pipeline
But there are challenges right now, especially labor.
"Every industry is working to attract and retain talent. However, there can be shortfalls depending on pay, benefits, work environment, etc.," Price said. "MRO companies have an opportunity to take advantage of the existing talent pipeline created by the Central Florida Aerospace Academy, Traviss Technical College and Polk State College. Potential employees are graduating each semester with the skills and licenses needed to succeed and work for a maintenance, repair and overhaul facility."
Price said the programs three local educational institutions have are "quintessential in recruitment efforts of an MRO facility. Labor has become and will continue to be the most important part of recruitment, regardless of the industry. We are very blessed to have these current programs operating and producing world class talent."
Education & Training Programs
Those programs are:
Central Florida Air Academy, which is a leader in training mechanics in high school. It offers five career paths in aviation, including: Aircraft Maintenance Program. Graduates will work in an aircraft maintenance facility or continue school for full aircraft and powerplant certifications. Avionics. These graduates will work at an aircraft maintenance facility, electronic aviation company or continue school for full airframe and powerplant certification with an avionics endorsement.
Traviss Technical College, which offers high school and adult vocational students a chance to earn an FAA certification as an aviation maintenance technician through its programs in Avionics and Airframe Mechanics. Those who graduate often are entering Polk State's Aerospace program to train for an increasing number of jobs at the county's four airports, which are expanding their cargo transport operations.
Polk State College, which has degrees in aviation that include an associate in science in Aviation Maintenance. Students who graduate from this program are prepared for entry-level positions in the aviation maintenance industry, including in maintenance, repair and overhaul (MRO) facilities.
"It's part of our job to keep that talent local by recruiting companies that will hire local talent," Price said. "When companies are looking to expand a facility or relocate to a new area, talent tends to be at the top of the list. With an existing pipeline of talent in place, it allows a company to spend less time and money recruiting and/or training employees. If a student receives and passes their A&P license, they are ready to start working in that field."