Go back to

Blog

page.
High Business Rankings and Excellent Quality of Life Make It Easy to Market Polk County To New Businesses
Eight of the nine counties that touch Polk County lost 140,000 jobs during the pandemic; the other, Hardee, gained 297. Polk County gained 1,559 jobs at the same time, reducing its pandemic high of 20% unemployment to 5.5% in less than a year.
The county's job growth, predicted to increase to 42.5% in the next 10 years, is higher than the national average of 33.5%, according to BestPlaces.net.
At the same time, Polk continues to be recognized on various lists, according to realestate.usnews.com:
No. 9 Best Places to Live in Florida
No. 61 Best Places to Live
No. 7 Fastest-Growing Places
So why is Polk County on everyone's radar, pushing it to new heights?
According to the Central Florida Development Council, it's a combination of location, job market, and quality of life.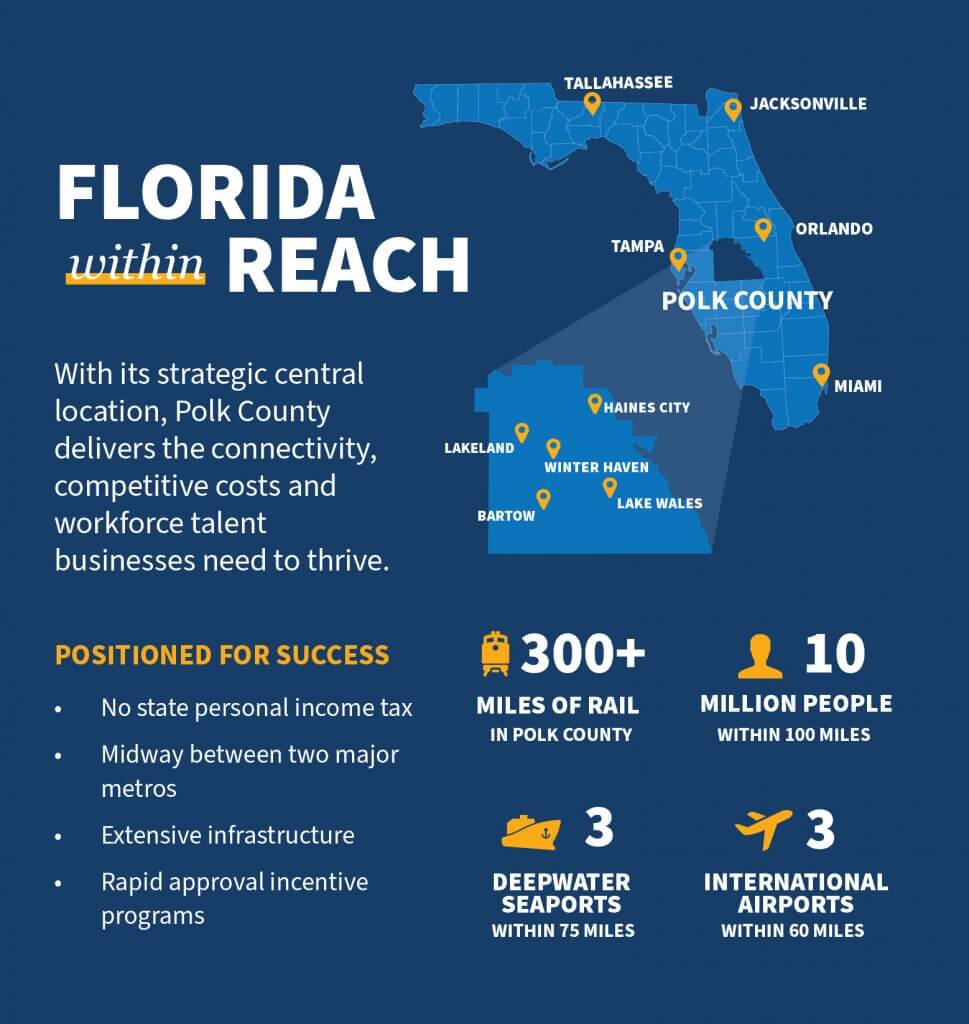 "The CFDC and our local economic development partners continue to market Polk County's Central Florida location as a premier business destination," said Jennifer Taylor, vice president of business development. "Our strategic Central Florida location, connectivity, competitive costs and workforce talent are all why local companies expand and new companies locate to Polk County, and with that, new jobs are created."
Polk County has made three announcements so far this year about moving or expanding companies, creating nearly 500 new jobs, she said.
"CFDC and our partners are currently working on more than 20 active projects. That's why we do what we do; when companies grow and expand, new jobs and capital investment are created."
Capital investment means more in tax revenue for the county, keeping local sales and property taxes low. Those are just two factors that help make Polk County a desirable place to live and work, increasing the current 725,000 population to a projected 900,000 by 2030.
"We aren't going to be able to stop the growth," Taylor said. "The vast majority of projected population growth is in the county's northeast and northwest – residential permitting is through the roof in that portion of Polk County."
Growth Needs: Homes, Roads and Jobs
With all that growth, people need places to live, and the county has seen a steady increase in housing permits. That also creates a demand for more schools, roads and jobs.
"Road infrastructure is becoming overloaded," said CFDC President & CEO Sean Malott. "Ease to transport goods and flexibility for citizens to easily move about the region is critical. We must remain committed to finding solutions for congestion."
"We do a lot of different things to attract new businesses to this area – marketing campaigns, national site selector outreach, industry trade shows and conferences, etc.," Taylor said. "We are finally starting to schedule in-person attendance to these types of events starting in June. It will be good to visit with site selectors and companies face-to-face again."
The CFDC, along with several other economic development agencies in the county, works to attract companies that help diversify the economy. But manufacturing remains a top employer with about 17,000 jobs or about 8.8% of the workforce. The good news is as manufacturing becomes more advanced, moving from the assembly lines we've all seen on TV to robots and artificial intelligence monitored by highly skilled employees, wages increase, averaging about $57,000 a year now.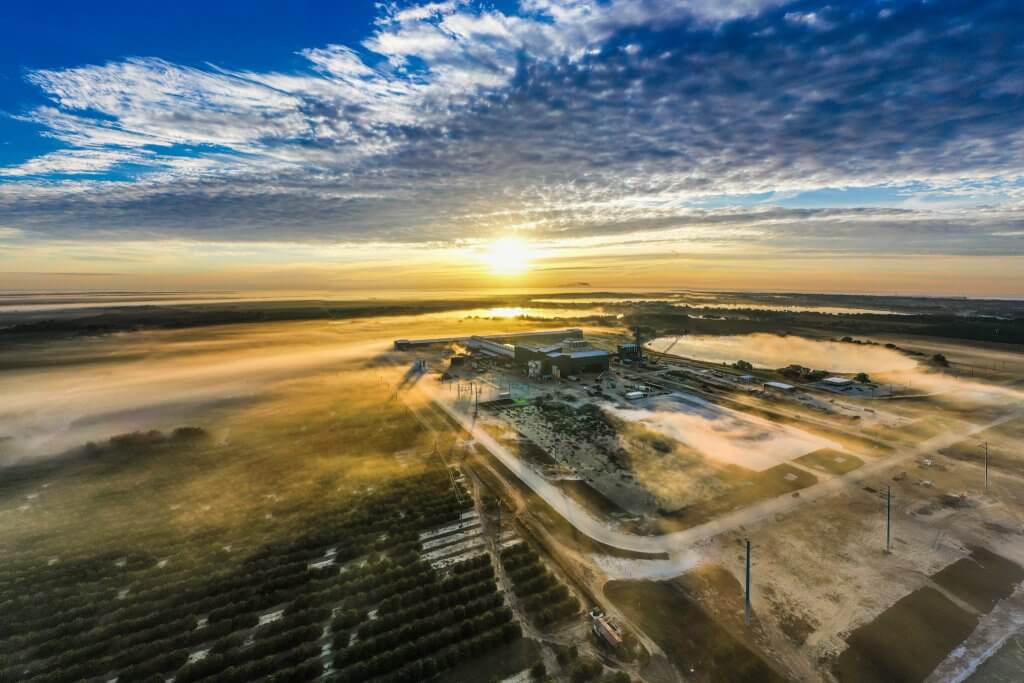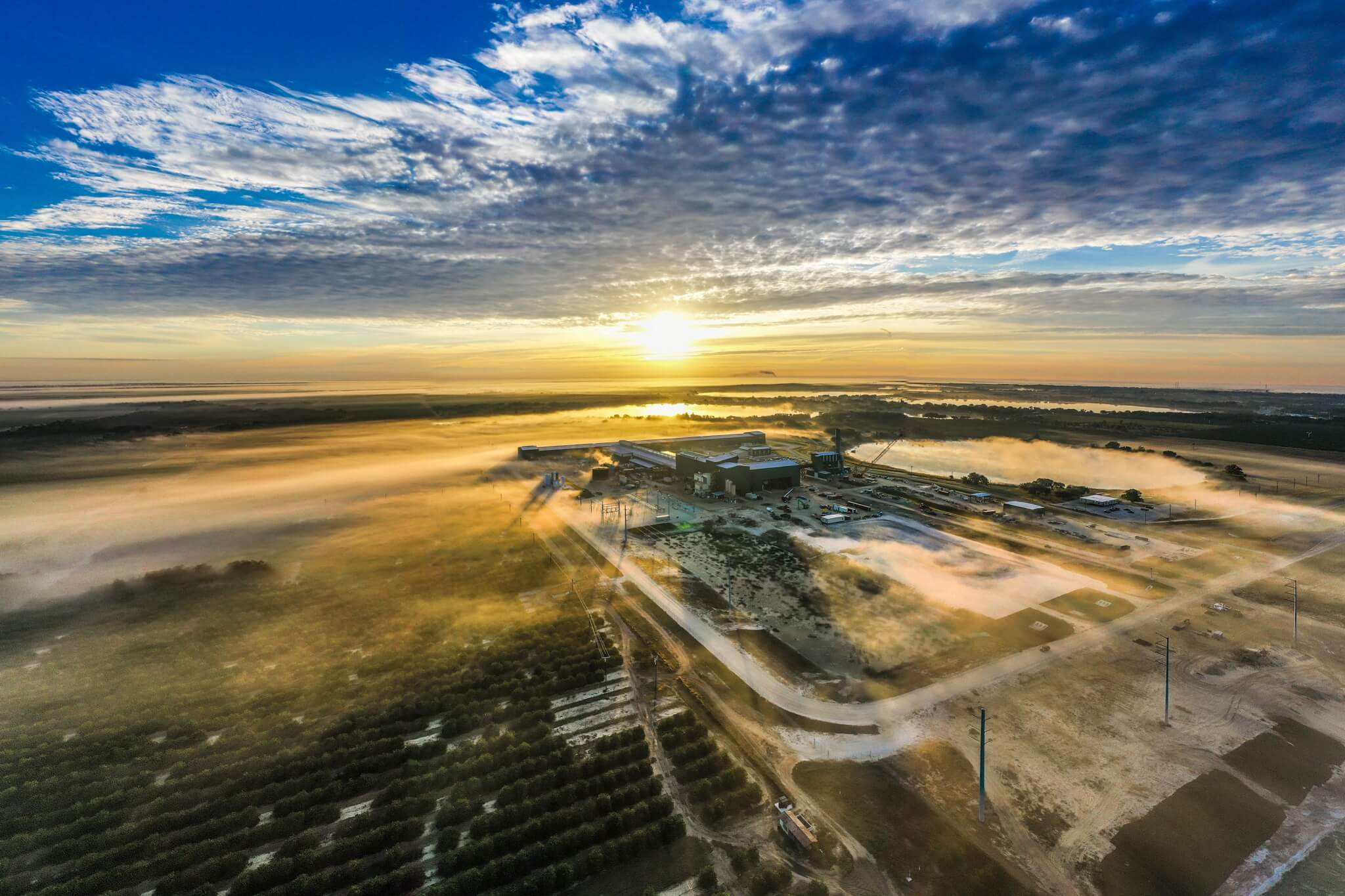 "Approximately 70% of our projects are in the advanced manufacturing sector; most people think it is distribution and logistics," Taylor said. "Within the last two years, the CFDC has announced eight new or expanding manufacturing projects that represent nearly 1,000 new jobs. Our pipeline of projects remains very steady and is not slowing down. Central Florida remains extremely attractive to manufacturers because we are a consumer state."
And the county benefits from its location. "Trucks have a centralized starting point to deliver goods to Miami, the Panhandle and all of Florida in-between. That saves a manufacturer a lot in transportation costs."
Quality of Life Importance
Quality of life measurements like the percentage of people living in poverty (16%) is decreasing, as is crime, while we are increasing in the rankings for the health of our children. Educational attainment is increasing, while strides are being made to improve the K-12 public school system, leading to increased graduation rates, among others.
"Many factors are considered when a company is evaluating an area for expansion," Malott said. "Educational measurements and talent supply are at the top of the list. Showcasing the community's quality-of-life component quickly follows on the list of factors considered."
Of course, numbers count as well. Florida ranks sixth in the nation on state and local tax rates on the median U.S. household income at 8.23% — or about $5,200 a year. That's nearly 24% lower than the U.S. average. The Tax Foundation ranks Florida No. 4 in the country in taxes, No. 1 in individual taxes and No. 6 in corporate taxes.
"Taxes and costs to do business are right up there at the top of the list – maybe even before labor and workforce," Taylor said. "Companies are always looking at the bottom line, and with Florida being a low-cost state to do business in, it is one of our biggest selling points — if not the biggest selling point. Add to that the quality-of-life component and Florida sunshine and Central Florida is a strong contender from the get-go."