Go back to

Blog

page.
International Companies Are Finding Polk a Great Place to Do Business
Polk County is becoming well-known internationally as a prime landing spot for global companies because of its business-friendly climate, central location and fair weather. Several international businesses have already located here and are finding success in the market.
These companies often bring their own employees to prepare for their launch here, but depending on their visa type, those employees may be able to stay for only so long, said Javier Marin, vice president of business development for the Central Florida Development Council. So they hire and train local employees before they leave.
In the next five years, the United States will need 10 million people to fill jobs, he said. Polk County is home to seven colleges and universities, all of which are preparing students for careers in a variety of industries from hospitality to cybersecurity.
Between 2020 and 2030, the total U.S. economy is projected to add almost 12 million jobs, according to the Bureau of Labor Statistics.
Floridis
Floridis was looking for a distribution entry point in Central Florida when it landed in Polk County in August 2021. A subsidiary of the Brazilian company Grupo Alfamec, the company makes plastic planters that are made of polyethylene resin and are super light and resistant.
It chose Lakeland as its first location in the United States for several reasons, said Renata Cabezas, marketing manager at Floridis. Those include:
"Excellent service, help and follow-up provided by Javier Marin.
"Good location within the state of Florida.
"Good opportunity for physical spaces (warehouse)."
The company leased more than 2,500 square feet of warehouse space from The Ruthvens, investing $100,000 to begin, Marin said. Since then, they have grown tremendously, increasing sales tenfold.
Floridis still imports its products from Brazil and distributes to all states from its Lakeland facility. "Despite high logistical prices (ocean freight), our business has been growing since we arrived in Lakeland," Cabezas said. "We are expanding our range of customers in Florida, and the availability of having a physical stock helped us a lot. We also sell to other retailers, mainly through marketplaces that have been our biggest customers."
The company's planters can be found in such places as The Home Depot and Amazon.
As the company continues to grow, its plan – still in the project phase – is to build a manufacturing plant in Lakeland, Cabezas said. "We believe it will be carried out in the second half of 2023 as we still need to structure suppliers, machines, space, employees, etc."
Overall, Floridis has had a great experience in Polk County "since the transfer of the company, the company that rented the warehouse to us and the logistical facility due to the location," she said.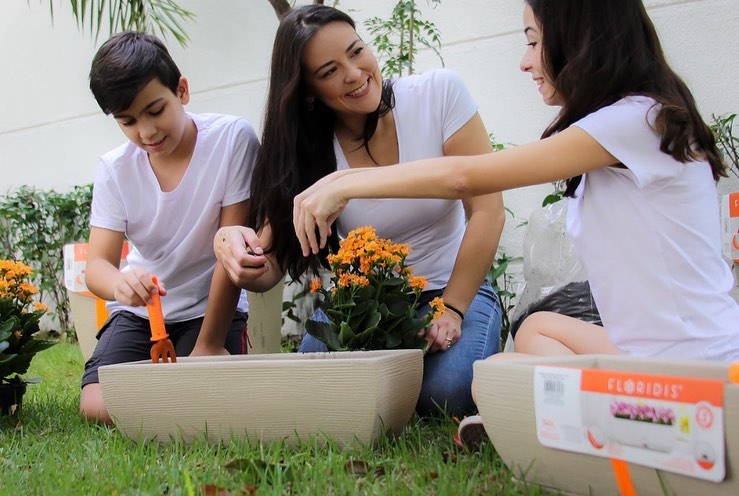 Cutrale
Cutrale, also a Brazilian company, entered the U.S. market to supply orange juice.
Before Florida's citrus crop experienced citrus canker and greening, which killed many of its trees, it was producing all the orange juice it needed, Marin said. "The only reason we needed to import was to change the taste to get rid of tartness to sell to Asia and European countries. Now, after canker and greening, we're importing much larger volumes."
Cutrale also operates a citrus processing plant, and it produces orange juice concentrate for the Simply Orange brand at the Coca-Cola plant in Auburndale.
In addition to OJ, it sells oranges to Europe, Asia and the East, and produces citrus pulp bran and essential oils, according to its website.
Sofidel
In 2012, the Italian tissue paper company Sofidel moved to Haines City; it later bought the Cellynne tissue company and named it Sofidel America. They "bring additional opportunities to other companies that offer products and services, and buy their products," Marin said.
Sofidel Human Resources Director Jorge Altieri said Cellynne moved from Orlando to Polk County in the early 2000s "because of the availability of land with space to grow, and because Haines City was very supportive of new businesses."
Sofidel has remained in Polk County for much the same reason, Altieri said. "Polk County has always been an excellent environment. We have very good communications and relations with the city, and we're involved with the economic development council in Haines City and the Northeast Polk County Chamber of Commerce. We have a lot of communication and support from leaders in the county. Polk is such a big county, and it's at the vanguard of bringing and welcoming new businesses."
There is also an available workforce, and people are very loyal, he said. "There's always an initiative in every aspect you touch where our colleges and universities are looking to provide a curriculum that will support the needs of employers."
Sofidel continues to grow and expand, Altieri said. It built two new greenfield facilities – one in Ohio, the other in Oklahoma, and it's always looking to grow and expand in Central Florida. But beyond building new facilities, it also updates and renovates technology and equipment, and adds more lines of production. "There are always construction and growing plans in Sofidel."
International Flavors and Fragrances
In September 2021, the Florida Board of Governors approved a structure that will allow Florida Polytechnic University to partner with Ryan Companies USA to design, construct, finance and operate a research facility. It also called for a strategic alignment between Florida Poly and the facility's tenant, International Flavors and Fragrances Inc.
IFF, an international Fortune 500 company, will be building a 33,000 s.f. research facility on Florida Poly's campus in Lakeland. This exciting opportunity marks the addition of an international research and development company to the campus and the Central Florida Innovation District.
"Our search for a Citrus Center of Excellence location brought us to Lakeland, the heart of the Florida citrus industry," said Karel Coosemans, global innovation program director. "This new initiative precisely brings IFF one step closer to realizing a partnership based on innovation and collaboration."
IFF wants to improve its research using advanced manufacturing processes, data analysis, correlation, machine learning and computer modeling. To assist with that endeavor, Florida Poly will provide faculty and students who have the necessary expertise in those areas.