Go back to

Blog

page.
New Feltrim Sports Village Will Attract More Sports to Polk County 
Seeing a need for more sports facilities in Polk County, Garrett Kenny, CEO of Feltrim Group, decided to get in the game. Now, he's hitting it out of the park as the company gets ready to open the Feltrim Sports Village in Haines City.
Kenny said work on the village was moving at a brisk pace and this final week before the grand opening is very busy.
"We built the fields, lights were installed. The fieldhouse where they will train has its locker rooms," he said. Concession stands were under construction and were planned to be completed right before the opening,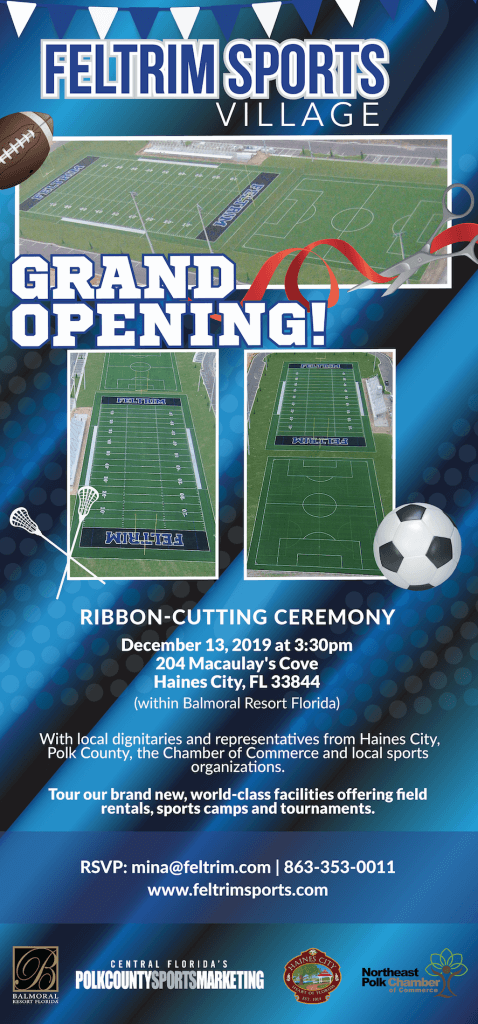 The ribbon-cutting ceremony for the Feltrim Sports Village grand opening will be held on Friday, December 13 at Balmoral Resort Florida.
Two days after the opening, 1,500 children ages 8 to 14 and their parents from across the country were expected for the village's first event, the Amateur Athletic Union (AAU) national football championship.
"They all played in the state games and now are coming to Florida for the national finals," Kenny said. "They are all staying right here at the resort. That's what gives us that unique competitive advantage — play and stay all in one location."
That advantage will help Polk County attract more sports-related events, said Mike Botkin, chief operating officer at Feltrim.
"The Sports Village will enhance Polk County, especially Northeast Polk County, by bringing an all-in-one experience for event organizers, athletes and parents," he said. "With Balmoral Resort, teams that are traveling for games, tournaments or league play can stay at Balmoral and play at Feltrim Sports Village."
Botkin says the sports village will offer a truly unique championship-level stadium, as well as 10 sand volleyball courts, all inside the short-term vacation rental community Balmoral Resort, which was also built by Feltrim.
The village will also host other sports, such as soccer, lacrosse and possibly rugby, along with some more obscure sports.
"In January we will host a cornhole tournament that 250 people will be attending," Kenny said. "They are all staying here. The expenditure of fields will be small, but the bar/grill/restaurants will be larger."
He said rope-jumping championships could also be on the way.
"People have found out we have a sports facility, accommodations, a bar and grill on-site, so we are getting interest from other sports, all of which are bringing tourism and occupancy to Polk County, contributing to the bed tax."
The 5 percent bed tax is a tourist development tax on short-term rental accommodations. In 2017-18, the Polk County Tax Collector collected almost $14 million from more than 6,000 accounts, according to Tax Collector Joe Tedder's office. Money collected is used to promote tourism in Polk County, including funding sports, arts and cultural events, as well as capital improvements.
Polk County Sports Marketing and Visit Central Florida help attract and market sporting events, and Kenny said he works closely with both. Visit Central Florida travels the state and nation, as well as internationally, to promote what Polk County has to offer.
The Feltrim Sports Village will also be home to the R9 Ronaldo Soccer Academy, created by Brazilian soccer star Ronaldo Luiz Nazario de Lima.
"This will engage the youth of Polk County by having a facility for camps, leagues and tournaments, along with bringing in other teams from across the world on tours and exposing us to different cultures," Botkin said. "Feltrim Sports Village will host daily and weekly camps for the local community in all sports."
He's also testing the electronic sports industry; an area Southeastern University and Florida Southern College have also moved into.
"In January, we are taking one of our larger homes and we're going to experiment/test the e-sports market," Kenny said. "We're bringing about 20 kids in, working with them, training them, having small events."
In June, when the bigger event center opens, they'll have 50 to 70 kids in 3,000 square feet. This banquet building and event center is scheduled to open at the end of May 2020.
"The Sports Village is beyond exciting — going from an idea to a sketch, to the plans being drawn on paper to now seeing it officially constructed is a whirlwind of a process, but I enjoyed every minute of it," Botkin said. "I am excited to be a part of something that provides an experience to our local community, as well as the visitors and tourism travelers to our area."
For additional information about this topic or how to become a partner with the Central Florida Development Council, please contact Lindsay Zimmerman at lindsay@cfdc.org.