Go back to

Blog

page.
Peppa Pig Theme Park Preparing to Open in Winter Haven
With the February 2022 opening of Peppa Pig Theme Park, LEGOLAND Florida Resort is cementing itself as a multi-day destination and the place to visit with children ages 2 to 12.
LEGOLAND's Rex Jackson said it made sense to build the theme park in Winter Haven.
"The base we already have established here with LEGOLAND Florida Resort and the success it's seen since its opening in 2011 made Central Florida a natural location for Peppa's first time to life in a theme park environment," said Jackson, managing director of LEGOLAND Resorts and Peppa Pig Theme Park – North America.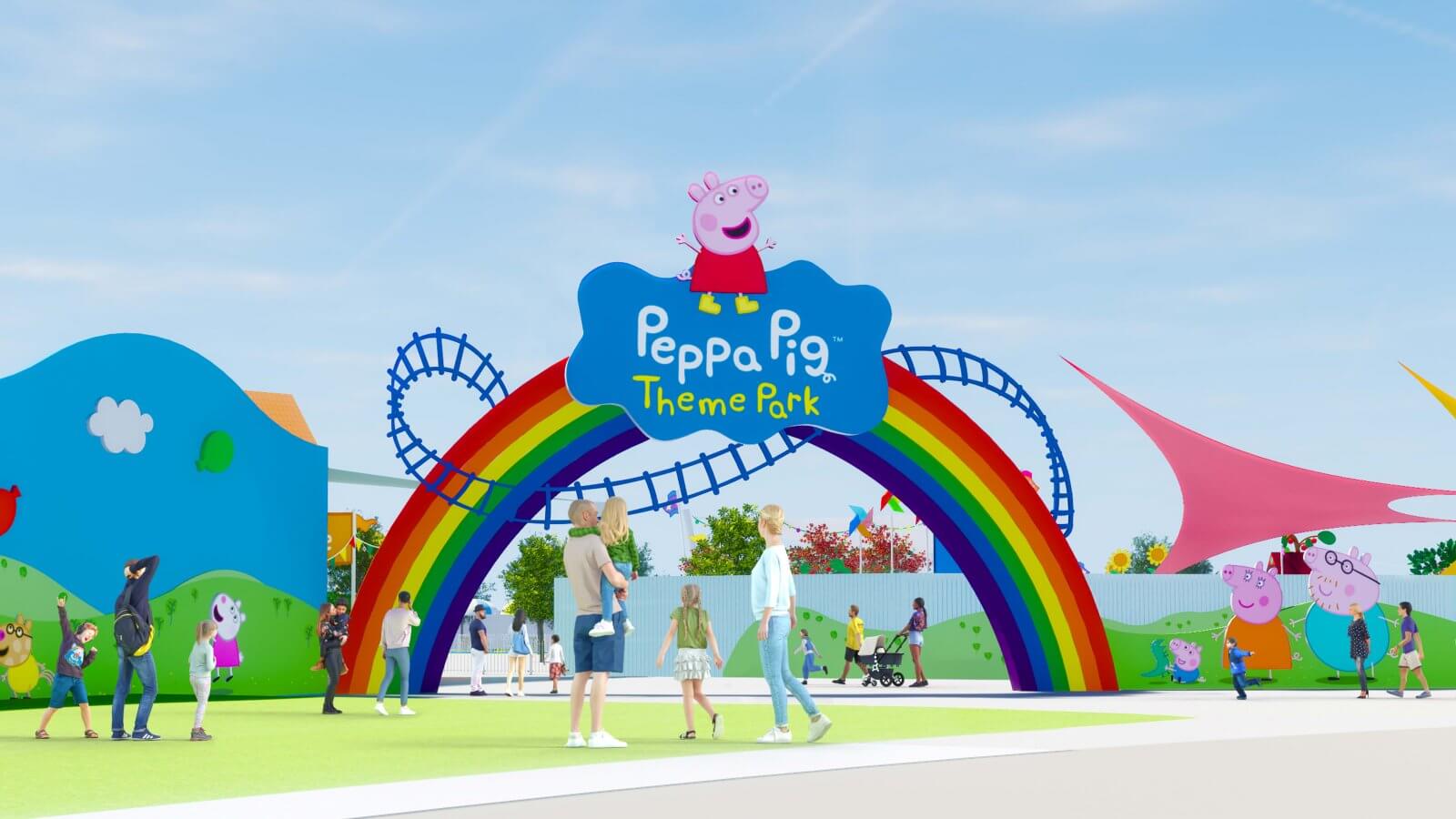 Peppa is a global phenomenon, he said, starting as a TV show in the U.K. in 2004 and then entering the U.S. market. The series follows the adventures of Peppa Pig and her family, as well as other animal families in her town.
"It's extremely popular with families with preschool kids," Jackson said. "The show that's on TV has a worldwide following."
"The popularity of Peppa made it a perfect fit to bring into a local theme park environment," Jackson said. Winter Haven's LEGOLAND attracts international visitors as well as those from Florida and around the U.S.
A One of a Kind Theme Park
The park is crafted specifically for preschoolers, affectionally known as "little piggies."
Kelly Hornick, head of marketing and communications for the parks, says it's a beautiful balance. "Things they will talk about forever and the things that get them really excited."
"With this park coming online, it's so exciting for us to be able to give something to preschoolers," Hornick said. "These are kids who haven't been able to go out the last few years. Now they have a beautiful outdoor park for them to be able to be kids again and just play."
The park has a mix of six rides where visitors wait in line and six playgrounds for free play.
"That balance of giving kids the 'I'm a big kid now' moment and then 'I just can be a kid.' I don't think any other park does that at this level for preschoolers."
Visitors can also find dining, shopping, shows and entertainment.
The theme park is a Certified Autism Center. It conducted staff-wide autism sensitivity and awareness training and co-developed a sensory guide.
Multi-Day Attraction
The Peppa Pig Theme Park is cementing LEGOLAND Florida Resort as a multi-day destination, Jackson said.
"Tourists are not driving from Orlando, coming to the park and driving back that same day," he said. "They are starting to stay at one of the 468 rooms we have onsite or local accommodations like the Courtyard Marriott."
The resort includes the LEGOLAND Theme Park, Peppa Pig Theme Park and LEGOLAND Water Park. The Pirate River Quest – a treasure hunt that will take you on a "journey through the uncharted waters of the legendary Cypress Gardens," according to the LEGOLAND website – will open later this year.
But there's so much more. The resort boasts three hotels – the LEGOLAND Hotel, the Beach Retreat and the Pirate Island Hotel. Each hosts experiential activities like pajama parties, bingo nights and character meet-and-greets.
Hornick said the hotels by themselves are destinations. "I don't believe there is another theme park company that does hotels better than what Merlin does. Everything has been tailored to our very specific audience of kids."
She thinks LEGOLAND is still the best-kept secret around.
"People still don't know everything about LEGOLAND and what it has to offer," Hornick said. "They think they've seen it and it's a theme park where you build Legos, and it's so much more than that. Now we're a theme park, a water park, a Peppa Pig Theme Park and three onsite hotels that are insanely well themed."
An Economic Development Driver
The resort has attracted other businesses to the area, including those that offer attractions and experiences for the 2- to 12-year-old age group.
"We're a believer in the community," Jackson said. "We've seen restaurants that popped up nearby. They could compete with our hotels, but we've welcomed it. We have a lot more visitors than our onsite hotels can accommodate."
In addition to lodging and dining, visitors are also looking for things to do to entertain themselves outside the park experience, especially at night, he said. "LEGOLAND is not open very many days of the year until 10 p.m. A lot of families are looking for evening time activities to do with their families and kids after experiencing all the delights of Peppa Pig."
Whether it's families living in Florida taking a staycation or those from other parts of the country or overseas, everyone contributes to the economy of Polk County, Hornick said. "The hotels themselves are an attraction, and there are three to pick from so you can do multiple stays here, too."
Covid Protocols
LEGOLAND Florida Resort closed for 77 days when the pandemic first hit in March 2020, and was the first theme park to reopen on June 1, 2020. It continues to enhance its policies to ensure its resort is a safe place for kids and their families.
"When we reopened after Covid, that's when we debuted Pirate Island Hotel, our third onsite hotel with 150 new rooms," Hornick said. "It took us a good six months to have the true grand-opening moment of that hotel."
She said the resort "wanted to be mindful of the environment and the situation, but we still wanted to provide that escapism for parents," so it started with limited capacity. Then, during spring break of 2021, "Families not just from Florida but outside of Florida were returning to our destination."
LEGOLAND has been "more open with our partners to be able to get people here, so people feel confident bringing their families here," she said.