Go back to

Blog

page.
Polk County Has a lot to Brag About Following World Space Week
The aerospace world has changed dramatically since NASA stopped using the space shuttle to ferry astronauts, supplies and satellites to orbit in July 2011. Companies like SpaceX and Blue Origin are now filling the void, but NASA remains active as it plans to send the first Artemis mission to the moon and launch a new rover to Mars, among other things.
Other countries have space programs of their own, which is why the United Nations declared Oct. 4 to 10 as World Space Week. In 2019, 96 countries held more than 8,000 events.
As the final frontier continues to hold a fascination for people worldwide, this year's World Space Week was dedicated to the theme of "Women in Space." Lakeland's IndieAtlantic Films was two years ahead of that theme when it produced "Fly Like a Girl" in 2019. The movie, described on its website as "a movement of young girls and women relentlessly pursuing their passion for aviation," was accepted into 13 film festivals and won three awards. It can now be watched on Hulu, YouTube and Amazon, among others.
Polk County supports the aviation and aerospace industries in so many ways, from Florida Polytechnic University and Polk State College students working with companies at like Draken International to the August 2021 opening of Lakeland's Aerospace Center for Excellence Skylab facility on the Sun 'N' Fun campus.
Samson Metal
Started in 1947, Samson Metal provides engineering and manufacturing services for aerospace customers, primarily ground support equipment, said Wesley Samson, company vice president.
"Thirty years ago we were presented with some challenging opportunities that we were thrilled to participate in to help grow our company," Samson said. "Starting in the mid-1990s, we manufactured much of the equipment used in the International Space Station processing facility for NASA. Since then, we've had many other opportunities to work with prime government contractors and commercial space flight entities."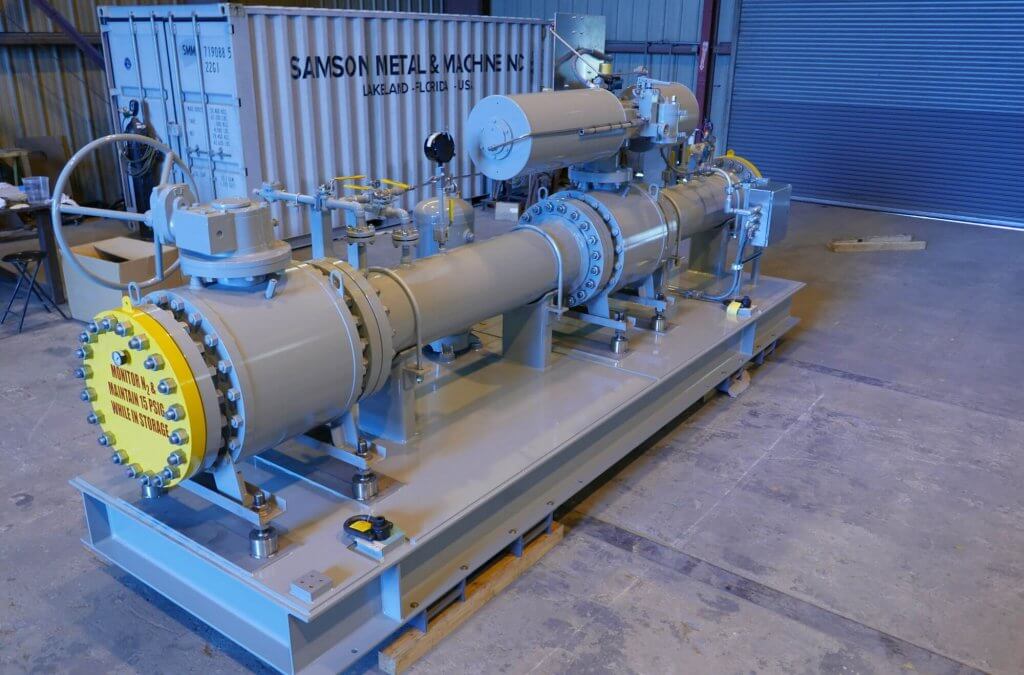 The fourth-generation company can't divulge specific programs it works on, but it does "produce ground support equipment for both prime contractors and commercial spaceflight companies," he said. It offers services in many areas, from fabrication and welding to project management.
"The aerospace industry is expanding now similar to what we saw in the 1990s surrounding the International Space Station program," back when NASA was operating the space shuttle, Samson said. "We are excited to see how so many commercial ventures are improving the future for space exploration. It has in a way a very 'Wild West' feel at the moment, and we are excited to participate."
The company also works in other industries, such as entertainment and power generation. But it loves the challenge of aerospace, Samson said. "It's important to us because we love doing challenging work and we desire to make this industry a core part of our business. … Moving forward, in order to best service this industry, we continue to improve our qualifications within the aerospace supply chain."
JC Machine, Inc.
JCMI manufactures structural components for airframes and electronic systems on military aircraft and satellite equipment, said President Jay Creasy. Its reliable work helped land it work in the field.
"JCMI was approached by aerospace customers and defense contractors who were looking for reliable sources to support their operations," Creasy said. "Our long history of quality products and services allowed us to provide the support needed for such important programs for our defense infrastructure."
According to its website, JCMI was founded in 1967 as Creasy Co., when it manufactured components for the phosphate and chemical industries. Now, the third-generation, veteran-owned business supports those industries as well as aerospace, defense, firearm, oil and gas, medical, robotic, electronic, food packaging and bottling.
"Supporting our country's exploratory and defense industries gives us a sense of pride, knowing that a small manufacturing business can be a part of something so important," Creasy said.
The company vision says it "will influence the manufacturing industry through exceptional customer service, incomparable product quality and brilliant turn-key solutions utilizing advancements in technology and team proficiency."
Ferrera Tooling
Ferrera Tooling also serves a variety of industries, from space flight, aviation and defense to amusement, semiconductor and packaging. It manufactures critical components used in flight and other related support roles, said President/CEO Brian Herrera.
It took the company years before it entered the aerospace world. "Years of knocking on doors and building processes," Herrera said. But the wait was worth it.
"It's an interesting space where only the strong survive," Herrera said. "That is what drives the need to be the best."
Its team works together well by being themselves, according to the website. "We connect on each other's similarities and learn from each other's differences to develop a synergy focused on providing superior customer service, high-quality work and having a good time while doing it."