Go back to

Blog

page.
Polk County's Growth Brings Need for Diverse Housing Inventory
Polk County ranks No. 10 in net migration. Along with that growth comes the need for increased housing inventory and a diverse selection of housing options.
Lightcast (formerly Emsi Burning Glass) has been developing its Talent Attraction Scorecard "to help communities understand how they were doing at attracting and developing talent to help meet this need," according to the report. It ranks counties on everything from education to migration.
The 2022 report ranks Florida as the No. 1 state in talent attraction and Polk County as No. 10 among large counties – those with at least 100,000 residents. Hillsborough County ranked No. 8, the only other Florida county in the Top 10. It was Polk's second year in the Top 10 after moving from 75th in 2017.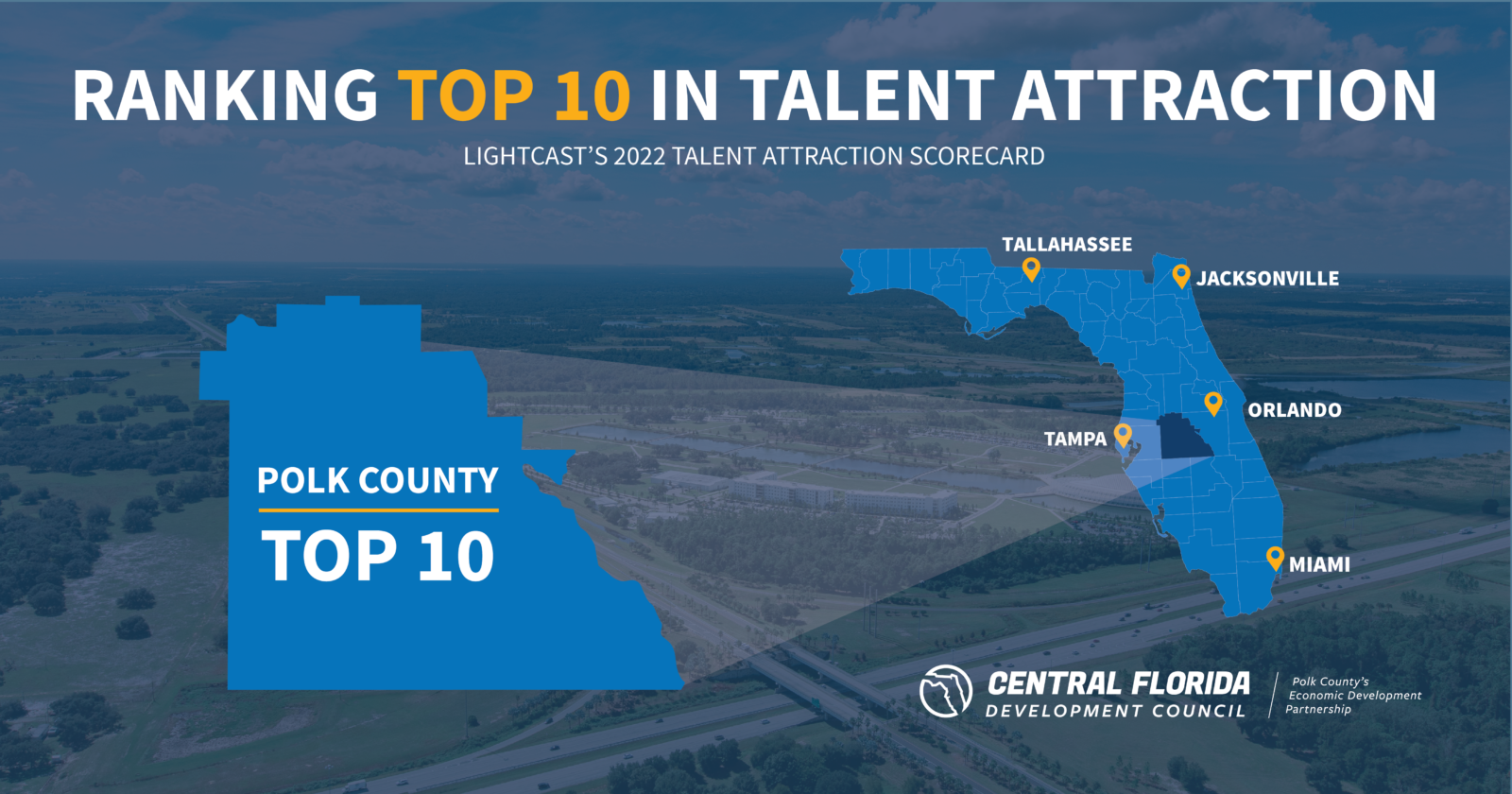 Polk State President Angela Garcia Falconetti, a past president of the Central Florida Development Council's board who watches such reports, said she was not particularly surprised by anything in the report, but the fact the county rose from No. 75 to No. 10 in five years has personal significance.
"Because I moved to Polk County in 2017 when I assumed the Polk State presidency, I have witnessed this growth firsthand and understand what attracts residents to Polk County, including booming industries, growing career opportunities, and quality higher education and workforce training," she said.
Falconetti said she thinks there are a number of reasons Polk County has moved up the ranks so quickly, starting with the fact that about 45 people move here each day, ranking the county as the fastest growing in the state and one of the fastest growing in the country.
"County officials have pointed to growing industries, including hospitality, construction, trade and transportation," she said. "Over the last five years, Polk County has seen an increase of nearly 6,900 new jobs and $1.15 billion in capital investment. People can move to Polk County and secure high-wage, in-demand careers. Of equal importance is their ability to access affordable, quality higher education and workforce training at our postsecondary institutions."
Stacy Campbell-Domineck, president and CEO of CareerSource Polk, offered other thoughts on the county's growth and its latest ranking by Lightcast. "Polk has a prime location between Tampa and Orlando. The county's affordability, as well as its diversity of industries and job opportunities, make our area an incredibly attractive option for those considering a move to Central Florida."
Lisa Hall, director of Business Development at Rita Staffing, said "our economic development councils have capitalized on our ideal location and our business-friendly environment."
Emphasis on Housing
Housing is an important part of Lightcast's report, and Campbell-Domineck said she is not surprised. "What catches my attention is how this statement emphasizes the importance of housing, which can make or break a community."
Polk County's communities understand that need and have approved a number of housing projects in the past few years. This includes affordable and workforce housing. Every unit in the 80-unit Midtown Lofts in Lakeland was leased within two months. Lakeland, along with almost every other city in the county, has approved multiple housing developments to keep up with demand.
"There have been several new apartment complexes and housing developments that have recently been built and several more that are in the building process," Hall said.
Campbell-Domineck, who has a degree in psychology, said housing greatly impacts employers' ability to recruit talent. Shelter is a basic necessity of life, she said, and employers in this area know they will lose out on talent if the housing supply in all price ranges is not adequate.
Falconetti said: "The affordability and longevity of housing is critical to sustaining the growth we are experiencing and the benefits that come with it. If we want to retain residents and a talented workforce, we need to ensure that they have the housing needed for them and their families."
All three women said they think the county's leaders have a keen focus on housing needs.
"Polk County municipalities have pledged to pursue more affordable housing options, and community leaders continue to evaluate opportunities for increased housing opportunities," Falconetti said.
Campbell-Domineck said everyone knew growth was coming, so that was not a surprise. "However, no one could have projected the degree of migration over such a short period of time would be what it is today. It is absolutely an issue that they are working diligently to address."
Hall said the county's economic development council's "have done a fantastic job of attracting businesses to the area, and we need additional housing for the employees that staff these organizations."
The Next Generation
The report says younger people are staying closer to home, which pleases many people – employers and families alike. There are reasons why.
"As the cost-of-living increases, remaining at home is a viable option for many young people, especially students pursuing their higher education and workforce training," Falconetti said. "In addition to being the local option, Polk State's tuition and fees are 60% less than those of state universities. More importantly, for every $1 a student invests in Polk State, they receive a cumulative value of $5 in higher future earnings."
More than 13,000 students are seeking degrees at Polk State College, the county's largest-serving higher education institution; another 9,000 are in workforce training every year, she said. "Ninety percent of students are Polk County residents. Although community is no longer our middle name, Polk State remains the community's college."
Campbell-Domineck said younger people staying closer to home or returning to their communities is a nationwide trend. "I am speculating here, but this could speak to the commitment this generation places on their local communities. As a result, they prioritize finding local opportunities and prefer the familiarity and comfort that is found closer to home."