Go back to

Blog

page.
Rodda Construction Serves Clients from Beginning to End
Rodda Construction prides itself on being a family-owned company with a family atmosphere at work, one that keeps employees sticking around for years. Two employees have been with Rodda Construction since John Rodda founded the company in 1989.
"We have been very blessed to have a very stable, loyal, strong group of employees since we hired the first two people. We make connections and employees appreciate owners who care about you and your family and what you're going through. As I talk to people about coming to work here, they tell me that they like the kind of projects we handle and our reputation, and they want to be involved in that," said Jason Rodda, who was named president of the company about the time his father was diagnosed with cancer 10 years ago.
John Rodda died in 2018, but the company is thriving today thanks to the leadership of his son and brother, Jodie, who joined the company shortly after John Rodda started it, and 40 other full-time employees.
Rodda Construction offers everything from pre-construction planning and construction management to design/build and general contracting. The Lakeland-based company works in the Central Florida geographical area – from Tampa and Orlando to Ocala and Sarasota – so Jason and Jodie Rodda, along with superintendents and project managers, can oversee jobs.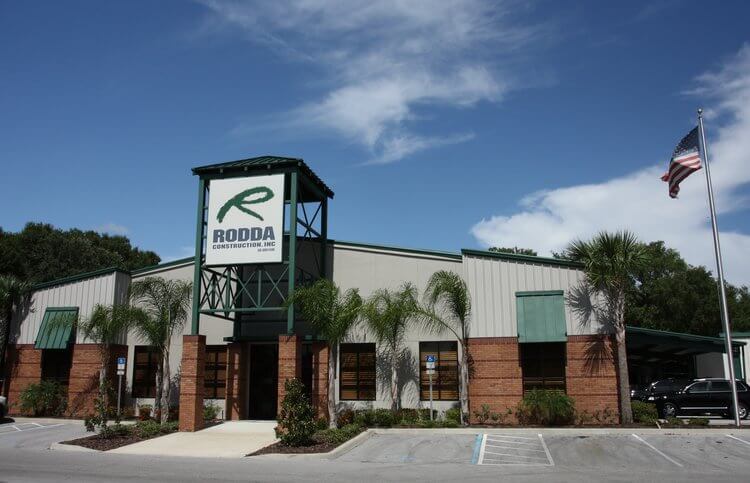 Rodda's History
John Rodda started the company after working with his brother for nine years at Andreas Construction; they did everything from framing houses and trim work to general construction, Jason Rodda said.
"Dad decided he wanted to do more commercial construction, so he started his own business," he said. His only employee, who remains with the company today, showed up at their house on the first day to work from Rodda's home office.
Jason Rodda was 9 at the time, and those early days influenced his career path. Although he graduated from Florida Southern College with the intention of putting his finance degree to work in that field, he decided to return to the family business, where he started working at age 15 – before he could drive. "My friend picked me up and we worked at job sites doing cleanup and general labor during the summer." He returned during summers while in college, sitting in for the receptionist one year. "It was beneficial. I got to speak to subcontractors and learn their names and make connections."
He learned a lot from his father and uncle. "He always made time for his family, but he also had a ton of time invested in the business. It was a lot of what our family was. A lot of people assumed I would end up working here one day. My dad was my best friend. Jodie and I are close. It was interesting to me, and carrying on what my dad was able to do feels right."
In the beginning, he put the skills he learned in college to use to make improvements and help the company grow. It was trial by fire, he said. "I had no training in construction, but they were always there to answer questions and bring me along. I certainly would not have gotten a better education at a construction school than I did working day in and day out with two experts."
When his father was diagnosed, Jason Rodda was prepared to step into his role. He took over business and office functions, and project management while Jodie Rodda became an expert general superintendent who was very knowledgeable about field operations.
The Rodda Philosophy
Rodda said the company brings a vast wealth of knowledge to projects and builds everything from distribution centers to parks. "We bring our experience, starting with site selection and working through things like financing and zoning to helping get the right design, materials and products. We make sure we deliver on time and within their budget, and we work to the highest quality standards and with integrity."
The company has learned from its past successes and even things that didn't work. They've worked with "crazy timelines" and unique ideas. "People call us because they know the wide variety of experience we have," Rodda said,
Most of their work is in Polk County, so "we don't have any choice but to do a great job every time, to be honest, open and make every project a success. If we fought with architects or did something to ruin our reputation we would run ourselves out of work very quickly."
They always have the client's best interest at heart while still having fun and delivering something exciting, he said. "For our clients, their project could be a once-in-a-lifetime experience, the biggest thing for them. We want them to be happy."
That's made the Rodda name synonymous with quality construction, and it's why people who come into town often are told to contact the Roddas. "Even people we've never worked with before will tell people to contact us if they have a challenge because they know we will be able to take care of them."
Building in Polk County
The list of projects Rodda Construction has been involved in seems endless, from the Lakeland Regional Health Hollis Cancer Center and Heritage Plaza to the First Presbyterian Church in Haines City and the AdventHealth Fieldhouse at Chain of Lakes Park in Winter Haven. But one project they are finishing up has a special place.
"Bonnet Springs Park is so amazing. It's a very large project that incorporates many different one-of-a-kind things. To be part of a community-led initiative and be a teammate to make that happen is very cool," Rodda said. The multi-year project has encountered many challenges but is set to open in summer 2022.
Other projects that stand out:
Publix Field at Joker Marchant Stadium remodel; "I could be traveling in California and when I tell people I worked on the remodel of that stadium they know exactly where Lakeland is and what that is – spring training home of the Detroit Tigers."
Florida Southern College; "I graduated from that college and so did my wife and other family members. There's a huge connection. My dad was on the board of trustees there and I am now." Rodda has worked on many of the new buildings along Lake Hollingsworth Road.
Polk County Public Schools; "Creating classroom spaces for our kids and teachers, spending our tax dollars in a way that is beneficial to our community, we pride ourselves in what we are doing."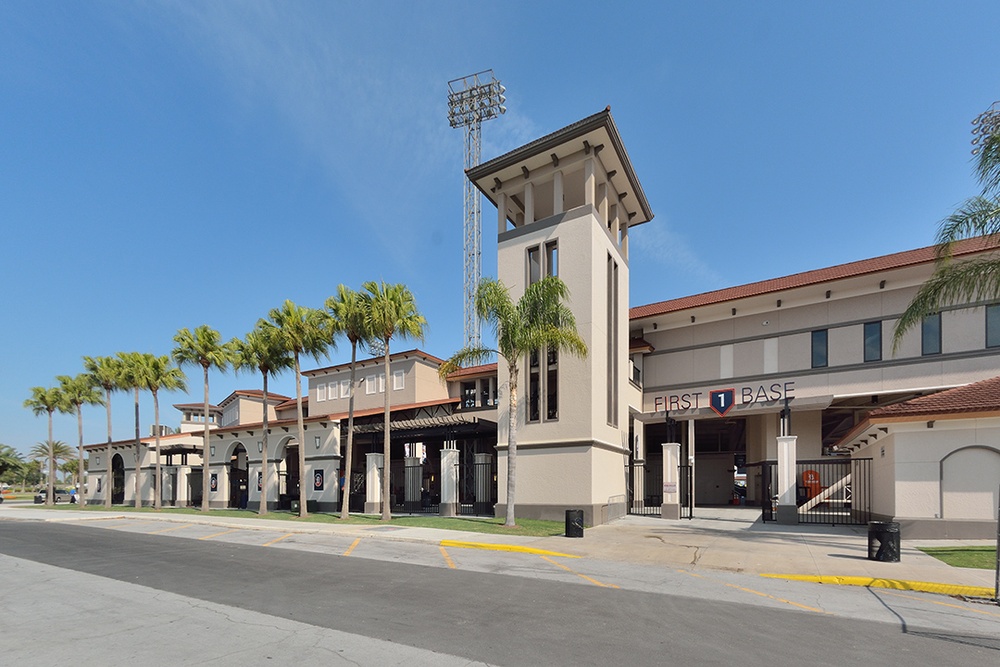 The company is the builder for the Polk Museum of Art expansion, a landmark that Rodda calls "one of the most iconic buildings in our community."
"As downtown grows, it's exciting to see the values the community places on art," he said. "This is great for our community and we are honored to be in on the ground floor to help figure out existing problems the museum has and what we can do to provide space to expand offerings and make existing operations smoother and safer. We have to make sure we're choosing the right materials to have them here in time to meet schedule goals, all within budget constraints."
The end product will be something the community will enjoy for a long time, he said "It's an amazing world-class art museum. When this project is done, it will change people's perspective on what Lakeland offers from an art standpoint. This is a tangible place to enjoy art."
The Future for Rodda
For now, the company has no plans to grow. "We're going to continue to do what we're doing. We're at a great size with the number of staff and the clients we serve so we can do a great job for every client on every job. We will continue to try to have excellence in everything we do."
Rodda Construction has been named to the Gator 100 for the last two years. The list highlights the world's 100 fastest-growing University of Florida alumni-owned businesses. Rodda received his MBA from UF.
The company will always give back to the community because it believes in the works of the United Way of Central Florida, the Bartow Rotary Club and Habitat for Humanity, to name a few.
"We're blessed to live in a great and generous community, and a lot of the work we do comes through the generosity of the community, so being able to give back and continue my dad's legacy is the right thing to do. It's part of our company culture, and we are committed to reinvesting in our community," Rodda said. "It's part of what makes Lakeland great."
Rodda, who was named the Lakeland Area Chamber of Commerce's Businessman of the Year in 2019, also supports the community in volunteer efforts. He serves on the board of trustees at Florida Southern College, the board of directors for the Lakeland chamber, where he is chair-elect, and the board of directors for the Givewell Community Foundation.