Go back to

Blog

page.
SM(art) Symposium Educates Attendees
The arts are alive in Polk County schools, teaching problem-solving, teamwork and organizational skills to thousands of students each year. And that's translating into higher test scores and better graduation rates, according to data presented Aug. 1, 2018 at the fifth annual SM(art) Business Symposium.
Beth Cummings, director of fine arts for the Polk County School District, pointed to statistics the county has been keeping since state legislation mandated it about four years ago:
The grade-point average for students involved in the arts is 3.2, compared to 2.7 for those not involved.

Ninety-two percent of fine arts students graduate, compared to 75 percent of others.

The mean math score on the SAT for fine arts students is 503, compared to 489 for non-fine arts students.

The mean verbal score is 525, compared to 495 for those who don't study the arts.
"Young people engaged in the arts perform better academically," Randy Cohen, vice president of research and development for Americans for the Arts, told the audience at the symposium.
This year's event was held at the Lois Cowles Harrison Center for the Visual and Performing Arts in Lakeland because of the focus:  "Connecting the Dots: Infusing Arts into Education to Drive Outcomes."
Harrison Principal Daryl Ward, along with other participants, shared the theme that the arts teach students organizational skills, how to work together, responsibility, discipline and social skills.
Jessica Fredricks put that to the test during an exercise in which audience members beat drums.
Fredricks, the district's fine arts coach, oversees a program called DRUMBEAT, which is designed to teach social and emotional skills while reducing students' isolation. DRUMBEAT is an acronym for Discovering Relationships Using Music Emotions Attitudes and Thoughts
"It all started with a need," Fredricks said. Principals were having a hard time focusing on educating students because of all the discipline problems occurring in the schools. What started in a couple schools now involves more than 100 facilitators in 60 schools. Schools with DRUMBEAT have seen a 50 percent reduction in discipline and a 30 percent increase in attendance, she said.
"DRUMBEAT is all about relationships No matter your business, if you want to thrive in life you have to sustain healthy relationships," Fredricks said. DRUMBEAT offers "a safe space to talk about how you are feeling. It makes kids feel like they are being listened to."
Ward said that the program is not just for struggling students. At Harrison — a school of choice in which students must audition to be accepted — students learn to communicate without words. "We all  need to learn teamwork."
Cummings said the number of fine arts classes in Polk County schools has increased from 3,090 in the 2013-14 school year to 3,469 last year. That puts Polk on par with Pinellas County at 62 percent of students enrolled in fine arts classes.
It's not just the School District teaching those skills. "We have amazing arts organizations that provide opportunities for our students," Ward said.
Cummings listed some of the arts organizations the School District partners with to introduce students to the theater, the museum and the like:  
7,000 fourth-graders take a field trip to the Polk Museum of Art each year, where there's a gallery dedicated to student artwork. Museum Executive Director Claire Orologas said the museum purchases one piece of student art from each exhibit.

5,000 fifth-graders attend two shows by the Imperial Symphony Orchestra on one day.

Kids Tag Art, a program started by Tax Collector Joe Tedder, raised $41,000 for the district to buy school supplies.

The non-profit Play It Forward has donated $100,000 to buy musical equipment for students who cannot afford to buy their own.
The non-profit organizations in our communities "are pouring arts into our students, our communities, our businesses," said Amy Wiggins, director of the ISO. They want to help move arts from being taught only in the classroom. "We believe it's all of our responsibility."
From art, students learn that it's OK to fail, Wiggins said. "There are always going to be some people who are better than you…. The arts help them learn failure is part of that creative process."
Meri Mass, executive director of the Polk Arts Alliance, said arts organizations are non-profits, "but they are businesses, not charities." Their economic impact, not including ticket sales, is $46.5 million in direct spending. In Polk, about 2,500 people are employed in 1,000 creative businesses.
In Florida, the arts contribute $33.4 billion to the economy, Cohen said — almost 4 percent.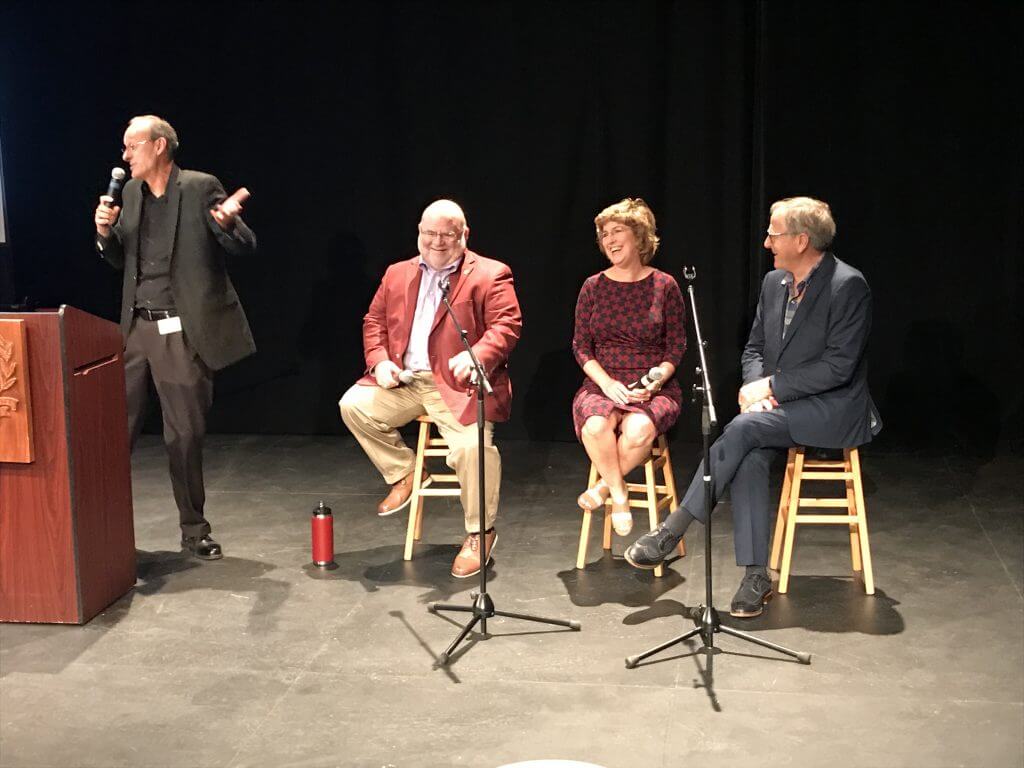 Three community leaders — Tedder, Lakeland Mayor Bill Mutz and Citizens Bank & Trust Vice President Bonnie Parker — talked about how their involvement in the arts helped them in life.
"If it were not for the arts, in my case the band, I don't think I would have been able to accomplish what I have," said Tedder, telling the audience that band brought him confidence, how to get along with others and passion.
Mutz said taking piano lessons, which his mother insisted on, was about learning routine and discipline.
And Parker said she learned leadership skills that she still uses today. Being a band major taught her sensitivity. "I believe you learn that in the arts — sensitivity toward your customers and your co-workers."
At the national level, Cohen said Congress is approving initiatives to help the arts, including adding $2 million to the budget for the National Endowment for the Arts. And the U.S. Department of Commerce has been doing research into the importance of the creative economy, revealing that segment contributes $764 billion into the national economy, or 4.2 percent of the Gross Domestic Product.
"The arts aren't a black hole," Cohen said. "The fact they are doing this research is a huge testament to the value of the work … Creativity has a role in our lives in everything we do."
Seventy-two percent of businesses said they rank creativing high when hiring, but 85 percent of those businesses can't find the employees they want, Cohen said. "Businesses value creativity today — it has soared to the top 5 of applied skills businesses are looking for."
So how do you test for creativity when hiring? Cohen said businesses are looking for people who started their own business or studied the arts, especially in college. "Those are indicators of creativity."
Cummings said the arts make us human.
"They give us more life, more compassion, more gentleness, more good," she said. "That's what the arts mean when we say the arts mean business."