Go back to

Blog

page.
Three reasons why Nucor is building in Polk County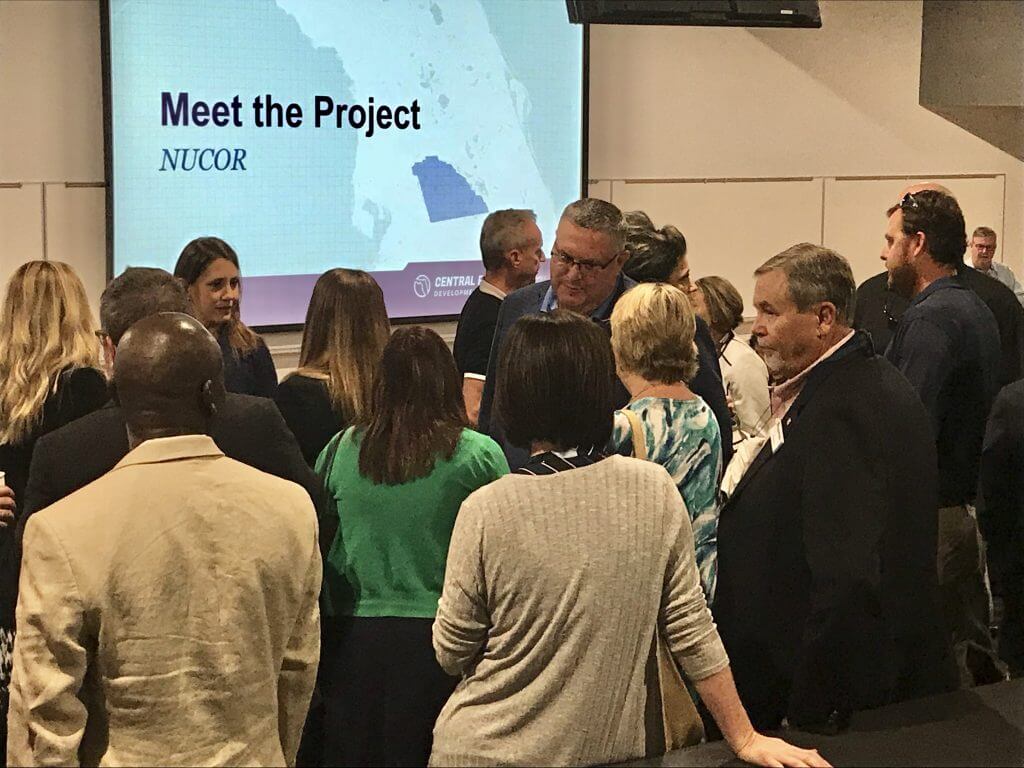 The Central Florida Development Council rolled out the welcome mat for Nucor Steel Florida, and Polk County's newest employer. Leaders from the steel manufacturing giant showed up to discuss their project with CFDC investors and community members.
Hosting the June 21, 2018 event at Polk State's Corporate College in Bartow, PSC President Angela Garcia-Falconetti welcomed guests and said the college plans to work with Nucor. "We work very hard to make sure we meet the workforce needs," Falconetti said.
And those needs could be plenty as Nucor Steel Florida builds a $240 million micro mill just outside the city limits of Frostproof. That plant eventually will employ 250 people making an annual average salary of $66,000.
Larry Madrid, board chair of the CFDC, said Nucor "is a real gem for us to have," a monumental recruitment achievement.
In November 2017, Nucor asked whether the county could approve everything by Jan. 1, 2018. That didn't quite happen, but County Commission Chairman Todd Dantzler said the activity that occurred after the November meeting was like a "speed date."
The Central Florida Development Council, Enterprise Florida, Duke Energy, Polk County and the City of Frostproof worked together to bring Nucor here. Highlands County was also at the table in the effort. Drew Wilcox, vice president and general manager of Nucor Steel Florida, said Polk County was the company's No. 1 choice, after looking at sites from Miami to South Carolina.
The reasons are tied into the three things that make this type of micro mill work:
It has to be close to the scrap metal it buys to save on freight. With 650 Nucor-related employees already in Florida, including some in the recycling business, locating in Polk County made sense.
The company has to have a low-cost production plan.
It needs to be close to its consumer base, also to save money on freight. The biggest markets for rebar, which is what the micro mill will produce, are from Tampa to Orlando and south to Miami. The mill will produce 350,000 tons a year.
Wilcox also said three other factors contributed:
The plant has heavy energy load, and Duke Energy is nearby.
The site is close to a major highway, U.S. 27.
It's also close to rail (on CSX line).
Nucor led the change in the steel industry when it updated production from a blast furnace to an electric arc furnace, said Wilcox, who has worked for Nucor for 26 years in Texas, North Carolina, Arkansas, Tennessee and New York.
"It's a big huge oven with an electrical arc that melts scrap metal to make new steel out of," Wilcox said of the micro mill. Ninety-nine percent of the rebar it produces is made from recycled materials.
Wilcox said Nucor is proud of its reputation as a global leader in sustainability in the areas of emissions, energy intensity and water use. Last year it recycled 19 million tons of scrap metal.
It's also proud of its workforce, and the fact that it has never laid off one person because of a lack of work. Its 250,000 employees in 200 facilities in North America are called "teammates."
During difficult times, Wilcox said, the company has reduced employees' hours so they could keep their benefits. "During downturns the easy thing would be to lay people off, but we didn't," he said. That creates employee loyalty.
All employees know the company's mission statement: "Our goal is to take are of our customers. We are accomplishing this by being the safest, highest quality, lowest cost, most productive and most profitable steel and steel products company in the world. We are committed to doing this while being cultural and environmental stewards in our communities where we live and work. We are succeeding by working together."
With the ability to produce 27 million tons of steel a year, Nucor is the largest producer of steel in the country. With more than $20 billion in sales last year, it landed at No. 169 on the Fortune 500.
Excitement from the community and leaders at the Frostproof plant, which will take about two years to complete, is evident, starting with Wilcox.
"It's a good fit," Wilcox said. "We know it's going to be a good fit."